It's been fast, furious and exhausting – and that's just for the operations teams behind the scenes making it all happen – but the 2021 SLT Championship Series concludes on Saturday in California with Super League Triathlon Malibu.
As the Grand Finale of the series, there are extra points up for grabs (20 for the win, versus the 15 in London, Munich and Jersey). There's also the addition of (even more) star names to the start lists, a dash of California celebrity and some big cheques to hand out as the final calculations for 'the richest month in short course triathlon' are made.
How big? Well, one athlete could potentially walk away from their September of Super League Triathlon racing with significantly more $$$ than for winning the IRONMAN World Championship. Read on for more on that!
And of course, you can watch all the action live without leaving TRI247.
Super League Triathlon Malibu start time and watch live
Racing takes place on Saturday September 25, 2021.
Women's Eliminator starts 1330 local time (2130 UK time, 2230 CET, 1630 EST)
Men's Eliminator starts 1445 local time (2245 UK time, 2345 CET, 1745 EST)
The great news is you can watch every second of the action on TRI247.com – click on the live video stream below.
Who is racing at SLT Malibu?
The Super League Triathlon contract structure and the back-to-back racing over four weeks means that keeping track on who is racing is pretty simple – it's 'as last week', but with a few small / wildcard additions.
That said, this week in particular we can't really refer to the wildcards as 'small', given that they comprise the additions of the current Olympic Champions, Kristian Blummenfelt and Flora Duffy, along with last Saturday's victors at the IRONMAN 70.3 World Championship, Gustav Iden and Lucy Charles Barclay.
They will join all the usual stars – Learmonth, Luis, Brownlee, Taylor-Brown, Yee, Coldwell, Potter, Wilde, Zaferes et al – quite a field, including all six of the individual medallists from Tokyo 2020.
We should therefore see 22 men and 20 women racing on the Pacific Coast on Saturday.
SLT Format – The Eliminator
The fourth (and final) race of the Championship Series and the finale will see the fourth SLT format of September – The Eliminator.
Just like that thing we saw in Montreal? Sort of, but not really…
Trying to simplify things:
[NOTE – Details updated Thursday 23rd September to those originally published]
There will be three regular (swim-bike-run) triathlons, separated by a small gap of two minutes to reset equipment.
Each race will be 300m swim (one lap), 3.6km bike (three laps) and 1.6km (two laps).
Everyone will start race one… but there will be eliminations along the way, meaning some athletes won't even finish that first event.
RACE ONE: One athlete eliminated after the bike, one athlete eliminated after the first lap of the run, and the last athlete to finish also removed (three eliminations in total)
RACE TWO: Exactly as race one, meaning a further three eliminations (now up to six in total).
RACE THREE: One athlete eliminated after the bike, one athlete eliminated after the first lap of the run and then it's a race to the finish line for whoever is still left to determine the podium.
Sophie Coldwell always refers to Super League as the Hunger Games of triathlon – this format will surely reflect that on Saturday.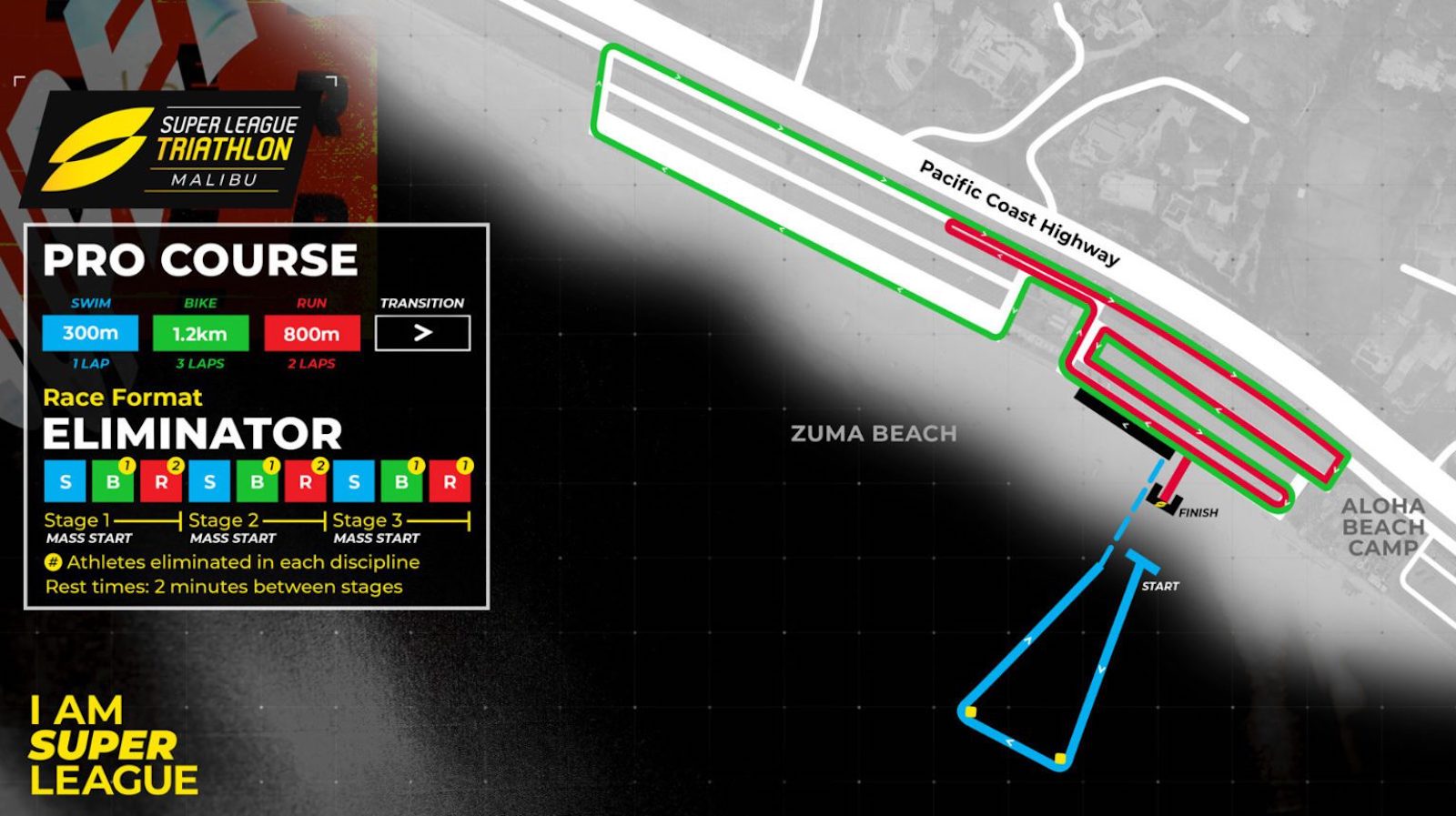 There are two opportunities to earn an SLT Short Chute – a 'short cut' advantage on the final run – and these are:
The first athlete through the opening swim and transition (mount line) – race one only.
The first athlete to complete the opening bike and transition (cross the 'mount line' starting the run) – race one only.
Those short chute advantages can only be used on the third (race three) run – but first of all of course, those earning the short chute will need to stay in the game that long in order to use them.
After last week's messy ending to the women's race in Jersey due following the disqualification, then reinstatement of Georgia Taylor-Brown following confusion over the short chute rules, hopefully there won't be any such issues this weekend.
Money
There is a LOT of money to be distributed this weekend as the SLT Championship Series draws to a close – around $1.5million to be exact.
Jessica Learmonth and Jonny Brownlee currently top the individual points standings, but there are further prize pots for the teams, individual disciplines and off course the Malibu-specific race awards. More on all of that and how it is allocated HERE.
Whatever happens in Malibu, it's likely that many of those racing will conclude the most lucrative month of their sporting careers – and we are not going to begrudge anyone a single dollar.
Learmonth currently leads the overall women's points standings, holds the swim and bike jerseys and is also part of the champion-elect Eagles team. If she can secure a fourth straight win – while maintaining both jerseys and the team lead – her September earnings from SLT could reach $185,000.
Super League Triathlon Standings – Women
1. Jess Learmonth (GBR) 45 points
2. Georgia Taylor-Brown (GBR) 42 points
3. Vicky Holland (GBR) 33 points
4. Beth Potter (GBR) 33 points
5. Katie Zaferes (USA) 33 points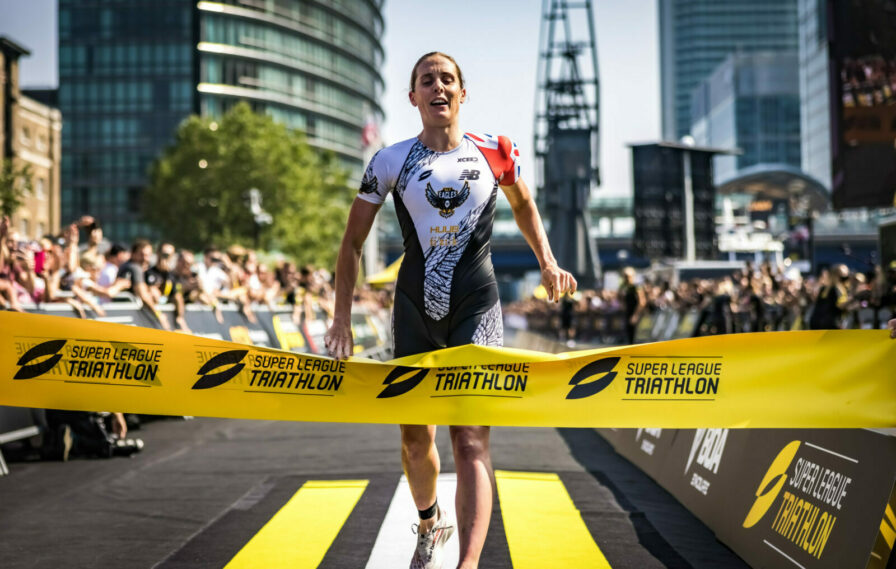 Super League Triathlon Standings – Men
1. Jonny Brownlee (GBR) 41 points
2. Hayden Wilde (NZ) 40 points
3. Alex Yee (GBR) 39 points
4. Vincent Luis (FRA) 37 points
5. Vasco Vilaca (POR) 33 points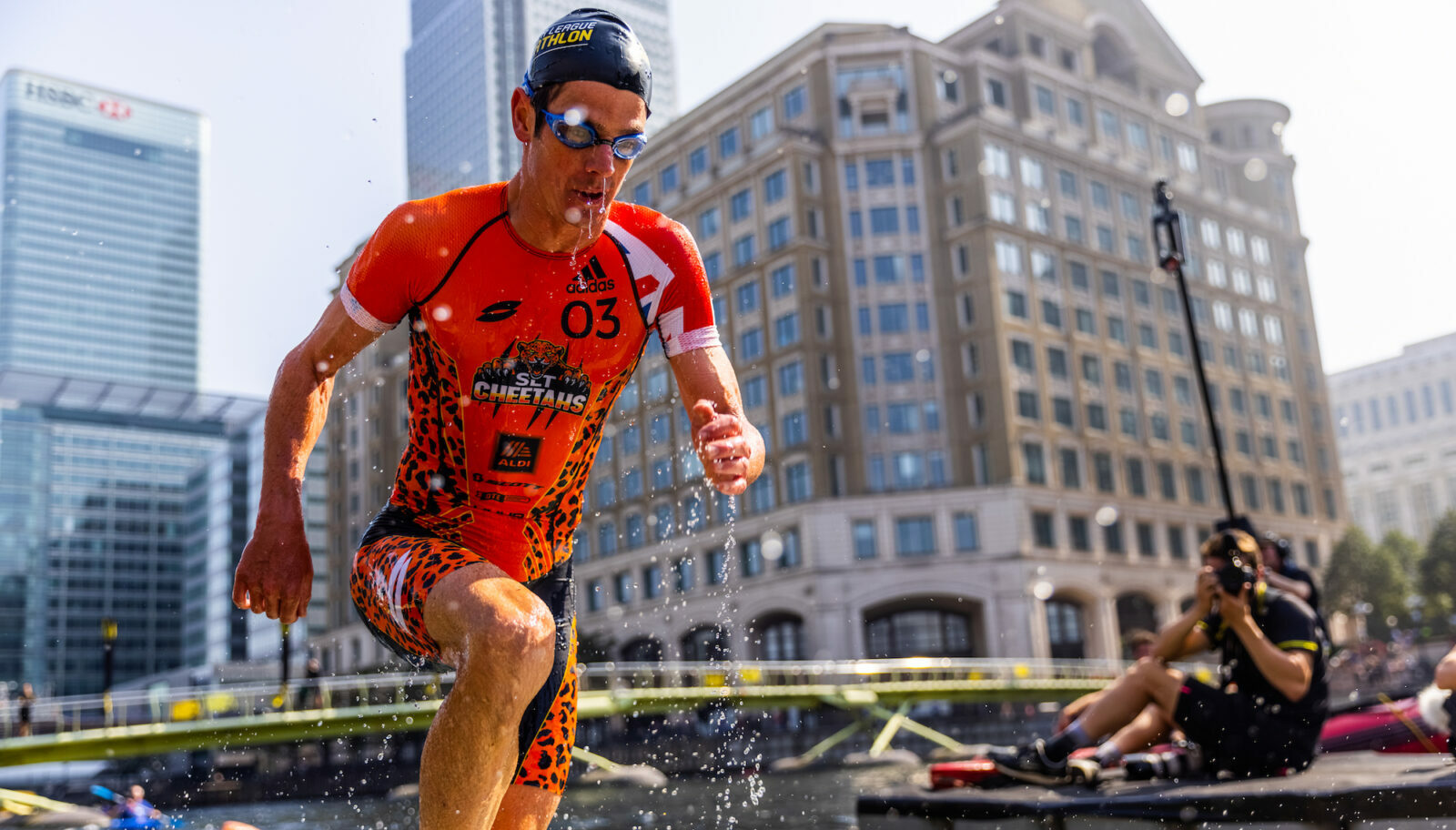 Super League Triathlon Standings – Teams
1. Eagles 275 points
2. Scorpions 197 points
3. Sharks 189 points
4. Cheetahs 164 points
5. Rhinos 149 points