Taylor Knibb has confirmed that she will be racing at the IRONMAN World Championship in Kona next month, with the two-time IRONMAN 70.3 World Champion set to make her debut over the full distance on the Big Island of Hawaii.
The PTO World #2 shared in her most recent YouTube video that after securing qualification for her second Olympic Games at the Paris Test Event last month, she was grateful to now be in a position where she could switch focus, albeit temporarily.
Having won all three of her middle-distance races so far this season at IRONMAN 70.3 Boulder, the PTO Tour US Open and the IRONMAN 70.3 World Championship, Knibb will pose a real threat in Kona despite her inexperience over the distance.
A measured approach for Knibb
Having received USA Triathlon's blessing to take on the monumental challenge that is Kona, the brilliant 25-year-old shared that her approach to training has been a measured one, her volume a relative constant as she hones in on the specificity needed for long-course racing.
"I can confirm that I am hoping to be on the start line on October 14th in Kona. USA Triathlon approved the race, provided that I didn't change my training too much, so I am training roughly the same amount each week as I have been, but how it looks has been a little different, because I want to be prepared.
"I have had some longer runs, some longer rides, but then the other days are just shifted. It has been really good and I have been really enjoying it, but I also don't have a ton of time, to change my physiology. It is a very tame, controlled, no panic training, where I am just trying to be as controlled as I can with the time that I have."
Kona is dessert for Taylor
Having succeeded in reaching her main goal for the season, which was securing Olympic qualification, Knibb is relishing the chance to race in Kona, which she compared to being the icing on the cake, almost a reward, after a long and succesful season of short-course and middle-distance racing.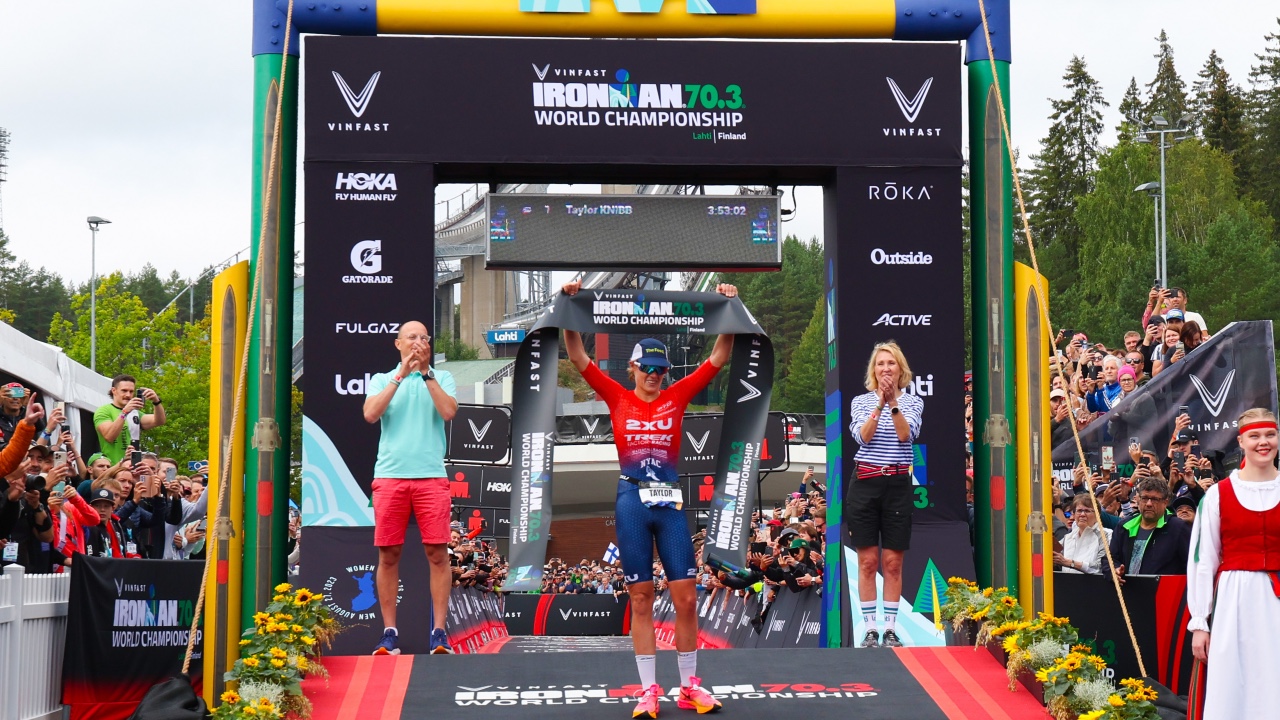 "I have wanted to do this race for a very long time, so I am grateful that I can. My stipulation was that I had to qualify for Paris in Paris, if I had been in Pontevedra [WTCS Finals] last weekend it wouldn't have been possible, it would have been too much travel, so I am grateful that I am healthy and I checked that box to have the time and space to be able to do this.
"This is very much the icing for me, it's my dessert and I love dessert! Because I have had my productive part of the season, this is the bonus. Whilst here are a lot of unknowns in IRONMAN, and there are obviously ways to mitigate and prepare, you also never know what is going to happen on race day, but I'm excited."
Having also signed with professional cycling team Trek-Segafredo this year, Knibb has proven her versatility at all distances and disciplines of triathlon time and time again in 2023. In Kona, the American star will once again have the opportunity to show the world what greatness looks like.