The last six weeks have been a whirlwind full of success for Taylor Knibb, one which will take her to St. George in Utah this weekend for the 2021 IRONMAN 70.3 World Championship.
Less than two months ago it is unlikely the 23-year-old American prodigy would have made many shortlists for potential contenders. Now she heads there with the likes of Sebastian Kienle tipping her to win it all.
It's impossible to overstate the speed and sheer scale of Taylor's rise to prominence. It began with her role in the United States claiming Olympic Mixed Relay gold at Tokyo 2020. And it culminated in her destroying modern-day GOAT Daniela Ryf and Teresa Adam at the inaugural Collins Cup.
In between those epic moments, Taylor also found time to claim an impressive WTCS victory in Edmonton and a fine second behind Emma Pallant-Browne on her IRONMAN 70.3 debut in Boulder.
Scorching summer for Taylor
So it has been quite the summer for Knibb, who told TRI247: "Heading into these past six weeks, I was not planning on racing as much as I did – and I think that helped. I really took each race one at a time.
"For example, I did not even think about racing IRONMAN 70.3 Boulder until the relay in Tokyo was over and I felt like my body was recovering well from the races. Only after IRONMAN 70.3 Boulder did the Collins Cup even become a possibility for me – and it was a complete surprise."
Tokyo was a special experience for Knibb and her team-mates – as our John Levison wrote at the time, their silver behind Great Britain was one of the great triumphs against adversity we saw in the Japanese capital.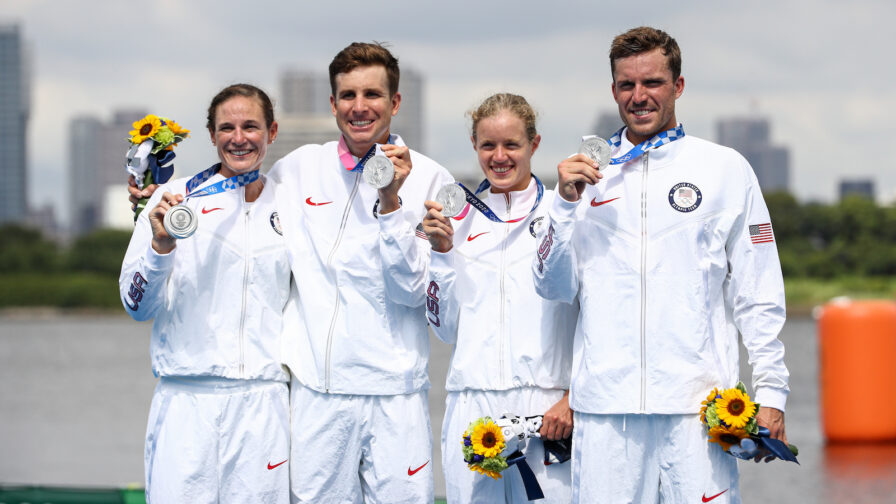 Knibb herself summed it up by saying: "I'm not sure I can put the full experience into words. I think the overarching feeling for me was grateful: for the opportunity to race, to execute a good race, and be able to share the experience with three incredible people."
That IRONMAN 70.3 bow in Boulder which followed so soon after was an impressive one, and it whetted Taylor's appetite for more.
"I knew it was a unique 70.3 because the course was very familiar to me and it's definitely an advantage to race at altitude when you live at altitude," she said.
"My biggest takeaways were that I thoroughly enjoyed the experience and I have a lot to learn and improve upon at the distance."
Knibb on Collins Cup radar
That performance in Boulder impressed many astute observers – notably those within the Professional Triathletes Organisation – who were preparing for the inaugural Collins Cup in Samorin. With Captain's Picks available for Team USA, they made the call.
Knibb explained: "When the PTO first contacted me about the Collins Cup after Boulder 70.3, I was incredibly surprised and honoured.
"Since I was about to race WTCS Montreal and WTCS Edmonton the next two weekends and then the Collins Cup would be just a week after WTCS Edmonton, I immediately thought, 'If I went, could I put together a good race in Slovakia?' and 'Would this be smart?'
"So, I talked it over with my coaches and then USA Triathlon. We ultimately decided that it would be a great opportunity, but I needed to be very smart and careful. I'm thankful we came to that decision!"
So not only would Taylor take up her spot in Samorin, she would be picked for the toughest assignment of all – taking on the mighty Ryf. While the Swiss superstar woke feeling unwell on race day, what Knibb was able to achieve was still astounding. Fastest in all three disciplines, and with a bike leg which almost defied belief.
A victory margin of more than 16 minutes over Ryf earned Taylor MVP honours for the women in Slovakia. It didn't though come courtesy of a different approach or gameplan – she did things the way she always does.
"I try to have fun! My aim is always to execute the best race I can to the best of my ability on the day, regardless of who I am racing. I was extremely excited for the opportunity to race two incredible athletes."
No bike sponsor…yet!
That astounding 1:52:11 bike split in Samorin was made all the more amazing by the fact it came on a road bike. Taylor does not have a bike sponsor as yet, but adds "but maybe and hopefully soon!"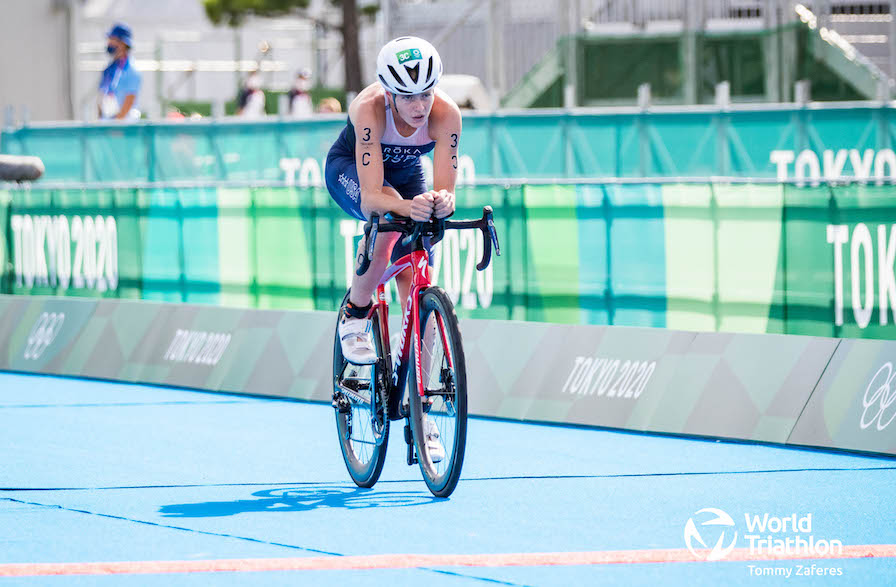 The Collins Cup achieved significant buy-in from all of the athletes involved. Important for a project which is aimed at transforming elite triathlon for the competitors involved.
Taylor told us: "The Collins Cup as a whole was a fantastic experience! In the week leading up to the race, it was amazing to meet so many other current athletes and incredible people within the sport of triathlon.
"I also loved getting to try out another new race format. I'm excited to see how it evolves and grows in the future!"
Triathlon in the genes
Knibb comes from a sporting family, her mum Leslie is a talented triathlete and coach in her own right. She was a big reason why Taylor first took up the sport.
"My mom's played a huge role in getting me involved in the sport and in my progression to where I am now.
"While she raced triathlons and my dad would take my brother and I to watch her race, she never signed my brother and I up for a race until I asked if I could do a race. While she is a coach, she has never coached me. I am extremely grateful for her continued belief in and support of me."
Taylor studied Psychology at Cornell, and when asked if she puts those learnings to use when she is racing, she admitted: "I learned so much in school that I'm certain that I do."
Some successful triathletes combine their sporting lives with other careers off the course. Is this something Taylor will pursue?
"At this point, I'm not sure if triathlon will be my sole pursuit professionally in the coming years. I'm enjoying getting to focus on it full-time right now, but I also miss having another pursuit."
When she is not shocking the world on the triathlon course, Taylor likes the simpler pleasures in life – spending time with family and friends, reading, watching a good TV show or movie, and napping.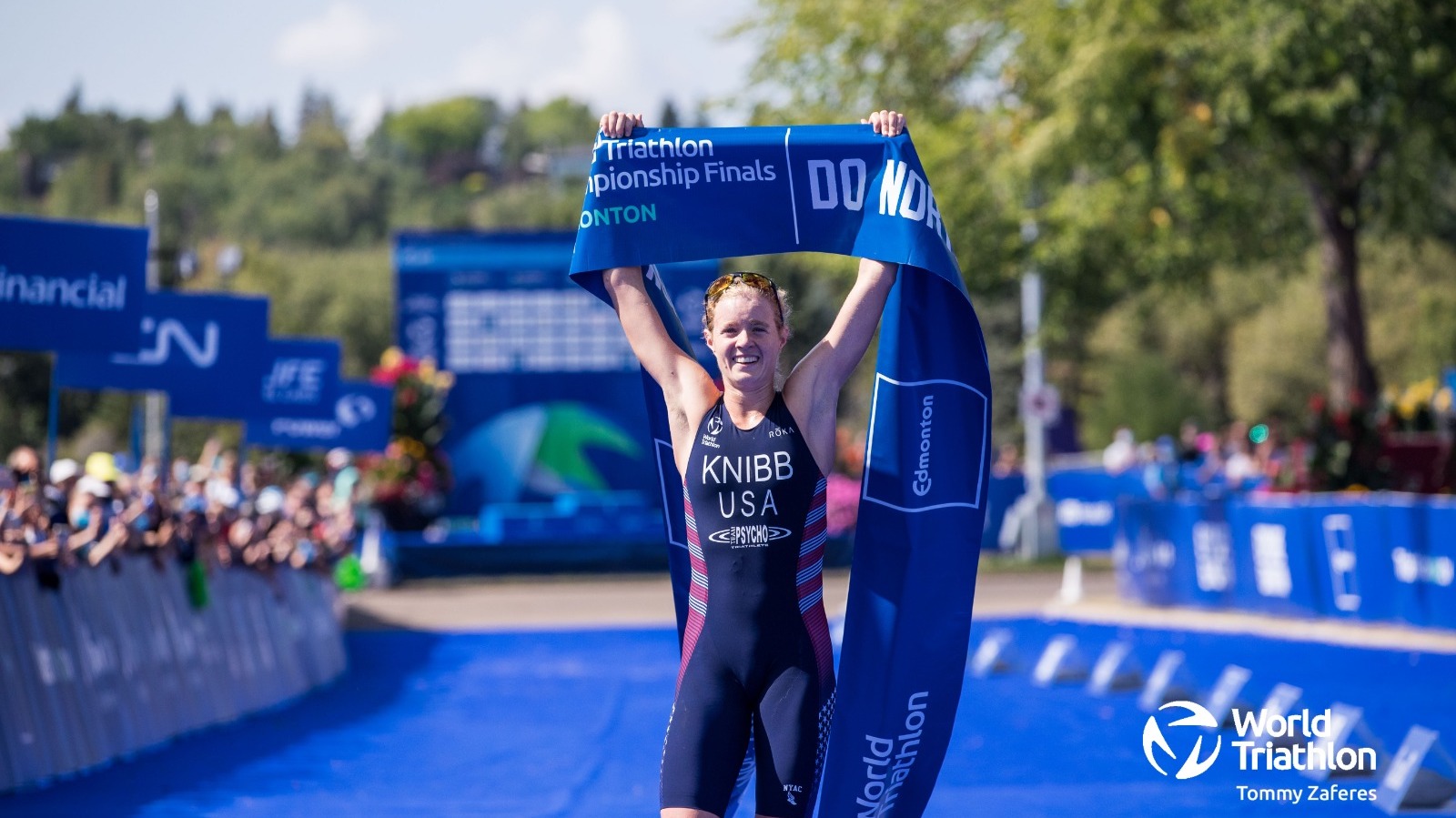 Knibb profile growing fast
One thing she has noticed in the last few weeks has been more media attention due to her increased profile.
"I've definitely received more media interest and attention than, say, a year ago. I think I'm still learning how to manage it best for me."
Should Taylor emerge victorious in St George on Saturday, that media profile will grow yet further, but the size of the challenge will not change her approach.
"I'm hoping to race 70.3 Worlds now. Like any race, I'm just hoping to execute the best overall race I can on the day."
As for her longer-term future, Taylor is keen not to commit just yet to where triathlon may take her.
"At this point, I'm not sure, as it depends on so many factors. I want to be smart and patient, but also take advantage of opportunities that may present themselves."
Several opportunities have already presented themselves in the past few weeks for Taylor, and if the way she grasped them is anything to go by, the future is extremely bright. The journey continues this Saturday in St. George.