American star Taylor Knibb is back firing on all cylinders after an extended injury layoff.
She launched her YouTube channel this week (video embedded below) with a detailed rundown of the healing process – and frighteningly for her rivals she appears to have produced that astonishing performance to win the IRONMAN 70.3 World Championship last October in spite of her foot issues.
Stress reaction – to fracture
Talking through the timeline and the details of the injury which has kept her on the sidelines since November's WTCS finale in Abu Dhabi, she explained how the problem first emerged: "I was prepping for WTCS Leeds [which took place in early June] and I felt something in my foot and was diagnosed with a stress reaction.
"I was told two to six weeks and you'll be back, it's really minor. One surgeon even said I wouldn't have even stopped you from running with that minor an edema.
"But it wasn't healing and finally at 11 weeks I saw a doctor and he said you can start running now because if it's not healed, it's not going to heal.
"So I started racing in the fall – I raced Dallas, Cagliari and then the 70.3 Worlds, Bermuda and Abu Dhabi.
And that quintet of races saw some superb performances – she picked up a second, third and fourth in the WTCS events, led for much of the PTO US Open in Dallas before being overhauled by Ashleigh Gentle and then produced that masterclass in St George where she left the world's best trailing in her wake.
Surgery the chosen option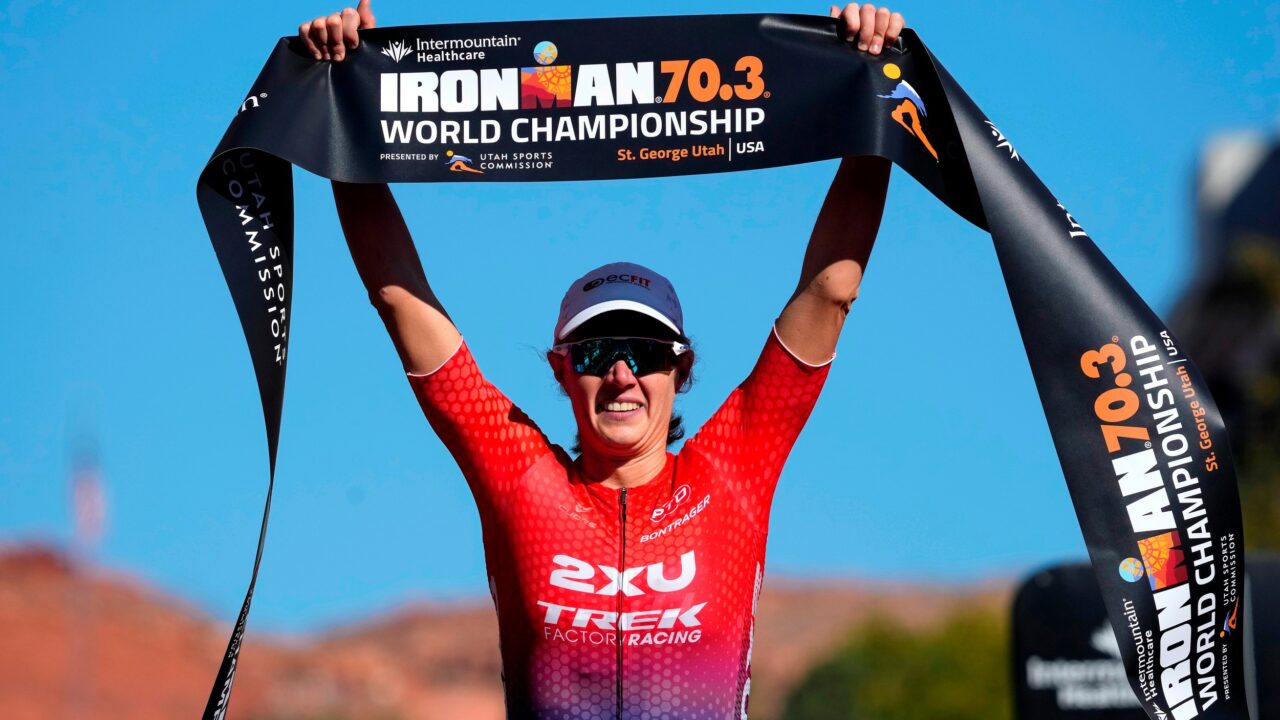 But taking up the story after that busy spell of racing, Knibb revealed: "Then I took a little break and it turns out that my foot was not healed. So I got an MRI and it was now a stress fracture, with a CT scan showing a fracture line.
"So then my options were I could rest it fully and hope it would heal and that I think would be eight weeks of nothing in a boot – no weight bearing, no training whatsoever.
"Or I could get surgery and I opted for that and got a screw put in my fifth metatarsal on January 3rd."
Working back to full fitness
From that point onwards it's all been about the recovery process, something that the 25-year-old freely admits has been "very challenging".
She explained: "Because the incision point is directly to the bone I had to be very careful and wait until it had healed before starting swimming again or doing anything.
"I did get to do strength training with Erin [Carson] which helped my sanity a lot – I wanted to go in the day after surgery, I think she said no to that but it was maybe two days after I was back working with her.
"It was four weeks before I was cleared to do some easy swimming and biking and built it up gradually.
"But I'm back fully swimming and biking and adding the running in now."
She goes into detail on the video about how even getting back outside has been a big boost and what she might do differently in the future, saying: "It was tough but I think that I have learned a lot from it and I think if I were to do it again I would focus on what you need to do [rather than what you can't].
"It was very challenging and I'm very grateful for the people around me because I know I was not fun to be around some days. But it's a period of time that's hopefully closed now."
The defence of her 70.3 Worlds title in Finland in late August is the big priority for 2023 and we look forward to seeing her back on the start line soon – and hopefully producing more YouTube videos too!