Team England were strong favourites going into the Mixed Relay in Birmingham and they delivered in stunning style.
There were a range of emotions afterwards – Alex Yee appeared super cool as he collected his second gold medal of the week, Sophie Coldwell had banished the heartache of fourth in the individual, Sam Dickinson earned a tangible golden reward for his selfless work on Friday, while Georgia Taylor-Brown finished it all off perfectly.
Perfect start
Yee led it out and his kick in the second part of the 2km run opened up a gap on New Zealand's Hayden Wilde, the man who he'd duked it out with two days earlier.
That advantage would only go one way and Yee said: "I just wanted to do the best I could. For me that meant I had to run hard and hopefully get a gap for Sophie.
"I'm just really proud of these guys and to get another Commonwealth gold is amazing. I couldn't be more proud to be English right now."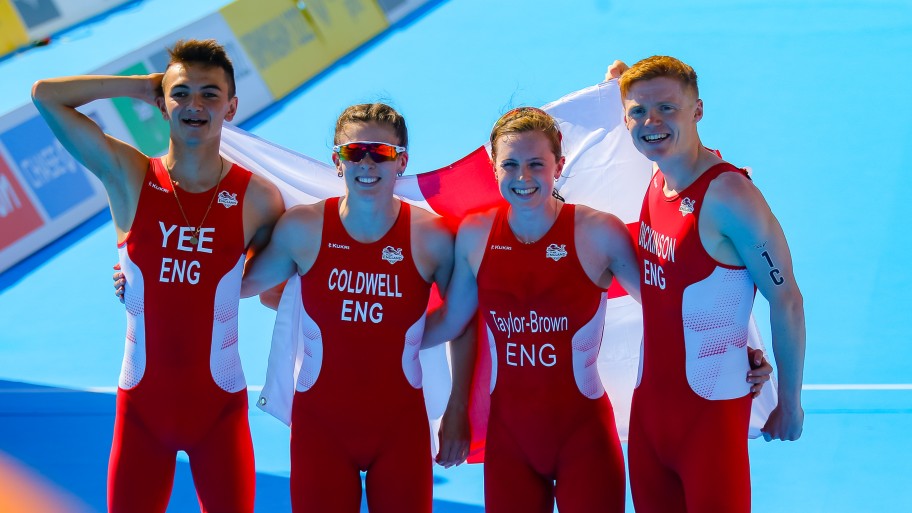 Coldwell, who didn't hide the fact she was "gutted" after being one place off the podium on Friday, admitted she had slightly mixed feelings when starting leg two: "On the one hand I was going 'woohoo, a 20 second-gap' and on the other it was 'oh no, I've got a 20-second gap'.
"But I just got my head down and had a good swim. Our team was all about commitment and positive racing and that was just what I really wanted to deliver."
'Unbelievable chemistry'
Quote of the day though surely went to Dickinson, who had buried himself on the bike to tee up individual glory for Yee: "It was amazing – we all did science at University and the chemistry in this team is absolutely unbelievable!"
And it all meant that Taylor-Brown had a 16-second advantage when she began the final leg, though she was taking nothing for granted:
"It was still really hot and it wasn't easy. But the team had put me in such a good position and I just told myself it's 20 minutes and I can do anything for 20 minutes.
"I was kind of backing out when I went non-wetsuit and everyone else went wetsuit, but the team backed me and said whatever you want to do, do it. And it paid off."