Pro View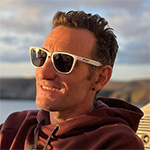 Tim Don
Tim is a triathlon and IRONMAN legend. And alongside Ian Dempsey he's created
Halo ID
, a global community for like-minded people with a love for triathlon and endurance sport – all about your next level, whatever that may be.
Wow, what a Sunday in Germany with Sub7Sub8 taking centre stage in the triathlon world, and Tim Don and Ian Dempsey of Halo ID are back to reflect on a special event.
Tim was on hand at the Dekra Lausitzring as Kristian Blummenfelt and Kat Matthews won two epic races, and smashed through new barriers in the process.
Blummenfelt clocked 6:44:25 as he ran down Joe Skipper for yet another high-profile victory, while Kat set a blistering 7:31:54 with a brilliant performance to beat triathlon legend Nicola Spirig.
Sub7Sub8 analysis
While the on-track action obviously gets a mention, Tim and Ian also talk in detail about the week as a whole, from the nature of the team event through to the actual broadcast.
Fair to say they were blown away by the coverage and entire production, and compared it with last year's inaugural Collins Cup in Samorin. Which did they prefer?
The team element blew away most of the athletes involved, and the crossover with cycling and other sports appeared to be a real winner per Tim.
Joe 3:16 the MVP?
The aforementioned Skipper gets the MVP award (Joe 3:16 anyone?) while what Spirig achieved at the age of 40 has a special mention.
Kat Matthews' rapid progression from being an amateur athlete until 2019 to second in St George and now this – again a topic which is covered by Tim and Ian.
You can watch the full show by clicking on the video embed right below here, or head over to the Halo ID website to watch a longer version. Enjoy!