The season starts here…
It many only be the second week of January, but the 2018 triathlon year is seemingly making its debut this coming weekend with a couple of international events of interest.
Sunday 14th January: IRONMAN 70.3 Pucón Chile
With a seemingly ever-increasing schedule of events around the globe, it's no surprise to see that the M-Dot / IRONMAN schedule is making an early start, with its first race of the season, Herbalife IRONMAN 70.3 Pucón in Chile on Sunday.
Located in the South of Chile, the event offers a $25,000 prize purse for Pros and a P-750 points status (which won't be needed next year!). Qualifying changes or not, one man for whom the points rating means nothing is defending champion, Lionel Sanders.After second place in Kona (HERE) and then a win at IRONMAN Arizona, his start at the IRONMAN World Championships in October is already secured.
He will of course start as race favourite and will wear #1. His winning margin 12 months ago was almost six minutes, achieved through his typically dominant bike and run legs. 2017 showed he had made significant progress as a swimmer too. That said, local athlete Felipe Van de Wyngard did hold a small lead starting the run, before falling off the pace and finishing fourth. He is back to race again alongside a host of Chilean Pros, plus the likes of former XTERRA World Champion Mauricio Mendez (MEX) and Reinaldo Colucci (BRA).
While he may be travelling from a Canadian winter, it would be a shock if Sanders didn't defend his 2017 victory and start his 2018 season in style. Of course, he has the added bonus this year of having trained with over 300 TRI247 readers last week, and event of which he said, "Thanks for having me on. It was fun. I pushed more power than I would have had I done it by myself."
https://www.instagram.com/p/Bc4-1n0nncn/?hl=en&taken-by=lsanderstri
Whilst Sanders prevented a home win in the men's race last year, Barbera Riveros did give the home crowd plenty to cheer about in the women's race, running down a huge deficit at T2 to Alicia Kaye (USA), to cross the line just 30 seconds clear. Ellie Salthouse (AUS) plus the U.S. duo of Jesse Donovan and Laurel Wassner will be among those doing their best to prevent a win-double for Riveros.
Full Pro start list is available HERE.
Saturday 13th January: Club La Santa Lanzarote International Duathlon
Now in it's 22nd year, the annual Lanzarote International Duathlon based at Club La Santa typically attracts some decent quality Pros – in part because many are training on the island at the time anyway.
Last year's men's champion was Kenneth Vandendriessche, the ETU Powerman Long Distance Duathlon European Champion in both 2015 and 2016. He should be racing again, as we are told is two-time IRONMAN 70.3 World Champion, Michael Raelert (GER).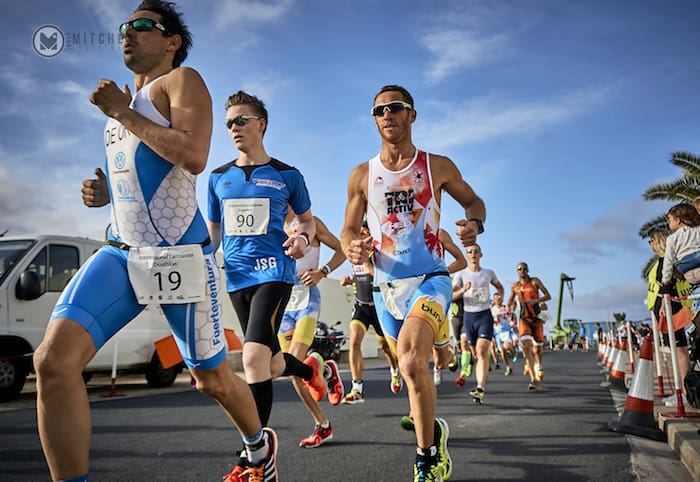 Yvonne van Vlerken was the 2017 champion and has won several times at the race previously. We don't have confirmation if she is racing this year, but a regular on the island – and an athlete that never seems to say no to a racing opportunity – it would be no surprise to see her there again if she is in the area. One name we have been given by the race organisers is Anne Haug (GER). Anne came so close to taking the win recently at IRONMAN 70.3 Bahrain, finishing just ten seconds behind Great Britain's Holly Lawrence. No stranger to Club La Santa – she ran down Lucy Charles last year to win IRONMAN 70.3 Lanzarote – anyone else wanting to win the race will want to give themselves a head-start as they leave T2…
While they are training on the island, we've been able to confirm with Team Manager Bob De Wolf, that the members of the BMC-Vifit Sport Pro Triathlon Team won't be racing this weekend, so that means no appearance from two-time World Duathlon Champion, Emma Pallant. However, as ever, we are pretty sure that there will be plenty of British Age-Groupers adding some racing action into their early season training camps!
The race is held over a 5km / 20km / 2.5km draft-legal format, the out-and-back bike course is quite a challenging one too.