In part one of our in-depth feature series on triathlon commentator, Will McCloy, the focus was on his somewhat varied sporting career before.
Today, we find out how a meeting with Chris McCormack – 'I'd never heard of him in my life' – set him on the path to become the consistent voice of the Super League Triathlon brand.
Can you commentate?
Like many of the best stories in life, fate and a little luck can provide opportunity – but it's one that McCloy grasped tightly and has made his own.
"I was working for a company here doing Rugby League, and they won the contract for the first Hamilton Island broadcast for this brand new 'thing' that was happening. My name was put forward, along with a bunch of others. Macca watched a few DVDs, showreels and the next minute I was meeting this guy and… I didn't know who he was, never heard of him in my life!
"They gave me a job as a host, and then said, can you commentate? I'd never done commentary in my life, so I was like 'yes, of course, 100%…' I think there's a certain bravery in that, because if you fail, you fail in front of everyone. More than that though, if you don't do a good job you don't do justice to all of the people that work behind the scenes to create something like that. You've got to represent what they do and that's why you need to go in 100% prepared. I try to always remember that."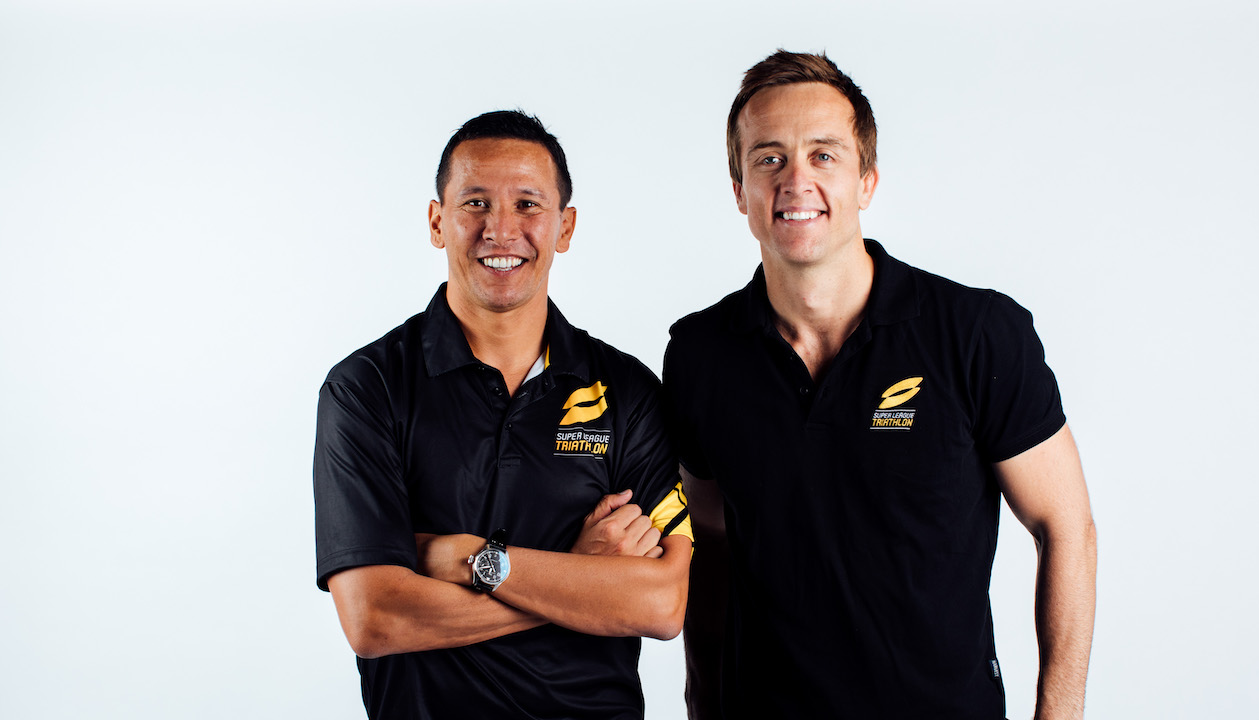 Not surprisingly, there were a few missteps along the way. Notably one that still amuses, when first meeting a triathlon legend.
"I remember meeting Emma Snowsill, not really knowing her either – maybe vaguely the name around the Olympics – and I think I said something like 'Well at least you are the only Olympic medallist in your family". She just looked at me – I hadn't heard of Jan Frodeno [Ed. Emma's husband] either at that stage… So there was a joke in the first couple of years of Super League that unless it happened after January 2017, I wouldn't know about it. To be fair, that was reasonably true at that stage!
Right from the get-go, McCloy felt that there was something different and exciting about the SLT approach.
"I loved everything about it, I loved Macca's energy – he really drove it in the early days – and it had this risk-taking, start-up vibe. I could see that Macca, Michael D'hulst and Leonid had this idea about what it needed to be, and it was something that triathlon didn't have.
"I was used to being around established sports that were the same every season, month in and month out, year in and year out and just churns over. There was a possibility in this that they would take triathlon and bring it to the greater public, so I could see this blue sky ahead, as opposed to a machine that you were just one part of."
Rules, what rules?
That's Entertainment sang The Jam, and that was the driving theme in the pioneering days of building a new triathlon brand, something that truly resonated with Will.
"We were kind of making the rules up as we went along at the start, and the idea was to put entertainment at the forefront. All of the decisions were made around that; what would be best for the viewer, what would be best for the crowd, what would be best for the athletes to keep them engaged. It didn't have a thick rulebook, but had a clean slate. What I've noticed – in any sport – is that if there's jeopardy and narrative, you'll watch it. If you can keep that jeopardy throughout the telecast, then people are gripped to it.
"A lot of time with triathlon, there are just two people talking whilst there are people swimming in the background, and it bores me too much. We didn't want it to be that, so the tight courses, multiple laps, closeness of the cameras, the camera angles, involvement of the crowd and all of the rules are designed so there are no flat spots in the telecast. There's no point in which the commentators are only talking to triathlon die-hards. We are lucky because it's so short. We had the problem with Sub7Sub8 – how do we continue to have jeopardy and pace for four hours of a bike ride?"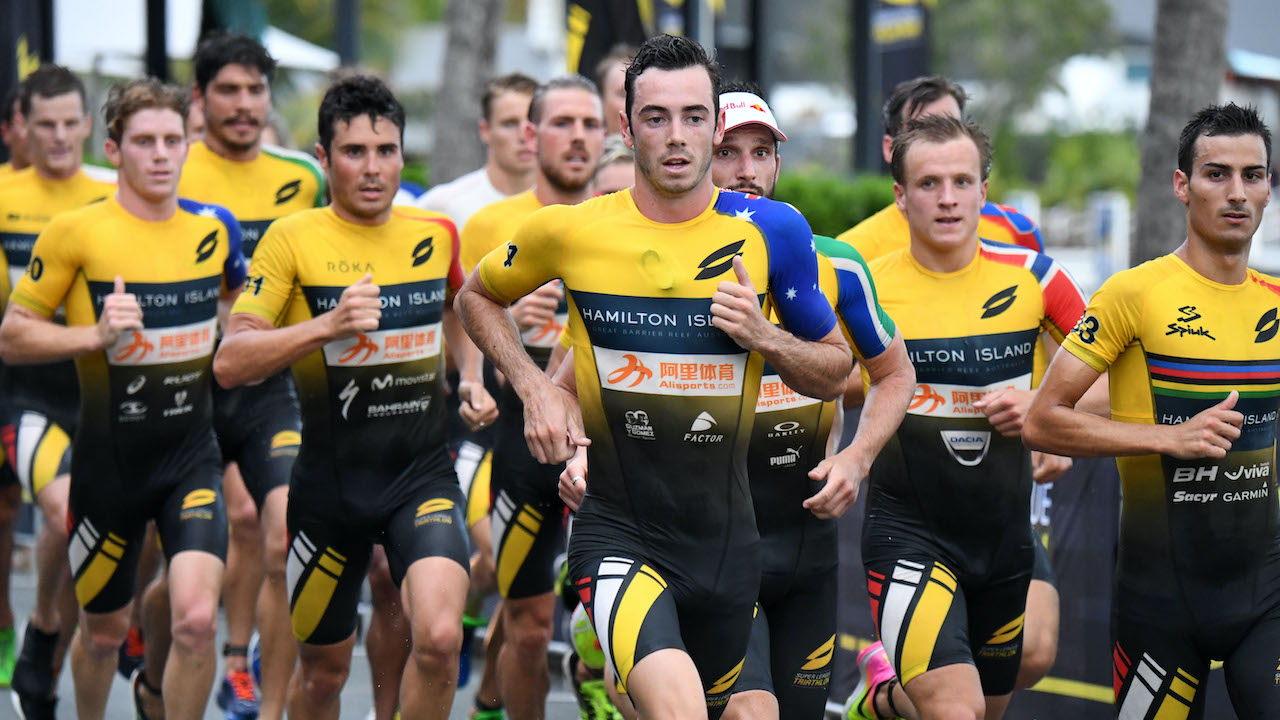 Invent, trial, adapt, improve, repeat
"With short racing we don't have that, and bringing in short chutes, team racing and building upon that was to build on the consistent theme of races within races. It can be confusing – team points, swim jersey etc, a lot of balls in the air at any point in a Super League race – so we've now tried to simplify that again, and not go too far in one direction and make it so complicated that the average punter is having trouble following everything. There are some things now that I don't mention as all, so in the swim we might leave the swim jersey points / leader to the side and that's dealt with in digital only.
"We are constantly streamlining and constantly having meetings behind the scenes with Aurora who are our broadcast partner, to make sure that the best possible product is going out to everybody and not just the triathlon die-hards who will watch everything. We also go to Eurosport now who will have so many different commentators in different languages, so you need it to be accessible to everybody whether they have seen a triathlon or not. I think we are getting closer every time to hitting that target.
"Super League are still brave to consider everything, and potentially try them. We haven't lost that mentality, and it's not just the racing. We think what if we do the podcast like this? What if we include this person? What if we do this documentary? And we've tried everything from long-form to features. It's all about that narrative, creating the jeopardy in the racing and bringing that to people. They – the core team, because I dip in and out – should be commended on trying new things and not getting stuck in the mud.
"We've built a lot of trust with these guys, the athletes, over a lot of years now and we do a lot for them, and so I think that's why you get great interviews and content, because they trust us."
Will McCloy Interview Series