Thursday's World Paratriathlon Championship in Abu Dhabi saw British athletes secure three medals; gold, silver and bronze. It was high quality racing which saw the 12 gold medals issued spread across seven national federations. That's a positive sign for the continued growth and development of the sport globally.
And the British team were racing today with more than just medals on their mind. #ForGeorge was front and centre of their thinking – and their race kits – as their team mate, George Peasgood, continues with his recovery from a freak bike accident in early October.
Unbeaten 2022 for Ellis and Pollard
While the PTVI (visually impaired) success of Dave Ellis and Guide, Luke Pollard, was in line with forecasts – that doesn't mean that it comes easy. That win means that Dave has earned British, European, Commonwealth and World Championship titles this year, alongside further World Triathlon Para Series (WTPS) and Para Cup victories.
"It's brilliant to be World Champion again," Ellis said. "It feels like it gets more difficult every time because everyone is gunning for you, and you get a bit nervous about it. To defend the title back in Abu Dhabi is awesome.
"We were chasing for a bit. It's a real quick bike and it's tough to catch people, everyone was going really quick. Thankfully we came off near the front and then could put a good run together.
Pollard added: "With the start of the year with Dave's broken arms, he's really dedicated himself this year and it's really paid off today. It's pretty massive, it feels pretty special."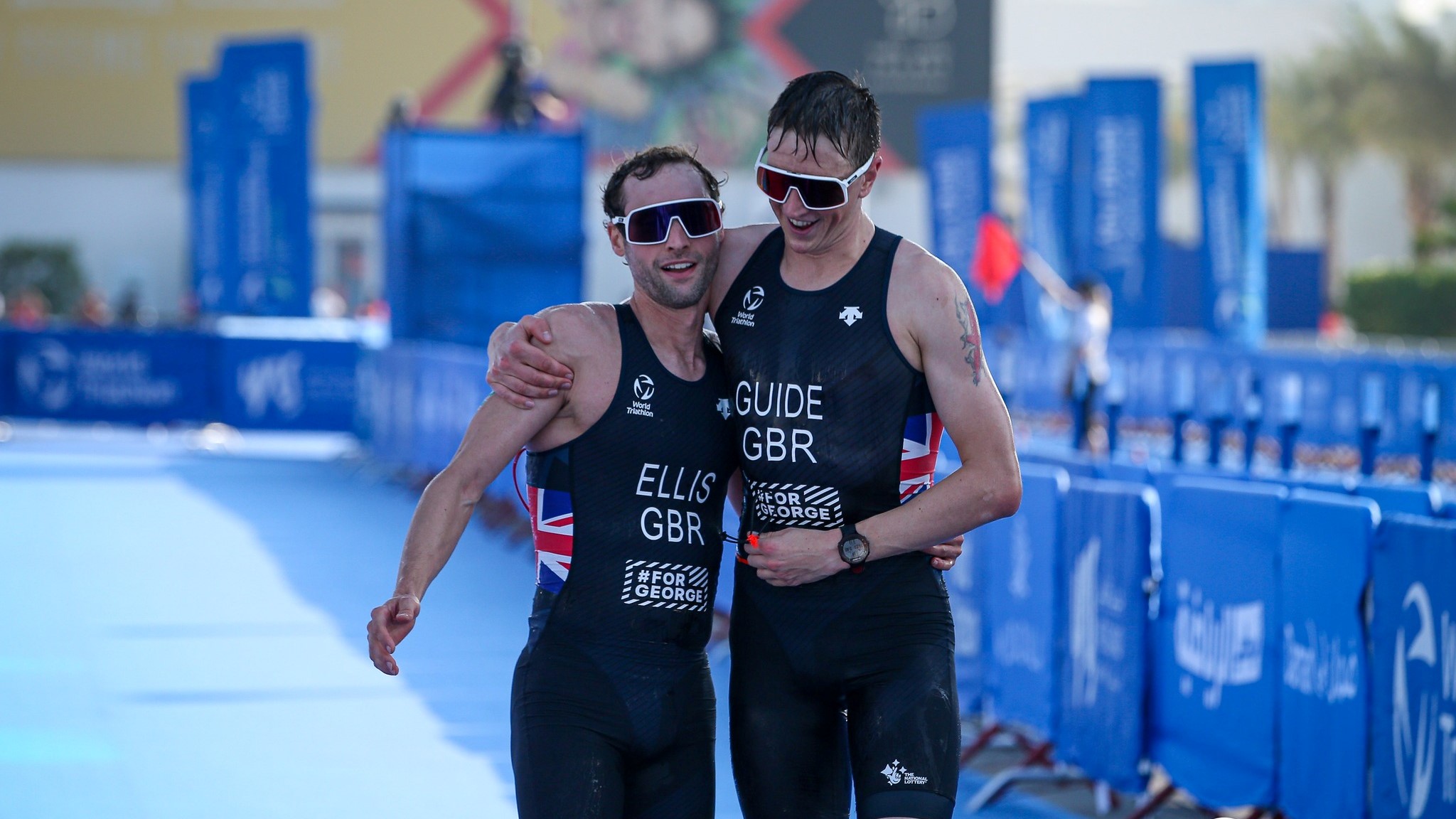 #ForGeorge – Silver lining for Cashmore
The PTS5 division was always set to be another close race with Grace Norman (USA) and Claire Cashmore, the silver and bronze medallists from Tokyo 2020. The American – who also won Paralympic gold at Rio 2016 – came out on top this time, but Cashmore was pleased with her efforts.
"It was a great race. I came out of the swim pretty well, it was the best swim I've had in a long time. The first bit we were battering each other, it was very messy, but as soon as I got away it was really good. I got out onto the bike first and then Grace just had a phenomenal bike.
"It's very much where I am right now, and I'm really chuffed with that for this year and hopefully I will come back stronger and fitter next year. On the run it was about maintaining that distance to Grace and come away with the second.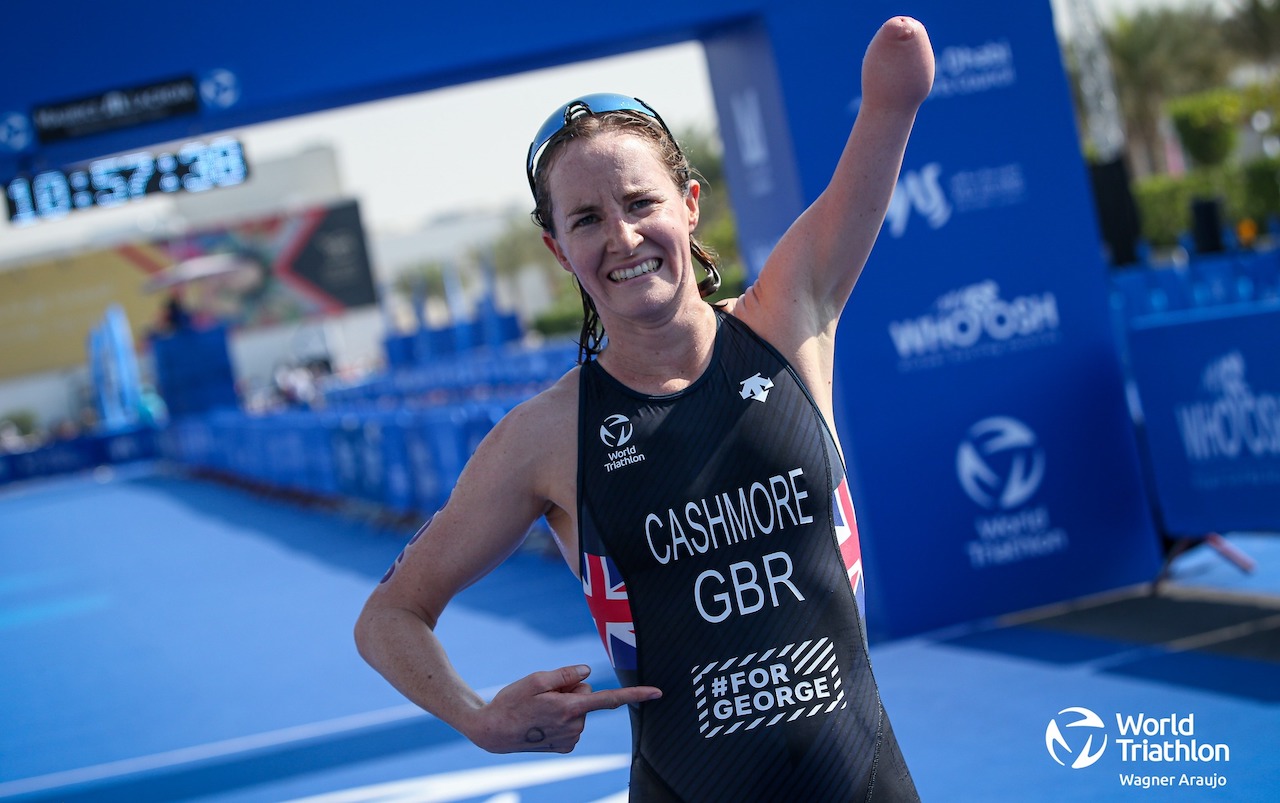 "It felt quite emotional for me coming through the finish line, just thinking about George [Peasgood] and you feel so grateful and happy to be here and be racing. I think you realise how incredibly lucky we are to have this opportunity and never take it for granted.
"All of us having George on our trisuit wills us through knowing he's with us the whole way and I think as a team we're such a strong unit, we've got his back the whole way. It's definitely brought us closer together."
When bronze feels like gold – Peasgood and Gillies
The Women's PTVI category has been dominated in recent years by today's winner, Susanna Rodrigez, but there was a lot to be pleased about today for third-placed Alison Peasgood, Guided today by Brooke Gillies.
The whole British team was inspired by their thoughts of George Peasgood today, something even closer to home for Alison, with George being her brother-in-law. Not surprisingly, preparations for racing today were far from perfect as a result.
"It feels like first place to me," Peasgood said. "I didn't think we would be here fighting this World Champs so to be here and for Brooke to get me around so safely I couldn't be happier.
"Everyone was saying you're 30 seconds, you're 20 seconds, you're 15 seconds, I said to Brooke 'I just want to finish, it doesn't matter'. The conditions were fine on the swim and bike, and it was fine on the run. It wasn't as hot as I thought it was going to be. It wasn't as hot as Tokyo."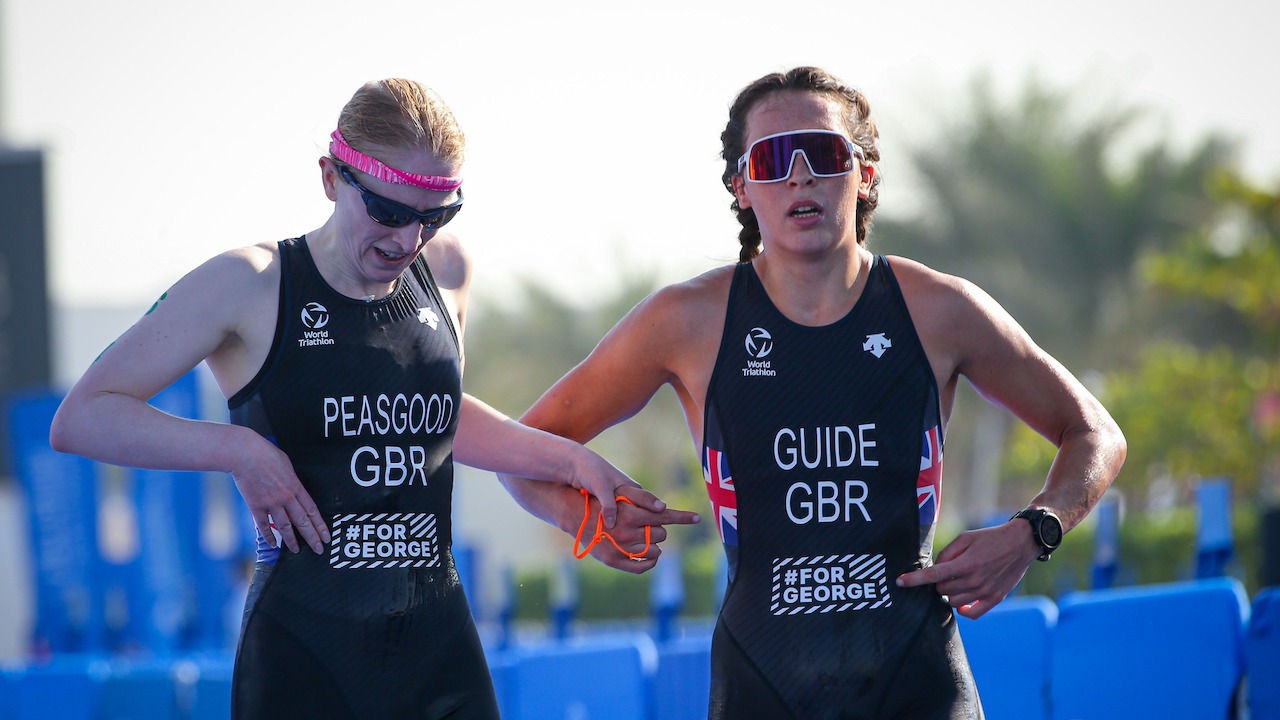 "It was a hard race for sure, but mentality took us through, George [Peasgood] brought us home and so did my Nanna," Gillies added. "I think we've done everyone proud, and we have done what we could today. We can't be happier than third place, it's the icing on the cake.
"After we got to the last turn point at the top, we had already passed them and that's when we thought we can just hold this pace, we don't need to push any harder and we saw the gap open up and up and that gave us the confidence."