IRONMAN 70.3 Bahrain – Saturday 8th December 2018
The IRONMAN 70.3 Middle East Championship returns to Bahrain in December, a venue we have visited twice before (including in 2017), and thoroughly enjoyed. With a city-based race (in the capital, Manama), close to the airport and direct flights too, it is also a surprisingly easy trip if you are considering visiting from the UK.
If qualifying for the IRONMAN 70.3 World Championship in Nice, France, next year is your goal – the event has 40 qualifying slots AND a further 25 slots available to women through the Women for TRI initiative. Read more on that here…
---
Beat the cold weather! Bahrain is the perfect triathlon destination for all triathletes who aim to end the racing season in great weather. 
The Kingdom of Bahrain will host IRONMAN 70.3 Middle East Championship Bahrain on 8th of December 2018. Now on its fourth year, the event continues to attract more participation from Age-Group athletes and the world's best Professionals. In 2017 that included the likes of Daniela Ryf, Kristian Blummenfelt, Javier Gomez and Holly Lawrence, amongst many others.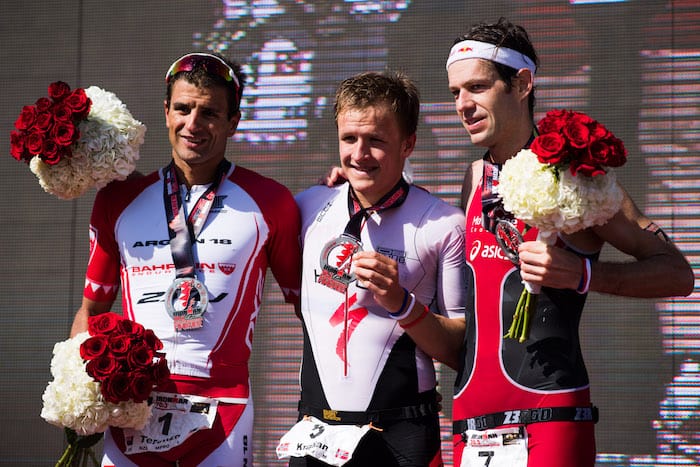 This race of mental strength, determination and endurance is more than just a sporting event, it also features a three-day expo with activities that the whole family and spectators can enjoy.
THE GREAT ESCAPE TO AN ADRENALINE-PACKED CHAMPIONSHIP
IRONMAN 70.3 Middle East Championship is the perfect event to go on a great escape from the cold weather and end the triathlon season for 2018. The final IRONMAN race weekend of the year brings a sensational adrenaline-filled Championship. On 8th of December, Bahrain welcomes international athletes to a one transition race with a fast new course designed to beat personal best.
SPECTACULAR NEW RACE COURSE AND VENUE
The start and finish line welcome athletes in the heart of Kingdom's capital in Manama at The Avenues Mall, a waterfront shopping centre along Bahrain Bay with a spectacular view surrounded by the city's skyscrapers.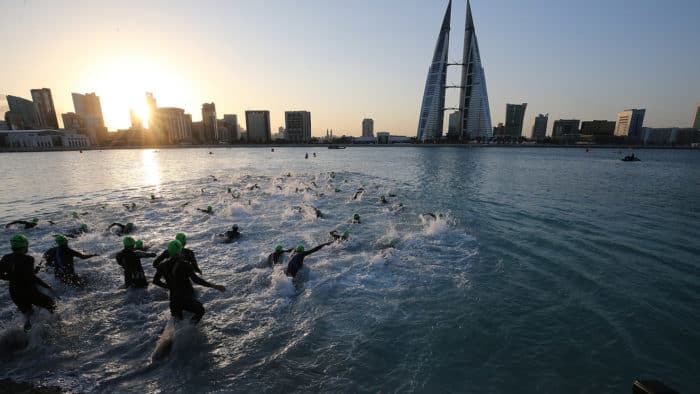 Athletes begin the race with one lap of 1.9km rolling swim start for Age-Group and Pro athletes at The Avenues' waters, followed by a 90km bike course from the twisted tower in Bahrain Bay throughout the city. Participants will pass ultra-modern landmarks such as Bahrain World Trade Center, Bahrain Financial Harbor, Bahrain International Circuit and historical sites like the Dilmun Burial Mounds and then back to the Avenues.
The course ends with a 21.1 km three-loop run course around Bahrain Bay. The one transition course provides a spectator friendly atmosphere bringing the action closer to the public and athletes' family.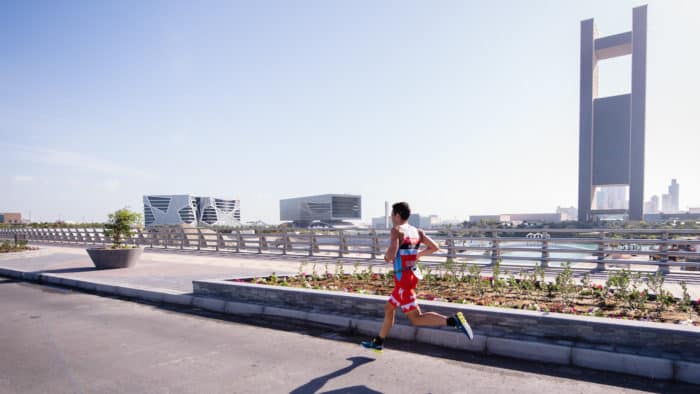 A NEW AND EXCITING EVENT FOR KIDS
Despite more than 40 years of history, IRONMAN is still a fairly new addition to sporting events in the Middle East. In Bahrain, the event is continuously evolving and has expanded in opening a triathlon race for kids last year, adding and a new fun and exciting IRONKIDS Aquathlon race for 2018. IRONKIDS AQUATHLON with a distance from 100 metres to 1.5 kilometres is open to children from 14 years and below.
The race for IRONKIDS and IRONGIRL is scheduled on Friday, 7th of December 2018.
Every year, the organising committee brings new ideas and concepts to continue to further develop this already popular event.
QUALIFY FOR A SLOT TO THE 2019 WORLD CHAMPIONSHIPS IN FRANCE
For the fastest Age-Groupers, IRONMAN 70.3 Middle East Championship Bahrain offers 40 qualifying slots for the 2019 IRONMAN 70.3 World Championship in Nice, France.
CELEBRATING WOMEN'S ACHIEVEMENTS
This year, women triathletes have additional chances to qualify for a slot through Women for TRI with 25 slots for female athletes to race the 2019 IRONMAN 70.3 World Championship. IRONMAN 70.3 Bahrain Middle East Championship is one of the 20 races worldwide that was selected to offer slots for Women for TRI as bonus slots to the pinnacle event.
"IRONMAN has certainly contributed in expanding sports and overall tourism in the island including promoting a healthy and active lifestyle in the community. There is a massive increase in triathlon events in Bahrain and triathletes' participation year-after-year. We are more than honoured to host athletes from around the world this December. Our team are actively working on developing the race course and event details to offer a better experience for the athletes including the spectators as well." said Amal Murbati Board member and Director of Faalyat.
GENERAL INFORMATION AND REGISTRATION
General registration is still open and for more information about the event and race course details, visit www.ironman.com/bahrain70.3. Athlete inquiries may be directed to bahrain70.3@ironman.com
IRONMAN 70.3 Middle East Championship Bahrain partners with Ramee Grand Hotel offering athletes cost effective accommodation packages. Visit https://www.rameehotels.com/manama-bahrain/ramee-grand-hotel-and-spa-manama/overview.
For more information on the IRONMAN brand and global event series, visit www.ironman.com.