Live Stream and Rating Report details for Challenge Roth
This coming weekend is a big one for European long-distance triathlon – and for several high profile British iron-distance athletes.
At IRONMAN Austria in Klagenfurt on Sunday, David McNamaee (3rd in Kona last year), Susie Cheetham (6th in Kona) and Emma Pallant (looking to secure her first Kona start after a DNF at IRONMAN South Africa), will be among the British athletes lining up in the Wörthersee, with high hopes of podium success.
At the same time, the flagship race of the Challenge Family – Challenge Roth – will be taking place with a stellar field in Bavaria. This years race was boosted by a $200,000 prize purse, with the winners collecting a healthy $40,000 share each of that.
Brits racing this year include Joe Skipper (second in both 2016 and 2017), Fraser Cartmell, Lucy Charles and Laura Siddall (fourth in 2016, second in 2017).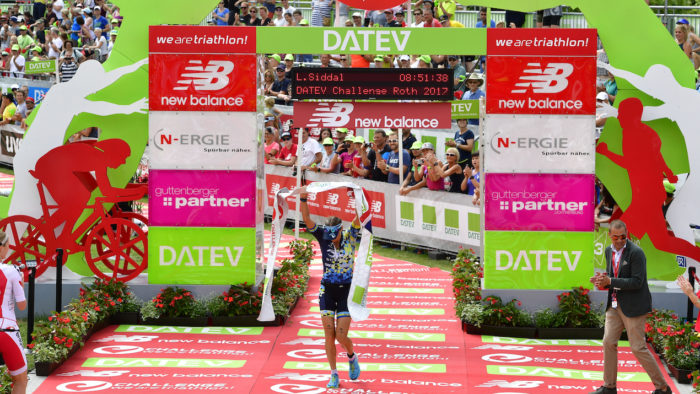 The race will be available to watch via the live stream via the race website (www.challenge-roth.com), with the approximate scheduled broadcast times (UK time), of 7:30 a.m. to 3 p.m. The Male Pro's start at 5:30 a.m. (UK time / 6:30 a.m. local), with the Female Pro's at 5:33 a.m. (UK time / 6:33 a.m. local). So yes, it does look currently (and we have checked to confirm that this is correct…), that the first couple of hours of the race won't be available live.
The coverage will be available in both German and English, with the English speaking coverage hosted by Thorsten Radde (a German!), the data guy behind www.trirating.com. As well as providing his experienced input on race day, Thorsten has also produced a bespoke Challenge Roth Rating report, which is a 60+ page PDF available for download, providing a huge amount of data, information, history and research about the race and the athletes racing this weekend. He makes Sebastian Kienle (GER) and Lucy Charles his race favourites – and we wouldn't disagree with that forecast…
CLICK HERE for Thorsten's Challenge Roth Rating Report