Top Five Men from 2017 return to Kona
55 Men on the final Pro Start List for Kona 2018
While there will be no Jan Frodeno at the IRONMAN World Championship in 10 days time on October 13th, the addition of five-time ITU World Champion Javier Gomez to the men's race this year will surely add additional interest to an already impressive line-up. The final bib numbers have been issued today (full listing below), with Germany's defending champion (and course record holder), Patrick Lange wearing #M1. Having set a run course record of 2:39:45 in 2016 – and almost matched that with 2:39:59 last year – it's unlikely anyone aiming for the top spot on the podium will be wanting to start the marathon next to him.
David McNamee (who has never been beaten by another British athlete in an Ironman race), secured the first ever British Male Pro podium finish in Kona last year. Just moments later in an interview with myself, David reflected on the pre-event crash of fellow Brit Tim Don and wished him a speedy recovery and adding "next year we can battle it out for the podium." Remarkably – given what he has been through – Tim will be racing again this year.
Completing the British Men's entry of four Pro athletes is Joe Skipper (13th in 2015) and Will Clarke, who will be very hungry to perform having missed out last year after crashing and damaging his shoulder eight weeks before the race.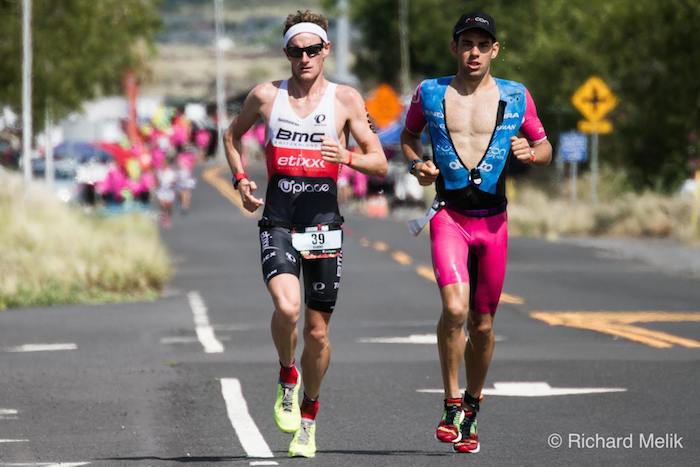 | BIB | NAME | COUNTRY REP | |
| --- | --- | --- | --- |
| M1 | Patrick Lange | GER (Germany) | |
| M2 | Lionel Sanders | CAN (Canada) | |
| M3 | Sebastian Kienle | GER (Germany) | |
| M5 | David McNamee | GBR (United Kingdom) | |
| M6 | James Cunnama | RSA (South Africa) | |
| M7 | Javier Gomez Noya | ESP (Spain) | |
| M8 | Patrik Nilsson | SWE (Sweden) | |
| M9 | Josh Amberger | AUS (Australia) | |
| M10 | Braden Currie | NZL (New Zealand) | |
| M11 | Frederik Van Lierde | BEL (Belgium) | |
| M12 | Ivan Tutukin | RUS (Russian Federation) | |
| M14 | Andy Potts | USA (United States of America) | |
| M15 | Kyle Buckingham | RSA (South Africa) | |
| M16 | Bart Aernouts | BEL (Belgium) | |
| M17 | Brent McMahon | CAN (Canada) | |
| M18 | Ivan Rana | ESP (Spain) | |
| M19 | Cameron Wurf | AUS (Australia) | |
| M20 | Tim Van Berkel | AUS (Australia) | |
| M21 | Michael Weiss | AUT (Austria) | |
| M22 | Igor Amorelli | BRA (Brazil) | |
| M23 | Matt Hanson | USA (United States of America) | |
| M24 | Joe Skipper | GBR (United Kingdom) | |
| M25 | Maurice Clavel | GER (Germany) | |
| M26 | Jan Van Berkel | SUI (Switzerland) | |
| M27 | Antony Costes | FRA (France) | |
| M28 | Philipp Koutny | SUI (Switzerland) | |
| M29 | Boris Stein | GER (Germany) | |
| M30 | Andrew Starykowicz | USA (United States of America) | |
| M31 | Luke McKenzie | AUS (Australia) | |
| M32 | Tyler Butterfield | BER (Bermuda) | |
| M33 | Will Clarke | GBR (United Kingdom) | |
| M34 | Ben Hoffman | USA (United States of America) | |
| M35 | Kevin Collington | USA (United States of America) | |
| M36 | Marc Duelsen | GER (Germany) | |
| M37 | Jens Petersen-Bach | DEN (Denmark) | |
| M38 | Cyril Viennot | FRA (France) | |
| M39 | Mike Phillips | NZL (New Zealand) | |
| M40 | Alessandro Degasperi | ITA (Italy) | |
| M41 | Ruedi Wild | SUI (Switzerland) | |
| M42 | Andreas Dreitz | GER (Germany) | |
| M43 | Tim O'Donnell | USA (United States of America) | |
| M44 | Cameron Brown | NZL (New Zealand) | |
| M45 | Romain Guillaume | FRA (France) | |
| M46 | Denis Chevrot | FRA (France) | |
| M47 | Thiago Vinhal | BRA (Brazil) | |
| M48 | David Plese | SVN (Slovenia) | |
| M49 | Matt Chrabot | USA (United States of America) | |
| M50 | Giulio Molinari | ITA (Italy) | |
| M51 | Tim Reed | AUS (Australia) | |
| M52 | Ronnie Schildknecht | SUI (Switzerland) | |
| M53 | Callum Millward | NZL (New Zealand) | |
| M54 | Simon Cochrane | NZL (New Zealand) | |
| M56 | Nick Baldwin | SYC (Seychelles) | |
| M57 | Tim Don | GBR (United Kingdom) | |
| M58 | Matt Russell | USA (United States of America) | |