The Nevis Triathlon – Revisited
Today is the penultimate update from Tri247's Paul Shanley look back on his amazing trip to the Caribbean for the Nevis Triathlon (www.triathlonnevis.com) in 2014.
In this piece Paul manages to forget his breakfast, climb a mountain and then visit the Four Seasons spa for a rejuvanating massage "so good I am not sure I can describe it in words"…before finishing the day at The Firefly Lounge for cocktails – all good race preparation, I'm sure…!
Full links to Nevis Triathlon 2014 coverage
Part 5: Race Day – The Nevis Triathlon (Sunday)
---
Postcard from Nevis – Up The Mountain
After another great nights sleep, I was up early to get ready to take the climb up Mount Nevis. Being virtually in the middle of the island and at 3,232ft high, the Peak does dominate Nevis. Since arriving I have had this urge to climb it, for no other reason than it was there. Jane was working today (well that's what she said… it could be she didn't fancy the climb!), so she had hooked me up with local Iggy who often climbs to the top.
Climbing the peak is getting more popular and there are a number of people who now offer a guided climb. Iggy has been visiting the top of the peak ever since he climbed it while at school. Not really knowing what to expect, I was told to bring some shoes that I don't mind getting muddy and be prepared to be out for a couple of hours. Most people take around three to four hours to go up and down the peak, but my competitive side was looking to go quickly and I know that Iggy has been up to the top in around 45 minutes which is pretty swift going.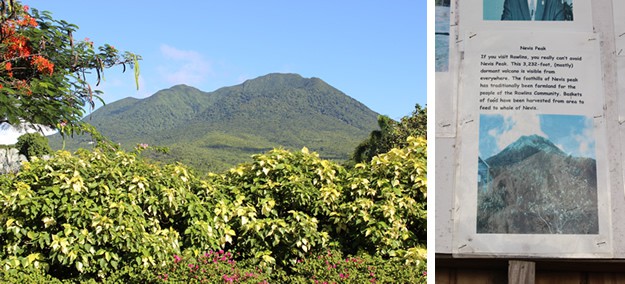 Meeting Iggy in a small village at the bottom of the peak called Rawlins, I had already made one major error in not telling my hotel that I was leaving early, as if they had known they would have put together a takeaway breakfast for me. As it was, I had a bottle of water and a Twix chocolate bar to fuel me till at least lunch time. Although early, it was already warming up and after a quick introduction to Iggy we were in to the jungle.
There is a path of sorts to follow and Iggy has also brought along a machete should we need to clear through anything. My initial conversation was about what animals we might meet in the jungle, in particular I was concerned about all the tree branches and roots I was grabbing hold off just in case one of them turned out to be a big snake. Iggy assured me that I didn't need to worry about snakes as many years ago they introduced mongoose to the island to catch the snakes. Unfortunately the mongoose took over pretty quickly so monkeys were introduced to catch the mongoose with mixed results… and the island now has plenty of both.

The going was wet and slippery and after an undulating walk through the jungle we were soon climbing a steep gully which was a mixture of rocks and mud surrounded by lush flora and fauna. Most of the route has ropes hanging down that you can use for balance or to help pull you up. It takes a bit of time to gain the confidence in these and you always have to be careful as they come with no guarantees they are tied on. Within five minutes I knew I was in trouble having just had a Twix for breakfast, so I had about 20 minutes of climbing where I felt pretty out of it as my body try to adjust to little food.
I was told a lot about my guide Iggy before I met him, what a great character and a nice guy he was, and he certainly lived up to that. As well as finding some common ground with a mutual interest in rap music, Iggy loves to write poetry and spent most of the climb telling me different poems he has written, and they are really good! Poetry is not something I listen to or read very often, but when you have a character like Iggy talking away it was somewhat hypnotic as we climbed higher and higher up the mountain.

We stopped a couple of times (after my request to take a photo… but it was really so I could get my breath back), and you could get a glimpse of the island through the cloud cover. The higher we climbed the cooler it got and when we reached the summit it was pretty misty and cool. At the top there is a visitors book where you can sign that you have been to the top and all sorts of people have visited including Elquemedo Willet who we spoke to yesterday.
We had reached the top in one hour five minutes which I was pretty happy with considering it was much harder than I expected it to be. There was no view to see today at the top as the peak was covered in cloud that gave the island its name – the white cloud looked like snow (nieve) to the Spanish.
I took the opportunity to have a quick chat with Iggy at the top:
I even got Iggy to read one of his poems about Nevis titled "Queen Of The Caribbean"
The descent was much quicker, although I actually found it a bit more scary at times then the ascent. With the wet ground and in particular the rocks, you had to be really assured on your footing otherwise it would be easy to fall. Just near the end of the descent I had a slip and ended up hitting a rock with my backside. I was soon up and walking again but it was a hard reminder to keep concentrating at all times and I had visions of Iggy writing a poem about it.
The climb was a great experience. It's perfectly positioned in that it's not easy, but possible, and I ended the climb tired, hungry and extremely satisfied with my achievement. I also got to spend some quality time with Iggy who I am hoping goes on to become a well known poet worldwide, and I can earn my living telling the story of when I climbed a mountain with him! You can follow Iggy on instagram here http://instagram.com/ignacioottley
The climbing of Mount Nevis was not originally on the days schedule and we were under time pressures to get up and down the mountain before a trip to a spa that was on the agenda. The spa was based within the very exclusive and luxurious hotel the Four Seasons (www.fourseasons.com/nevis). The hotel is the biggest on the island and offers 196 deluxe rooms along with 44 villas all under its five star rating. As well as being by the beach the hotel is built around an award winning golf course designed by Robert Trent Jones II.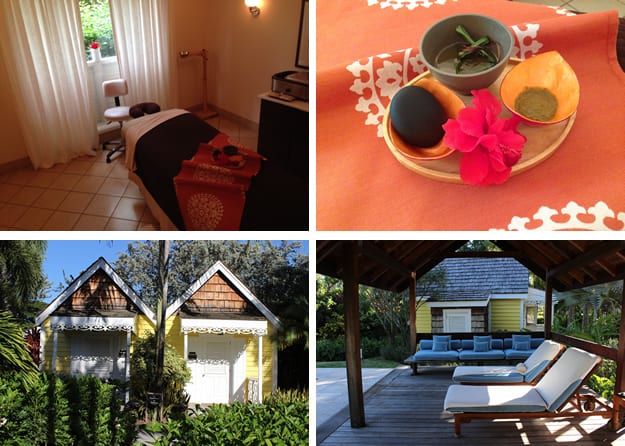 Though familiar with sport massages, I have never been to a spa so I was intrigued to see what it would be like and happily headed to the changing room to emerge in a comfy dressing gown and slippers. I was having a rejuvenating massage which was so good I am not sure I can describe it in words. It was a mixture of relaxing, meditation and a sports massage which after the climb was just what I needed. It also included a hot stone treatment that left me pretty relaxed to the level of spaced out.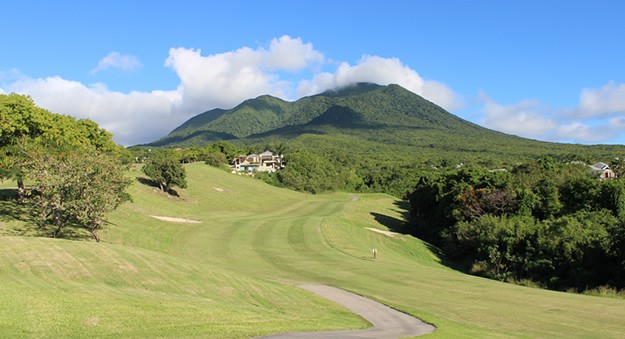 After that I headed to the outside hot and cold plunge pools and sat on a lounger which was pointing directly at Mount Nevis. After the mornings activities the massage was the perfect thing to do, and I spent the next couple of hours just taking in the climb, Nevis and life in general. Jane joined me for some lunch and a chat and I came away from the whole experience relaxed and revitalized and in a great place to take on the triathlon in the morning. I can't help but wonder why more business meetings are not held at the spa as it is the perfect way to relax and think clearly.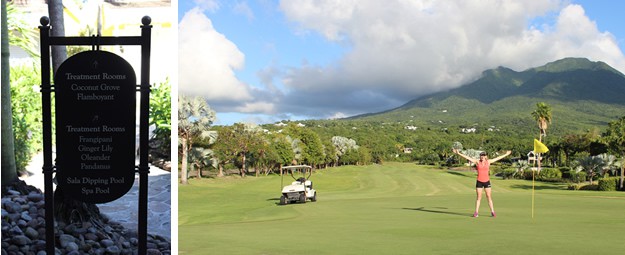 To really appreciate the Four Seasons you have to take a trip around it and as I had the race in the morning we borrowed a golf buggy and had a drive around the course and the hotel grounds. The grounds are extensive and beautiful whichever direction you go, and some of the villas have to be seen to be believed. It's no surprise that when the worlds superstars are not having a Killer Bee in Sunshines, they are seen in and around the Four Seasons.
Dinner tonight was at a Bananas Restaurant (www.bananasrestaurantnevis.com), located in the mountains of the district of St Pauls near the capital Charlestown. A few people had talked about Bananas and how the restaurant had a real homely feel and a fun atmosphere and was a must visit during the stay. As well as great food, Gillian the owner runs an art gallery and gift shop and the walls of the restaurant and adorned with colourful art all from the Caribbean.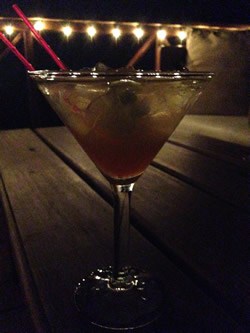 Originally from the UK, Gillian trained as a classical dancer and dancing took her all over the world with plenty of adventures (she says the restaurant was named after her state of mind). Building the restaurant over time, the look and feel of bananas just developed naturally and you get the feeling Gillian and the staff enjoy being there more than the customers at times. Enjoying a signature cocktail on the top deck of the restaurant (The Firefly Lounge), we were too late to see the sunset but were treated to the nightime lights of Charlestown. The restaurant features a dining terrace overlooking the gardens and the extensive menu with a Caribbean theme (with a twist) was amazing.
We were lucky to experience a birthday party at the restaurant and it will be no surprise as being a former dancer Gillian and the staff don't just bring out a cake sing, but also perform a dance routine. All-in-all an experience not to be missed – especially if it's your birthday!
Full links to Nevis Triathlon 2014 coverage
Part 5: Race Day – The Nevis Triathlon