The season isn't over yet, and while last weekend was very quiet, there are a few long-standing events on the schedule to keep an eye on. Check out these three…
Laguna Phuket Triathlon
The 26th edition of the 'The Race of Legends' takes place in Thailand on Sunday, based at the Laguna Phuket resort. The race features a 1.8km swim / 50km bike / 12km run, and has welcomed a who's who of athletes over the past quarter of a century.
The Pro race has a $20,000 prize purse and has attracted three-time winner Michael Raelert (GER), four-time champion Massimo Cigana (ITA) and Ruedi Wild (SUI) among the Pro men.
Great Britain's Emma Pallant will be hoping to finish her season off on another high, having won the inaugural Challenge Cape Town two weeks ago. She'll be facing the fast-rising star that is Imogen Simmonds (SUI), who has had a breakthrough year. She took Bronze at the IRONMAN 70.3 World's in Nice, second at the IRONMAN European Championship in Frankfurt plus a top-10 finish on her Kona debut.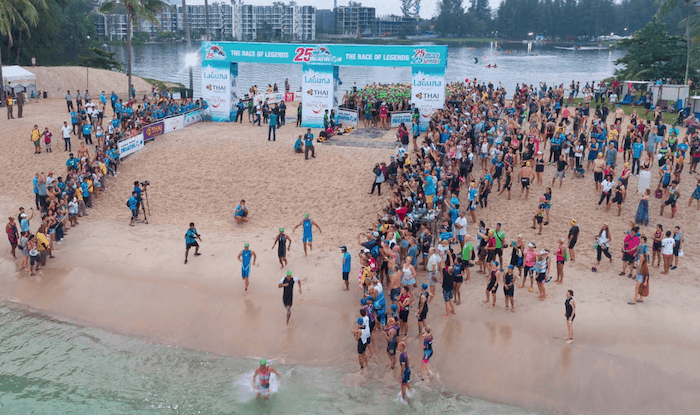 IRONMAN Cozumel
With 'Latin American Championship status, Sunday's race will feature both a $100,000 prize purse plus three Kona-qualifying slots each, for men and women.
Three British women are set to race in Mexico – Susie Cheetham, Caroline Livesey and Tara Grosvenor. Well, we hope that Susie, who won IRONMAN Hamburg this year, will recover in time to race. Kona didn't go well for the Bath-based athlete this year, but she'll be hoping – as she did last year – to be able to secure her 2020 start in Hawaii nice and earlier, before heading into the off-season and regrouping for 2020.
https://www.instagram.com/p/B5GdgwwhWKT/
Caroline Livesey is returning the what was her very first IRONMAN race nice years ago, as an Age-Group athlete. She's very happy to be back – and with the issues she's had to deal with in recent years – we are happy to see her racing too. A finish as exciting as the one, would be nice 🙂
https://www.instagram.com/p/B5D7zpYhiz4/
With IRONMAN Arizona being a Pro Women only race, no surprise that the men's field in Cozumel is particularly strong. Tim O'Donnell (second in Kona), Frederik Van Lierde (BEL), Patrik Nilsson (SWE), Andreas Raelert (GER) and Matt Russell (USA) are just a handful of proven quality athletes. Look out for the long distance debut of Pieter Heemeryck (BEL), who has been impressive and consistent all year.
IRONMAN Arizona
The Tempe, Arizona event will be braodcast live on Facebook.com/IRONMANNow and Facebook Watch. The Pro athletes will start at 0640 local time, which should be 1340 UK-time, so if you are in to long-distance triathlon viewing, that's most of Sunday covered.
The Pro women will be racing for a prize purse of $50,000 ($20,000 for the winner), and two Kona 2020 qualifying slots. No British athletes racing (lots heading to Australia next week), but plenty of quality with 2018 winner Heather Jackson (USA), third place at Kona Sarah Crowley (AUS) and Linsey Corbin (USA) among the top seeds.
If the recent live coverage from IRONMAN Florida (won by Joe Skipper) is representative, the single-gender Pro race may well result in a better viewing experience. Outside of Kona, with limited camera / motorbike resources, we typically don't get to see much of the race develop behind the leaders, but with only one race to follow, we did get to see Joe's progress through the field for much of the day, and the chasing of Ben Hoffman on the run.