Hot on the heels of the fantastic paratriathlon events at the Commonwealth Games on Sunday, there's a new landmark in the development of the para side the sport in the UK this coming Saturday, 6 August 2022.
The Volvo World Triathlon Para Series Swansea represents Britain's first ever, standalone, World Triathlon Para Series event.
The World Triathlon Championship Series Leeds co-hosted the World Para Series event in 2021, but this is the next step in British Triathlon's events strategy, this the first of three years at the venue.
There should be plenty of triathlon fans in town this weekend too, with IRONMAN 70.3 Swansea taking place on Sunday.
The Swansea schedule
Based at Prince of Wales Dock and SA1 Waterfront, the event will also include British Triathlon Paratri Super Series events, plus a GOTRI Disability Aquathlon.
08:30 – British Triathlon Paratri Super Series PTWC
09:00 – British Triathlon Paratri Super Series PTS
09:25 – British Triathlon Paratri Super Series PTVI
10:30 – GO TRI Disability Aquathlon
13:00 – World Triathlon Para Series PTVI
14:20 – World Triathlon Para Series PTWC
15:45 – World Triathlon Para Series PTS5 M
15:50 – World Triathlon Para Series PTS5 F
15:55 – World Triathlon Para Series PTS2, PTS3 and PTS4 Women
16:00 – World Triathlon Para Series PTS4 Men
16:05 – World Triathlon Para Series PTS2 & PTS3 Men
WATCH IT LIVE – You will be able to watch the action live, courtesy of elite race coverage on British Triathlon's YouTube channel, which is embedded below:
Commonwealth Champions in action
Off of the back of success in Birmingham, Dave Ellis (guided by Luke Pollard) and Katie Crowhurst will have another opportunity to race on UK soil in a major international event. This weekend, Katie will be guided by the experienced Grace France, rather than her Birmingham partner, Jessica Fullagar.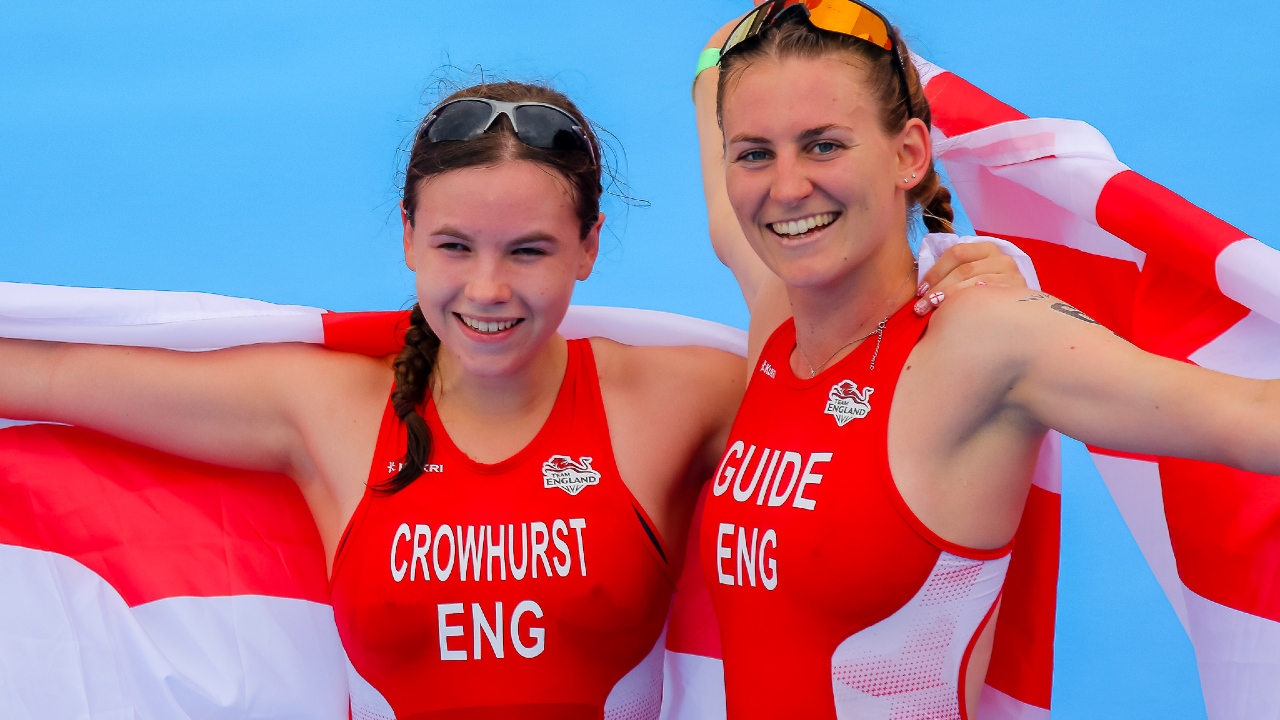 Indeed all of the Birmingham medallists will be racing – Sam Harding (AUS), Jonathan Goerlach (AUS), Chloe MacCombe (IRL) and Jessica Tuomela (CAN).
Add in Annouck Curzillat (FRA) and Alison Peasgood (GBR) – we hope recovered from her Birmingham crash – who were third and fourth respectively in Tokyo, and the challenge for the 18 year-old Crowhurst to match her Birmingham success could be even tougher in Wales.
While the Ellis/Pollard duo will start as clear favourites again, the event offers an opportunity for Oscar Kelly, guided by Charlie Harding, to get straight back into racing after a puncture scuppered their podium chances on Sunday.
Cashmore renews rivalry with Norman
While the women's PTS5 entry is small, it is quality. That will see Claire Cashmore (GBR) and Grace Norman (USA) go head-to-head once again. Norman took silver in Tokyo to add to her Rio 2016 gold, while Cashmore took Paralympic Games bronze. With Lauren Steadman currently taking a break from triathlon racing, they are the currently the two best athletes in the world in their category.
Claire took World Championship gold ahead of Grace in Abu Dhabi last year, but the American has won both of their meetings this year. It's a great rivalry to follow.
Among the other key battles to watch out for are Paralympic Games silver and bronze medallists, Florian Brungraber (AUT) and Giovanni Achenza (ITA) in PTWC.
Alexis Hanquinquant (FRA) has been almost untouchable in PTS4, while the ever competitive PTS5 Men will see George Peasgood (GBR) renew rivalry with Stefan Daniel (CAN) and Chris Hammer (USA). That trio finished 2/3/4 in Rio, separated by just 33 seconds.
The Women's PTWC division produced one of the most thrilling sporting finishes I've ever seen at Tokyo 2020, and Kendall Gretsch (USA) and Lauren Parker (AUS) will meet again. Will we get a similar finish to this one which decided the Paralympic gold medal in the final five metres?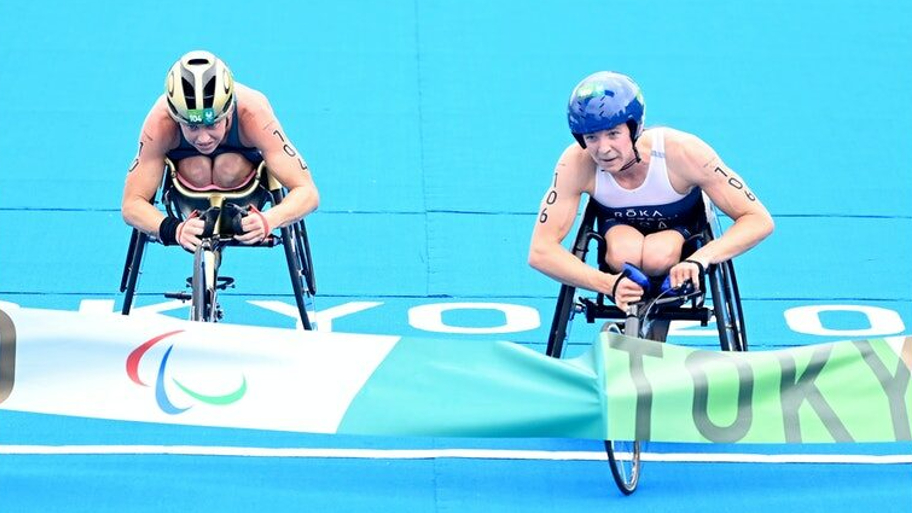 Plenty to look forward to then, and hopefully the additional profile from the Commonwealth Games combined with a busy weekend of triathlon action in the city will see plenty of spectators out to support the event.