TRI247 Winter Series #24 – Train with Chris Standidge
Wednesday, 23rd May 7.00pm UK time on Zwift
The week's TRI247 Workout Series session on Zwift will be lead top British Age-Group athlete (and former ERDINGER Athlete of the Month winner), Chris Standidge.
A former National and European Age-Group champion, Chris is now one of Great Britain's most successful athletes over the Middle / 70.3 distance. This specific session is timed 11 days prior to The Championship event in Samorin, Slovakia where Chris will be racing. This session has been written by Chris's coach, Rafal Medak of Trisutto (www.trisutto.com).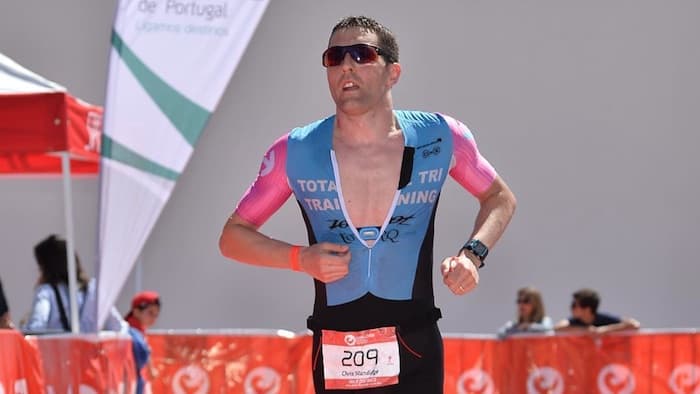 This weeks workout is a special edition, which we are calling 'The Championship Decider'. At just over 90 minutes, the full workout is longer than our typical weekly session – so you have a choice… will you 'decide' to end the session early after Set 5, or will you push on through the final (and hardest) Time Time effort in Set 6?!
As well as a fine athlete, Chris is also an accomplished coach and the founder of Total Tri Training (www.totaltritraining.com). Chris will be doing the session with a group of his TTT athletes in the Wattbike Studo at the Athlete Factory Chester.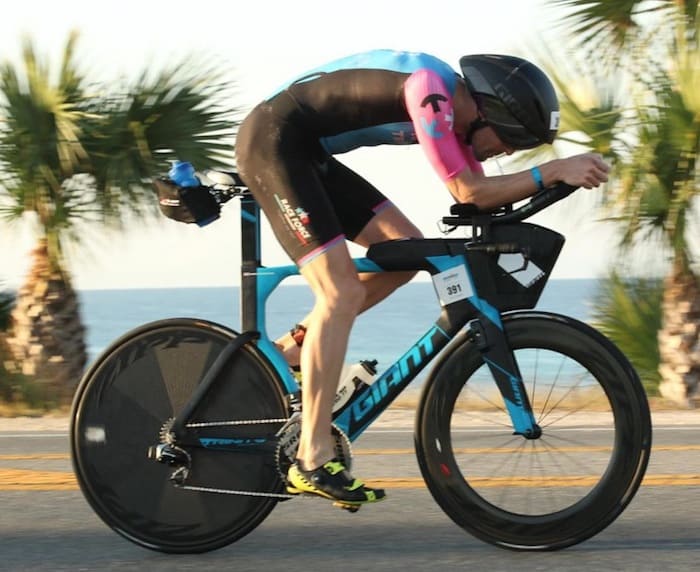 The Session
This session includes a mix of intervals and Big Gear Work. Longer than our normal weekly TRI247 Workout Series session, this session has a twist.
Set 1 – 5*30secs Z3 [83%] – Increase cadence 95-105, 30secs Z1 recovery
Set 2 – 6*1min Z3 [89%] – 70.3 effort, cadence 50rpm, 1min Z1 recovery
Set 3 – 4*2min Z4 [92%] – Just over 70.3 effort, cadence 55rpm, 1min Z1 recovery
Set 4 – 3*3min Z4 [95%] – Hard, threshold effort, cadence 60rpm, 1min Z1 recovery
Set 5 – 2*4min Z4 [98%] – Very hard, cadence 68rpm, 3min Z1 recovery
*** THE DECIDER! Will you end the session there or push on to Set 6? ***
Set 6 – 12min Z4 [103%] – TT Effort at Race Cadence
Here are the details on The Championship Decider session: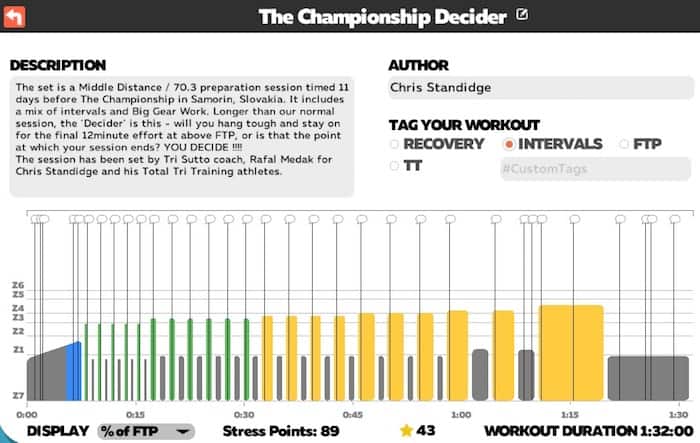 You can find the custom workout files from all of the previous TRI247 Workout Series sessions on these links, to download and do ride again in your own time:
Custom Workout downloads from previous Zwift sessions:
Joining Instructions:
The workout will begin promptly at 7.00pm UK time, Wednesday 23rd May 2018. It is worth logging in 10 or 15 minutes before the session to make sure you are set up and ready to go, where you will be able to warm up in the virtual 'holding pen'.
https://www.youtube.com/watch?v=XNTXAkky4qE
Look for the TRI247 Workout Series event in the list on the right of the screen once you have paired your sensors. Click to JOIN and you will be taken to the start line ready to begin the workout.
Make sure you have set your FTP level correctly before you join the workout as all the intervals are based on a percentage of FTP so it is important to get that right. If in doubt, dial the FTP number down 10 or 20 watts as it is better to finish the session than to feel like it is too challenging.
If you have never used Zwift before but don't want to miss out, head to the Zwift support page for tips on how to get the most out of your setup.
After the session head over to the TRI247 Facebook page for some post ride chat.
Zwift Group Rides: TRI247 Workout Series
The cool thing about a group workout on Zwift is that varying levels of ability can ride together in a group and all finish the session together having done the same relative effort, even if the actual watts are significantly different. It is not a race, but a shared goal to get a good session in the training log.