TRI247 Workout Series #59 – Gill's Lactic Legs Challenge
Wednesday, 13th

 February 2019 7.00pm UK time on Zwift
For this week's TRI247 Group Workout Series of Zwift, we've called all in one of the most successful British Age-Group athletes ever, Gill Fullen, to lead the way.
As you would perhaps expect of an athlete that has likely lost count of the number of European and World Championships titles earned, those wins don't come easy, and so when I asked Gill what we should call this session, the 'Lactic Legs Challenge' was her reply. I think we can safely assume that Wednesday night will not be an "easy spin"…
Session details
Gill describes this as a "bread and butter" session that she and her coach, Perry Agass do – providing an insight into some of the methodologies and session of the TriSutto group.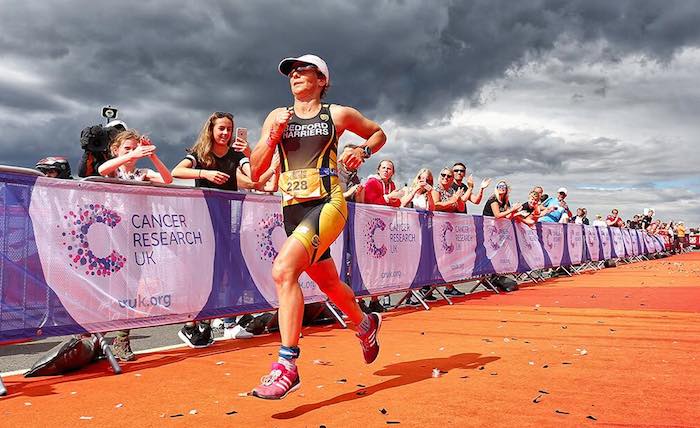 The set itself is very simple in structure. Sandwiched by a five minute warm-up and warm-down, we will be doing one hour continuous (that's 20 reps, back-to-back) of two minutes 'on', one minute 'off/recovery'.
The primary focus here is to build resistance, strength and resilience – and so it is strongly suggested that you try and keep your cadence relatively low throughout. The power targets – in absolute terms – are not high… but don't get carried away at the start, as the 'lactic legs' will start to burn and you want to stay strong through to the end of the hour.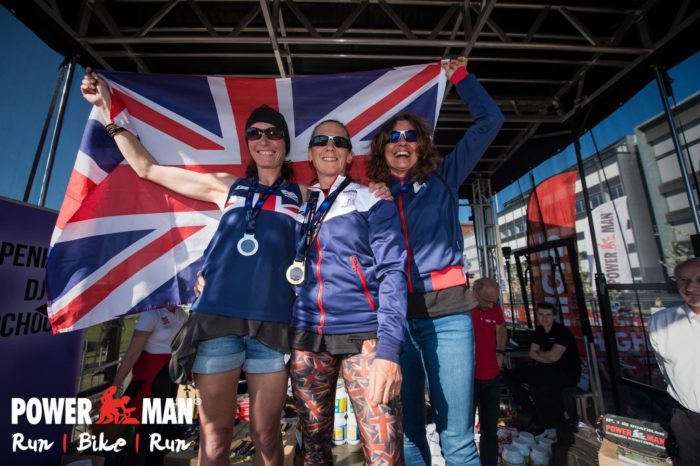 Regular readers of TRI247 will be familiar with Gill's name, but if you are new here – and we are pleased to have a very international audience for our Zwift group rides – here is some background on this week's ride leader.
Gill has won Age-Group World Championship titles at Duathlon, Powerman, ITU Long Distance Triathlon, IRONMAN 70.3 and has been a podium finisher at the IRONMAN World Championship. Gill returned from cancer and major surgery in 2017 (read all about that HERE), to return and win – overall, and in a course record – the full distance Outlaw Triathlon. That was a 9:46 iron-distance finish, aged 53. Impressive, and she has no intention of slowing down yet.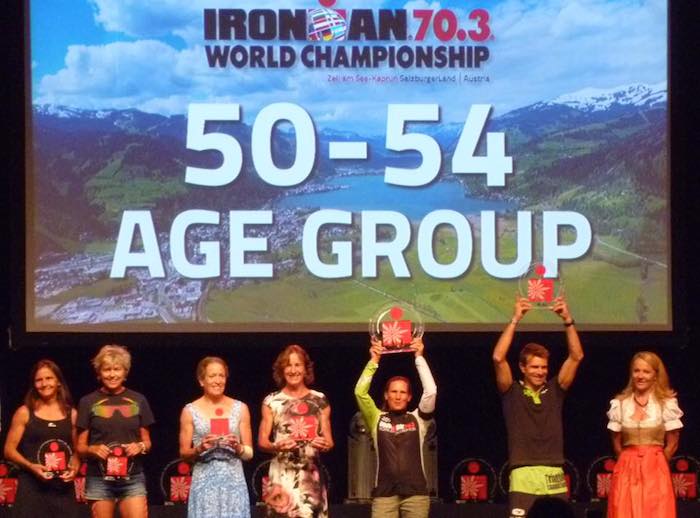 This is what we will be riding on Wednesday: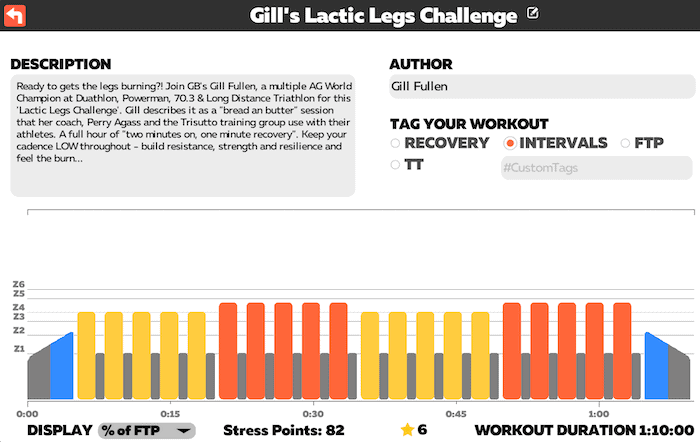 Join us at 7p.m. on Wednesday 13th February 2019 (UK time) for another quality workout, where we'll be riding the virtual roads of New York City. Set your reminder now on the link below or via the Zwift Companion app.
You can find the custom workout files from all of the previous TRI247 Workout Series sessions on these links, to download and do ride again in your own time:
Custom Workout downloads from previous Zwift sessions:
Joining Instructions:
The workout will begin promptly at 7.00pm UK time, Wednesday 13th February 2019. It is worth logging in 10 or 15 minutes before the session to make sure you are set up and ready to go, where you will be able to warm up in the virtual 'holding pen'.
https://www.youtube.com/watch?v=XNTXAkky4qE
Look for the TRI247 Workout Series event in the list on the right of the screen once you have paired your sensors. Click to JOIN and you will be taken to the start line ready to begin the workout.
Make sure you have set your FTP level correctly before you join the workout as all the intervals are based on a percentage of FTP so it is important to get that right. If in doubt, dial the FTP number down 10 or 20 watts as it is better to finish the session than to feel like it is too challenging.
If you have never used Zwift before but don't want to miss out, head to the Zwift support page for tips on how to get the most out of your setup.
After the session head over to the TRI247 Facebook page for some post ride chat.
Zwift Group Rides: TRI247 Workout Series
The cool thing about a group workout on Zwift is that varying levels of ability can ride together in a group and all finish the session together having done the same relative effort, even if the actual watts are significantly different. It is not a race, but a shared goal to get a good session in the training log.