TRI247 Winter Series #6 – Train with Editor, John Levison
Wednesday, 17th January 7.00pm UK time (GMT) on Zwift
Something a little different this week for the next TRI247 Winter Series on Zwift session on Wednesday night. After last Wednesday's 'Burner' session with Joe Skipper (read about that HERE), this week it is the turn of TRI247's Editor, John Levison, to step into the 'hosting' shoes!
If you've raced at major triathlon events in the UK over the past eight years, there's a fair chance it will have been John's voice calling you across the finish line. As well as his day job as Editor of TRI247, John is one of the regular commentators at many English, British and World Championships, World Triathlon Series, IRONMAN and many more including the Outlaw races and Jenson Button Trust Triathlon.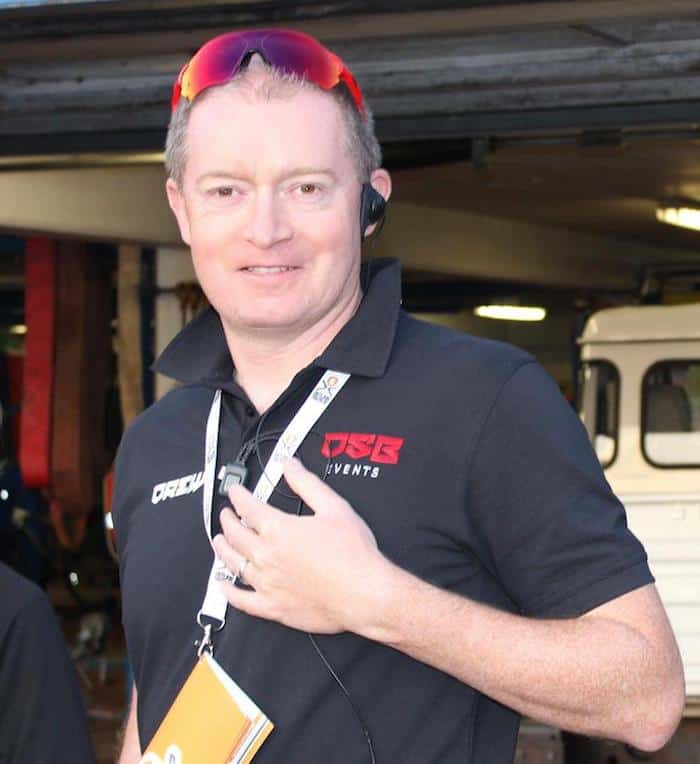 John's own triathlon 'career' started way back in 1990, when he joined Loughborough Students Triathlon Cub as a complete novice on arrival at University. Who knew where that would lead?! Lots of events of all types completed over the years including four iron-distance races, a couple of GB Age-Group appearances and a Sub-3 hour marathon.
His own racing efforts have taken a back seat over the past decade; a combination of work commitments and a few health 'bumps' along the way, including cancer and a triple heart bypass… however, he's currently working his way back to fitness with the help of Zwift with some races planned for the 2018 season, and loving it!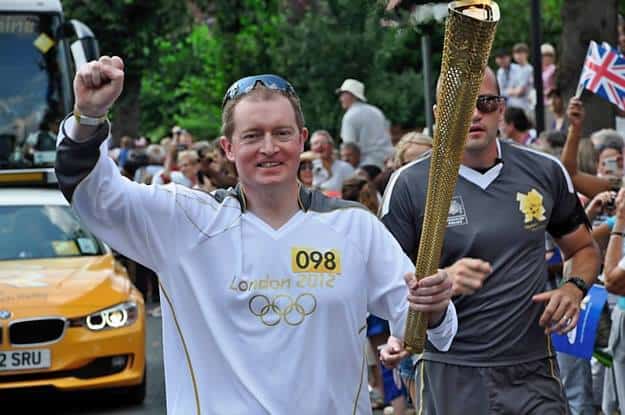 This week's session is called the 'High Five' – and with one look at the workout profile below, it will become clear why. A variation on the infamous Zwift session, 'The Gorby', during this hour of power you will complete five intervals of five-minutes each, all at above FTP / threshold power, with five minutes recovery in between. As an extra twist, the targets for each interval are set as a pyramid – so the third interval will be the peak effort.
Come prepared, physically and mentally, for a challenging hour. 'The Gorby' is scarily described as:
"AKA 'The Quitter'. This is a tough workout that you may be unable to finish. Give it your all and remember that riding to failure pays in both mental and physical gains."
As with our other events (Lucy Charles | Lucy Gossage | Lionel Sanders | Joe Skipper), we will publish the Zwift Custom Workout file for John's session after the event, so that you can also do the session in your own time.

Joining Instructions:
The workout will begin promptly at 7.00pm UK time, Wednesday 17th January 2018. It is worth logging in 10 or 15 minutes before the session to make sure you are set up and ready to go, where you will be able to warm up in the virtual 'holding pen'.
https://www.youtube.com/watch?v=XNTXAkky4qE
Look for the TRI247 Winter Series event in the list on the right of the screen once you have paired your sensors. Click to JOIN and you will be taken to the start line ready to begin the workout.
Make sure you have set your FTP level correctly before you join the workout as all the intervals are based on a percentage of FTP so it is important to get that right. If in doubt, dial the FTP number down 10 or 20 watts as it is better to finish the session than to feel like it is too challenging.
If you have never used Zwift before but don't want to miss out, head to the Zwift support page for tips on how to get the most out of your setup.
In future weeks, we plan to get more professionals and characters from the UK triathlon community involved, so it would be fantastic to see a large turnout every Wednesday evening. After the session head over to the TRI247 Facebook page for some post ride chat.
Zwift Group Rides: TRI247 Winter Series
The cool thing about a group workout on Zwift is that varying levels of ability can ride together in a group and all finish the session together having done the same relative effort, even if the actual watts are significantly different. It is not a race, but a shared goal to get a good session in the training log.