TRI247 Workout Series #63 – Short and Sweet(spot)
Train with 'Mrs Editor' – Lesley Levison
Wednesday, 13th

 March 2019 7.00pm UK time on Zwift
For this week's TRI247 Workout Series group workout on Zwift, we will be revisiting a session we did for the first time back in October 2018, which we called Short and Sweet(spot).
With your Editor unable to make this week's session due to work commitments on Wednesday evening (honestly!), I've called in the services as leader/host this week of the best triathlete in our household, Lesley Levison.
The Short and Sweet(spot) session
The main set of this session is really split into two parts.
First up, three blocks of five minute 'sweetspot' intervals. This is an effort that would typically be just above 70.3 / Middle Distance effort – quite hard, but not so tough that it should leave you exhausted. It's in the 'bang for your buck' intensity range, designed to give you a good return in terms of training effect, but still enabling you to maintain quality training without requiring days of recovery.
Having built some fatigue from this first half of the session, you then move on to three sets of 30 seconds 'on' (at above FTP effort), 30 seconds 'off' intervals. The 'on' power is not huge (105% FTP), so the short recovery efforts are not 'easy spin' either.
Overall, it's a solid session. It's not in the "brutal / smashfest" category, but is one that you can include within your training quite regularly to provide you with a quality hour of effort.
[TIP – If you are feeling good and want to make the session a little harder, then have the Zwift Companion app to hand on your mobile device. Within the workout screen you can toggle your FTP by +/- 10% 'on the fly', which will immediately change your power targets during the session. Legs feeling a heavy? It happens! Rather than can the session, how about moving your targets down 5% first, before giving up completely? Alas, the body isn't a machine and can't always deliver as you hope/think it should, so a bit of flexibility and not getting too obsessed with the numbers can be a good thing!]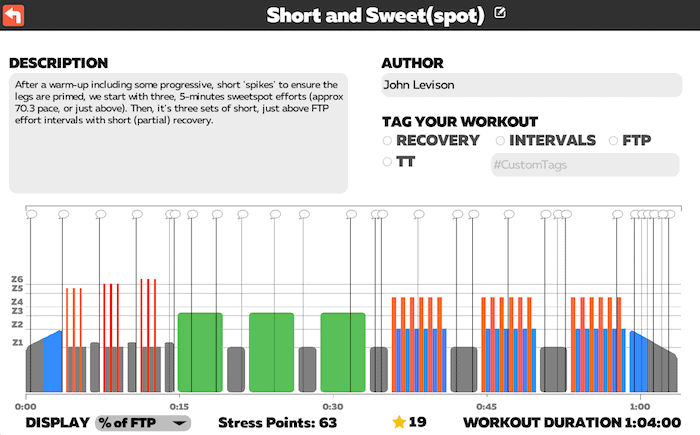 About Lesley
A fine swimmer, typically leading her category out of the water in most races, Lesley has really taken to cycling in recent years. With a demanding job and limited training time, Zwift has been her 'go to' resource for over a year now, with almost all of her cycling done indoors. She set a lifetime best for the 25-mile TT last year using that approach – and hopes to repeat that success again this year.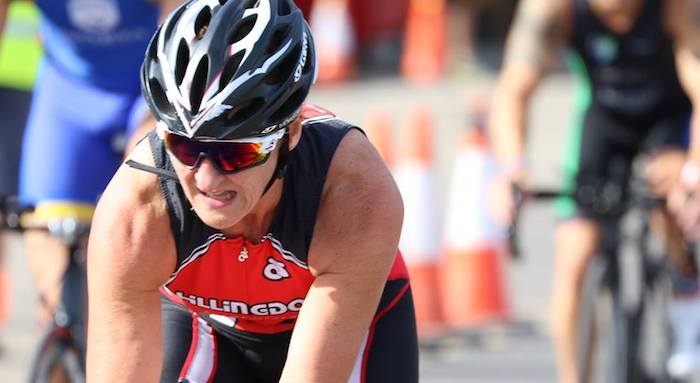 Lesley will typically always be found at the National Club Relays Championships in Nottingham every August too. She has been the ever-present 'Athlete One' in a Hillingdon Triathletes V40+ / V50+ team, earning a Triathlon England podium for six consecutive years at the popular Holme Pierrepont event.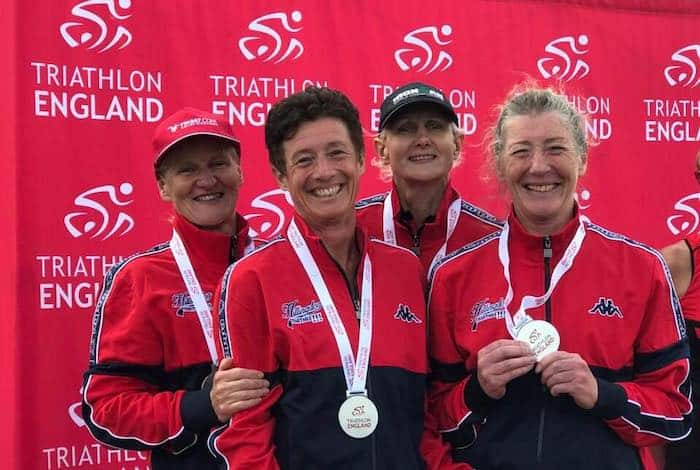 Join us at 7p.m. on Wednesday 13th March 2019 (UK time) for another quality workout, where we'll be riding the virtual roads of the Innsbruckring, home of the 2018 UCI World Championships. Set your reminder now on the link below or via the Zwift Companion app.
The session is genuinely open to everyone of ALL abilities. Group workout mode works fantastically in Zwift and ensures that the power targets are tailored to YOUR level. So, it makes no difference if your FTP is 400 watts or 100 watts, your set will be specific to you – all while being part of the on-screen group.
You can find the custom workout files from all of the previous TRI247 Workout Series sessions on these links, to download and do ride again in your own time:
Custom Workout downloads from previous Zwift sessions:
Joining Instructions:
The workout will begin promptly at 7.00pm UK time, Wednesday 13th March 2019. It is worth logging in 10 or 15 minutes before the session to make sure you are set up and ready to go, where you will be able to warm up in the virtual 'holding pen'.
https://www.youtube.com/watch?v=XNTXAkky4qE
Look for the TRI247 Workout Series event in the list on the right of the screen once you have paired your sensors. Click to JOIN and you will be taken to the start line ready to begin the workout.
Make sure you have set your FTP level correctly before you join the workout as all the intervals are based on a percentage of FTP so it is important to get that right. If in doubt, dial the FTP number down 10 or 20 watts as it is better to finish the session than to feel like it is too challenging.
If you have never used Zwift before but don't want to miss out, head to the Zwift support page for tips on how to get the most out of your setup.
After the session head over to the TRI247 Facebook page for some post ride chat.
Zwift Group Rides: TRI247 Workout Series
The cool thing about a group workout on Zwift is that varying levels of ability can ride together in a group and all finish the session together having done the same relative effort, even if the actual watts are significantly different. It is not a race, but a shared goal to get a good session in the training log.