TRI247 Workout Series #50 – 50 Shades of Power!
*** THE 50TH ANNIVERSARY SESSION ***
Wednesday,

5th December 7.00pm UK time on Zwift
This Wednesday's TRI247 Workout Series session on Zwift represents our 50th group workout since we started the weekly ride last December. We would like to encourage all riders past, present and hopefully future from our sessions to join us for another brand new workout which, appropriately, I've called 50 Shades of Power!
The 50 Shades of Power session
How could we celebrate 50? Well, I've put together a one hour session which includes 50 separate power target elements. Can you collect a full house of 50 stars on the 50 Shades of Power workout?!
The session includes a range of elements inspired by previous sessions in our series and hence will provide a lot of variety during the hour. These include a progressive warm/up, warm/up 'spikes' to get the legs going, sweetspot blocks, microburst intervals, FTP pyramid and over/unders.
Our last two sessions (Sweetspot Sandwich / The Sweet Ladder), have been relatively modest in terms power targets, trying to ease back into training after an end-of-season break for many. There's a bit more content and variety to get your teeth into this week – and a higher predicted training stress score too – so expect to be stepping it up a level on Wednesday!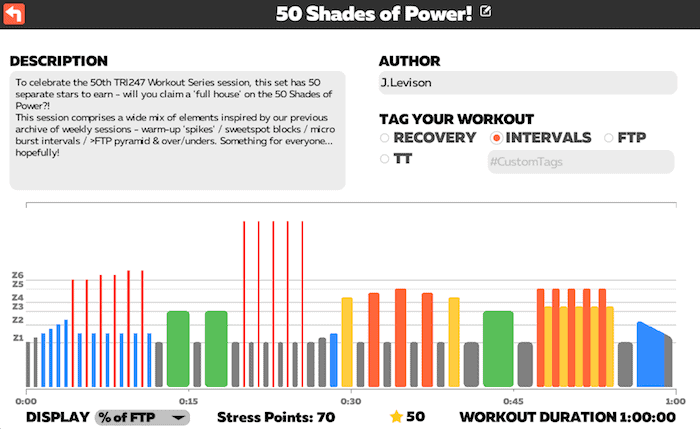 ALL abilities are welcome. Remember, in Zwift group workout mode your power targets will be automatically set relative to your individual FTP level. It doesn't matter if there is a World Champion in the group; if you hit your targets, you will remain in the group and won't be 'dropped'. It works fantastically and allows athletes of all abilities and experience to train remotely, together, riding the same session. If you've not yet tried it, give it a go.
Join us on Wednesday when we'll be riding the Jungle Circuit of Watopia for an hour of quality and varied structured training.
You can find the custom workout files from all of the previous TRI247 Workout Series sessions on these links, to download and do ride again in your own time:
Custom Workout downloads from previous Zwift sessions:
Joining Instructions:
The workout will begin promptly at 7.00pm UK time, Wednesday 5th December 2018. It is worth logging in 10 or 15 minutes before the session to make sure you are set up and ready to go, where you will be able to warm up in the virtual 'holding pen'.
https://www.youtube.com/watch?v=XNTXAkky4qE
Look for the TRI247 Workout Series event in the list on the right of the screen once you have paired your sensors. Click to JOIN and you will be taken to the start line ready to begin the workout.
Make sure you have set your FTP level correctly before you join the workout as all the intervals are based on a percentage of FTP so it is important to get that right. If in doubt, dial the FTP number down 10 or 20 watts as it is better to finish the session than to feel like it is too challenging.
If you have never used Zwift before but don't want to miss out, head to the Zwift support page for tips on how to get the most out of your setup.
After the session head over to the TRI247 Facebook page for some post ride chat.
Zwift Group Rides: TRI247 Workout Series
The cool thing about a group workout on Zwift is that varying levels of ability can ride together in a group and all finish the session together having done the same relative effort, even if the actual watts are significantly different. It is not a race, but a shared goal to get a good session in the training log.