The incredible Ironman record of Lucy Gossage
She called it the dirty double, the "buy one, get one free" IRONMAN – and on Saturday, just 13 days after winning IRONMAN Wales in Tenby, Lucy Gossage successfully took the inaugural victory at IRONMAN Italy Emilia-Romagna.
While she may not have attempted such a back-to-back strategy before, we shouldn't be surprised that it worked – because Lucy Gossage always seems to perform when it is Ironman time.
Her third full distance IRONMAN victory of the 2017 season, that was her eighth career IRONMAN title. Add to that another win –  and under nine hours, at Challenge Barcelona in 2012 – and that is now nine career professional wins over the distance. Only Bella Bayliss (16) and Chrissie Wellington (13), have ever won more from a British perspective. That is seriously impressive company to be keeping.
While the (now Hall of Fame) Chrissie Wellington was the ultimate benchmark in consistency – winning all of her 13 iron-distance starts – Lucy holds this incredibly impressive statistic:
Outside of Kona, Lucy Gossage has finished on the podium in EVERY Professional iron-distance race she has started
15 non-Kona races | 9x 1st | 3x 2nd | 3x 3rd
That is pretty impressive from an athlete who won her first professional race (IRONMAN 70.3 Galway in 2011), and then apologised to Rachel Joyce for finishing ahead of her! I think she's proven since then that her success is down to more than luck and/or 'bad days' for other athletes.
Even in Kona – the ultimate test for Pro athletes, with the strongest fields under challenging conditions – Lucy has been on the stage for the past two years also, collecting her Umeke and prize cheque for finishing 10th (2015) and 9th (2016). That finish last year was all the more remarkable as it was achieved following a broken clavicle just eight weeks ahead of the race. She truly did make lemonade from lemons last year.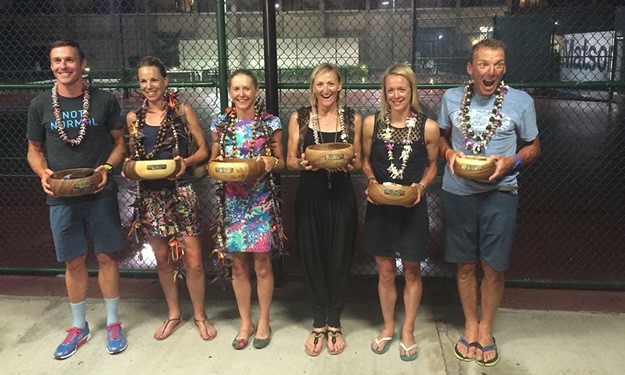 Indeed, from a total of 18 professional iron-distance starts, you can make a very reasonable case of just one (achilles injury-impacted) 'bad' performance, at the 2014 IRONMAN World Championship. That is a staggering level of consistency and performance over seven seasons.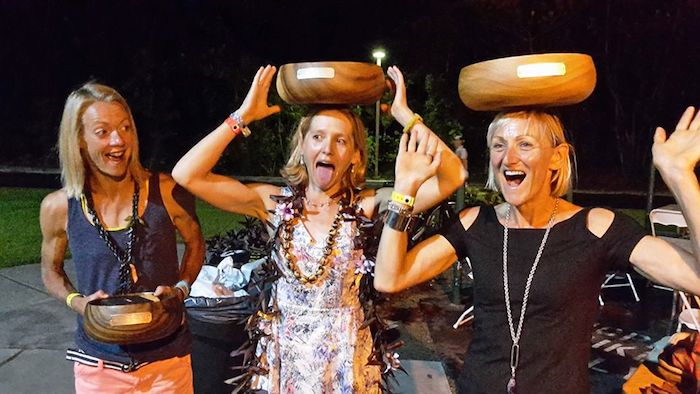 I'm not sure what's next for Lucy – and I think I'll wait at least a few weeks into her 'off' season before I ask – but, getting that winning total into double figures, would seem a very realistic and significant goal before, finally, the world of Oncology gets Lucy back on a full-time basis.
When we spoke at the end of the 2016 season, on returning to work part-time, Lucy told me:
"I think anyone that writes me off the Pro scene just yet is wrong to do that."
Safe to say, that has been proven more than correct. Keep up the good work Lucy.
Lucy Gossage – Full history of all Professional Iron-Distance races
| Event | Year | Position |
| --- | --- | --- |
| Challenge Barcelona | 2011 | 3rd |
| Challenge Barcelona | 2012 | 1st |
| IRONMAN UK | 2013 | 1st |
| IRONMAN Wales | 2013 | 1st |
| IRONMAN South Africa | 2014 | 2nd |
| IRONMAN Lanzarote | 2014 | 1st |
| IRONMAN Hawaii | 2014 | 32nd |
| IRONMAN South Africa | 2015 | 2nd |
| IRONMAN UK | 2015 | 1st |
| IRONMAN Hawaii | 2015 | 10th |
| IRONMAN New Zealand | 2016 | 2nd |
| IRONMAN South Africa | 2016 | 3rd |
| IRONMAN UK | 2016 | 1st |
| IRONMAN Hawaii | 2016 | 9th |
| IRONMAN Lanzarote | 2017 | 3rd |
| IRONMAN UK | 2017 | 1st |
| IRONMAN Wales | 2017 | 1st |
| IRONMAN Italy (Emilia-Romagna) | 2017 | 1st |
| IRONMAN Lanzarote | 2018 | 1st |
And those nine wins – so far. That's a lot of #DoingALucy celebrating