British AG'er Charles 'Charlie' Pennington continues to excel
The IRONMAN World Championship in Kona, Hawaii is the dream for many Age-Group athletes. In October – just as he did two years previously in 2015 – Charlie Pennington was the fastest British Age-Group athlete on the Big Island.
In 2015 Charlie missed out on winning his 35-39 category by just six seconds. Fifth this time around meant another Umeke trophy, "but in many ways I'm prouder of my 2017 performance", he told me.
Find out more about the former Officer in the Royal Marines in this extended interview.
Interviews with Great Britain's fastest at Kona 2017:
---
For a long time we knew of you as a Royal Marine. Can you tell us a bit more about your military career, and what your role(s) were there?
I spent 16 years as an Officer in the Royal Marines. I joined in 1999 as part of an intake of 18, and after 15 months of training I then spent my career working in various parts of the world, including operational tours. It wasn't all bad though – for example, I did spend 14 months on an island in the Indian Ocean called Diego Garcia for one of my roles (my time here was instrumental in getting me "back" into the sport of triathlon).
Even my limited knowledge of the military knows that simply getting 'in' to the Royal Marines isn't an easy process, physically. What was you sporting/fitness background at that stage?
True. It is one of the hardest military forces to join and as an officer the 15 months of training teaches you a lot about yourself, including putting you at your mental and physical limits quite regularly. At the time I probably didn't appreciate it (mostly just wanted to survive!), but years later it has given me a robustness that not many others get. We did a lot of training but it was very different to the stuff I do today. I put weight on from muscle and got relatively good at carrying heavy weights on my back for long periods of time. Certainly triathlon was pushed to the side but never forgotten. For example, I did get a chance to do a running event from Exmouth to Poole in a team of four; two of us had to run at a time and we had to carry a small amount of kit. Essentially 22miles each day each for 2 days. Despite the lack of specific training we did pretty well.
When did triathlon appear on your radar – and did you find you were a natural at it from the start?
My first foray into triathlon started at university back in 1998 when a friend, knowing that I already ran and swam, recommended that I give the sport a go. I think my first race was the Bournemouth Triathlon and I genuinely can't remember how I did [Ed. that's where the Tri247 Results Archive is useful – 310th!], but I knew that I had found something that played to my strengths (i.e. I could swim ok, bike ok and run ok), but I also knew that I had plenty of training to do before I there was any chance of me being any good. More than anything, I was attracted to the challenge and so I kept at it. However, not too long after this I joined the Royal Marines and was a bit busy for a bit and really didn't get back into it until 2003 in Diego Garcia.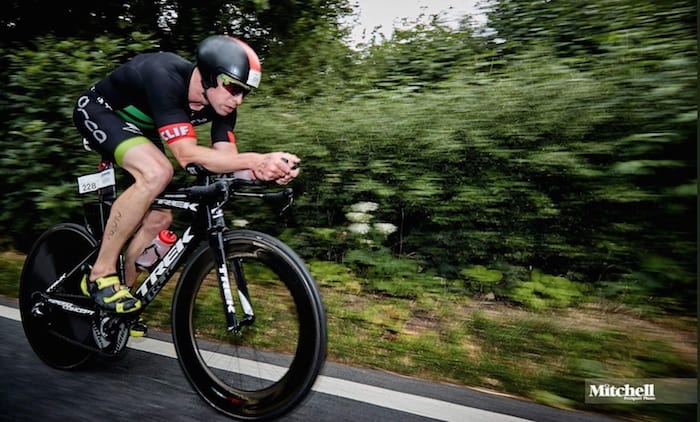 How did the physical requirements of being a Royal Marine fit with those of a long-distance triathlete? Do you need to compromise any triathlon aspects in order to meet the needs of the day job, so to speak?
I enjoyed the lifestyle and keeping fit with my Marines but it did include a lot of weights and being able to deal with real-world scenarios. This meant I was physically fit but I had put weight on from muscle so I wasn't physically suited to long distance racing at the time, although mentally I was well prepared. As I became more interested in racing I had a constant struggle with still being able to operate as a Royal Marine without compromising my role in the Marines or my burgeoning triathlon career.
You left the Marines, I think, shortly before your last race in Hawaii in 2015. Was that a difficult transition and decision to make?
That's correct. I left the Royal Marines in 2015 prior to racing in Kona. It wasn't a tough decision as it was the right time to move on and the transition was ok – I wouldn't say it was simple but it wasn't hard either. I had a couple of months between work and this gave me time at home to help out more and to train. I definitely miss that!
Charles Pennington – Ironman Record
| | | | | | |
| --- | --- | --- | --- | --- | --- |
| Race | Cat/Pos | Swim | Bike | Run | Total |
| Ironman Lanzarote 2014 | 35-39 – 15th | 00:54:23 | 05:21:48 | 03:43:30 | 10:07:32 |
| Ironman Wales 2014 | 35-39 –1st | 01:00:18 | 05:36:26 | 03:08:11 | 09:55:23 |
| Ironman Austria 2015 | 35-39 – 1st | 00:52:36 | 04:52:51 | 02:52:34 | 08:45:43 |
| Ironman Hawaii 2015 | 35-39 – 2nd | 00:58:48 | 04:57:23 | 02:58:44 | 09:01:44 |
| Ironman Hamburg 2017 | 35-39 – 1st | 00:55:32 | 04:54:39 | 03:04:52 | 09:04:13 |
| Ironman Hawaii 2017 | 35-39 – 5th | 00:57:22 | 04:56:48 | 03:06:30 | 09:07:18 |
What's the 'day job' now?
I work for the large professional services firm, Deloitte, as a manager in their technology consultancy. I don't have a typical day but I have spent time either in London or working for clients near Bristol. It can make it challenging to fit everything in though, especially when you take in to account I'm also an active Reservist and spend time with my Reserve unit, Royal Marines Reserve London most weeks too.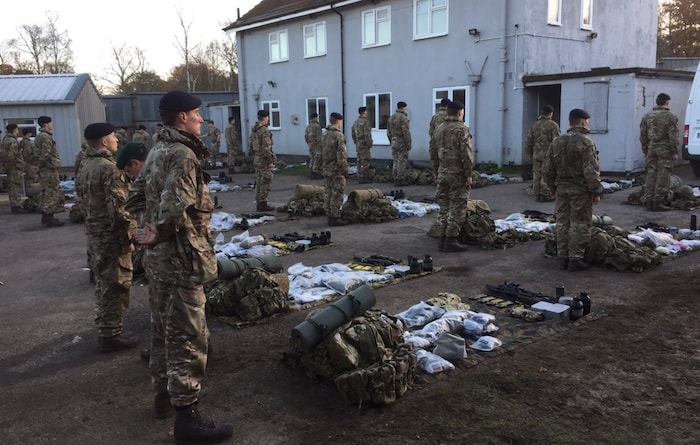 Is it easier / harder (or just different?!), training now around a civilian role, rather than a military one?
It is just different. If I'm working in London then I generally face a three hour round-trip each day which means either training early in the morning or late at night. Or both. Not ideal but not unusual given the many other folks I know with similar lifestyles. However, sleep becomes an important commodity that gets traded out too easily.
Am I right in thinking you've had the same coach, Chris Roberts, for many years now? How important has that stability been?
Chris and I have been working together since 2010. I think we get on really and even after seven years we are both still learning. We do have seven years of data to look back on too which is really helpful to figure out what works well and what doesn't. We keep challenging ourselves and certainly my new working arrangements have made it more challenging than previously. I still think we have plenty of room for improvement and I have absolute trust in him, which is key to the relationship.
You've been performing at a high level, consistently, for many years now at World Championship Age-Group level – how would you summarise your training approach, to achieve that?
I guess my mantra was one of consistent quality. I struggle with the consistency at the moment and it definitely something that I am working to regain but life keeps getting in the way. I also still enjoy the challenge and that keeps me motivated – pretty important when your alarm goes off at 0500!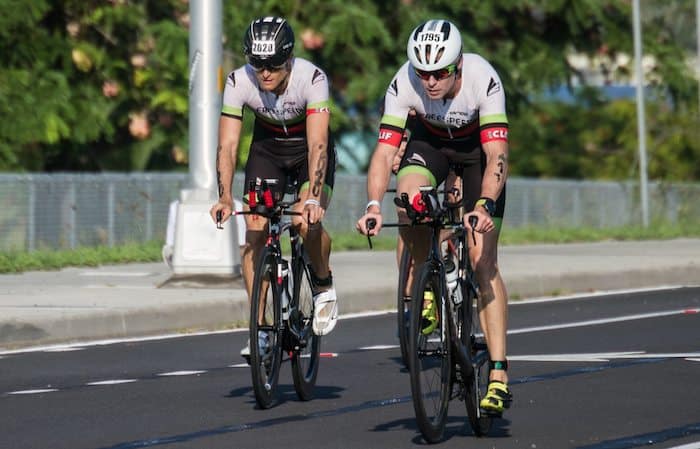 We last spoke to you at length after a great race at IRONMAN Austria in 2015, and then pre-Kona 2017 you also won at IRONMAN Hamburg. In between though, quite a battle with injury and recovery?
Yeah, I figure I was due it though after years of injury-free racing and training. It started in 2015 in the lead-up to the London Marathon where I developed a problem with my knees. I put up with it through Kona but then determined to get it sorted. Many many months later I finally sorted out the problem but it cost me months without running and effectively wrote-off racing in 2016. I then focused on 2017 and planned to KQ at South Africa but I stupidly fell off my bike in a training ride and fractured my collarbone and that ruined any chance of racing there. I changed plans to race at Hamburg, where I won my AG after what seemed only a very short block of training and I then followed this up with Kona. It was a tough couple of years mentally – I didn't really get back to my best, even for Kona, but I managed to keep motivated at least.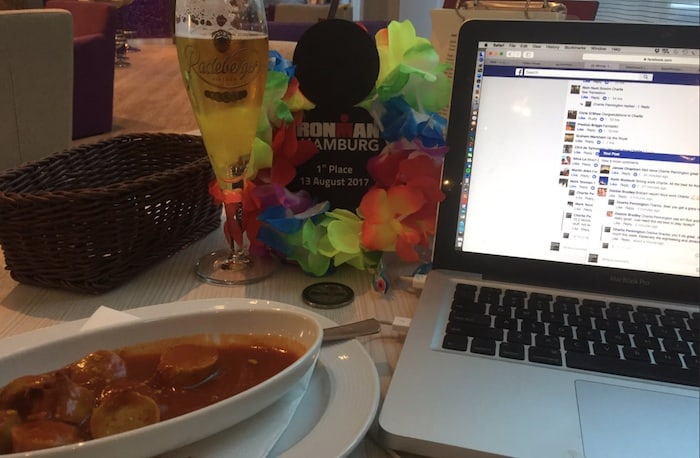 Almost three months on now from Kona, how do reflect now on your performance there?
You know what, whilst the result and time weren't what I was aiming for, I came away really happy. After two years of injury it was heartening to know that I could get on the podium even if not 100% fit. The actual race went ok but not quite to plan: I swam slowly and biked averagely (yes, I know, its all relative!), and left it all to do on the run. This wasn't my plan but all that I had on the day. Normally this wouldn't be an issue but I actually struggled with my nutrition and felt ill during the run and had to slow down to get my gut back into line. This cost me valuable time that I just couldn't catch up. It was annoying as I felt I was running better than I had in 2015 but by the time I got myself sorted it was too little, too late. I think it could have been much worse though so I'm really happy that I was able to solve the problem and get onto the podium when it really could have been a long walk and a long day in the heat!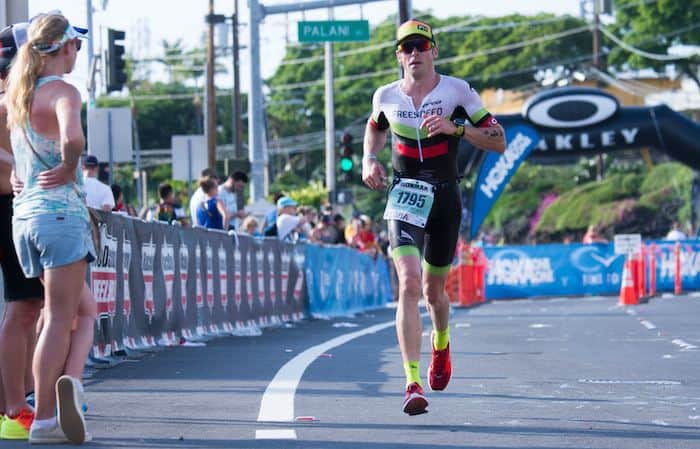 I'm sure it doesn't really compensate… but was there a cheeky little ironic grin on your face when you passed the same guy that beat you to the win two years ago by just six seconds, in the late stages of the marathon, to finish 1:20 ahead of him this time?
Ha! Yes! Absolutely. I spotted him as I was running back from the Energy Lab and I knew who it was so I made sure I got past him even though he was in the AG above. I also made sure I said hello at the finish and reminded him who I was 🙂
Can you 'enjoy' the the actual race in Kona? My first 'in person' experience of simply watching this year, just highlighted how much more brutal the conditions are that you just don't appreciate fully when watching from the UK on a 46-inch TV…!
Provided you get out there at least two weeks before the race you can acclimatise pretty well to the conditions such that they don't feature quite as much as they might. You've also got to factor in that on the run there are aid stations every kilometre (or nearly) so you can keep yourself cool and hydrated. That said, it is crazy hot and humid and once you red-line, it is almost impossible to come back (see how many pros end up in this situation each year…) – the key is not to red-line. I seem to race pretty well in the heat and have confidence in being able to do so, so I actually was looking forward to it. There was some talk of it being wet and cooler, which worried me!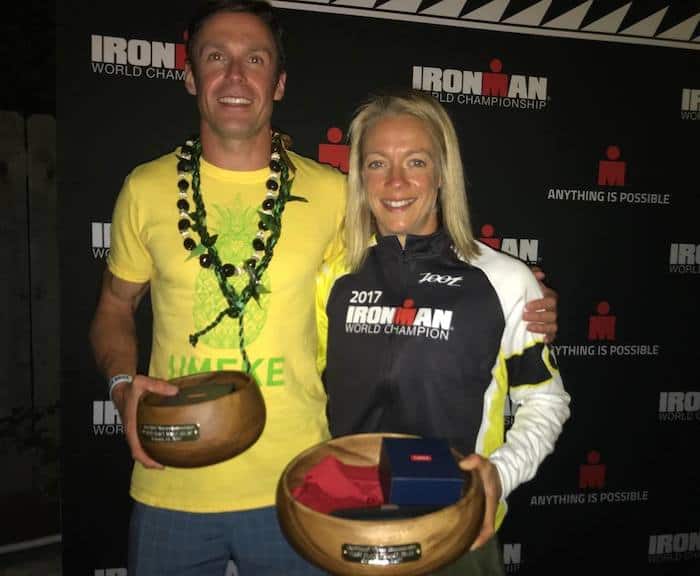 The AG podium positions in Kona are typically very tight – two minutes quicker and you'd have been 4th, but two minutes slower 6th; do you have much awareness during the event, of where you are position wise?
Very little to be honest. I had some feedback from Richard Melik (Team Freespeed team manager), but beyond that, I was just doing what I could to get round as fast as I could. I do feel that IRONMAN could take a leaf out of the ITU book and put AG letters on people's calfs (or similar) so that you know who you are racing against. I had a vague idea of who was ahead but I wasn't all that clear. I was doing the maths in my head and knew that if I could get close to nine hours I probably had a chance of being on the podium. Beyond that, I was just trying to survive.
You've been a long-term part of Team Freespeed – how key has being part of that group, and the support provided by their partners, been to your own sporting success?
It has been phenomenal. Who doesn't want to race on a team with some of the world's best amateur athletes? It helped motivate me to keep going when I was struggling with injury and kept pushing me to better myself. Its hard to be a member of a sponsored team and retain your credibility, but I really think that Team Freespeed has managed to do this. We have some fantastic sponsors that I am really proud to work with as I love their products. Lots of folks say stuff like that but not many really mean it – I'm confident that we do.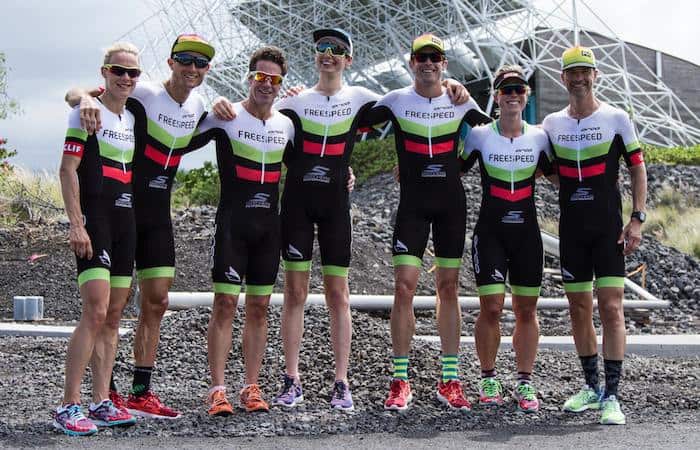 What do you regard as your best sporting performance, irrespective of the importance of the race?
Interesting question… I think the obvious answer is my Kona 2015 performance but in many ways I'm prouder of my 2017 performance. For all the reasons I've mentioned, It could have been a very different result but using my experience and maturity I was able to turn a difficult situation into one that was world-class. Sure, I didn't beat my time or position but sometimes that isn't as important.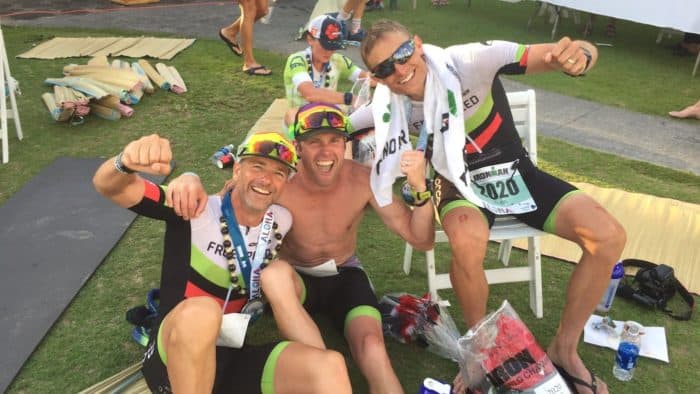 Future race plans – you've got two Umeke bowls at home now, along with several top performances at the 70.3 World Champs; do you plan on returning to Kona again in the near future?
Not for a while, if truth be told. Its an expensive place to go and I can't justify the financial cost and time away, at least for a while anyway. I had such a great time there in 2017 though, made all the better by having been there before and being able to enjoy it more. Swimming with dolphins with good friends and then cliff diving after the race made it a fantastic experience so I'd love to go back and take the family but I'm in no rush to do so. I'm not planning on stopping racing but Kona won't be the goal. Don't get me wrong, I've loved racing in Kona but there are other great races too.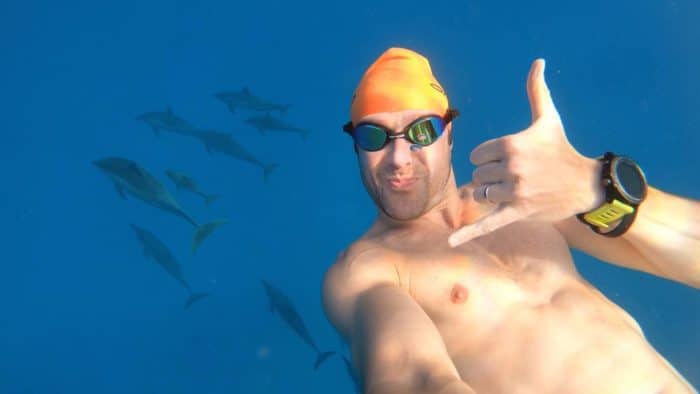 Any 'new' events you plan on trying in the future – looking at your skills and background, I would imagine you would be very strong at the increasingly popular SwimRun format for example?
It's definitely on the cards but I've nothing planned. My wife likes racing OCRs and they should also suit my talents being a Royal Marine but I've got triathlon goals I still want to try and achieve first.
Finally, I know you have a couple of son's – are they showing any interest in following in Dad's sporting endeavours?!
Not yet! I don't push them to do anything but hopefully they'll start to do something. I guess I've been too focused on my own training and racing and I definitely need to spend more time with them helping them develop their own interests.