IRONMAN – When you don't quite make it: 17:02:23
The story of the last man at IRONMAN UK
A couple of weeks ago, Tri247's Paul Shanley took part in IRONMAN UK and shortly after wrote his article, 10 things I learned at IRONMAN UK, Bolton…
In that piece Paul referenced Damien Mcconaghy. Damien was the last man across the line in Bolton, his time appeared on the finish gantry and… at 17:02:23, he had just missed the official 17 hour cut off.
At the time, Paul said "I don't know you Damien, but hopefully you will see this or someone will pass it on.' Well, shortly after that Paul was able to contact Damien, and we thought it would be great to find out more about him. Will he would be coming back next year?
---
Thanks for taking the time to chat to us. Firstly, how did you get into triathlon and what made you choose Ironman Bolton as your first one? 
I suppose I had seen Kona years ago on TV and thought that's mad and the idea stuck with me. I had seen the 70.3 was coming to Dublin in 2015 but missed the entry, so I went and watched the race and I saw a friend of mine, Ed Byrne, finish and I said next year I'll be there. In 2016, I took up triathlons for the first time, I joined Edenderry Tri Club, did some short races and as I turned 50 in 2016, I did the Dublin 70.3. The next logical step was go for the full and the date for Bolton worked for myself and six others from our small club. At that point, we didn't notice it was one of the hardest in Europe. I think I was first to sign up.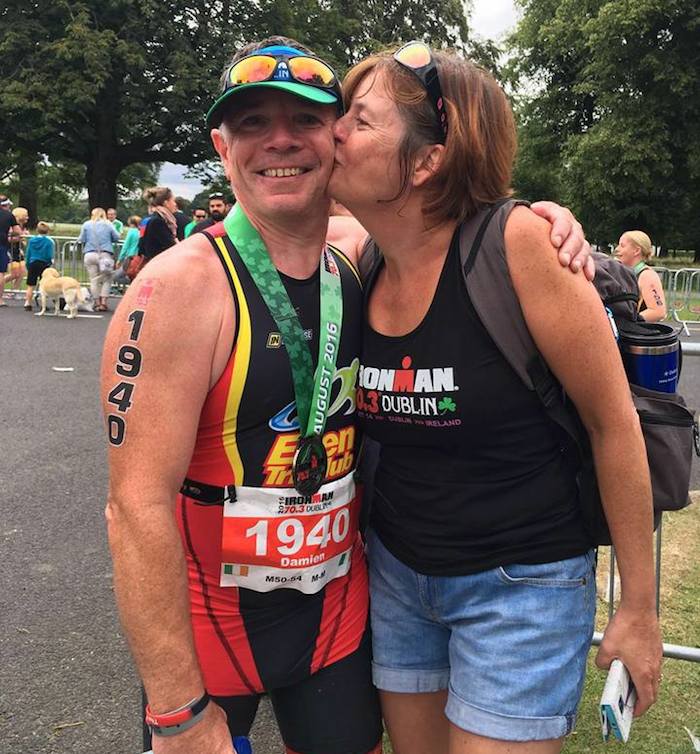 What was your training like leading up to the race?
I just took a plan off the internet based on time and distance each week and tried my best to stick to it. My running probably got the least time as I probably favoured the sports I was happy doing, swimming and cycling. It built up to around 25 hours per week. I would try and do four swim sessions – one in open water – and then some short cycles during the week and longer at the weekend with my cycling partner, Jolene, who did Bolton this year as well. It had structure but was probably not specific enough. It's something I need help with, training smart.
Before we get to the emotions on the finish line, can you tell us about your race? Did you go into the race confident that you would make cut off or did you always think it would be close?
I was confident of only one thing, I wouldn't give up. I believed I would put in 100% and whatever happened, happened.  If that was good enough I would succeed and if not I would fail. I did realise it would be tight but I focussed on the process, the things I could control.
With a rolling start it's a bit more difficult to know exactly where you are with the cut off; when did you realise that it was going to be close?
The last lap of the run I realised it would be tight. As I passed the finish to head out on the last lap, I passed one of the Ironman race officials. I said something like I'll see you in a while, he replied if you don't move quickly you will not finish. One of our supporters, Linda, came out on that lap to support and encourage me which made a big difference. I could hear Sid the bike marshal continually radioing back saying I was moving well which I didn't feel like at all. I was shattered. We got to just over a mile out and Sid basically said you have to run or you won't make it. One of the other lads with us, Enda, who finished in under 11 hours had been saying to Jolene and I, there will be a point when you just have to 'let the lion out'…. I remembered that and smiled and said to myself pain is temporary and ran the final mile. I don't know how.
Was there any point in the race when you thought about stopping?
At 15km or so into the run when you get into Bolton the first time, I felt a bit sorry for myself. I saw my wife Maeve, I looked at her and said I'm wrecked. She looked at me and simply said 'you're just going to have to have to pick it up'. It was the kick I needed. I saw the cut-off time as I passed the finish and thought I can do this and started to push myself. Maeve had given me a wrist band she had given to the kids in her school which says Never Give Up. At that point I was back positive again and I met some of the others from Eden Tri Club, who all drove me on.
Paul Kaye always says that the people that get the biggest cheers are the first down the finish line carpet and the last – what was the support like for you in the final stages of your race?
It was something I will never forget. On that last lap I got cheered through all the feed stations and the people on the streets were shouting encouragement. The Bicycle policeman and Bike Marshall, Sid, who kept talking to me, keeping me moving. It's strange how the mind works. While a lot of it is a blur, I specifically remember one man stepping from the pavement as I was about 2k from the turn. He was calm and wasn't shouting he simply said something like, "keep going you're doing great. I'll be here when you come back down". Sure enough, as I passed again he stepped out and said "that's great, now go and finish". Maybe it was the calm in his voice that made it stick in my mind. As I came down round the corner to the finish, the screaming started. I couldn't see how many people were there but they made enough noise. The last 50 meters were mad… you're on a high.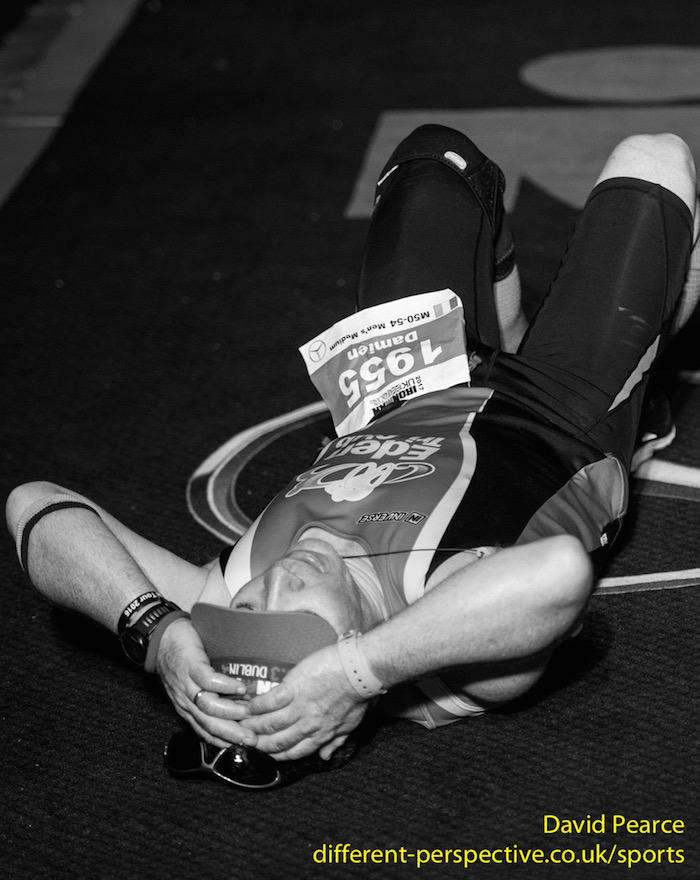 Let's talk about the finish. You came down the finish line to a wall of cheers and then fell to the floor. After a certain point in the evening, Paul Kaye and the announcing team stop saying you are an Ironman until they have confirmation you have made the cut off. It seemed to take an age for your time to come up on the finish gantry – what were you thinking, or was the relief of being finished your only thought?
As I lay there I was exhausted; just to lie down on the carpet was a pleasure. If you had put a blanket over me I would have slept, I was so tired. I set myself two goals. Number one: to get over the finish line and not to get pulled for missing a cut-off. I had seen it happen on TV and I would have been devastated. I had achieved number one. I was pleased with that. I knew my body could do this.
When the time did come up the crowd seems to all gasp with the disappointment for you. To not finish an Ironman is painful enough but what does it feel like lying on the finish line having completed the distance but missed the cut off time?
That was goal 2 to hear the "You are an Ironman". As I lay there with my head in my hands, I could have cried if I had had any energy left. I was annoyed with myself for not pushing harder. But the clock doesn't lie.
When I got out the back the first person I met was the Bike Policeman who ran over and gave me a big hug and congratulated me. Then I got out to the others and they were emotional… hugging, crying and kissing all at once. They saw goal number one as the big one. I got round and the 2 min 23 seconds meant nothing. In their eyes, I was one and in a certain way that's important. I had so many emotions running through me but a lot of regret. I had already identified where I could have gotten the time back. You stand at the bottom of a mountain and look at the top. I just focused on the top, the others saw the climb I just undertaken!!
So after an early start, a 17 hour day of swim, bike and running it must have taken a while to get back to your accommodation. Were you pretty broken or feeling reflective when you finally got into your bed that evening? What about the next morning at Breakfast?
I was reflective. I had come around to seeing what I had just achieved in my second year doing triathlons; I completed the Ironman distance. Maeve pointed out the number who didn't even make it to the end. You have a start and end time and it doesn't say DNF beside your name she said. At breakfast I was starting to grasp what I had achieved. They say there is an anti-climax before you get the long term feeling of achievement. I know I didn't achieve my second goal, but I also know I can do better.
Before I contacted you I was a bit hesitant, as I did think you might not want to speak about Ironman ever again. What are your thoughts and plans going forward? Is another Ironman a possibility and, dare I say, a return to Ironman Bolton?
I went straight on holiday after the race so I missed the homecoming buzz. I had time to think and contemplated doing an easier race just to get the time and I couldn't settle with that. I would always wonder 'what if', so Bolton and I have unfinished business!!!!!! I have already registered for 2018. (My wife thinks I'm mad, but gets where I'm coming from!)
What will you look to do differently?
I have identified a number of things from better training plans, more running in my training, get some coaching. I tried to do it myself which was ok, but you need someone to keep you honest. Better clothing; I wasn't happy with my tri suit and chopped and changed which meant changing a lot in transitions. Over the next couple of weeks I will sit down and make a list of what I need to improve in each area and develop a plan around that.
And finally what bit of advice would you give to someone thinking about doing an Ironman for the first time?
Do it, Let the Lion out! You will have the most amazing, emotional, roller-coaster ride ever and memories for a life time.
Surround yourself with positive people. I had great support from family to friends to the people I trained with.
Never underestimate how hard it will be. Everyone suffers, it's part of the day.
Enjoy it … I know that's hard to understand from the outside, but you will when you're doing it.
Mental strength is as important as physical strength; people younger and probably fitter than me didn't make it to the end line. Believe in yourself.