"Finishing Italy strong was so important, not just for my confidence, but for my career"
On a busy weekend of racing that included two big races in China (ITU World Cup | Beijing International), IRONMAN 70.3 Weymouth and the ETU Long Distance Champs, a fifth place finish at IRONMAN Italy Emilia-Romagna might not at first glance appear to be headline-grabbing news. However, for Great Britain's Reece Barclay, it could prove to be a crucial step in his Pro career. I certainly noticed that result – and I wanted to find out more from Reece himself about it.
Reece has plenty to look forward to this year – he marries his long-term partner, Lucy Charles, in December – and has clearly been doing a fine job in his role as Lucy's coach. It would perhaps be easy to be 'living in the shadow' of Lucy's incredible success, but Reece is very level-headed in that regard, explained so well in this blog piece he wrote earlier this year.
A fine athlete in his own right, 2018 was Reece's debut in the Pro ranks and as he admits here, he arrived in Italy with some pressure on his shoulders – but can reflect now on a job well done, lessons learned and confidence to take further steps forward into 2019.
---
We know you had to DNF at your Pro debut at IRONMAN South Africa in April (wasp sting), and then were a close second at the Outlaw Half in May but we've not seen much of you race wise since then. What have you been up to over the last few months? 
After the involuntary DNF at Ironman South Africa, I took some time away from any serious or structured training. I hadn't really given myself a full rest after the 2017 season; I was so motivated to start my Pro season strong that I pushed hard throughout the winter. A rest after Ironman South Africa in April was the sensible decision. It gave me time to reflect and lick my wounds. The last few months I have concentrated on coaching and slowing building my fitness ready for IRONMAN Italy.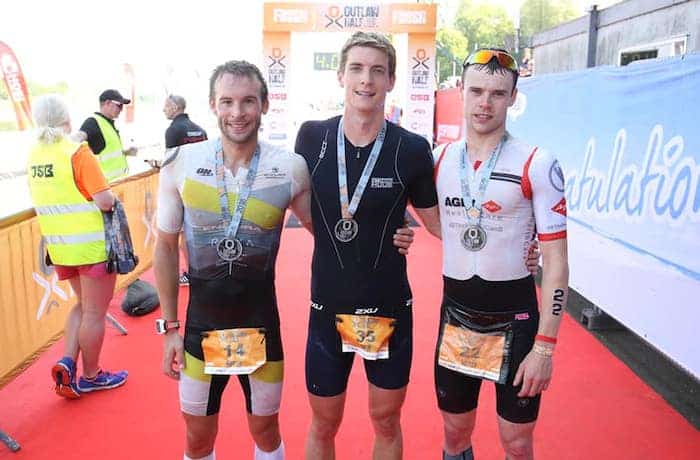 When did IRONMAN Italy come on to your radar as a target?
I always knew that I would get myself into good race shape by September/October, by way of training alongside Lucy as she prepared for Kona. The decision to race Italy came not long after racing the Outlaw Half in May. I had a break from training leading into the Outlaw and still ended up with a good performance. I knew then that it would be a realistic target to be into great shape for IRONMAN Italy by September.
What were your aims coming into the race?
Honestly, my primary aim was to finish the race drama-free and to learn from it. I hadn't finished a professional IRONMAN race before Italy. I knew that if I didn't get at least one good result under my belt then the professional race licences I had worked so hard to obtain in 2017 could be taken away. My aim was to get out there and bring back a result that is reflective of the hard work I've put in.
Looking at your race splits, you had your typical front pack swim and finished off with a strong three hour flat run – which would suggest a well paced and executed bike split too. Is that representative of your perspective of your day?
I really didn't know what to expect in terms of my bike and run splits on race day. Front pack swim was about the only thing I could be sure of.
My last real IRONMAN race which I could estimate my times from was Ironman Lanzarote back in May 2017. I knew I had improved since then, but by how much I wasn't sure. I was running around 2:55 marathon pace for a long time which surprised me; I did fade towards the end. I started doing the maths and knew that fourth was too far up the road and sixth was far enough behind me to run it home safely to fifth.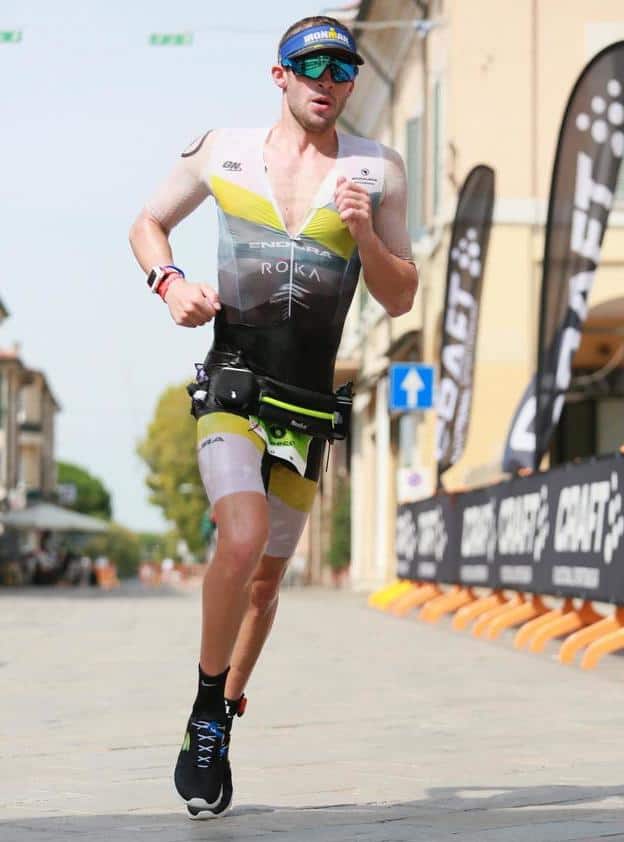 The bike was edging on the side of overly cautious. I know I'm capable of a much more aggressive race, but I was riding nervous. I just wanted to get off the bike without any punctures, wasp stings or anything else that could derail me. I definitely should have pushed harder on the bike and that is something I will learn from ready for my next race.
Saying that, I could have run straight to the finish line after T2. It felt that good to finish the bike and finally be on the run course drama-free.
What would you say are the key things your learned from Saturday and where do you see your biggest scope for further improvements?
I learnt so much about my own ability and the dynamics of racing professionally, especially on the bike. There can be random bursts of crazy high power then periods of almost free-wheeling. It's very different to Age-Group racing. I would describe the race on Saturday as overly cautious while still making a ton of mistakes. I'm learning new lessons each and every time I race.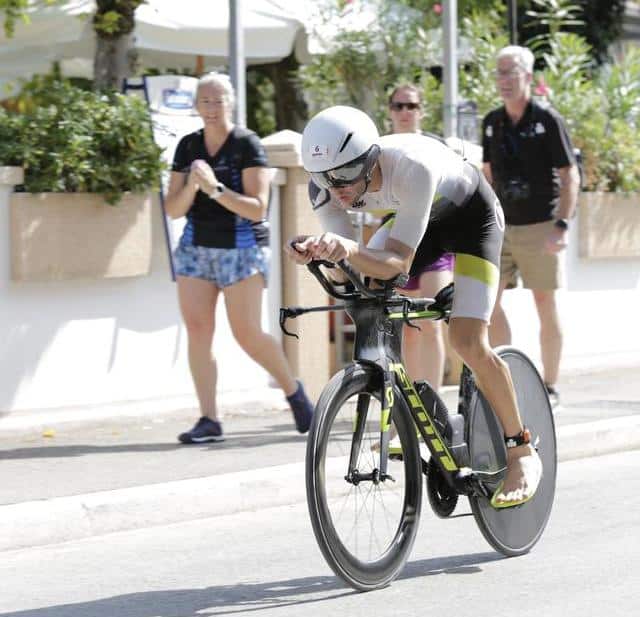 How important was getting a strong result in Italy for you in terms of confidence?
Finishing Italy strong was so important, not just for my confidence, but for my career. I'm not sure I would still be racing professionally had I not got a result. Technically I wouldn't have met the British Triathlon Federation standards to renew my license for 2019. That would have been a huge blow.
I am naturally a very competitive and aggressive racer. A bit like someone else in the family!
To be so cautiously racing is not in my style, but, it was enforced by the series of setbacks and lack of self confidence. I needed to finish that race at all costs. To finish in a time of 8:33 while being reserved has given me a massive confidence boost. I now need to race at the other end of the spectrum and find out where my limits are.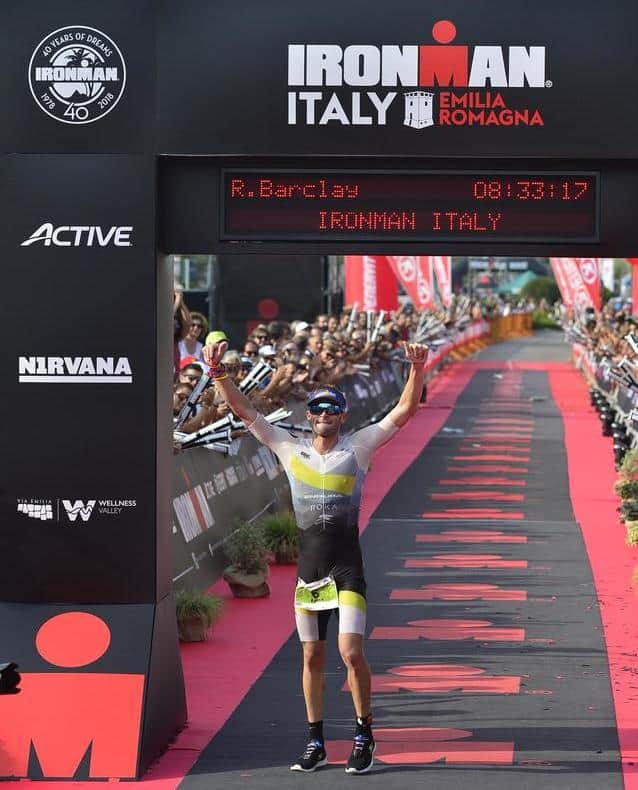 I guess you are off to Kona next in support of Lucy – what's next for you in terms of racing, anything else this year?
Lucy and I are getting married in December, so that is the main event post Kona.
In terms of racing, you'll most likely find me and Lucy on the start list of plenty of running races, cross-country races, duathlons and swimming meets throughout the winter. I have a few winter goals to tick me over. Getting my London Marathon Championship entry time and also swimming sub-16 for 1500m freestyle.
But nothing in terms of professional triathlons. I'm looking forward to to supporting the Active Training World Ashridge Duathlon in January. The race has just been made the Triathlon England National Duathlon Championships so I'm expecting some stiff competition on my local turf.
IRONMAN Italy Emilia-Romagna – Saturday 22nd September 2018
3.8km / 180km / 42.2km
Pro Men
1st – Andi Boecherer (GER) – 8:01:50
2nd – Michael Ruenz (GER) – 8:18:10
3rd – Julian Mutterer (GER) – 8:23:38
4th – Lukas Wojt (GER) – 8:25:55
5th – Reece Barclay (GBR) – 8:33:17