Xavier Disley – "I'm still a nerdy geek!"
In November 2018 we were very pleased to be invited to the new Boardman Performance Centre in Evesham by Xavier Disley, the founder of AeroCoach (www.aero-coach.co.uk). AeroCoach were at the Boardman Wind Tunnel to undertake the 'Tri Bike Shootout' (see our full report and videos HERE from the day), to compare – objectively – the performance of two innovative 1990's bikes, measured against a modern superbike which produced within the UCI rules. It was a great experience and absolutely fascinating to see the detail that goes into such research and analysis.
We also wanted to take that opportunity to find out more about Xavier himself and the development of the AeroCoach business.
My first recollection of Xavier's name appearing on my radar was through the pages of Cycling Weekly around a decade ago. A maverick / innovator / a bit bonkers (all true at various points!), pictures would regularly emerge of Xav testing out seemingly wild helmets / body fairings / positions and more. The most famous of those was surely the homemade helmet which seemed to have more than a passing resemblance to the hairstyle of Princess Leia…
Not all of those ideas worked – and while more than a few laughed at the time, it was that sort of investigative research and a desire to look outside of the box that contributed to where he is today, running a specialist cycling consultancy and aerodynamics business.
Calf fairings eventually turned into the Nopinz/AeroCoach Tripsockz! I had arm fairings, they worked as well pic.twitter.com/t17KiXHSjv

— B Xavier Disley, PhD (@xavierdisley) November 19, 2018
A TT rider with a scientific background, Xavier is one of a small group of hugely influential people that have developed their knowledge and skills originally in the domestic time trial scene in the UK. Those individuals now play a significant – but perhaps at times unseen – part in the development of cycling technology, products, aerodynamics, coaching and much more across the cycling world, and increasingly within the sport of triathlon too.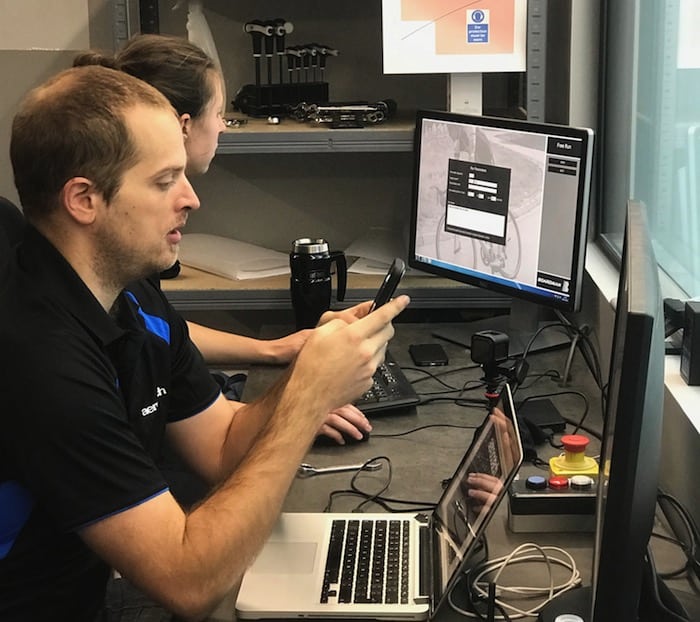 Along with the likes of Simon Smart (Drag2Zero / ENVE Composites), Daniel Bigham (HUUB Wattbike / WattShop), Bob Tobin (Cyclepowermeters.com), Matt Bottrill (Team Bottrill), Jamie Pringle (Boardman Performance Centre) and others, Xavier's knowledge and experience is regularly called upon by National Federations, Pro Tour Cycle teams and Elite athletes in the pursuit of high level performance.
Those products and that experience is not restricted to the world's best however – through AeroCoach you too can call upon those same services. French IRONMAN Pro Anthony Costes and Outlaw Half winner, Sam Pictor, are both AeroCoach sponsored athletes, with triathlon becoming an increasing part of the AeroCoach focus.
Check out the video above to find out how the "nerdy geek" progressed to helping athletes through aero testing, developing clothing, products, events and plans for the future including the opportunities for triathletes to develop and improve their own performances through the application of aerodynamics.