The IRONMAN 70.3 Cascais debut – what was it like?
Karl Alexander reports back from Portugal
It's been a very busy time of late for the small team here at Tri247. When we got an invite to the new IRONMAN 70.3 Cascais event in Portugal, we knew we were going to struggle to get that one covered. So, we called up regular contributor, Karl Alexander, to step in – and funnily enough, he was keen to take on that trip.
It's been a pretty tough racing year for Karl. After getting himself into the absolute best condition of his racing career ahead of his A-race aims of the three Outlaw Triathlon events, he then unfortunately crashed his bike just before he was set to attempt a third consecutive win at Outlaw Half Nottingham in May. With broken bones to heal, his chances of initially racing at all, and then being competitive, as his major objective races had gone.  A late season 70.3 was just the ticket for some end of season motivation with his body finally getting back into one piece.
Cascais would offer the chance of a race, some sun and some tourism too. So, what was the experience like – and should you consider IRONMAN 70.3 Cascais for 2018?
---
Cascais in Portugal is the latest addition to the Ironman 70.3 calendar. With the coastal resort town playing host to the inaugural event and with 50 qualifying slots for the Ironman 70.3 World Championships in South Africa, it was sure to attract a quality field.
The two hour flight from Heathrow to Lisbon and a 30 minute transfer to Cascais makes this a very easy destination for British triathletes to reach, not only for the race, but the resort itself offers amazing swim, bike and run options.

Time for some tourism first…
Arriving at lunchtime on the Friday afternoon before the event, I was keen to check into the hotel and explore the local area. I was booked onto a tour to Sintra, a small town around 20km north of Cascais. In 1995 the town was awarded status as a UNESCO World Heritage Site and you can immediately see why.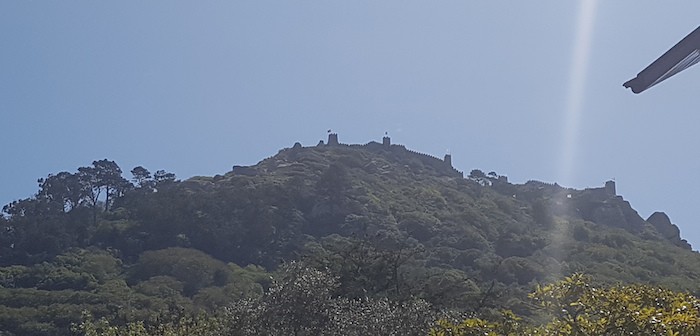 Dominating the landscape above looms the 'Castelo Dos Mouros' or Moorish Castle with the 'Palacio Nacional de Sintra' taking its place in the centre of the town. The steep narrow streets are packed with restaurants and shops and it is well worth spending a day exploring.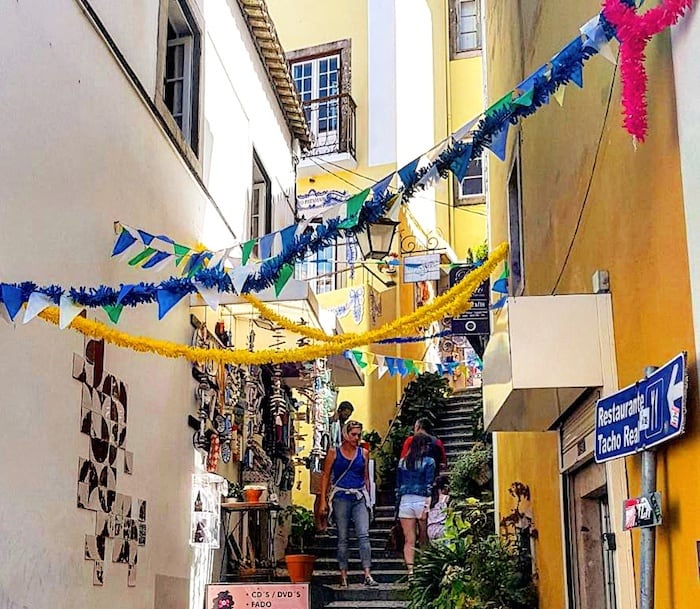 On the way back my guide, Paula, from tugatrips.com took me to the Monserrate Palace and Park. The Summer residence of English textile millionaire Sir Frances Cook had fallen into disrepair for nearly 50 years, before being restored and reopened in 2010. The park itself covers 33 hectares and has an amazing array of plant species from around the world.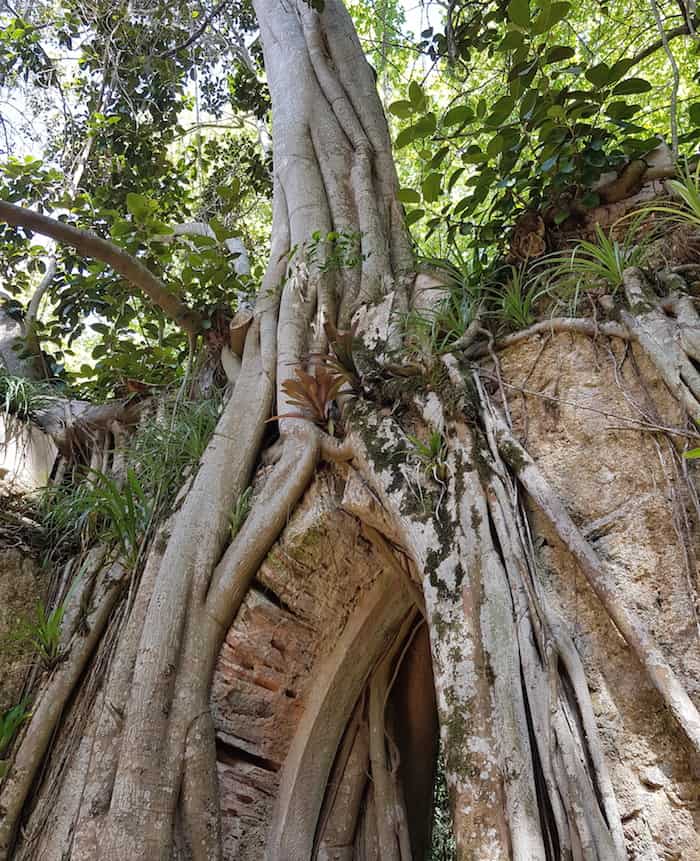 Once back at the hotel, I decided to take the mile walk from my hotel in Monte Estoril, along the promenade into Cascais and register and collect my race numbers leaving me free on Saturday morning to get out for a few miles on the bike.
A bit of training – and Strava too…
Looking at Google maps, I decided to head out west on the N247 (an omen perhaps?!) towards Guincho Beach. The flat(ish) coastal road soon gave way to more hilly terrain as I reached the foothills of the mountains and I decided to climb to the village of Arnerio about halfway up. As I turned and descended back towards Cascais, I thought 'well since you're here, may as well go up again…'. Getting back to the hotel and uploading my ride I was pleased to note I'd taken a Strava KOM, another sign that the legs were good ahead of Sunday's race.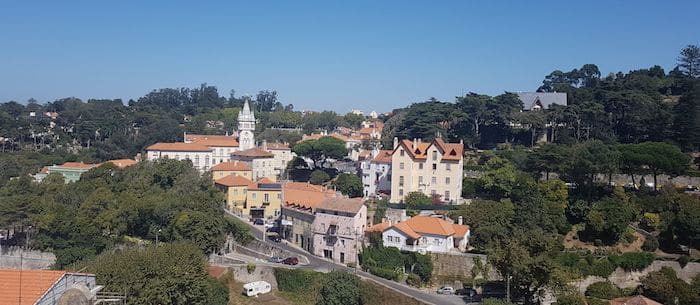 Saturday evening, I met with some other race participants for dinner in a local Tapas restaurant. The food was traditional Portuguese fare and was amazing; it was great to experience it with some other athletes and chat about the race. Then it was to bed ahead of the 6am wake up call.
Time to race…
Due to the winds coming in from the Atlantic Ocean, the race organisers opted to move bike racking until before the race on Sunday morning. This was actually a good thing for me, with my hotel being a mile away it was an easy four minute spin rather than a 15 minute walk and that meant more time in bed!
At 07:12 the cannon got the PRO men underway, followed two minutes later by the PRO women. At 07:20 the age-groups would begin their rolling start with athletes self-seeding themselves according to predicted swim time, which didn't always match their actual ability…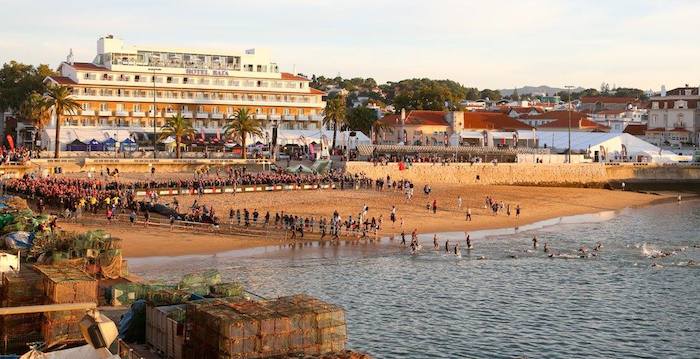 Still, I was underway and swimming well and was into my rhythm before having an early Australian exit approximately 400 meters into the swim. From there it was plain sailing but with the sun low in the sky, mirrored goggles are an absolute must. My swim time was my fastest this year since breaking my arm, but still significantly slower than what I've swam previously. Still, looking at the race time (minus eight minutes), I was pleased to have sneaked inside the 30 minute mark.
After a long run through transition it was out onto the bike course. The first 45km of the bike are fast and reasonably flat with literally all of the 900m elevation gain coming between the 51 and 74km points, so it was important to pace the bike and make sure you had the legs to tackle the mountain that lay ahead. Before long I was passing riders ahead and moving through the field well on my Planet X Exo3. The highlight of the bike course has to be taking on a circuit of the Estoril F1 circuit for one lap before exiting and beginning the climb.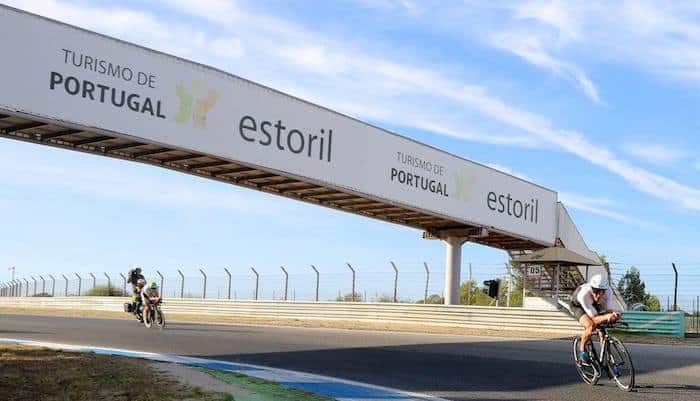 The climb is steep in places and punctuated by flat and slightly downhill sections before ramping up again. The final few kilometers are a steady 4-5% before the dead turn at the top and the super-fast descent back into Cascais.
Coming into T2, I had moved up from 90th to 10th overall setting the 4th fastest bike split of the day and I was feeling good. Putting on my runners and visor I was out onto the streets of Cascais to take on the two-lap run course. The first out section I was feeling good and moving well, slightly up on my target race pace. But, as the the sun was reaching its zenith the mercury was climbing I noted on a Pharmacy sign the temperature was 27℃. By the time I returned only 7km later it had climbed again to 32℃. I was starting to struggle in the heat, at every aid station I doused myself in water and was putting sponges into my tri-suit but the heat was taking its toll. I tried to pick up the pace but it was short lived and with 5km to go, I was just focussed on getting to the finish. I had faded from 10th to 47th.
For those that know me, you'll know i'm of a fairer complexion and the sun is something I usually avoid. I think I'll be looking at races in the Arctic Circle from now on…!
The verdict?
For a first event, this event ticked a lot of boxes. It's well organised, the bike is on closed roads and would be an excellent event for those wishing to take on a race abroad. There is more than enough to see and do in and around the town and it was a shame my stay was only four days. The people are friendly and welcoming, restaurants are reasonably priced and and as it's still a working fishing town, the seafood is literally the best I've ever tasted.