Adaptation, motivation… and not much swimming
In December 2019 (HERE), we introduced you to Robbie MacNab, Age-Group triathlete who is attempting to swim The English Channel solo in 2020. Taking part in a Channel Relay had planted the seed, but with the booking made and a public declaration of intent, the task now is to get prepared to complete the task alone.
We'll be following Robbie regularly through the year, documenting the highs and lows, and ultimately seeing whether he can achieve the goal. Here is his latest update which, for reasons you can probably guess, doesn't include anywhere near as much swimming as was in the original plan.
(Links to all of Robbie's Channel Series: #1 | #2 | #3 | #4 | #5)
---
Triathlete vs. The Channel – April 2020
2020: A year to remember and not (just) because of a Channel attempt…
With everything that we are all now in the middle of, it seems odd – maybe wrong – to be writing an article about a topic that really does seem so irrelevant. However, the brief at that start of this journey was to write about the process, the training, the highs and the lows, no matter how weird or unbelievable they would have seemed then. So, where do I start…?
Hopefully this will not come across as a 'woe is me', unable to get in the pool piece. I'm extremely aware of the far more serious impacts on peoples' lives that COVID-19 is having and the great work and risks being taken daily, by workers in many essential front-line roles. I'm thankful to those people and thankful I have my health and am fortunate in some ways to be able to carry on.
I remember during a swim in the first week of March starting to think about what I might be writing about here, and one thing that was already constantly on my mind was COVID-19 and what effects it might have moving forward. I was planning on writing a nice positive piece on how I would advise other athletes, controlling what you can control, and training as if your event is still on until confirmed otherwise. However, while I would still give that advice every time, personally I was already finding it hard to find the motivation to train. Half of me was thinking get in the pool and the gym while you still can, and the other part of me was thinking, what's the point? My coach, Ryan, has stepped up, taking even greater control of my programming, having noticed the dip in my motivation and is working hard to help keep me on track.
I should point out that as I type this, the swim attempt at the end of July is still on, so that is the goal, however my own unqualified expectation is that it will at some point be called off. So, like everyone I have to plan that it is still on and adapt my training, along with the adaptation to every aspect of life. Coaches also remind me, that the Channel swim season goes later into the year, and the likelihood that even if my swim date is missed, they will work hard with the Captain to try and get a later slot where someone else didn't persevere with their prep and has dropped out, or was unable to take risk of travel to the UK.
So, what have I been doing besides becoming more acquainted with the fridge…? Things certainly escalated quickly for everyone, and I started to 'Social Distance' about a week before the official lockdown due concerns about my asthma.Since then I've only been outside for one run, mostly for fear of the backlash that seems to be aimed at people taking their daily exercise within the guidelines.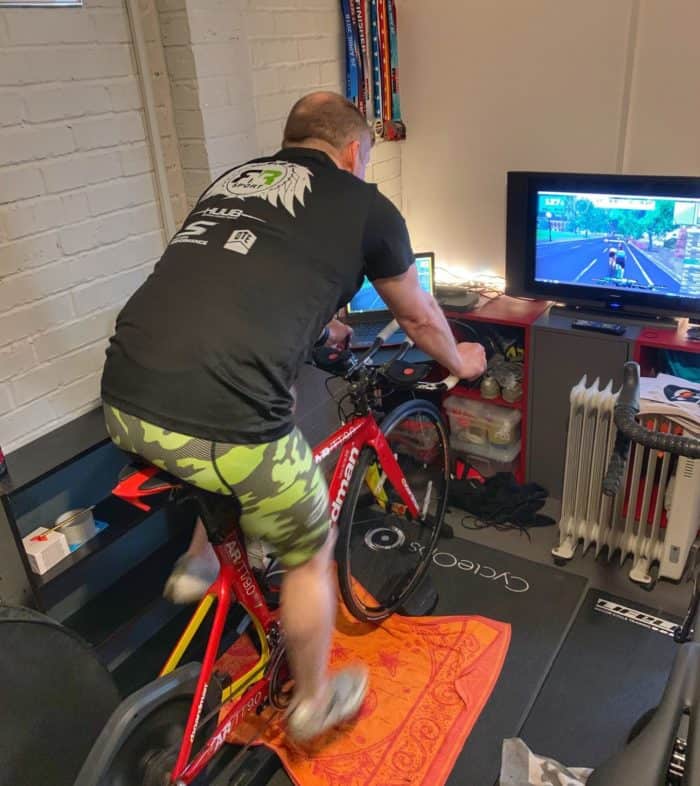 I find myself looking at treadmills online, but not sure the current financial uncertainty justifies this. Like many triathletes, it seems Zwift certainly has been a bit of a saviour. In previous months my time spent on the bike has been limited for obvious reasons. However, being under lockdown I'm certainly getting my money's worth at the moment and it's been a great way to maintain, indeed improve my fitness.
Joining various Zwift challenges, along with hosting rides for some of our coached athletes for RnR, with the addition of Facetime or Zoom, this has certainly helped maintain some sort of contact with the outside world and some much-needed banter. In terms of swimming, strength and fitness, I've had to dig out and dust off the selection of kit we had at home, including some bands, various weights including barbell, dumb bells, and kettle bells and put together some routines to keep the right muscles in some sort of shape.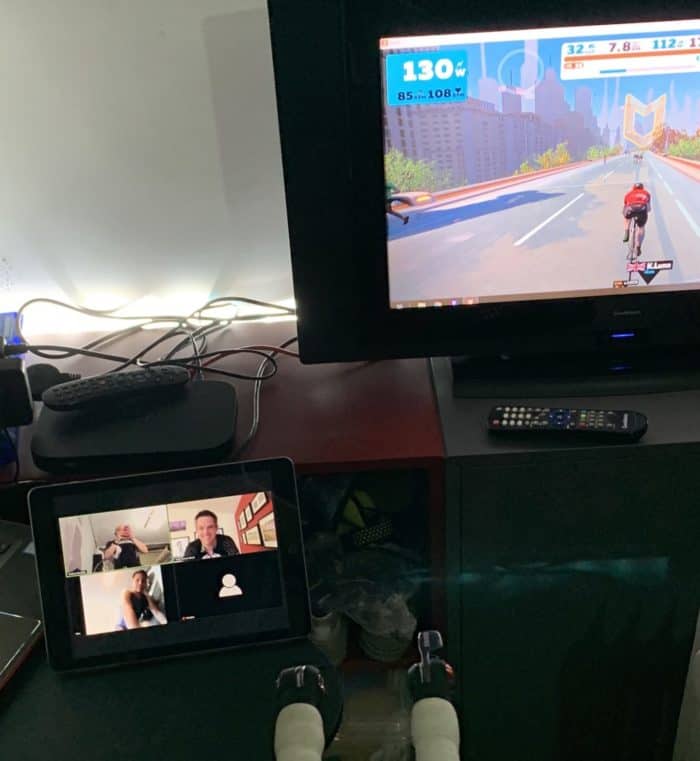 Along with some of the basic kit, I've been finding various online resources helpful. My fellow coaches at RnR have been hosting some live online sessions via Zoom, as well as creating bespoke on-demand content. With this content, as well as some from my gym, who added new online content also, and various other coaches sharing content I am able to utilise the bits and pieces that are relevant.
This all said, I have to confess it's not all positive and I've certainly not got into a complete routine yet; motivation is still not what it was. I suspect this situation will continue for a while, so hopefully I'll continue to adjust and adapt to the new normal, but I'm also not going to panic if I have a bad day or a bad week. More now than ever, we need to adjust at our own pace. It is hard not to get caught up in all the posts saying learn this, do that, take up a new hobby… for some it will work great and it can be a great opportunity to maybe spend time differently, but we are all individuals and cope with change differently. Now is not the time to put pressure on each other or ourselves. Stay healthy.
March Training
Swims: 12 (Before Lockdown)
Distance: 35km in the pool (Before Lockdown)
Zwift: 12 (3 before Lockdown and 9 post)
Dryland Sessions: 3
Robbie's Tip of the Month:
With the lockdown on, it is always great to join a group of real people for a session. Every Friday, one of the RnR Coaches, Mary, does her Friday Fitness Fives. Here is one from a couple weeks ago, which was fun but also a killer that people still felt on Sunday (if not Monday!).
Robbie's Coach Tip of the Month
From RnR Sports's (www.rnrtricamps.com) Ryan Sosna-Bowd:
With the pools shut, here is a video with a dryland swimming session you can do at home. With the session, please start at lowest number of reps or time for a rep and build up, as and when you feel ready.