In December 2019 (HERE), we introduced you to Robbie MacNab, Age-Group triathlete who is attempting to swim The English Channel solo in 2020. Taking part in a Channel Relay had planted the seed, but with the booking made and a public declaration of intent, the task now is to get prepared to complete the task alone.
We'll be following Robbie regularly through the year, documenting the highs and lows, and ultimately seeing whether he can achieve the goal. Here is his latest update which, finally, saw him back in the water and actually swimming… let's hope that trend continues.
(Links to all of Robbie's Channel Series: #1 | #2 | #3 | #4 | #5 | #6 | #7)
Triathlete vs. The Channel – June 2020
I Can Almost (Did) Taste the Water…
As we have moved through May, we have started to see some of the restrictions eased by the government that have enabled open water venues to open up (with all the relevant safety and social distance changes implemented).
Along with the unlimited number of times you can exercise in a day and the ability to travel to beaches and other locations, I've been starting to get a little excited about the prospect of getting back into the water.
In reality of course all these options rely on some common sense and ensuring social distancing is maintained, which if you want to continue to adhere to the guidelines, still makes some of these options tricky.
On that first weekend with access to open water a potential, I was looking to get to the local beach and had everything planned, tides checked, kit ready, my shift on call for work covered, my other half available and ready to come and be an onshore spotter. But then, alas, the very strange warm weather continued.
Normally warm weather would have been a bonus, but as everyone else rushed to the beaches, it was going to be impossible to feel comfortable so I cancelled that last minute and I've found myself hoping for cooler, even wetter weather, so I can selfishly have a quieter time at the beach. I am not knocking those who flocked to the beach after weeks of lockdown, it's understandable, but for me personally I would have just been worried about everyone judging me. I have still not got my head around going out running yet! I know the government has eased things, but at same time, we hear from nurses and doctors that it is still a real issue and that people are acting too cavalier with precautions and social distancing. I'm just not yet fully at ease with being part of a potential second wave of problems.
With regards to the local lakes unfortunately the venue I'd usually use – Ellingham Waterski – are still working on their reopening plans. That's understandable as it's volunteer run and I can imagine the amount of paperwork to get through must be crazy.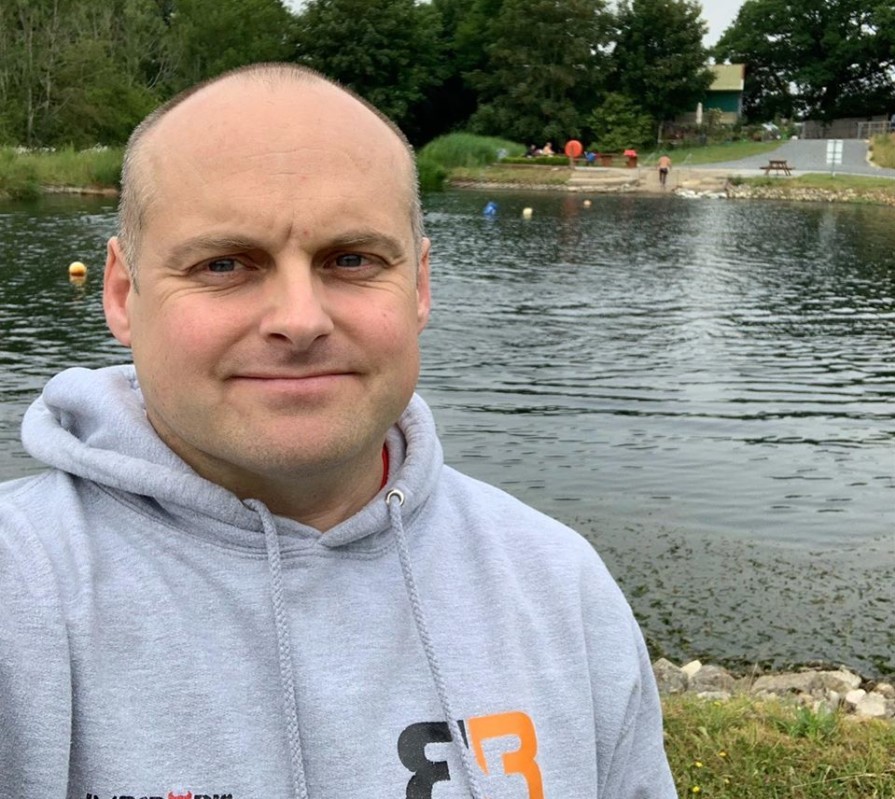 There is however a smaller local venue – Andark Lake – that for the last few years I have been meaning to try out. That opened so I started to look into how I could get access.
Whilst the wait for real swimming continued, I was a little better at forcing myself to do the prescribed 'dry land swimming' sessions (like the one I recommended last month), and gradually I've been getting into more of a routine. Rather than procrastinating, I've been making sure I get them done earlier in the day. I can't see that I'll ever enjoy them really, but needs must.
The final reality check as I got to the end of the month was that if the swim goes ahead as planned, it is now under two months away! Along with that came the email from my coach requesting that I start sending a weekly food diary to ensure I get back on track with nutrition. It is safe to say that has not been top of my list, or even on my list, during lockdown! I needed this kick and it had an instant effect and a lot of the indulgent lockdown treats are no longer on the shopping list. I'm still not looking forward to the feedback on the first few weeks reporting, but again, it's a long due reality check.
Just as May ended and June began, it happened. The 'can almost taste the water' feeling became the 'I did' with my first swim in the smaller lake. It was 40 minutes of bliss (painful bliss)…more details on this and hopefully many more to come next month.
May Stats:
Swims – 1 (the best one ever)
Zwift – 21 Rides (775 km)
Dry Swim/Strength – 6 sessions
Run – 2 Sessions
Robbie's Tip of the Month
As much as you might dislike them as I do, Dry Land swimming sessions are a great way to keep your swim fitness (and improve it). Following on from the more swim session based one I shared last month. Here is a video from RnR coach (www.rnrsport.club), Ralph Hydes with a routine of exercises to assist with your swim strength.
Robbie's Coaches Tip of the Month from RnR Sports's Ryan Sosna-Bowd
With racing or events still a little way off, but the prospect becoming a little more real – like Robbie's Channel swim – now is a great moment to refocus on some of the things that you may have let fall off the radar like nutrition and being reflective on it. Take some time now to think about what fuel (food and liquids), when you are consuming it and in relation to your life and training. Ask yourself questions such as;
How you felt after meals/snacks/drinks (i.e. any stomach upsets, feeling bloated, lack of energy, energy slumps)?
How you felt before and after sessions (i.e. How much energy did you feel you had for sessions, how fresh in the morning did you feel from day before, etc.)?
From that, adjust your plan based on this self-analysis. If you don't feel capable of making adjustments yourself or properly interpreting your own eating and drinking, I would always recommend speaking to a qualified nutritionist. Even as a coach, if I have an athlete who has advice needs greater than I can give, I always point them to someone who knows better or go and consult someone for them if it is a specific question they have.