Robbie MacNab REALLY wants to swim…
In December 2019 (HERE), we introduced you to Robbie MacNab, Age-Group triathlete who is attempting to swim The English Channel solo in 2020. Taking part in a Channel Relay had planted the seed, but with the booking made and a public declaration of intent, the task now is to get prepared to complete the task alone.
We'll be following Robbie regularly through the year, documenting the highs and lows, and ultimately seeing whether he can achieve the goal. Here is his latest update which, after another month of 'pool closed due to pandemic', leaves him thinking that pool rage the return of pool rage might actually be welcome right now… at least it would mean the pools were open!
(Links to all of Robbie's Channel Series: #1 | #2 | #3 | #4 | #5 | #6)
---
Triathlete vs. The Channel – May 2020
Anyone else missing pool rage…?!
Seriously, I am joking, but as we continue with the current stay-at-home restrictions, certain things do hit home. I recall the start of this journey to swim the Channel, getting frustrated while swimming with busy lanes, lack of lane etiquette, and occasional pool rage (in my head). Now… I just miss swimming!
I'd like to think that once we are allowed back in the pools, I'll never again moan about these things, but I'm sure that give it a couple of weeks and I'll succumb to these moments again. I am convinced though that I will not take the availability of pools and indeed lakes should they open, for granted. I guess in a twisted kind of way I would at least like the option of experiencing these frustrations. What is the main thing you are missing; family, friends, takeaways?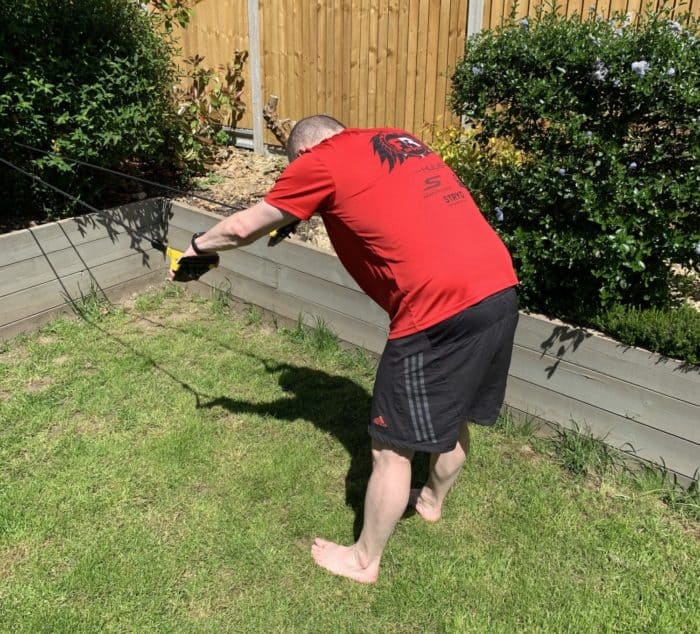 As much, as I'm missing swimming, I'm equally hating dryland swimming (sorry coach). It's a necessary evil, obviously, and I can certainly feel it working the relevant muscles and mimicking the movement, but I'm really struggling to find any enjoyment in it and motivation for these sessions is at an all-time low. Previously, I have moaned about ploughing up and down a 25m pool being boring… but at least I was going somewhere! Laying on a foot stool in my lounge or working out in the garden waving my arms around is not doing anything for my endorphins.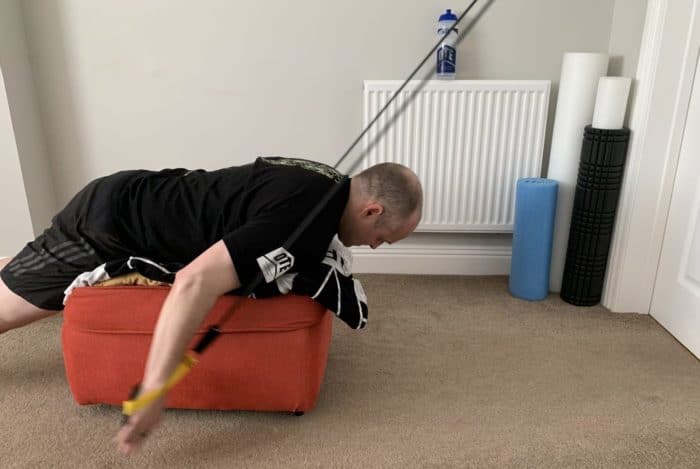 On a more positive note, the one thing this last month that did get the endorphins wide awake was competing in my first Zwift race. I have 'completed' many Zwift race events in the past, but I have always entered the E (open) category and just got round to tick off an event or challenge, rather than really racing. With some of this new-found spare time, I have got setup on ZwiftPower and been looking a bit more closely at my stats and was pleased (I'm easily pleased sometimes), that I should be entering Cat C on Zwift races.
Last week I signed up to one of the British Triathlon Zwift races in the Cat C group and I loved it. I certainly put in a proper effort and enjoyed the tactics: trying to get in groups, drop people, chase people and working to a strategy. If you have not looked at the ZwiftPower side of things I would really recommend a quick look; I found it really motivating being in a race with people in and around the same level. Those that love stats and a post-race debrief will certainly find this side of things interesting, and not that I'm competitive… but when I drilled down the results far enough, I was the quickest Cat C racer that was 5ft 7in 'tall'.
Now, back to the actual possibility of doing my Channel swim. Officially, this is still on for the end of July, so I have made sure all my documentation is complete and uploaded to the Channel Swimming Association. My coaches have also spoken to the pilots and I am pretty sure that if the season does open up, there is a good chance – even if at a later date – that I will swim this year. So, I have also spent a bit of time setting up my charities Virgin Money page which I will look to publicise a bit nearer the time when things hopefully become a bit clearer in the world.
April Training
Swims: 0
Zwift: 28 Rides / 911.7 km
Dryland Sessions: 4
Runs: 2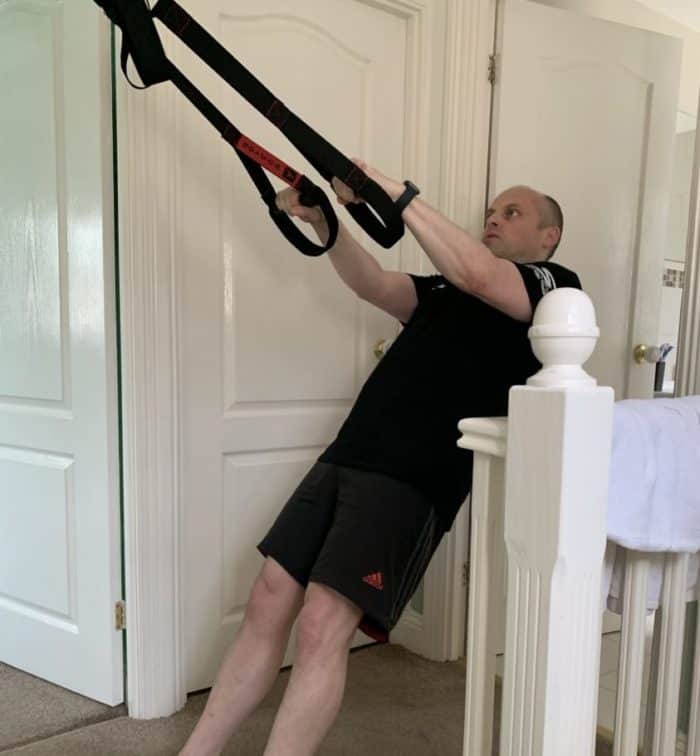 Robbie's Coach Tip of the Month
From RnR Sports's (www.rnrtricamps.com) Ryan Sosna-Bowd:
Eight weeks into Covid-19 and with no end in sight, it is important to remember, you can only control what you can control and to not focus on what you can't. Focus on what you can do to be ready to enjoy your sport when the world resumes.
For the swim/swimmers out there, as much as dryland swimming can be a pain, find time, even if just weekly to get into your plan or work on posture and posterior chain (back, glutes and hamstrings), that will help. Some videos below might provide some inspiration.
Also remember, this moment in time is bigger than any of us, and our sport, and as such it is easy to feel lost and out of sorts. A key thing to remember is that our sport is filled with passionate people, that care. People who will be working diligently to get people SAFELY back into competition or to take on their challenges, be it in new formats or on different dates as soon as they can. Remember you're not alone, you are part of a caring community who is waiting to celebrate a return to sport.
If you are struggling, reach out to a friend and get on a Zoom during a Zwift, join a circuit with like-minded people on Zoom or just call a friend and share what's on your mind.
If you are struggling for something to join in on – check out the RNR Sport & Tricamps Facebook for details of weekly circuits (Mon, Weds & Fri) and Zwift meet-ups and Zoom rides (Tues, Thurs and Sat).
Dryland Swimming Sessions
Exercises for Perfecting Your Posture
Kettlebell (or improvised weights)
Workout for the Posterior Chain (back, glutes and hamstrings)