George Goodwin in his striking green and black livery – both his skinsuit and his Ribble Ultra TTR bike – has been one of the stand-out performers on the middle-distance scene. So much so, that his recent non-selection as a captain's pick for the PTO Collins Cup has been quite a talking point.
In recent times Goodwin has posted a number great results, and taken some impressive scalps along the way. Of particular note were his stellar performances at IRONMAN 70.3 European Championship 2021 in Elsinore, (where George finished ahead of Magnus Ditlev, Rudy Von Berg, and Kyle Smith) and the PTO 2020 Championship held at Daytona (he bested Lionel Sanders, Henri Schoeman, and Vincent Luis, to name just a few).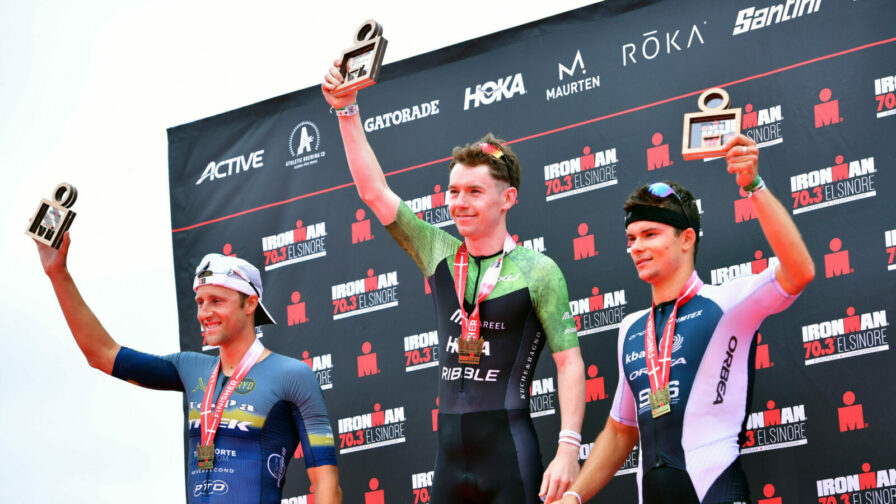 On each occasion, George has pulled back the fastest swimmers with a strong bike split astride his custom painted Ribble Ultra TTR before putting some of triathlon's elite to the sword with a rapid run. George gave us the inside track on his 2021 race bike.
Ribble Ultra TTR
Interestingly, and maybe surprisingly as he explained, it was George who approached Ribble rather than the other way round:
"I originally approached Ribble after the 2019 IRONMAN 70.3 World Champs in Nice. We (my Dad builds all my bikes), had been following how Dan Bigham [Ed. former age-group triathlete, pro-cyclist for Ribble Weldtite, and aerodynamics expert] had been using the bike and we thought if we could work with a brand that allowed us the same flexibility to mix and match components, we could make a really aero set up. Aerodynamics and reliable and compatible components that are easy to work on, have been the main driving force in everything."
Goodwin went on to confirm the relationship has flourished:
"Ribble took a chance on me and have been very supportive. I really enjoy riding it [the Ribble Ultra TTR], it's fun! The frame is aero and stiff while being comfortable for me and most importantly it feels fast! Plus, it's nice to work with a British company too."
Aero focus and UK time trial scene
It is clear that George is very attuned to the importance and subtleties of aerodynamics, and this is reflected in his selected frame-size:
"This is a small, I would ride a medium 54cm road bike with a long stem but a small TT frame gives the flexibility to get the required fit. It's easier to make a small bike bigger than a big bike smaller."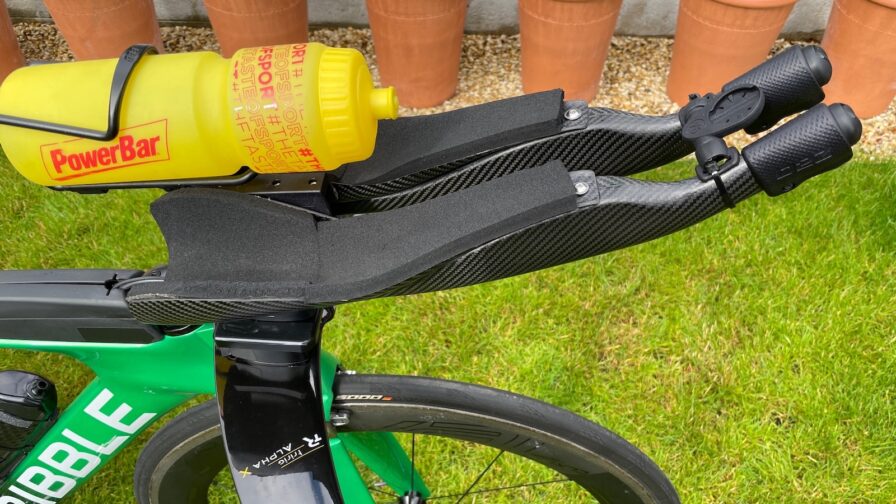 George said that his position on the bike has not really changed since he moved away from short-course racing to non-drafting events, and explained how he has come to his current position:
"We played about with what was comfortable and looked aero. Here in the UK we're very fortunate with the TT [time trial] scene that if you look around enough, read and study photos online you can make some informed decisions without having to spend a fortune on testing.
"Two years ago I spent a day testing helmets outdoors with James Webb from Red Is Faster and more recently I've been lucky enough to be supported with testing, components and expertise of Simon Smart at Drag2Zero where we've been able to validate some things and make some minor changes."
The freedom that Ribble has afforded George to select the components he feels are the best for him has resulted in an interesting bespoke setup.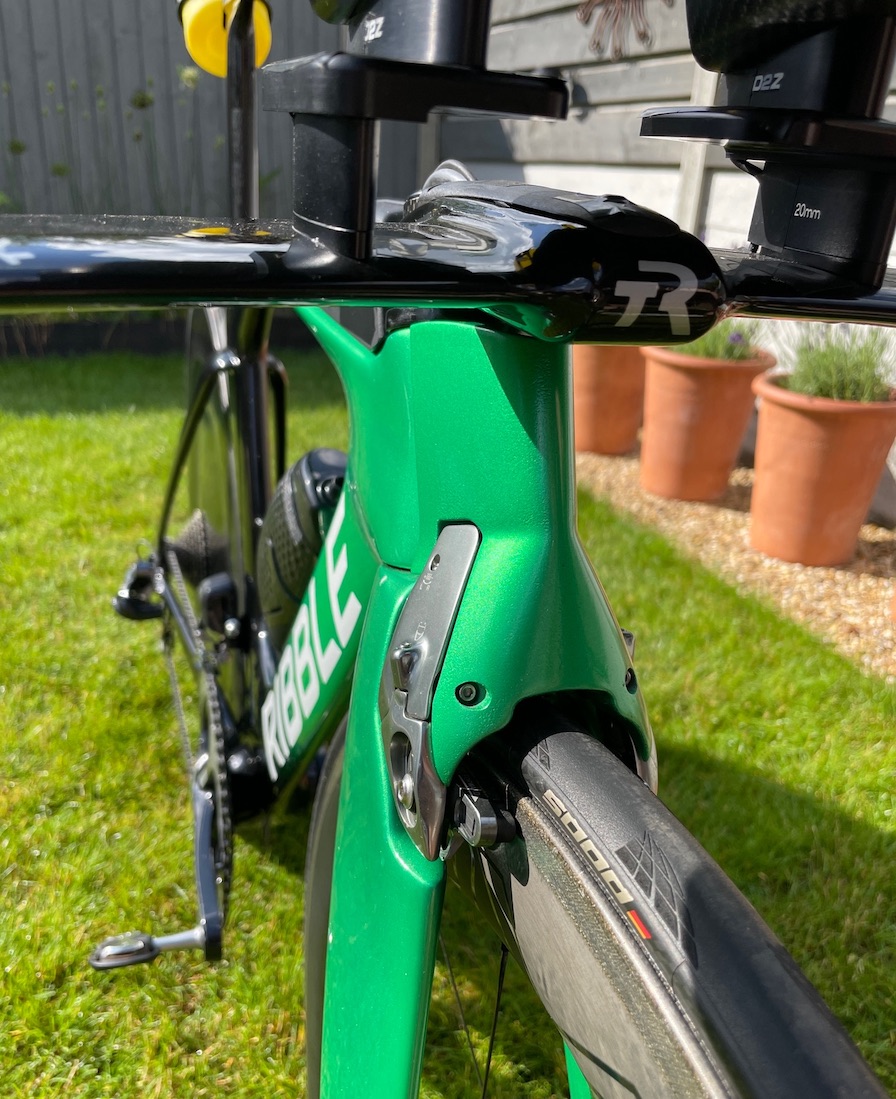 It's all in the details
The cockpit on his Ribble Ultra TTR is a prime example of the variation in kit selection, as Goodwin detailed:
"[The] Base bars are an integrated bar and stem from TriRig in the US and the TT bars are prototype bars from Drag2Zero. Simon Smart provided me with the original D2Z bars I used at Daytona and these are the future development of those. The whole system is very aero and all the cabling is fully integrated."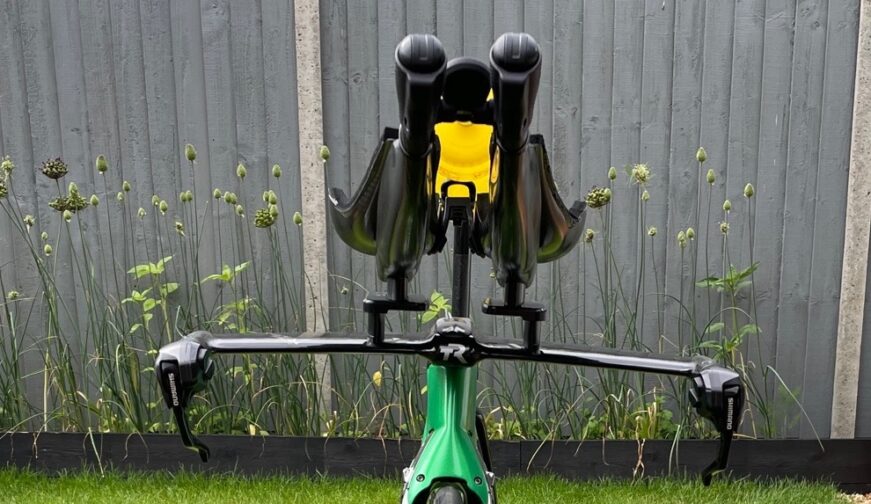 Goodwin's groupset choice is Shimano Di2, mostly Dura Ace with a smattering of Ultegra. Interestingly, for someone so aero focused, Goodwin has stayed away from over-sized jockey wheels:
"I use regular size jockey wheels as I don't want to compromise shifting but they are ceramic bearings from JRC Components in Cork, Ireland."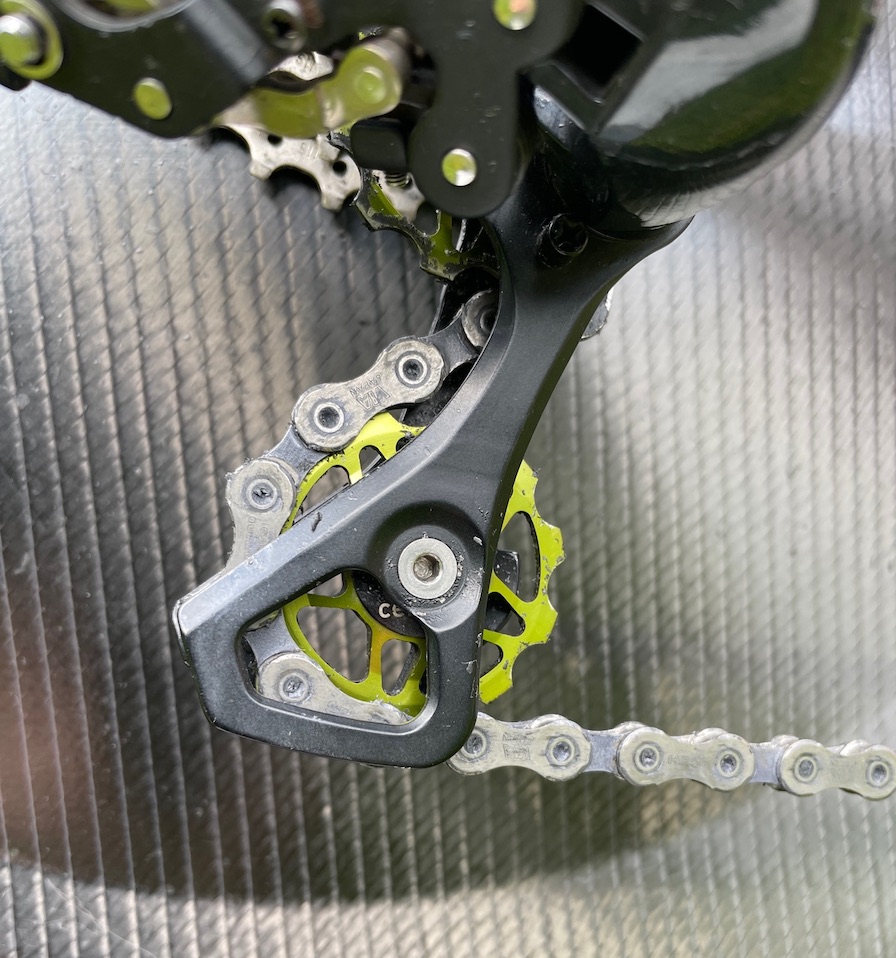 Rim brakes
Whilst many have made the move to disc brakes, Goodwin confirmed he is happy with his rim brake setup and in particular the sought after TriRig brakes.
"I use rim brakes and I'm happy with the braking performance on most courses and they're hidden nicely away from the wind. The front is the standard TRP T860 but the rear under the chainstays is a TriRig Omega aero brake."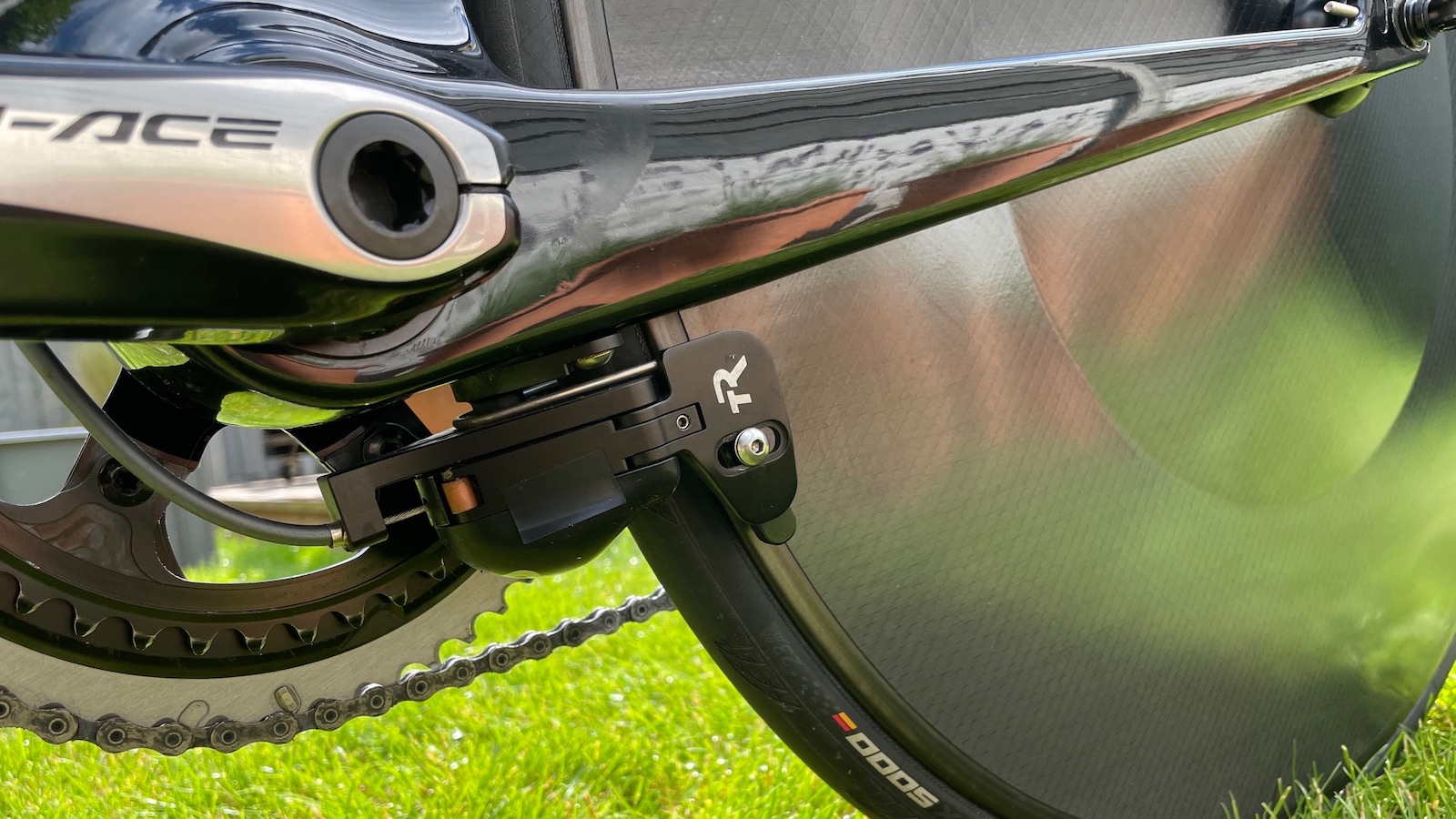 Reflecting the big-gear nature of non-drafting, middle-distance racing George opts for a set of Shimano Dura Ace pro issue front chainrings paired with a suitable cassette for the particular course. Showing his willingness to adapt to the demands of the bike course George explained the changes he made for the flat motor circuit of Daytona:
"At Daytona I removed the front derailleur and ran a single 56T from Drag2Zero with a 11-23 cassette."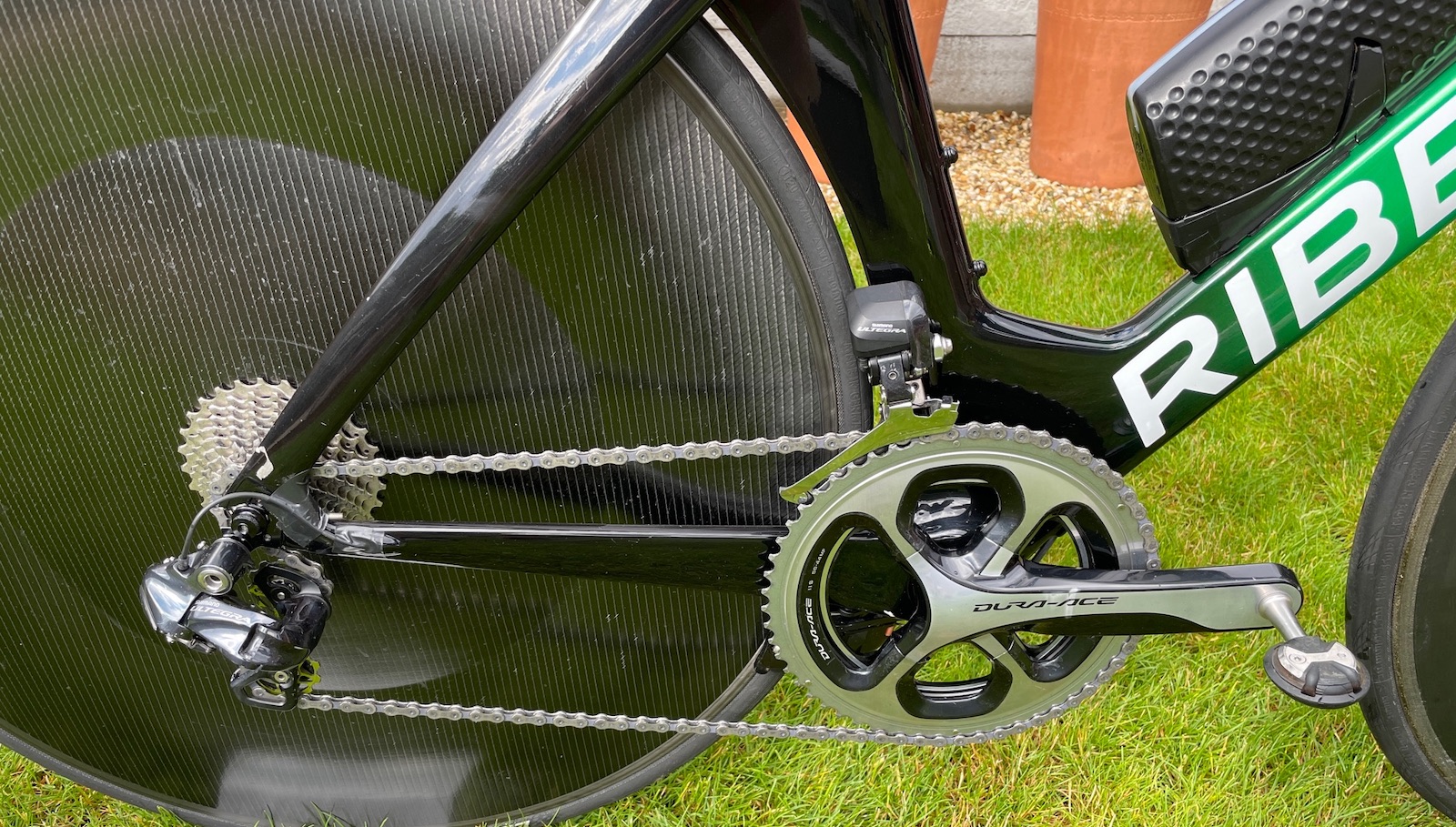 Whilst many athletes use crank or pedal based power meters, Goodwin uses a hub-based option and he explained his reasoning:
"I use a PowerTap hub from Cyclepowermeters in both racing and on the turbo. They are reliable, very accurate and easy for me to have maintained and calibrated by Cyclepowermeters."
Specialized and AeroCoach wheels
His power meter choice also played a part in his wheel selection. George pairs a Specialized Roval CLX 64 front wheel with an AeroCoach Aeox disc carbon clincher, and he confirmed why:
"The front [wheel] chosen for the aero profile and the rear disc as I could get the PowerTap hub built into it."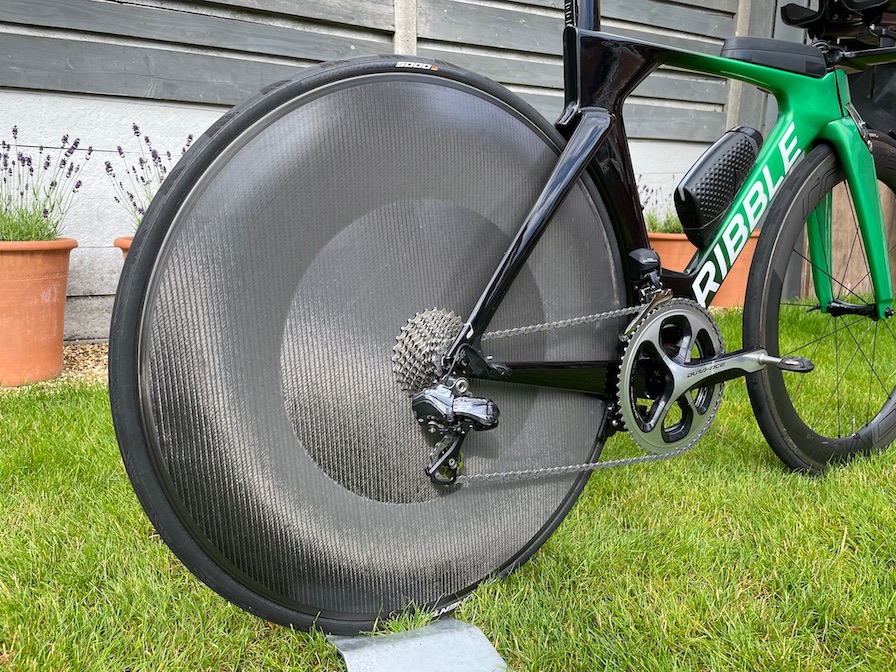 Similar to his flexibility concerning gearing, Goodwin is ready to make changes to his tyre selection where watts can be saved:
"Most of the time I'm using [Continental] GP5000 with latex tubes but for a race like Daytona on the track I'd use something with less rolling resistance."
However, it's certainly not all change with Goodwin's set up on his Ribble TTR and he has stuck with his old-version of the Specialized Sitero. Specialized may no longer be selling the saddle profile and shape that Goodwin prefers, but he has few replacements stashed away for when needed.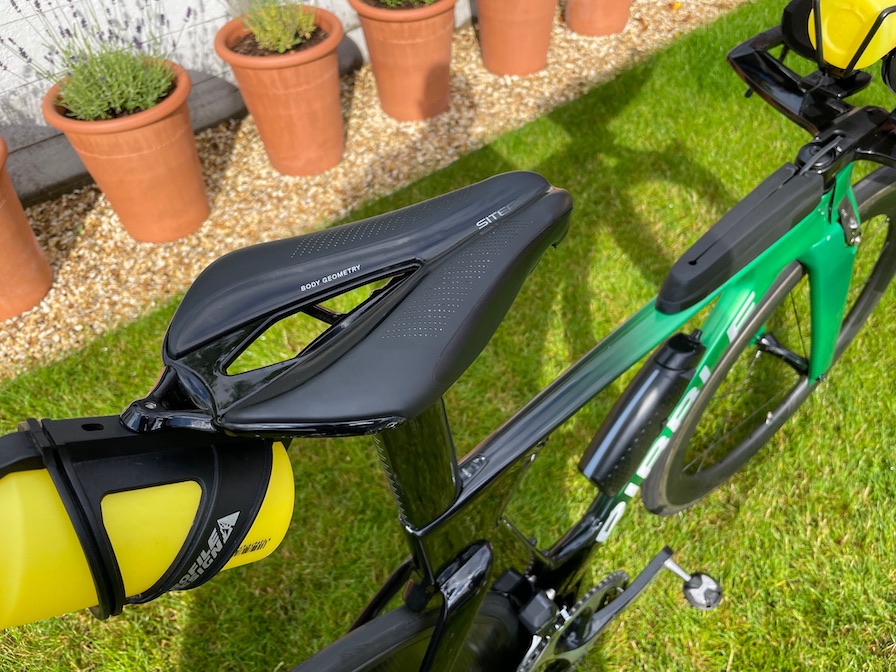 Indoor riding and bottles
When it comes to indoor training, George describes his setup as a bit 'old school' but importantly mirrors his race day position:
"I have my old TT frame on a regular turbo and Powertap wheel. The position matches my race bike exactly with the same saddle and D2Z bars and a mirror so I can train in the correct position for racing."
When travelling at the speed Goodwin does, a middle-distance race takes you less than four hours, and for the demands of such racing he combines three bottles:
"[I] keep it simple with a BTA [between the arms] bottle, rear bottle behind the seat and an aero bottle in the frame."
Goodwin's setup of his Ribble Ultra TTR is certainly one of the more varied we have seen. Good luck for the remainder of 2021, George!