Meet 'Daisy'!
Fenella Langridge is no longer a 'new name' to middle-distance racing, but, if you hadn't already noticed her impressive progress, her seventh place finish at Challenge Daytona 2020 (aka the PTO Championships 2020) signalled that she is a genuine contender at the top tier of the sport.
For 2021, Langridge will be riding a REAP Vulcan.
Langridge entered the pro middle-distance world in 2018 with several podium places, before taking her maiden victory at 70.3 Edinburgh 2019. Continuing her relationship with REAP (www.reapbikes.com), along with support from DHB and On Running, Langridge is looking to build on her success to date.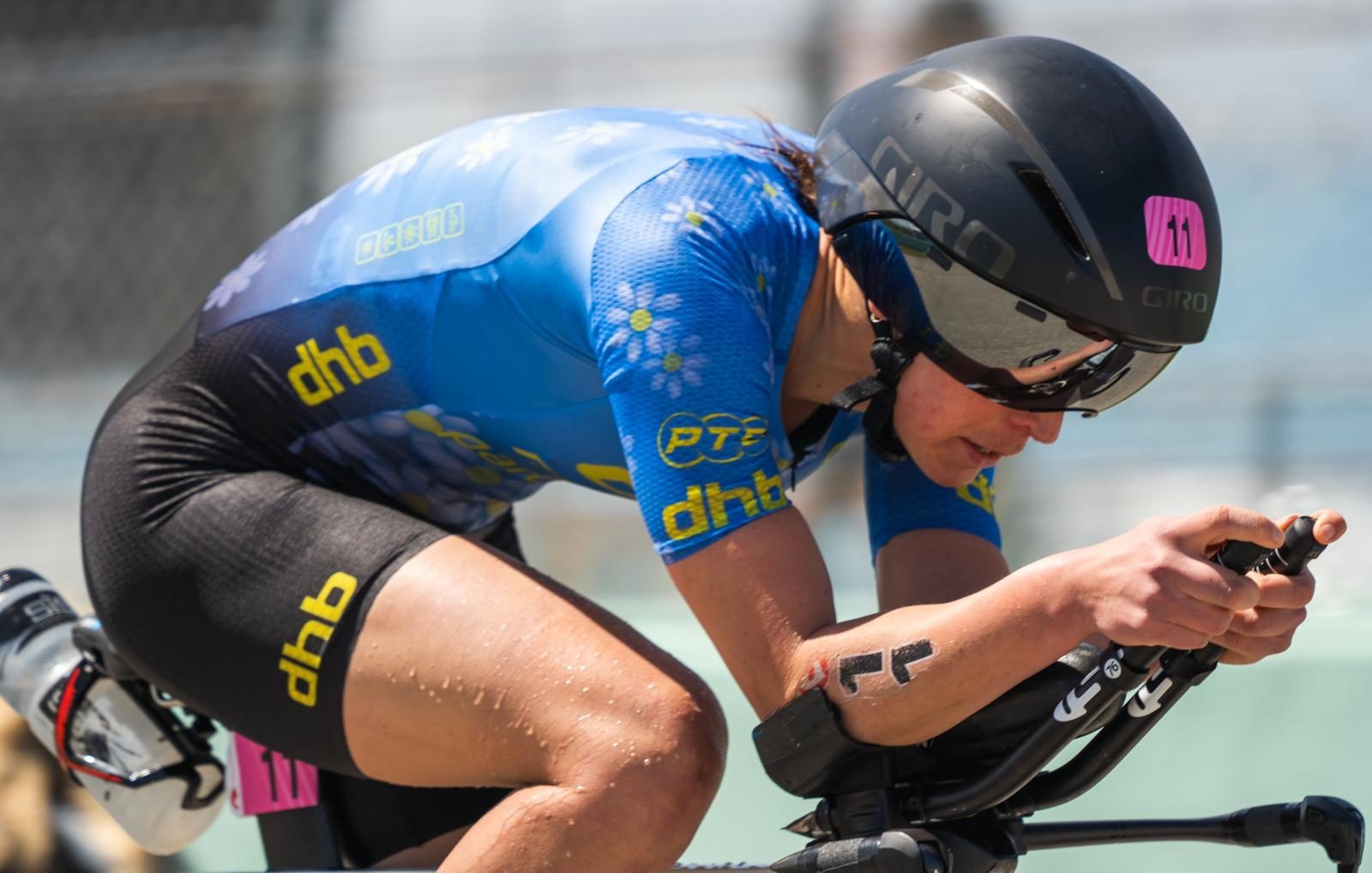 Beam Bike
We have previously looked closely at Elliot Smales' REAP Generation 1.0, and the REAP Vulcan is the Staffordshire company's latest flagship offering. As with the Generation 1.0, the REAP Vulcan is unquestionably one of the most eye-catching bikes around but also likely to be loved by some and questioned by others, for that is the life of a 'beam' bike (namely, a bike without a seat-tube).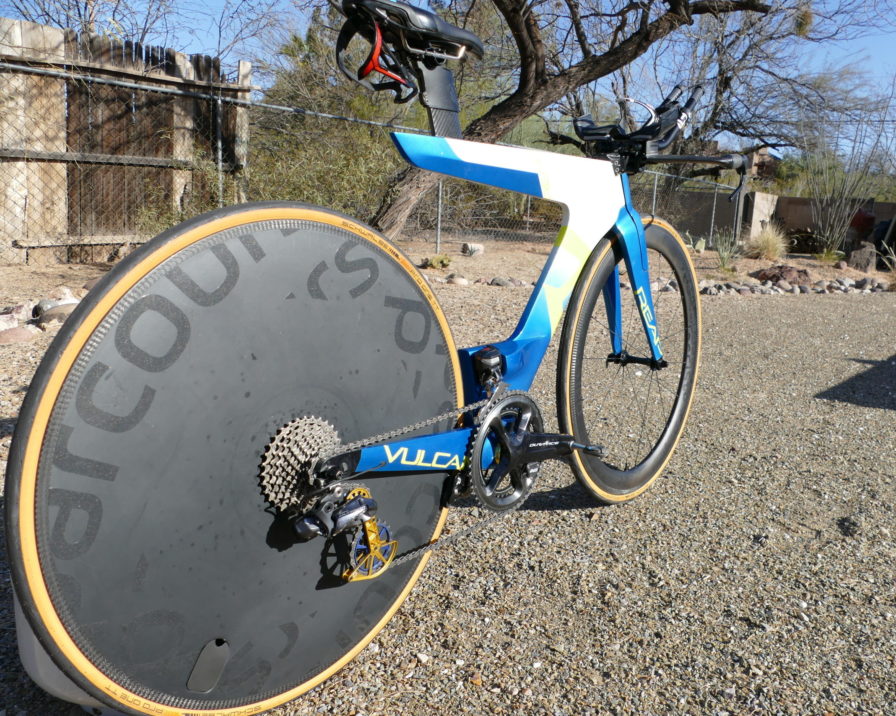 Langridge affectionately calls her REAP Vulcan 'Daisy', and acknowledges it is a bike that may not be loved by all, but it is certainly adored by her:
"REAP bikes are unique and striking to look at. Not everyone's cup of tea, but I love mine. The bike itself is really comfortable to ride in any situation, great to run off and is pretty rapid when it gets going. The new Vulcan is an engineering masterclass."
Langridge explained that her set-up is not yet complete, and the 'cherry on top' will be her REAP custom bars:
"I am currently using USE extensions 4-inch wide but will be changing to a custom set of carbon extensions from REAP….. but when it is [complete] it will be unstoppable."
Time in the saddle
Langridge is 168cm tall and rides a Small frame with 165mm cranks. She frequently visits George Fox, of George Fox Cycling, to ensure her position on the bike is optimised from a comfort and aerodynamic perspective, and advocates time in the saddle (which happens to be an ISM 3.0):
"I see George Fox regularly to make sure I'm fit well [to the bike and vice versa]. Then it's just time spent in position to make sure that what you learn in a controlled environment can be applied outside and then in a race."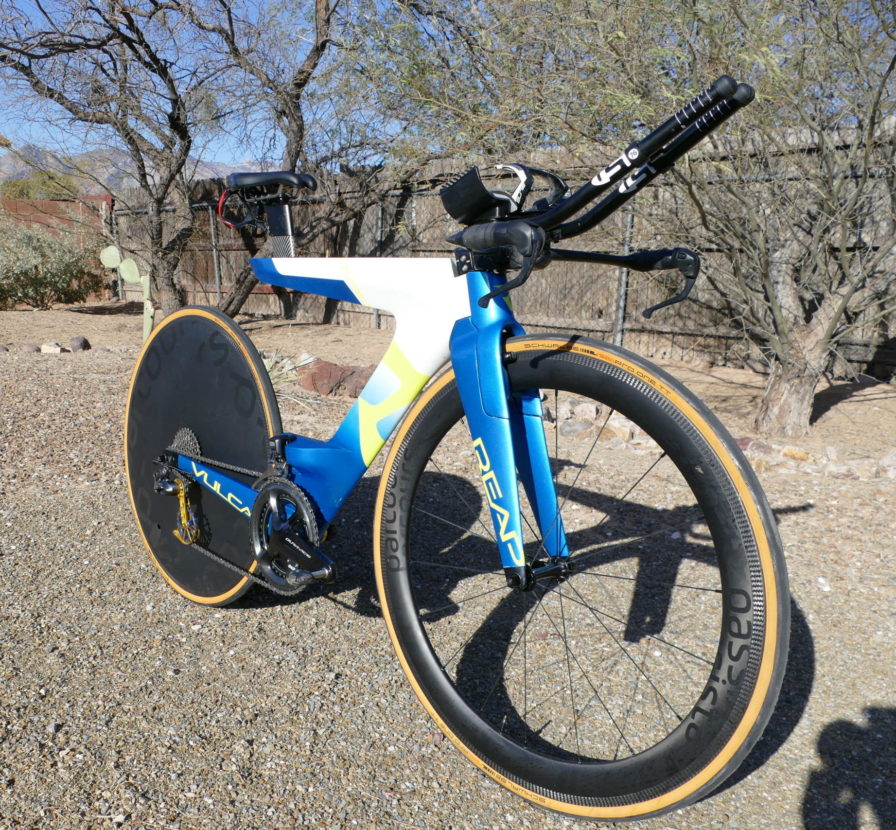 Langridge's REAP Vulcan has an interesting mix of components, combining a Shimano Dura-Ace groupset with her custom Kogel Kolossos oversize pulley system, and often she will use a Pyramid Cycle Design 1x chainring with 54-56 teeth.
When it comes to her gear selection, Langridge said it is dependent on the demands of each race, but it looks like she favours a big chainring:
"[It] all depends on the course. 90% of courses I will go 1x either a 54/56 Pyramid Cycle Design ring. If it's a hilly course I will opt for a 54/39, 11-28. [For example,] on Daytona and Miami this year I rode a 1x 56, 11-28."
Aero pedals
Langridge uses Speedplay pedals, specifically the brand's 'aero' offering, and the reasoning is straightforward:
"I use Speedplay aero pedals and Speedplay aero cleats. [I] just love them and how the power directs through the pedal."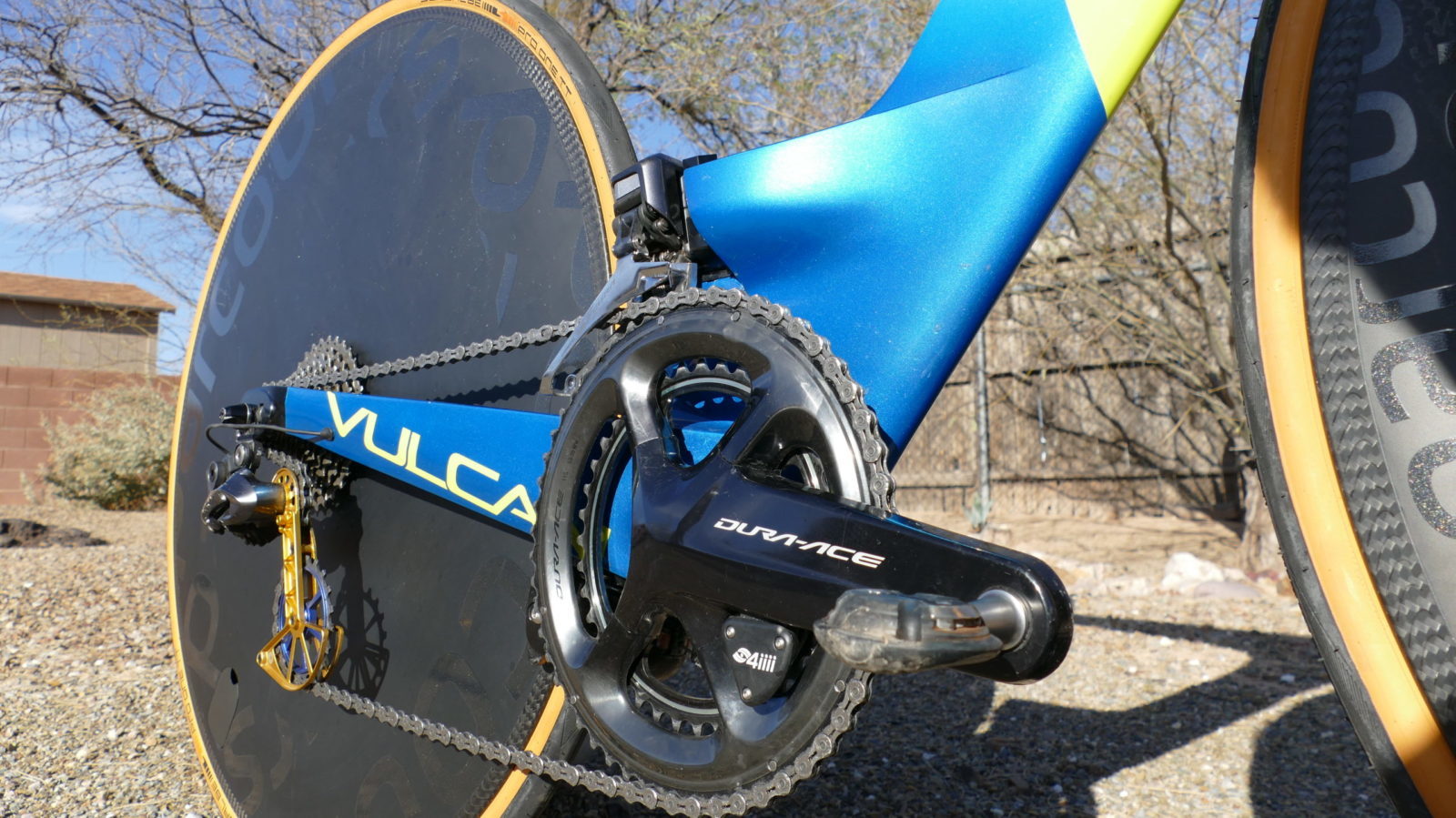 The REAP Vulcan, as with the Generation 1.0, is equipped with rim-brakes. The front brake is concealed by a cover for improved aerodynamics whilst the rear brake is situated by the bottom-bracket.
Sometimes you just have to race
As is the case for nearly all serious riders, a power meter is a crucial tool for Langridge during training and racing, but it is not the only metric she refers to and she pointed out sometimes you just have to race!
"I use the 4iiii dual-sided power meter in racing and in training. We use power along side HR and RPE [rating perceived effort] in training. When it comes to racing I use all the variables as a guide, but sometimes you just have to race the race you are in and the number can change."
Wheels
Parcours seems to be getting a good foothold in the wheel-market and, like Sam Wade, Langridge is supported by the British brand. On the rim-brake equipped REAP Vulcan she pairs a rear disc-wheel with the versatile 56mm deep Passista, and Langridge confirmed all of her race wheels are fitted with Kogel ceramic bearings.
Langridge recently swapped from Continental GP5000 tyres to Schwalbe TT 25mm TL rubber. She explained it isn't just the supply of wheels that she receives from Parcours, but also tyre recommendations:
"…Dov from Parcours is my wheel and tyre guru so what he says goes!"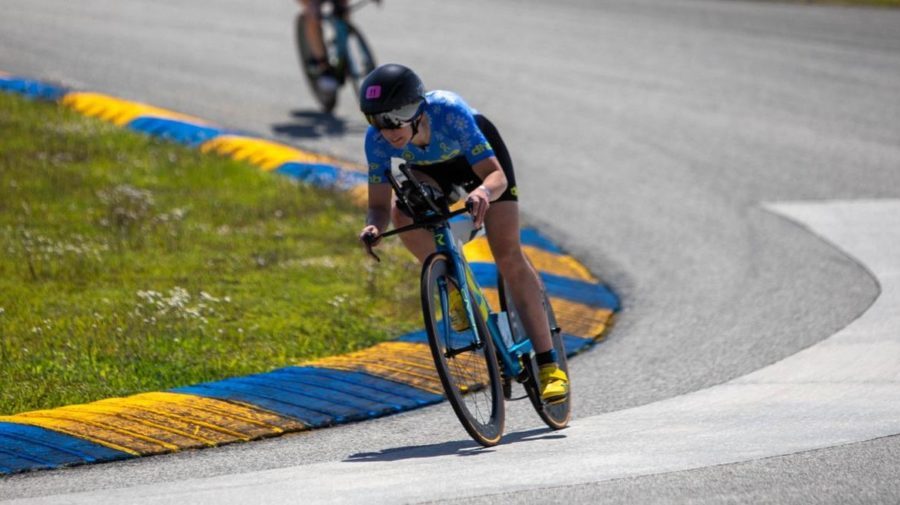 When training indoors, Langridge uses the same set-up. "I will use the same set up always. Train as you race," she said. However, she did point out that when it comes to race day there will be some special tweaks:
"We will change a few things when it comes to race day. For example, gear ratio will change course dependant, wheel choice, and tyre choice. We will also have a fancy new chain."
Going Long
Interestingly, Langridge explained that since she is currently focussing on middle-distance racing, concerning nutrition she primarily sticks to liquids, but hinting at a future step-up to long course racing she acknowledged she may need to consider fuel storage in more detail:
"As I am only racing 70.3-distance, I do it all on fluids so I will take two bottles that will have my estimated carbohydrates and electrolyte needs for 90k. I will have a caffeine gel taped to my top tube. When I move long(er), I will need to think more about storage."
We look forward to seeing Fenella racing hard on her REAP Vulcan. Good luck for the season!
If you like what you see check out REAP, Kogel, and Parcours.