Simone Mitchell burst on to the pro-triathlete long-distance scene when she won her debut pro race at the popular IRONMAN Wales in 2019. However, it had been Mitchell's superb result at IRONMAN Lanzarote 2018 that first brought her to the attention of many where she finished second overall, including the pro athletes, whilst racing as an age-grouper!
Mitchell had a distinguished age-group career, twice a podium finisher in Kona (where she was the fastest British female AG athlete in 2014), and in 2017 she won, across all ages, the IRONMAN 70.3 World Championship in Chattanooga.
Mitchell's success to date has largely been built on stellar bike splits and strong running. To help her continuing development and success, for 2021 as well as being supported by Hoka One One, Science in Sport, Compressport, and deboer wetsuits, Mitchell is part of the international PPRTeam, which sees her racing this season on an MCipollini NKTT 2021 Disc.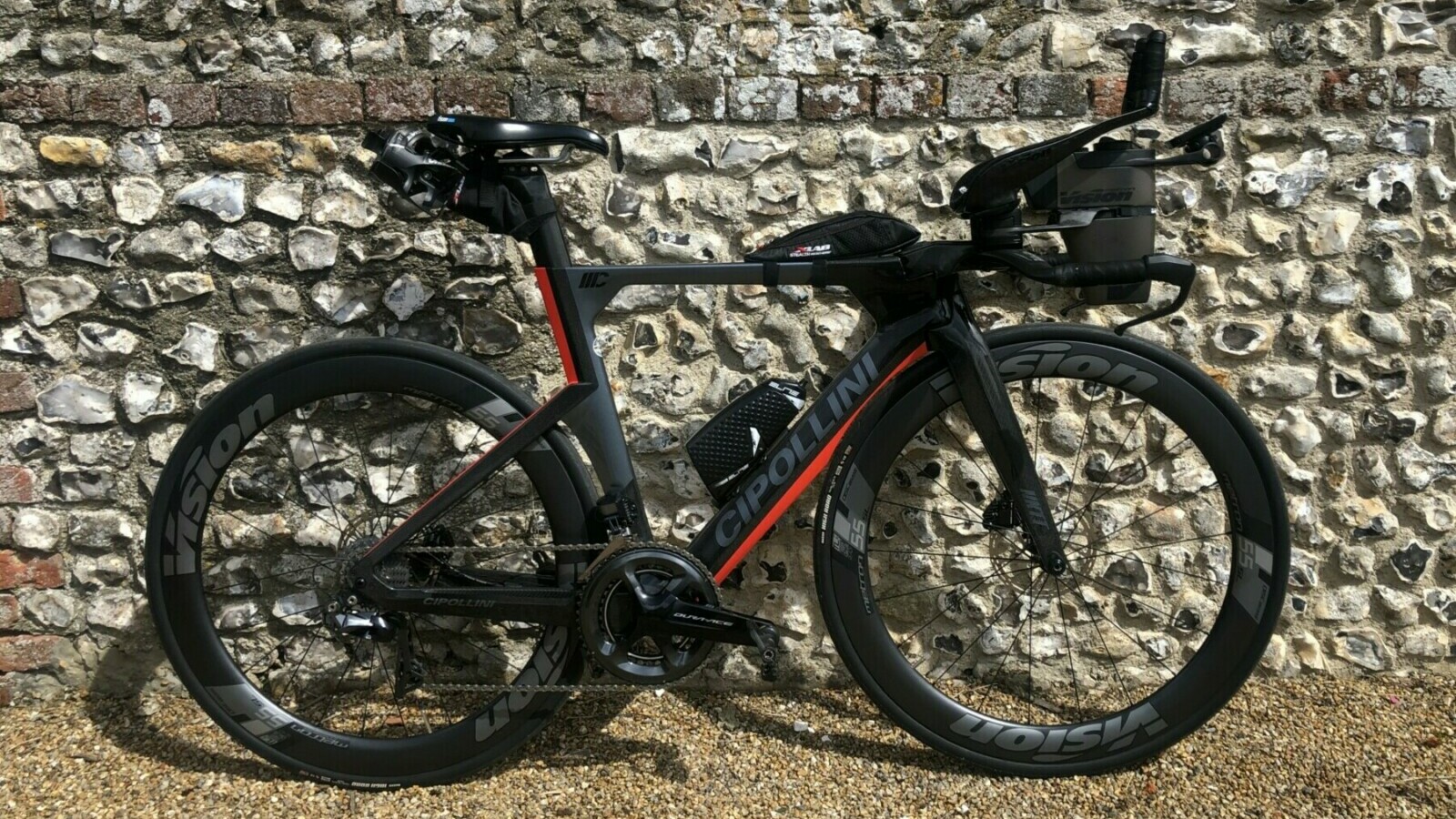 To date, Tri247's Pro Bike Series has included bikes from well-known brands such as Giant, Specialized, and SCOTT. It is possible therefore you are thinking, "who or what is MCipollini or Cipollini?"
Mario Cipollini
As a teenager dreaming of becoming a pro-cyclist, and growing long hair to look like the 'Lion King', I was a big fan of Italian cyclist, Mario Cipollini. Throughout the nineties and the noughties, Cipollini was a true star of the cycling world. His fame was a combination of celebrity/personality and due to his incredible number of sprint victories. If the race ended in a sprint, it is almost certain Cipollini won that event during his career, if not multiple times.
MCipollini bikes states it (the company and brand) is 'the result of the experience of the champion Mario Cipollini'. Mitchell suggests the NKTT adopts and reflects some of the traits of Cipollini, namely looking sharp and being very fast:
"Like many Italian cars and bikes the NKTT is very pretty and provides a very engaging and responsive ride as well as being mega quick! The Cipollini is aggressive which I love but also provides lots of comfort."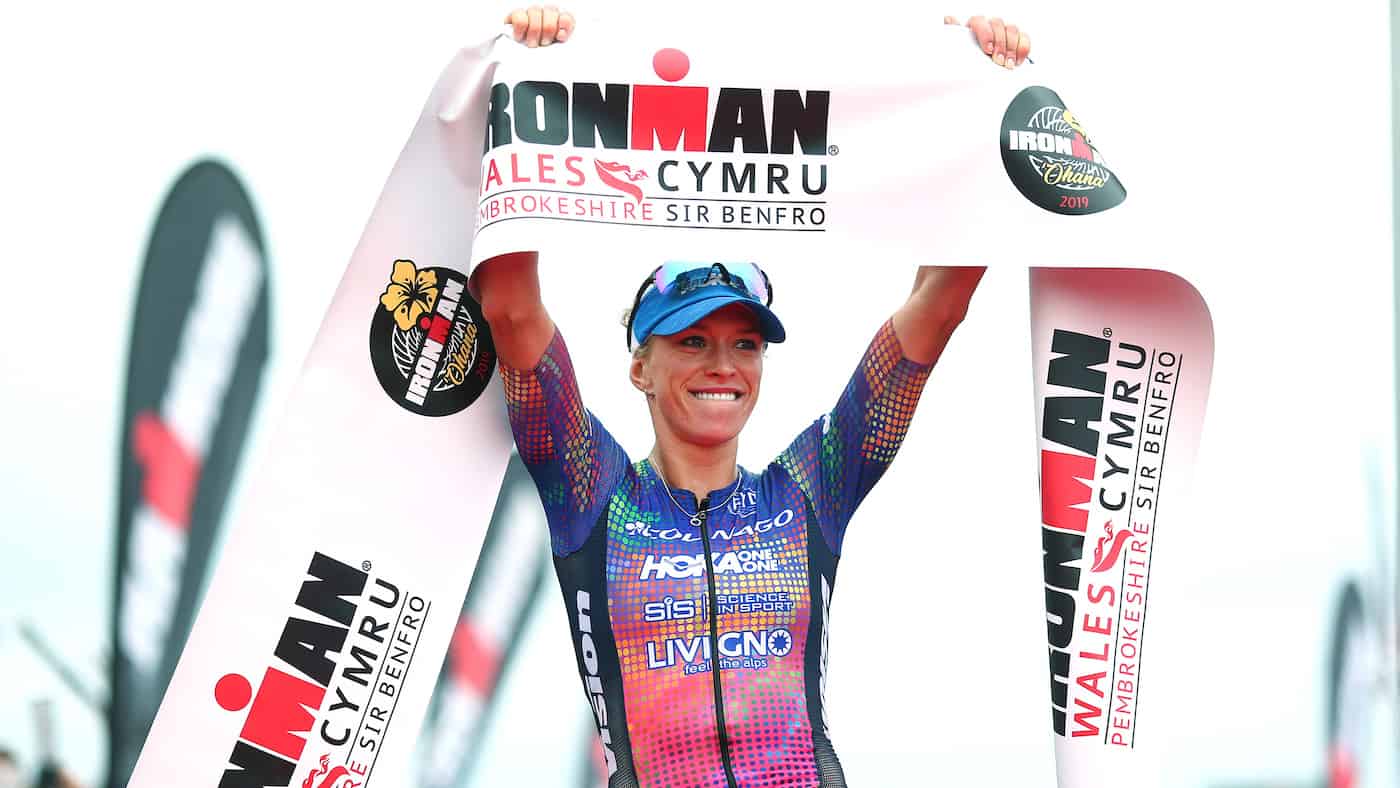 NKTT
Mitchell is 5 foot 8 inches tall and rides a small frame with 170mm cranks. Mitchell confirmed that her bike position is the result of multiple bike fits and aero testing. She also likes to make changes herself where necessary:
"…[I] prefer my frames to be more compact….I have had various bike fits and aero sessions but also like to tweak my set-up myself. For this new bike I will be having a bike fit soon as a few tweaks need to be made, then it will be good to go!"
Mitchell sends all of her bikes to Windwave in Gosport, UK, for a tune up, and the Cipollini NKTT will be receiving the same special treatment, including the addition of products from CeramicSpeed and Vision (see below).
Comfort is key
Mitchell explained that being comfortable on the bike is crucial, and that is why she uses the same bike whenever she's putting the miles in (on the road or on the turbo):
"I use the same bike for all my training. It is important for me to be as comfortable as possible in what is generally an uncomfortable position. I don't change anything apart from wheels and chains from training/turbo to race day."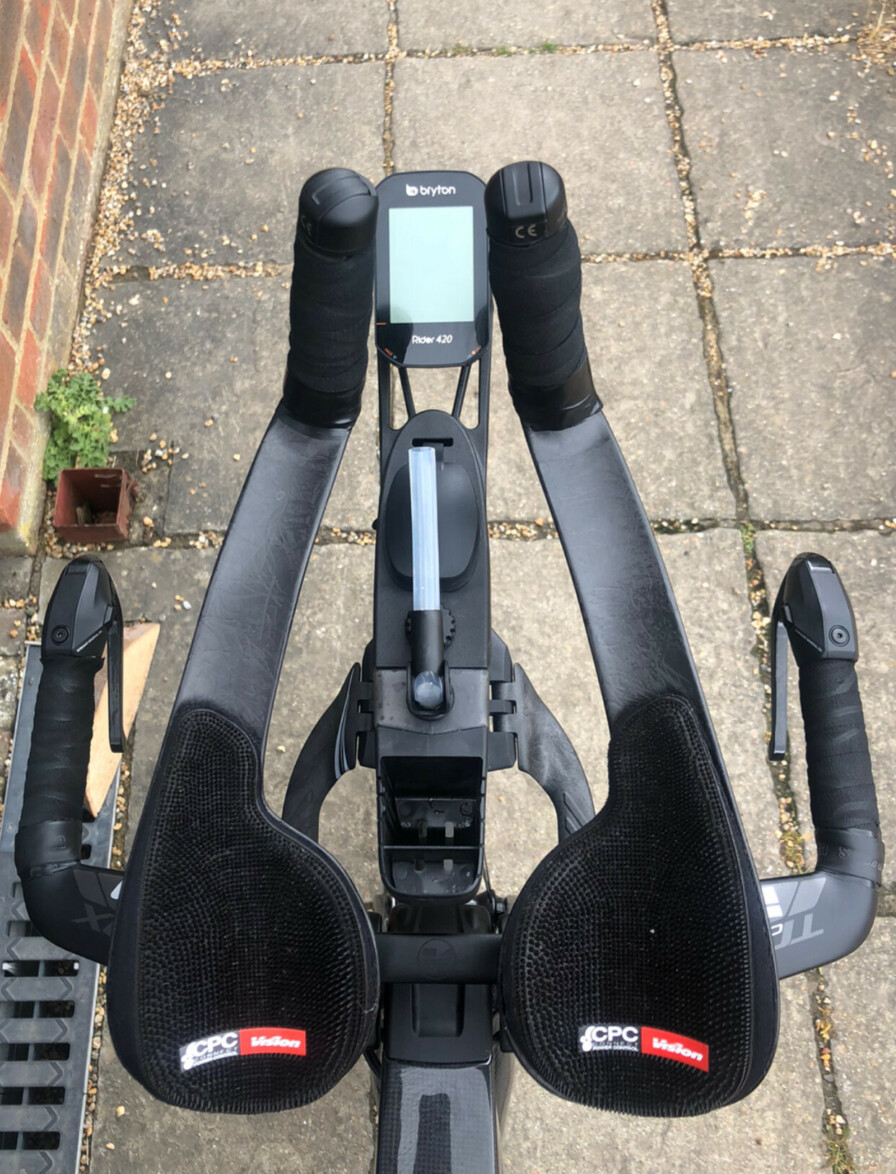 When she was victorious in Wales, Mitchell used a Vision front-end, and with her new Cipollini NKTT she is returning to a similar cockpit – the reasons and benefits from such change are clear:
"[I am using] Vision's new Metron TFE Pro Extensions with the same base bar I used [in IRONMAN Wales], being the Metron TFA. You get maximum adjustability and comfort as well as a clean and aero finish."
Components and Watt savings
Vision products are a common theme throughout Mitchell's Cipollini NKTT set-up. Her bike's current groupset is Shimano Dura Ace Di2, however (following the tune up from Windwave), this will be supplemented by a Vision Metron Carbon Crankset (to be shipped to Mitchell shortly). The icing on the top of the cake shall be the various CeramicSpeed products Mitchell is fortunate to benefit from. Mitchell described the benefits of the Ceramic Speed components she uses: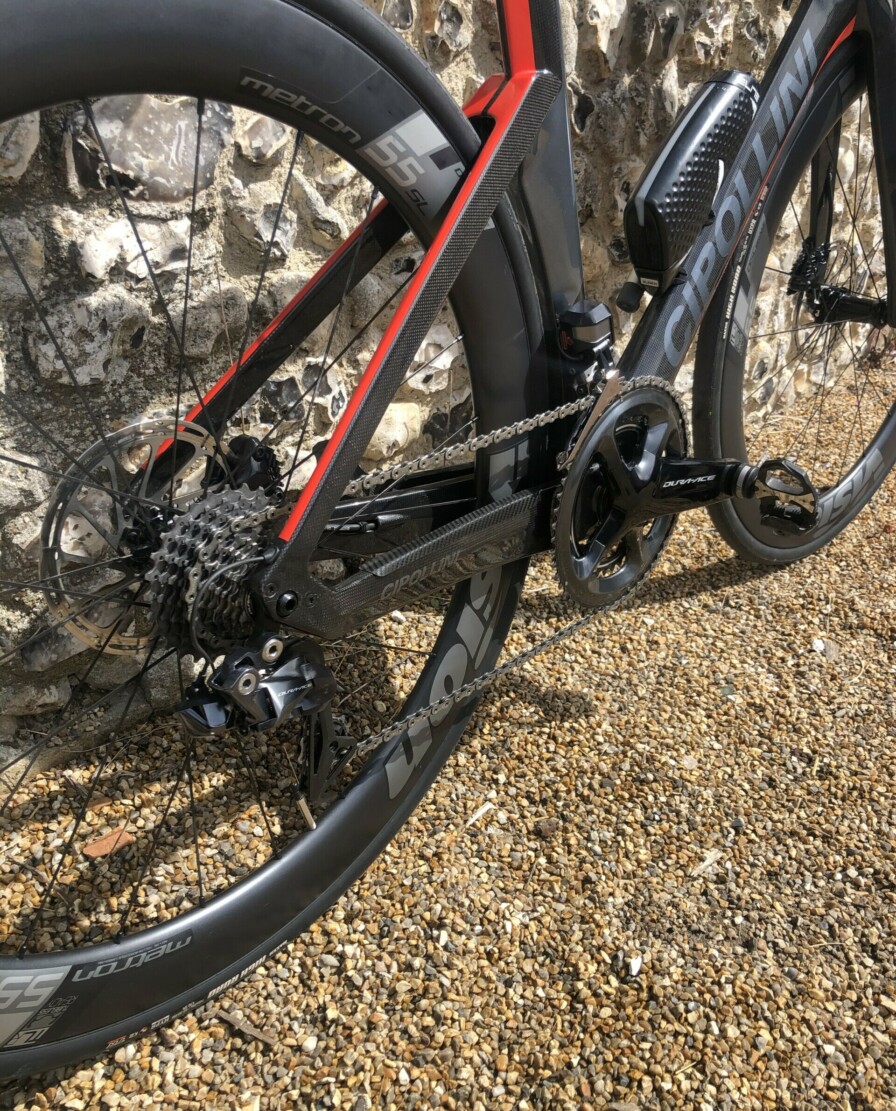 "I have also been riding with CeramicSpeed for the last three years and absolutely love their products. I have the Oversized Pulley Wheels, Bottom Bracket, Wheel Bearings and for race day change to a CS UFO waxed chain!
"The watt gains you get from Ceramic Speed are great with the added benefit that the OSPW looks great!!"
Gearing-wise Mitchell is currently using a 54/42 and a 11/25 cassette, although she pointed out she changes her gearing selection depending on the course.
Power meter decisions
When choosing a power meter there are various considerations, but for many age-groupers the primary one is the ability to switch the power meter between bikes. For this reason, many people are attracted to pedal-based power meters.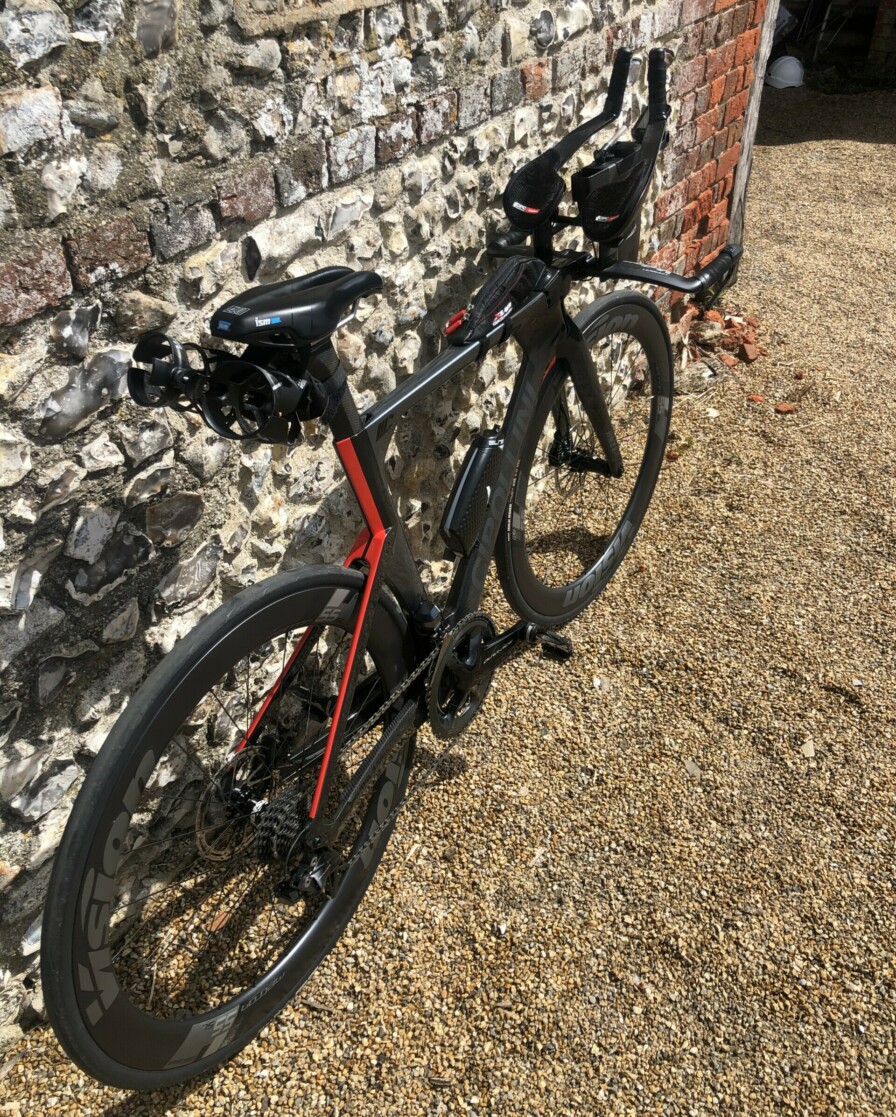 Mitchell's power meter of choice is the Favero Assioma DUO pedal system and she acknowledged the importance of power as a performance metric:
"I use power a lot but also train to feel depending on what I am working on. I generally race and train to power and love the Assioma Pedals as they are so easy to transfer between bikes."
Carbon wheels
The combination of a deep section carbon front wheel and a rear disc, simply put, looks fast. Mitchell is lucky to be supported by Vision (she has ridden Vision wheels for the last 5 to 6 years), and to have access to a range of wheel options, which allows her to select the optimum set-up for each race day:
"I am currently using the Metron 81 SL tubeless wheelset but again change on the conditions and the courses. I have various sized rims from 55, 81 and Metron Disc wheel so mix and match to suit."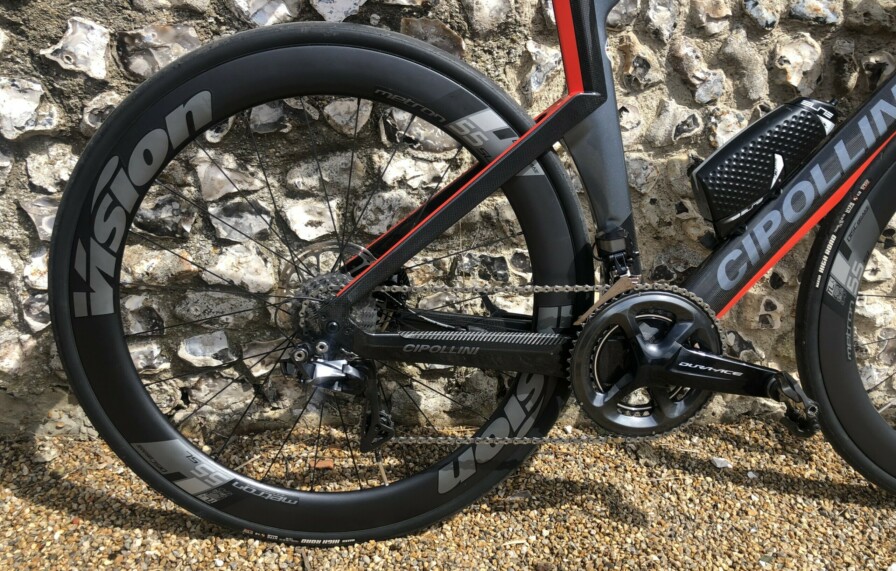 "I am very excited to being able to race Vision's METRON TFW DISC Wheel which is being shipped to me at the moment. It is a Full 3K carbon fibre construction and is used on the World Tour!! It's crazy light and fast!!"
The PPR team are sponsored by Maxxis Tyres, and Mitchell chooses to run Maxxis High Road tubeless tyres.
Disc or rim brakes?
2021 is Mitchell's first year using a time trial bike with disc brakes, but she does have experience of using disc brakes on her Cipollini road bike. Despite early reservations, Mitchell may be another disc brake convert:
"I love them [disc brakes], more confidence descending in any weather which just gives me more confidence to push on. I was a little nervous about them as I love the feel of rim brakes but I have been pleasantly surprised."
As mentioned, Mitchell is sponsored by sports nutrition specialists Science in Sport. When it comes to storing her nutrition on the bike Mitchell opts for a Vision Metron front hydration system that sits beneath and between her bar extensions, and helpfully has an out-front-mount for her Bryton cycling computer, along with Trimax rear bottle holders that sit behind her saddle.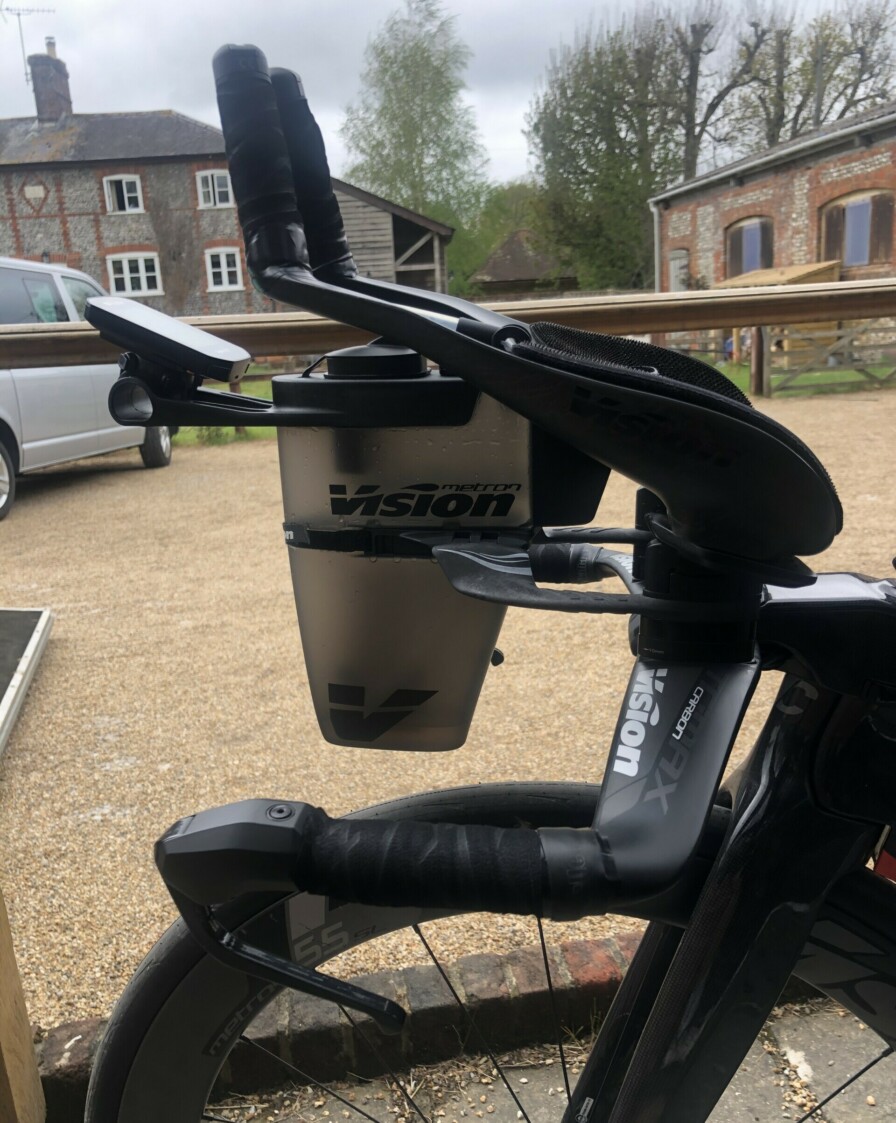 Mitchell's 2021 season commenced with a 5th place finish at Ironman 70.3 Florida. We look forward to seeing Simone excelling this season.
If you like what you see, check out: MCipollini, and Vision.