Announced in early June as an "exclusive one-time event" will Sunday's 'debut' IRONMAN 70.3 Bolton truly prove to be a one-and-done?
With 750+ finishers and I'm going to guess at 250+ additional no-shows, withdrawals or "got no fuel to get there" (!) other entries – all at little more than three months' notice – might indicate that there's still demand for quality middle distance on the calendar.
Time will tell on that front, but it will no doubt be something at the very least under discussion at M-Dot Towers.
Hometown win for Warrington
Top female Age-Group athlete was Kelly Warrington, who is no stranger to the course, having finished second overall at IRONMAN UK in 2019.
Tenth quickest through the swim (and approaching six minutes slower than swim leader, Molly Savill (26:33)), Warrington used both local knowledge and physical power to blast through the 90 km bike course in 2:47:00, by far the fastest of the day, leaving her with a two-minute lead over Savill starting the run. A 1:27:03 half marathon completed the job in fine style, with a winning margin of eight minutes.
Savill retained her second place overall with a 1:32:50 half marathon for a strong and consistent race, with Jordan Matthews completing the top three overall.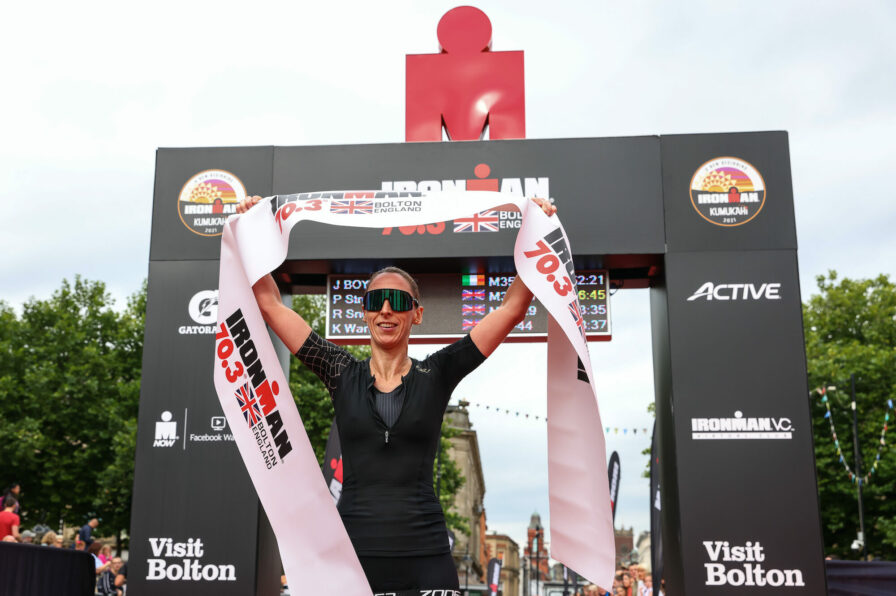 Oliver Simon wins it on the run
Oliver Simon has been a regular on the pages of TRI247 for at least a decade now. Probably best known initially for regularly winning his hometown 'Long Course Weekend' in Tenby multiple times, his talents stretch far beyond Pembrokeshire however.
Third overall just two weeks ago at Outlaw Half Bowood, in 2019 he was a podium finisher at the IRONMAN 70.3 World Championship in France.
Fastest on the swim, by the end of the bike he had Brian Fogarty (IRONMAN UK 2019 winner) for company. It all came down to the run, where a 1:22:33 from Olly edged out the 1:23:58 from Brian.
IRONMAN 70.3 Bolton results 2021
Sunday September 26, 2021
1.9km / 90km / 21.1km (Age-Group only event)
OVERALL MEN
Oliver Simon (ATAC) – 4:18:26
Brian Fogarty – 4:19:52
Malachi Cashmore – 4:23:21
Richard Anderson – 4:24:27
J.S. Mosquera (ESP) – 4:24:58
(NOTE: Pro athlete James Scott-Farrington was first across the line (4:11:54), but will not feature in the age-group results)
OVERALL WOMEN
Kelly Warrington – 4:53:38
Molly Savill – 5:01:46
Jordan Matthews – 5:06:00
Jasmine Holmes (Team Orion) – 5:11:39
Dee Allen (Team Freespeed) – 5:12:56