The speedy amateur athletes of IRONMAN 70.3 Weymouth 2019
Podium images and results roundup from Dorset
The UK & Ireland IRONMAN Tour came to a close on Sunday in Dorset – the sixth race of the season after Staffordshire, Cork, Bolton, Dun Laoghaire and Tenby – at IRONMAN 70.3 Weymouth.
The Pro races (report HERE) saw India Lee defend her title from 2018, while George Goodwin continued his impressive progression with a classy victory to add to his win earlier in the season in Staffordshire.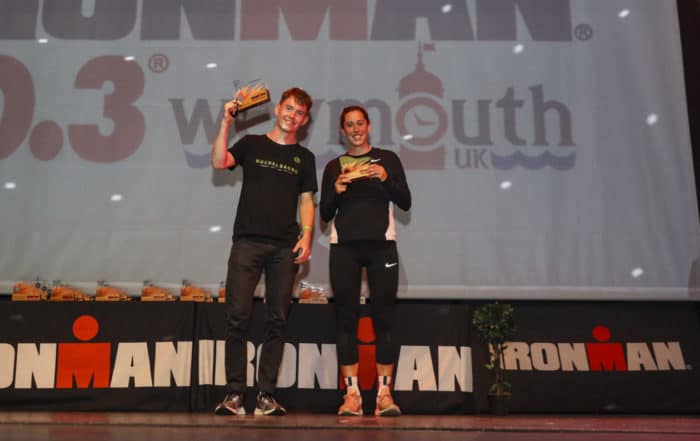 It's now time to focus on the Age-Group athletes, highlighting the fastest overall athletes plus all of the Age-Group winners.
This includes, with great thanks once again to Huw Fairclough (www.huwfaircloughphotography.co.uk)/ IRONMAN, podium images from all of the prize presentations from Sunday.
IRONMAN 70.3 Weymouth 2019: Fastest Age-Group athletes
FEMALE
1st – Victoria Kenny (GBR) – 4:31:00 – AG 18-24
2nd – Kate MacTear (GBR) – 4:34:37 – AG 25-29
3rd – Danielle Shrosbree (GBR) – 4:35:00 – AG 25-29
4th – Olivia Matthews (GBR) – 4:37:45 – AG 25-29
5th – Anna Bergsten (SWE) – 4:38:51 – AG 25-29
It's been a great year for Victoria Kenny. You may remember that I spoke to Victoria back in January this year, shortly after she had won the Triathlon England National Duathlon Championships at Ashridge House (interview HERE). Victoria was also the first Age-Group athlete overall at IRONMAN 70.3 Staffordshire (HERE), plus Age-Group winner at 70.3 Barcelona, 70.3 Santa Cruz and Challenge Prague.
With no background in the sport, Kenny has shown a great ability on the bike, her success in Weymouth and through the season in large part due to her speed on two wheels. Her 2:32:16 bike split matches up well with the leading Pro athletes, but was also more than eight minutes quicker than any of the another Age-Group women. Even with a half distance swim, she still lost four minutes to the leaders however, and so progress on that front will be a focus – but if she can progress there, a move towards Pro status in 2021 is quite realistic.
https://www.instagram.com/p/B2w5oJfBr3K/
MALE
1st – Will Munday (GBR) – 4:00:08 – AG 18-24
2nd – Dan Blake (GBR) – 4:04:39 – AG 35-39
3rd – Hugh Brashaw (GBR) – 4:04:39 – AG 18-24
4th – Vanrisch McLean (GBR) – 4:05:39 – AG 35-39
5th – James Gilfillan (GBR) – 4:05:44 – AG 40-44
It's been a fine end to 2019 for the Weymouth Age-Group champion, Will Munday. Winner of the British Middle Distance Championship at Aberfeldy in August, he was then the fastest British Age-Grouper overall at the IRONMAN 70.3 World Championship in Nice.
https://www.instagram.com/p/B2wCCiZhLx2/
IRONMAN 70.3 Weymouth 2019: Age-Group winners
FEMALE
18-24: Victoria Kenny (GBR) – 4:31:00
25-29: Kate MacTear (GBR) – 4:34:37
30-34: Frankie Snare (GBR) – 4:46:19
35-39: Bex Rimmington (GBR) – 4:40:33
40-44: Anna Best (GBR) – 4:50:58
45-49: Sally Silsby (GBR) – 5:08:56
50-54: Anne Maskell (GBR) – 5:17:44
55-59: Sharon Plested (GBR) – 5:31:04
60-64: Linda Worrall (GBR) – 5:48:09
65-69: Jenny Lawrie (GBR) – 6:43:04
MALE
18-24: Will Munday (GBR) – 4:00:08
25-29: Alex Matchett (GBR) – 4:09:07
30-34: Jack Hambleton (GBR) – 4:17:13
35-39: Dan Blake (GBR) – 4:04:39
40-44: James Gilfillan (GBR) – 4:05:44
45-49: Declan Doyle (IRL) – 4:17:38
50-54: Wayne Thursting (GBR) – 4:23:47
55-59: Kevin Bexley (GBR) – 4:46:29
60-64: Mark Hudson (GBR) – 5:03:42
65-69: Tony Hoare (GBR) – 5:28:33
70-74: Peter Gillott (GBR) – 6:27:55
RELAYS
FEMALE – M T & Team – 5:26:14
MALE – Salisbury Tri Club – 4:30:08
MIXED – Rosie's Runners – 5:10:57
PODIUM GALLERY