For the 14th time, Bolton played host to IRONMAN UK on Sunday (July 2, 2023) and once again the race delivered.
No Pro action in Lancashire this year, so that left the stage to be owned by the Age-Groupers – but not before around 4000 kids had taken part in their IRONKIDS run through Bolton on Saturday.
Age-Group Women – Booth dominates
With the fourth fastest swim of the day, Erica Booth was just three minutes off the pace of the leader in the swim, Rebecca McGreevy, at Pennington Flash. It would prove a fine start to a great day,
By the 45km, Booth was heading the race in the company of Helen O'Neile, as that duo pulled clear of the field, Booth proved the strongest over the second half of the ride, ultimately completing her 180km with a 12 minute advantage of O'Neile.
They would hold the one-two slots for the entire marathon, as Booth completed the run in 3:45:59, and it would be exactly 20 minutes before O'Neile crossed the line in second place, via a consistent 3:50:18 run. Having started the run in fourth, Lara Franklin was able to overtake Amelia Hanley to complete the top three quickest times of the day.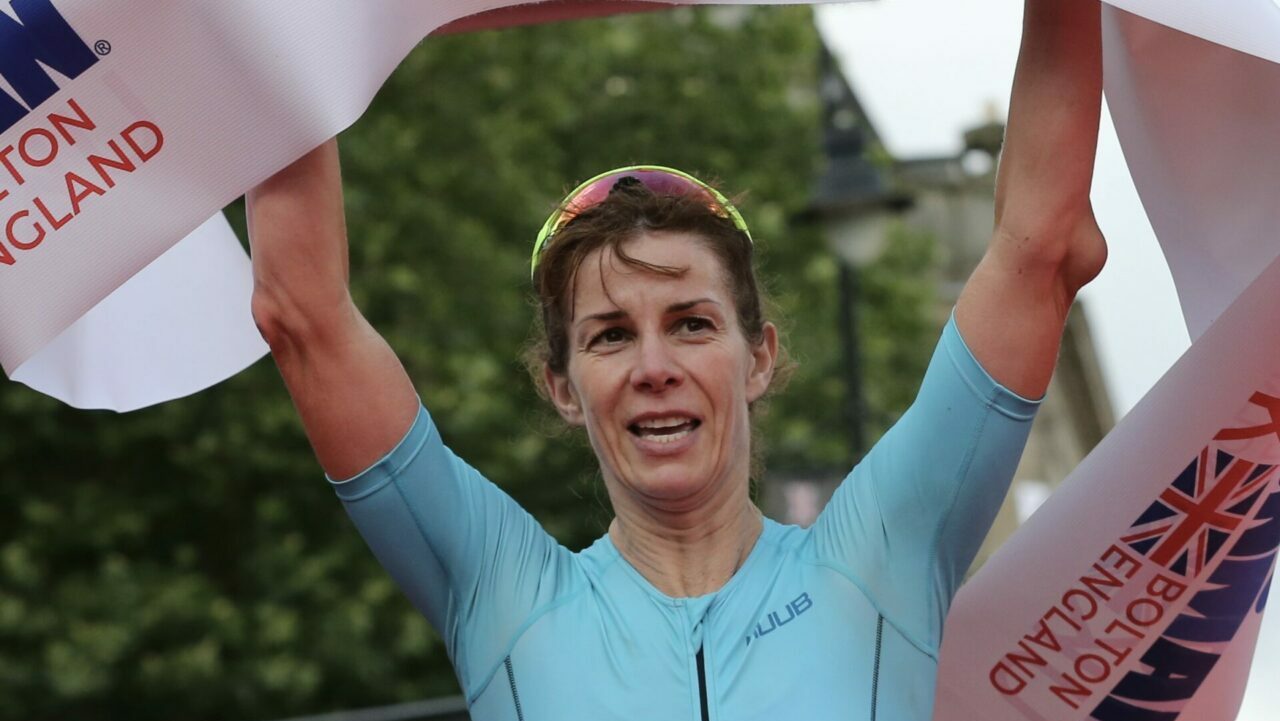 "It was hard, but it was amazing. The support out there was fantastic. This one was for my mum!". She added: "I have no words, it's just amazing!".
Age-Group Men – Rigby rules
The fastest man around the 2.4-mile swim at Pennington Flash, challenging 112-mile bike course and 26.2-mile run, finishing in front of Bolton Town Hall was Tom Rigby. Tom is no stranger to these pages, as he also won at IRONMAN Wales last year, was third in Bolton two years ago and fifth four years ago. Consistency counts, and he finally got that top spot.
Tenth quickest in the water, he was soon into second place over the opening kilometres and would battle hard on the bike with eventual second place finisher, Dan Elliot. There was less than a minute between them on arrival at T2, though a swift transition gave Tom a small buffer starting the run. The gap between the pair remained at well under two minutes for the first 25km, before Rigby finally managed to pull away, ultimately claiming a winning margin of just over five minutes, from his 3:08:53 run split.
Tom's Tri Preston clubmate, Daniel McParland, completed the top three – just as he did 12 months ago.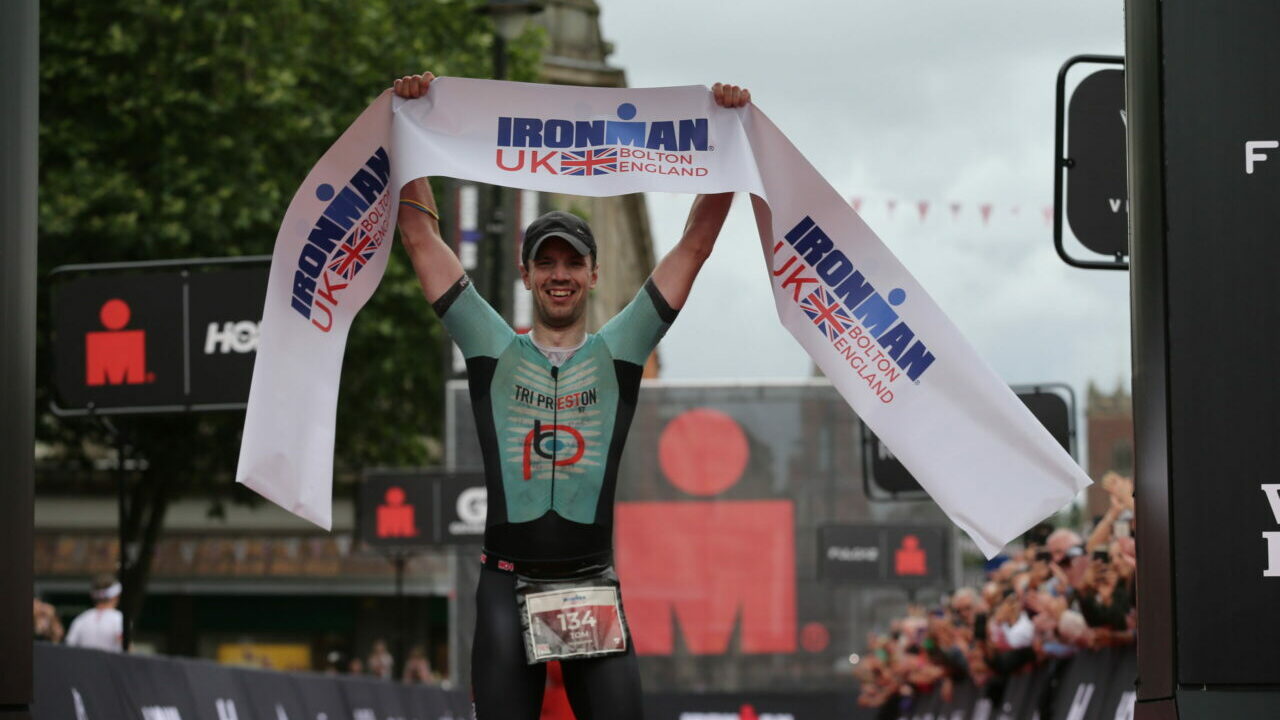 "It's amazing to get first place, I am happy I managed to hold on to it. It was tight for a while, with Dan only a minute behind. It was fantastic to see the gap grow out." When asked what's next for him, his reply: "head to the pub
IRONMAN UK 2023 Results
Sunday 2 July 2023 – Bolton, Lancashire
3.8km / 180km / 42.2km – Age-Group only race
Age-Group Women
1. Erica Booth – 11:07:07 (40-44)
2. Helen O'Neile – 11:29:07 (30-34)
3. Lara Franklin (Podium Addict) – 11:37:21 (30-34)
Age-Group Men
1. Tom Rigby (Tri Preston) – 9:38:49 (30-34)
2. Dan Elliot (TricentralUK) – 9:44:09 (25-29)
3. Daniel McParland (Tri Preston) – 9:49:34 (40-44)