In 2020, the Outlaw X Triathlon was the only event of the Outlaw Triathlon Series to not become another victim of the global pandemic. On Sunday, it was back to what was always the plan, to be the fifth and final event of the popular domestic series, based Thorseby Park, Nottinghamshire. The race followed just two weeks after the debut of the latest addition to the series, Outlaw Half Bowood.
The weather came to play too, ending the season on a high note. It was a little chilly early, but by mid-afternoon the temperatures were up, the sky was blue and there was not a drop of rain to be seen. For a later September date in the UK, pretty much perfect.
Gun-to-tape for Fraser Minnican
He may not have been in the sport for long, but Fraser Minnican was already the strong favourite to win, and that script never looked like needing a rewrite at any point. It was the start of what should be a great few days – he gets married on Friday!
An Elite swimmer, Fraser has times of close to two minutes for 200m Medley and 1:50 for 200m Free on his C.V. (translation – very quick). He was seemingly set to follow in the footsteps of another 'fast swimmer, turned very good triathlete' Andrew Horsfall-Turner, who has made a significant impact through the Outlaw events in 2021.
Having finished second overall at IRONMAN UK this year, it was no surprise to see Fraser exit the water first with a big lead, and from then on he proved once again that he can bike and run too. He added a 2:16:48 bike split and a 1:21:30 run to finish in 4:07:12, just inside the 4:08:34 of Simon George in 2019.
Second place went to Paul Lunn, a regular name on these pages down the years, who completed a great September, having won (at the seventh attempt!), the Vitruvian Triathlon two weeks ago. Racing the the 45-49 division, age doesn't seem to be slowing him down or impacting his motivation.
A sub 1:20 run split enabled Adam Baker (RAF Triathlon) to complete the top three.
After the race, Fraser said: "I didn't have any expectations coming into it – it was my first middle-distance race.
"I retired from competitive swimming in 2018, and then started riding my bike – mostly mountain bike – and did a little bit of running. Last year I entered IRONMAN UK, trained for that a bit and then it got cancelled, then raced it this year, qualified for Kona and meant to be on the honeymoon next week but that's been postponed, so I entered Outlaw last-minute and kind of used it as an end of season race."
Turning Silver into Gold
Second two weeks ago in Bowood, Emma Cowper was one of the pre-race favourites to go one better here, but the race on paper at least seemed pretty open at the beginning of the day.
That's how it played out in practice, as unlike the men's race, the leading women were very well matched – and with the TT start process there was always a little bit of unknown until the finish as to who would clock the quickest time when that all unwound.
In the end it was the consistency of Cowper which won the day. She wasn't the absolute quickest in any of the disciplines, but a strong bike of 2:32:41 and a 1:26:29 half marathon (second fastest in both), meant that after more than four-and-a-half hours of racing, she was around two minutes quicker than Jo Wright (Riot Racing Club), with Debbie Greig (Speedhub Triathlon Club), a previous winner of the Outlaw Half Holkham, taking third place.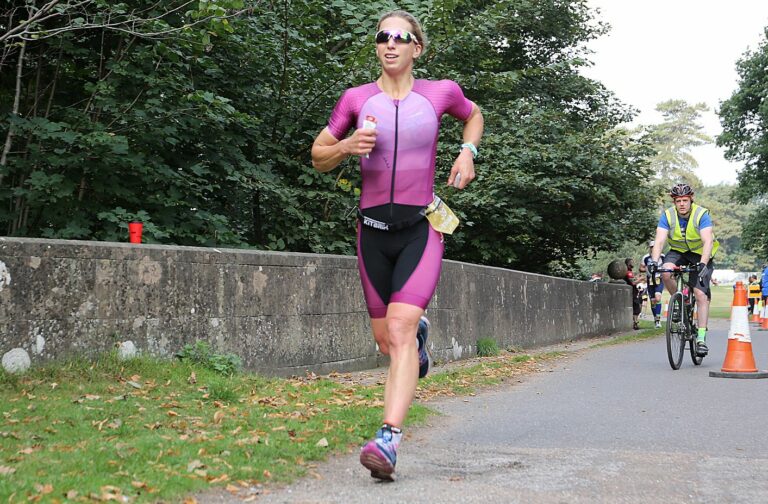 "I'm quite shocked actually, it was a hard day out, they gave me a good battle the whole way," she said afterwards.
"It was basically a solo time trial, from swim, bike and run. The bike course was stunning, so that made it not quite so lonely! The bike was absolutely amazing and the run, not quite as challenging as Bowood, but still a lot of ups and downs. Stunning course."
Outlaw X Triathlon 2021 Results
Sunday September 26, 2021 – 1.9km / 90km / 21.1km
MEN
Fraser Minnican (Team Jameson) – 4:07:12
Paul Lunn (Riot Racing Club) – 4:13:05
Adam Baker (RAF Triathlon) – 4:14:55
Daniel Ashwood – 4:15:41
Henry James (Western Tempo) – 4:16:19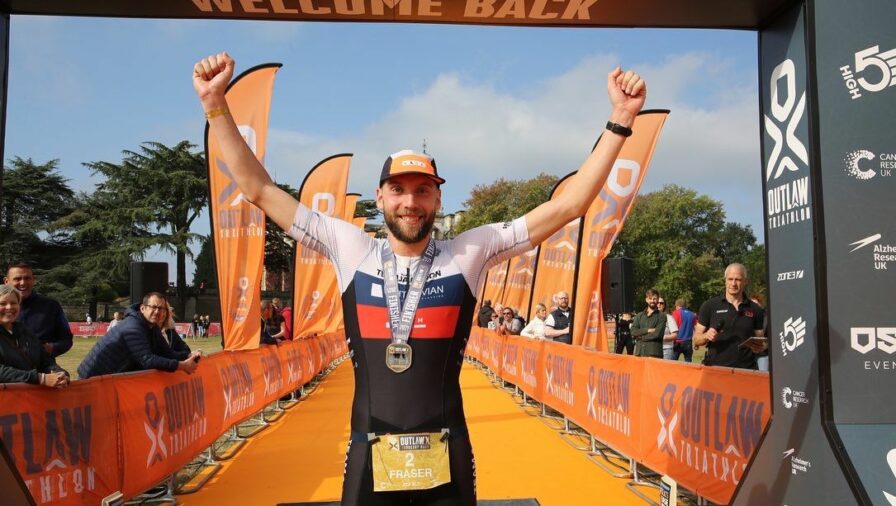 WOMEN
Emma Cowper – 4:35:45
Jo Wright (Riot Racing Club) – 4:37:35
Debbie Greig (Speedhub Triathlon) – 4:41:08
Lauren Wilson (ERC Triathlon) – 4:45:38
Charlotte Bell (London Fields Triathlon Club) – 4:50:08