As per the preview on Thursday, in relative terms this past weekend was a quiet weekend compared to most over the past couple of months. For almost everyone, a much neither breather I would say.
Still some quality action though, with Jonathan Brownlee back on top of a World Triathlon Series podium perhaps the most welcome image of the weekend. An impressive effort from the British Mixed Relay team too in my eyes, while Alex Yee just keeps getting faster…
Check out that, and some of the highlights from the domestic racing scene here in the Weekend Roundup.
INTERNATIONAL RACING
ITU World Triathlon Edmonton, Canada
The penultimate round of the 2019 ITU World Triathlon Series would prove to be a very welcome event for twice Olympic medallist, Jonathan Brownlee. With a WTS win from 2017 and in need of a confidence-building result, returning to where he also won in 2016 was a just what the doctor ordered. The British team impressed in the Mixed Relay too. Check out the separate reports on those if  you've not seen them on these links: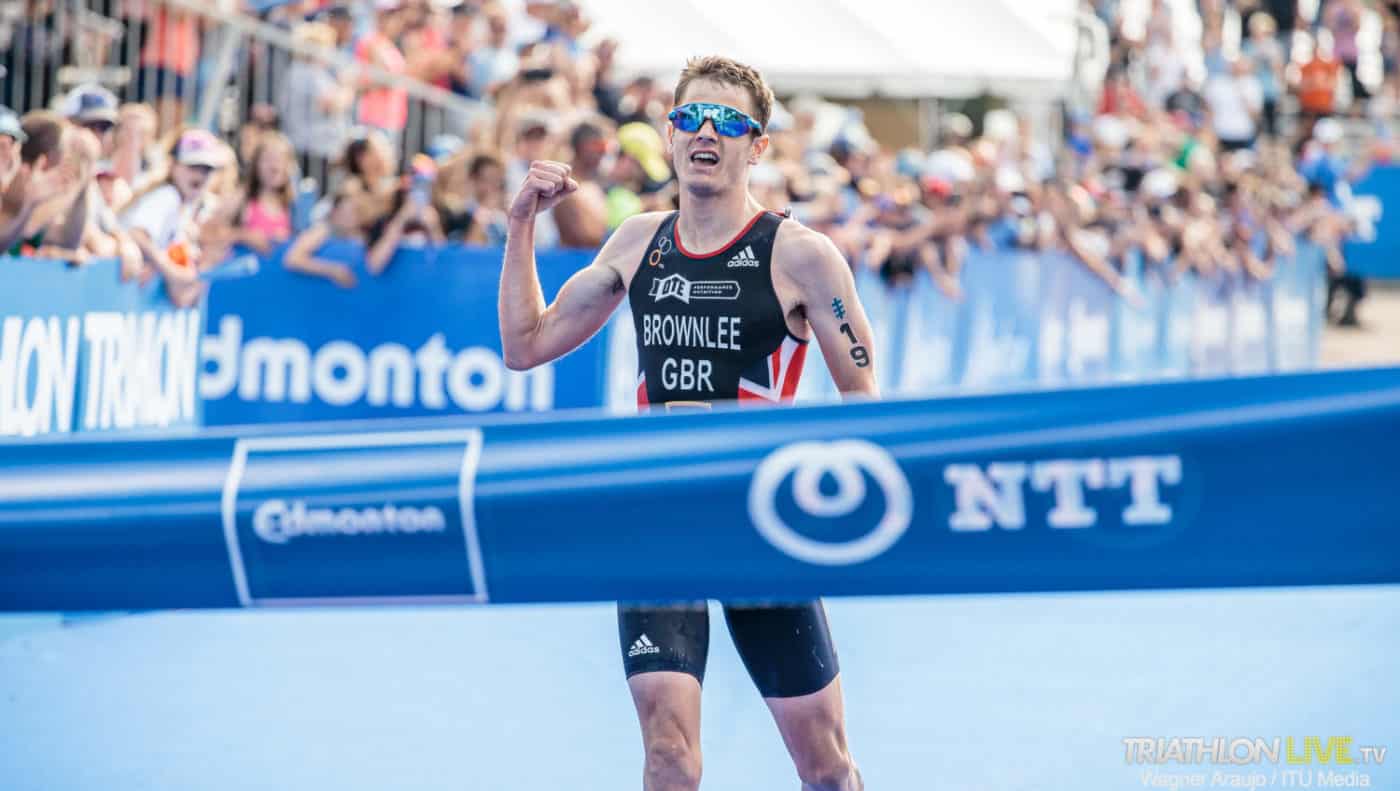 IRONMAN Switzerland, Zurich
The 23rd and final edition of IRONMAN Switzerland in Zurich (it moves to Thun next year), would have been primed for a fairytale 10th win for home athlete Ronnie Schildknecht, but alas, in this instance those hopes didn't quite come true. He finished fifth (and happy with his efforts), the race won by defending champion Jan Van Berkel (SUI).
He was part of a leading group in the swim (along with Christian Kramer (GER), Sven Riederer (SUI), Cyril Viennot (FRA) and Shen-Yen Hsieh (TPE)). Five soon became four on the bike, with all but Hsieh reaching T2 more than four and a half hours later, separated by less than 60 seconds, with Schildknecht almost eight minutes back. Riederer and Van Berkel ran together for the first 10km, before the defending champion started to pull clear and via a 2:46:41 marathon, he crossed the line with a seven minute victory margin in what was a male-only Pro race.
There was British success in the Age-Group race for Tom Ward (M40-44, 1st – 9:16:46), Charlotte Chattaway (F25-29, 3rd – 11:20:06) and Glenda Goscomb (F60-64, 2nd – 14:03:04). Tom was also a winner earlier this season at IRONMAN Lanzarote.
https://www.instagram.com/p/B0LpQj6h6x2/
PRO MEN
1st – Jan Van Berkel (SUI) – 8:17:04
2nd – Sven Riederer (SUI) – 8:24:07
3rd – Cyril Viennot (FRA) – 8:31:03
4th – Damien Collins (AUS) – 8:34:43
5th – Ronnie Schildknecht (SUI) – 8:37:53
https://www.instagram.com/p/B0MF6D5BmgD/
DOMESTIC RACING
Joe Spraggins (Clapham Chasers) is no stranger to these pages – even if it it running marathons dressed as a swimmer to break a world record – but comedy value aside, he's a pretty good athlete too! He qualified for Kona last year (we interviewed him), and on Sunday won the Owler Middle Distance Triathlon. The women's winner in was Laura May. Full results HERE.
Another swim PB yesterday at the @TriSpiritEvents Owler Half. 31:27 for 1.9km – and managed to take the overall win. Ray at @swimcanarywharf has been super patient with my lack of swimming prowess, but we're slowly but surely getting there. #project60minutes pic.twitter.com/IjYuRmwAwm

— Joe Spraggins (@joey_s89) July 22, 2019
There was plenty of quality racing (and plenty of racing generally!), at the Castle Howard Triathlon, where the extensive range of results (HERE), will let you know just how wide a range of options were on their schedule. Highlights included the Standard distance race where Mark Buckingham took an impressive win over the in-form Liam Lloyd, with Lucy Hall dominant in the women's race.
https://www.instagram.com/p/B0MPbulhUEG/
The Middle Distance Gauntlet event saw a close battle between Brett Halliwell (Yonda Sport) and James Scot-Farrington (Leeds Triathlon Centre), with Brett coming out on top by less than two minutes, adding to his early season success at The Championship in Samorin. Kate Mactear (Huxio Bike Science) was a dominant winner in the women's race, adding to previous Castle Triathlon Series success at Cholmondely Castle and Hever Castle. Kate clearly likes a 'Gauntlet'!
https://www.instagram.com/p/B0MKUYeBMj9/
Welsh Triathlon had two National Championships this past weekend, the Middle Distance event hosted at the Sospan Sizzler Triathlon based at Bury Port, Carmarthenshire. Vikki Sivertsen (Malvern Triathlon Club) overcame a "dreadful" swim to take the women's title, while Finn Arentz was a convincing winner in the men's race.
Its #MedalMonday and @TailwindUK fuelled me to finish First Lady at the @HL_Activities #sospansizzler #middledistance triathlon yesterday. Fab friendly event, recommended. #tailwindnutritionuk #trailblazers2019 🏆 pic.twitter.com/AYnxZK323W

— Vikki Sivertsen (@Vikksen) July 22, 2019
And congrats to Finn on securing the win at the Sospan Sizzler! #WelshChamps pic.twitter.com/SJILPCw02v

— WhittleFit (@WhittleFit) July 21, 2019
The Welsh Aquathlon Champs were also on offer at the Aberavon Aquathlon on Saturday, where Hannah Louise Jenkins (Triathlon Coaching Wales) and Deri Stewart (Triathlon Coaching Wales were the fastest athletes on the day.
The final (?!) Hillingdon Triathlon Series event was won by former Hillingdon member, Steven Wrapson (Horsham Amphibians) and Jennifer Harvey (Hillingdon Triathletes), while at the long-standing Hathersage Hilly Triathlon, the podiums were topped by Matthew Stratford and Alexandra Richards – full results HERE.
The speedy youngsters this past weekend were racing at the Hetton Lyons Super Saturday, the penultimate round of the Youth and Junior Super Series. Full results HERE – were the Junior A final winners were Fynn Batkin and Barbara De Koning, the Youth A final winners going to John Russell and Bethany Cook.
And finally, not triathlon but we can't finish without mentioning Alex Yee. You can read the full details of his race on Saturday in the Diamond League HERE, but wouldn't you like to run 5,000m in less than 13:30 and be able to refer to it as "Rusty"?!
https://www.instagram.com/p/B0JpBcbh2YT/