2022 will see the governing body of the sport, World Triathlon, crown the first Arena Games Triathlon World Champions, in the virtual meets real-life world of triathlon esports.
We've now got more details on how the three-race series is going to work, race formats, rankings, prize money and more, and so have been digging through the new rules (yes, the World Triathlon Competition Rules have been extended too), to look ahead to what we will see in April and May this year.
Arena Games: what is it?
Following the success of the SLT Arena Games powered by Zwift in 2020 (Rotterdam) and 2021 (London and Rotterdam), event organisers, Super League Triathlon, recently announced a partnership with World Triathlon. That link up would see official World Championship status and an esports World Championship Series from 2022.
Where and when?
Officially titled as the 2022 Arena Games Triathlon World Championship Series powered by Zwift, the venues were recently announced, comprising of a three event series:
MUNICH: Saturday 9th April
LONDON: Saturday 23rd April
SINGAPORE: Saturday 7th May
Singapore will be the Championship Finals, and will offer both higher points and increased prize money. More on those below.
Format and changes
The formats used for 2022 will differ slightly from those we saw at the SLT Arena Games in 2021. For those events, each athlete completed three back-to-back races, gaining points for their finishing position in each:
Race one was swim-run-bike
Race two was run-bike-swim
Race three was bike-swim-run
The overall winner was the athlete that gained the most total points across each of the three races.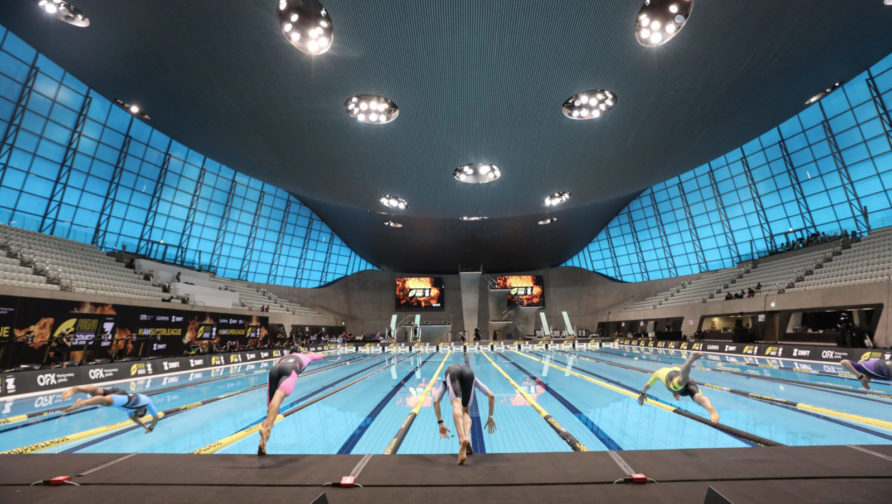 There will be no need for points this year, as all racing will be a 'first across the (virtual) line' wins format. To achieve this, 'pursuit starts' will be used across the final legs at all stages. We've seen this used during the SLT Championship Series in 2021, and also in Olympic events such as the Modern Pentathlon Laser Run, the concluding discipline of that sport.
The distances will familiar – a 200m swim, 3 to 4km virtual bike ride (Zwift) and 1km on the self-powered curved treadmill (and the virtual world of Zwift again). For those who like the details, the drafting function will be 'on' within Zwift cycling.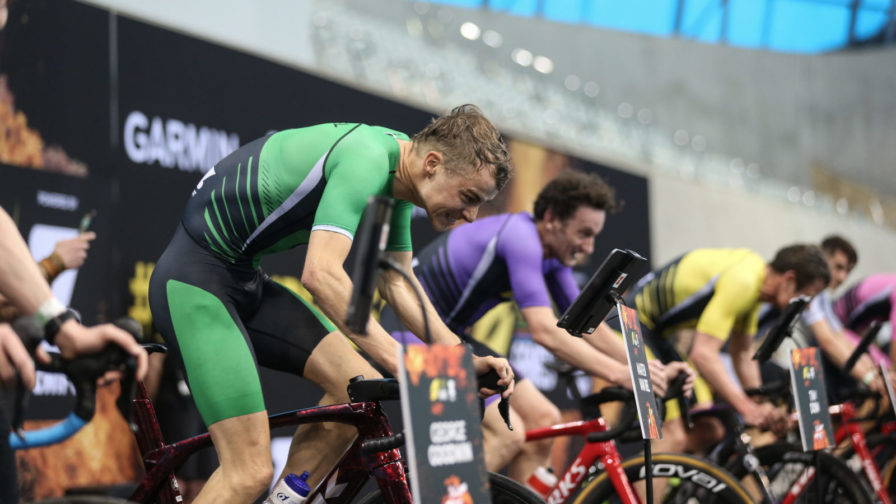 There will also be more athletes at each event. With arena-based racing (and of course, the number of lanes in a swimming pool), there are logistical limitations of how many athletes can race at one time. For Super League Triathlon, having an invite-only entry of 20 athletes (10 male / 10 female) could work well – and allowed the racing to be squeezed into a very tight live broadcast window. With increased prestige, World Championship status and governing body involvement however, it was always logical that more athletes would be involved. We now have more details on how this will happen.
Munich and London
In Munich (16 athletes) and London (20 athletes), racing will take place in a 'heats' and 'final' basis:
Heats: In the heats, athletes will race twice. Both stages will be in swim-bike-run format.
The times from the first stage will provide a pursuit start style start order for the second. Thus, in the second race, the winner of the first will start, and the second place finisher will start behind them, the number of seconds slower than they were in the first race. Overall Heats results will thus be based on when you finish the run portion of that second stage. No requirement for points accumulation etc. Nice and simple.
How will athletes progress to the finals?
In Munich (where two heats of eight athletes) – top three finishers in each heat, plus the next two fastest athletes from across the two heats.
In London (where two heats of ten athletes) – top four finishers in each heat, plus the next two fastest athletes from across the two heats.
Finals: how will they work?
Athletes that qualify for the finals in Munich and London will race three more times, over these formats:
Race 1: Swim-Bike-Run
Race 2: Run-Bike-Swim
Race 3: Swim-Bike-Run
In a similar manner to the heats, the final leg will be in a pursuit start style, based on accumulated times from the first and second stages. Once again therefore, first to finish that final run will be the winner.
Singapore (Championship Finals)
Singapore will see a maximum of 30 athletes on the start lists, and thus there will be some tweaks to the heats and finals process outlined above, with the addition of a repechage process, similar to that we see in the world of rowing, for example.
Heats
The heats will follow the same two stage process at Munich and London (both swim-bike-run format, and pursuit start for the second stage etc). However for some athletes not qualifying for the final (from the automatic qualifying positions or as 'fastest losers'), they will have a second chance through the repechage process
Repechage
Those athletes who didn't get eliminated through the heats – but didn't make the final either – will repeat the same format as per the heats, for the opportunity to move through to the final at the second attempt. Thus, another two races (swim-bike-run), pursuit start for leg two etc.
Finals
The Singapore finals will follow the same three-stage format as in Munich and London. That means that athletes qualifying for the final through the repechage process will race seven times during the event. Ouch!
Who wins the Championship?
The Arena Games Triathlon World Champions will be the man and woman with the highest combined score from the Finals (Singapore) plus one Series event (Munich or London).
Munich and London winners will receive 250 points, decreasing by 7.5% for each position thereafter.
Singapore winners will receive 500 points, decreasing by 7.5% for each position thereafter.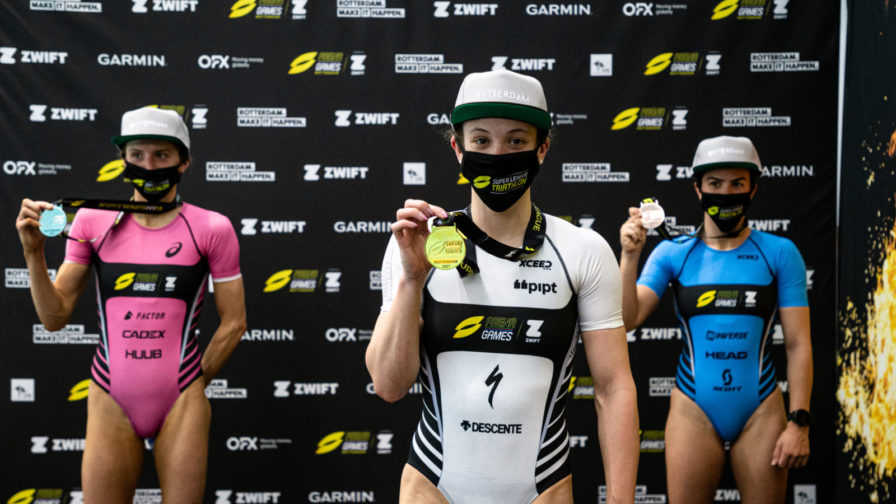 Prize Money
Yes, there will be prize money on offer, both at the individual events, and for the overall series.
Winners in Munich and London will receive $5,000.
Winners in Singapore will receive $7,500.
The top three finishers in the series will receive $8,000 / $6,000 / $4,000 respectively.
| Position | Munich / London | Singapore |
| --- | --- | --- |
| 1 | $5,000 | $7,500 |
| 2 | $4,200 | $6,000 |
| 3 | $3,400 | $4,500 |
| 4 | $2,600 | $3,000 |
| 5 | $1,800 | $2,100 |
| 6 | $1,400 | $1,800 |
| 7 | $1,100 | $1,500 |
| 8 | $800 | $900 |
| 9 | $500 (London) | $675 |
| 10 | $300 (London) | $525 |
Adding those all up, and applying for male and female, you get the following:
Munich = $40,600 total
London = $42,200 total
Singapore = $57,000 total
Bonus pool = $36,000 total
Overall then, a total series prize purse of more than $175,000.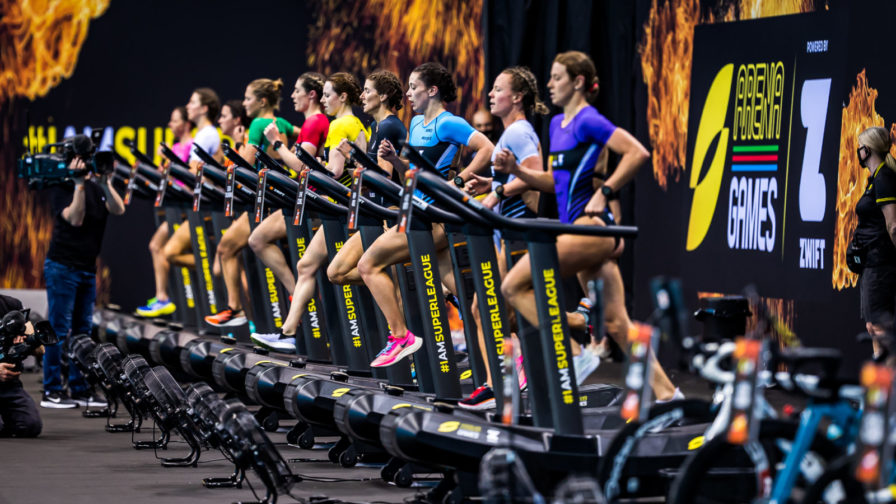 Broadcast
The events will be available online and on-demand via TriathlonLive.tv
Qualification: who can race?
Detailed rules on qualification can be found HERE, but it is a combination of World Triathlon General Qualification Rules, National Federation quota limits, host National Federation quota limits and an Invitation Panel, which is comprised of World Triathlon and Super League Triathlon representatives.