Three wins back-to-back victories for Emma Pallant
Andi Böcherer defends Pays d'Aix title as Adam Bowden secures another podium
(Photo credit for header image: http://activ-images.fr/)
As the race season starts to move towards the peak summer months, Great Britain's Emma Pallant is looking looking as though her tough training schedule is ready to put her into contention wherever and whenever she races. Victory on Sunday at IRONMAN 70.3 Pays d'Aix, France – by more than five minutes – follows up on success at Challenge Gran Canaria and the Mallorca Olympic Distance over the past two weeks.
While Germany's Andi Böcherer was impressive in defending his 2018 win, the ever-consistent Adam Bowden took second place courtesy of another impressive running performance.
Elite Women
Last year's 'breakthrough Brit' at this race was Fenella Langridge, who finished third in her first Pro 70.3 start. Her return started well, a 26:49 swim leaving her around 40 seconds back on IRONMAN 70.3 Weymouth winner and ITU regular, India Lee. Pallant was two minutes behind Lee, with Nikki Bartlett arriving at T2 another 60 seconds later.
Fastest swim on the women's side by @indielee4 – Top 5: @indielee4 26:10, @Rachel_McB 26:47, @Fenella_Alicia 26:49, Verstuyft 28:04, @EmmaPallant 28:07 #IM703PaysdAix pic.twitter.com/1A1XlGpbyF

— IRONMANLive (@IRONMANLive) May 12, 2019
By the midpoint of the ride, Pallant in her preferred 'challenging' course environment had eliminated her swim deficit, and the front of the race featured the trio of Brits – Lee, Pallant and Langridge – in close contention, with Bartlett having also move up into fourth.
A big battle is on in the women's race: Through 45 kms, the gap between @EmmaPallant @indielee4 and @Fenella_Alicia is only about 5 secs #IM703PaysdAix pic.twitter.com/nozG08u4gF

— IRONMANLive (@IRONMANLive) May 12, 2019
Langridge's day would however soon come to a painful ending, with a bike crash taking her out of the race – and straight to hospital for stitches in both arms. Not how she wanted the race to end, but thankfully a few hours later she could still smile.
https://www.instagram.com/p/BxXTpPFBSHv/
Arriving at T2, Pallant and Lee were still locked together, with Bartlett just 1:20 back, having just taken the fastest bike split of the day from Pallant by 40 seconds (but having taken more than a minute longer in T1, was now slightly further behind than she was at T1…!).
Top 5 women run: @indielee4 3:00:28, @EmmaPallant 3:00:29, @NikkiBartlett1 3:01:48, Reischmann 3:06:15, @tinedeckers 3:06:17 #IM703PaysdAix pic.twitter.com/LKtrIN33MK

— IRONMANLive (@IRONMANLive) May 12, 2019
Pallant quickly hit the front and it was game over for the race win – she would go on to run a 1:16:59 for a comfortable win. Behind, Lee was initially extending her lead slightly over Bartlett, but then the athlete who is also combining her racing this year with Paratriathlon Guide duties for GB's top visually impaired athletes, started to turn the tables and was finally able to make the pass and take second place within the final kilometre of the run.
Couldn't be happier right now😁

2nd place at Ironman Pays d'Aix 70.3, super fast racing. Secured a World 70.3 Champs slot too. Buzzing to put down a performance which shows where my training is at

Congrats to Emma&Indie for the podium spots& everyone who raced, tough conditions pic.twitter.com/ekljbXOrba

— Nikki Bartlett (@NikkiBartlett1) May 12, 2019
Elite Men
When he is fit, healthy and injury-free, Germany's Andi Böcherer is very tough to beat. While he lost just under a minute in the swim to the leaders – which included Great Britain's Adam Bowden – 10km later he had eliminated that loss, and he soon blasted by on his strongest discipline to lead, solo, at the front of the race.
Top 5 men swim: 1 Robin Pasteur 23:02, Pousson 23:04, @Adamspeedytri 23:07, Krug 23:08, @andiboecherer 23:58 #IM703PaysdAix pic.twitter.com/iUf47YUJyw

— IRONMANLive (@IRONMANLive) May 12, 2019
With a 2:09:52 bike split (the next best was 2:12:31 from Andreas Dreitz), he had a lead of 3:45 starting the run over Marcus Herbst (GER), with Dreitz and Arnaud Guilloux (FRA) 4:20 back. Bowden started the run in fifth. While five and half minutes was (probably) too much to close on the impressive Böcherer, he has been so consistently excellent in all of his middle distance runs that a podium was certainly within his grasp.
Top 5 men bike km 57.5: @andiboecherer 1:49:32, @Adamspeedytri +2:22, @bertrand_bill +2:58, Herbst +3:01, @andi_dreitz +3:14 #IM703PaysdAix pic.twitter.com/sEca6gICnU

— IRONMANLive (@IRONMANLive) May 12, 2019
Böcherer did indeed defend his title in style, while Adam soon dispatched Herbst, Dreitz and Guilloux within the first 6km to move into second. He continued to close on Böcherer at every split, but that T2 margin would prove too much to close, despite yet another fastest run split performance from the winner of IRONMAN 70.3 Dubai.
Close fight for the final spot on the podium… Top 5 men: @andiboecherer 3:52:16, @Adamspeedytri 3:53:28, @andi_dreitz 3:56:37, Herbst 3:56:51 Guilloux 3:57:20 #IM703PaysdAix pic.twitter.com/5ul2Zof9f3

— IRONMANLive (@IRONMANLive) May 12, 2019
IRONMAN 70.3 Pays d'Aix, France – Sunday 12th May 2019
1.9km / 90km / 21.1km
PRO WOMEN
1st – Emma Pallant (GBR) – 4:19:56
2nd – Nikki Bartlett (GBR) – 4:25:15
3rd – India Lee (GBR) – 4:25:30
DNF – Fenella Langridge (GBR) – Crash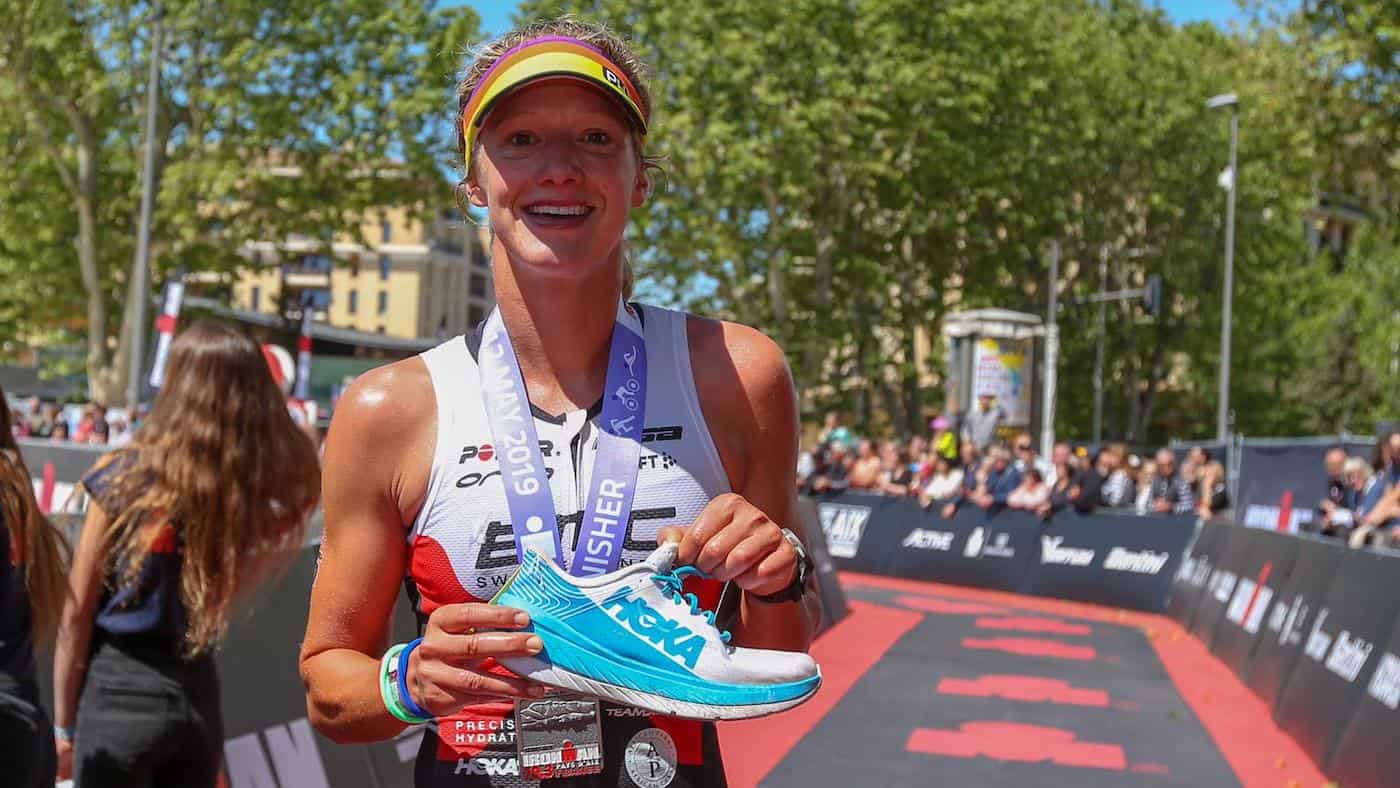 PRO MEN
1st – Andi Böcherer (GER) – 3:52:16
2nd – Adam Bowden (GBR) – 3:53:28
3rd – Andreas Dreitz (GER) – 3:56:37
https://www.instagram.com/p/BxX76ZOh58t/
11th – Sam Pictor (GBR) – 4:07:43
https://www.instagram.com/p/BxXuQaTB5XY/