Daniel Bækkegård has unfinished business this weekend when he returns to St George for the IRONMAN 70.3 World Championship.
Four months ago on the same Utah course, the brilliant Dane was part of an epic race for the ages, one which would have a nasty sting in the tail for Bækkegård.
The 25-year-old incurred a penalty on the bike course which wasn't served, leading to his eventual disqualification. He had no idea of that though as he engaged in a classic run-off with Lionel Sanders, Sam Long, Magnus Ditlev and Rudy Von Berg.
Sanders would eventually overcome Long in a gripping run for the tape, while Bækkegård would eventually find out he was disqualified. While he was disappointed, it was an experience which only whetted his appetite for more.
Memories of May in St George
"First of all, I learnt a lot about politics within races! Second of all, it just lit up the fire immensely," he explained.
"I had that race where I wanted it, and now I'm just going to go back and show what I really can do on the 70.3.
"Obviously it was a tough one to handle, because it's a big race, and especially racing Lionel [Sanders] on a course like that where, before, he was kind of unbeaten and it really suited his strengths."
There is one particular image which is etched in Baekkegard's memory as he looks back to that thrilling race.
"There is a picture with me, Magnus [Ditlev], Sam [Long] and Lionel. And it's just iconic, because it shows the race perfectly. And it's races like that I really want to be a part of, hopefully in a better way in the future."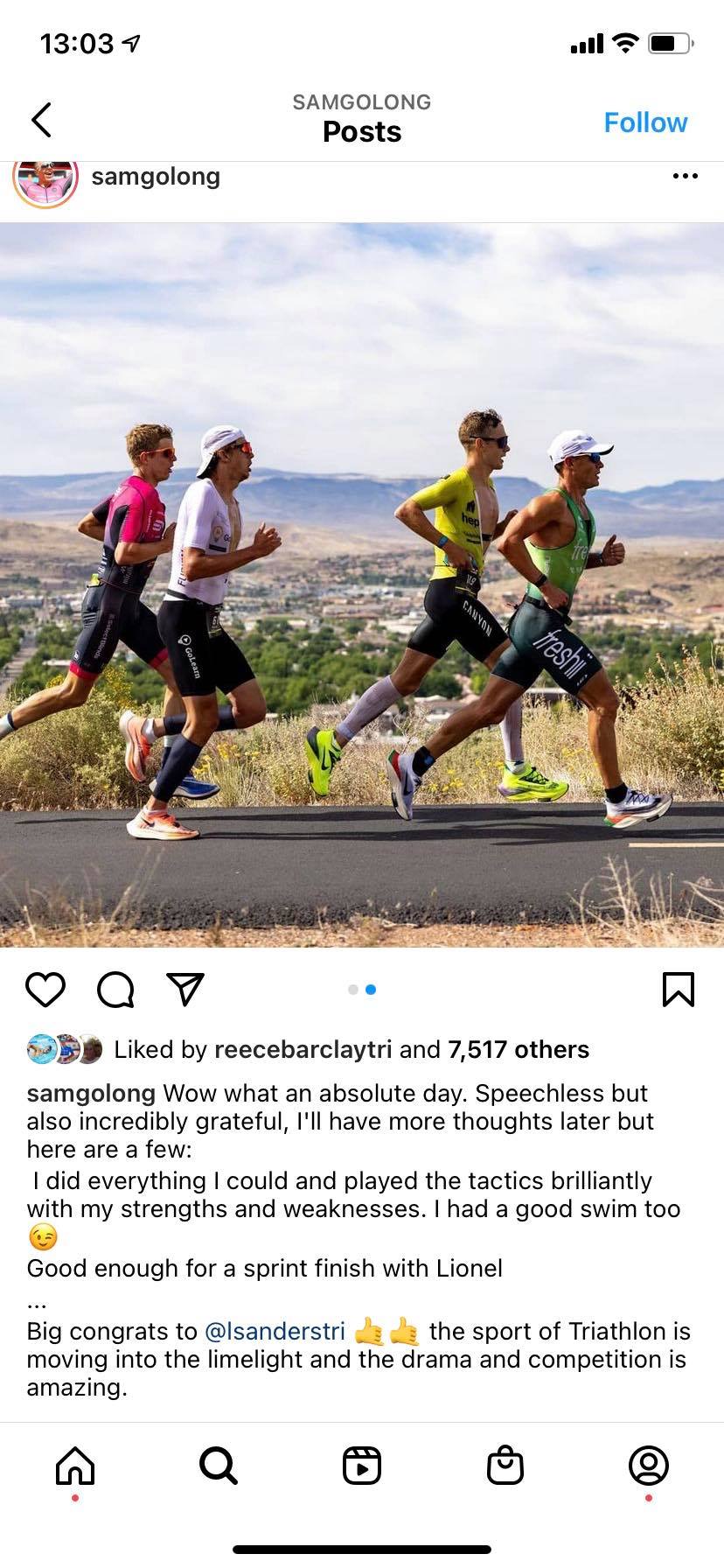 Awesome experience
Sanders will not be there to reoppose Bækkegård this weekend – he is not racing after his gruelling summer schedule. The two did discuss that epic previous meeting though, as Daniel explained.
"I had a chat with Lionel about it. Not a lot of people were actually missing on the start list – it was very high quality. And just being there, and being a part of the final, that was just awesome.
"I remember briefly Talbot Cox being on the sideline screaming; 'we have half a million followers or 1.5 million followers on YouTube' or something. Then, quickly, I just realised people are finding this pretty exciting and the reaction has been very solid afterwards as well."
Bækkegård goes into Saturday in Utah as a genuine contender for the podium – Sebastian Kienle picked him earlier this week to follow home the Norwegian duo of Kristian Blummenfelt and Gustav Iden. And 70.3 success will remain his major focus for now. He was impressive in defeating Ben Kanute and Max Neumann in the recent inaugural Collins Cup.
"Yeah for sure, because I still have a long way to go. I still have to get tons better at all the disciplines and also the stuff around the sport. I think in the 70.3 I still have a lot to offer, and that's where I'll put my energy for the next five years or so.
"I'll do some longer distance, but that's only to be there at the championship races because, to be honest, they're the [most fun] races to do. Going head-to-head with some strong guys, that's what I want to be a part of."