Pro View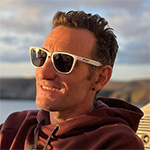 Tim Don
Tim is a triathlon and IRONMAN legend. And alongside Ian Dempsey he's created
Halo ID
, a global community for like-minded people with a love for triathlon and endurance sport – all about your next level, whatever that may be.
Another busy weekend of action – just the five races – so plenty for Halo ID's Tim Don and Ian Dempsey to get stuck into!
Highlights included Lydia Dant's sensational IRONMAN debut as she ran away with victory in Lanzarote, an event with a strong history of British success.
"She took Lucy Charles-Barclay's record on the bike leg," reveals Ian, who was there in person. "And believe me it was windy and hot out there, they were really tough conditions. And she backed that up with a 3:09 marathon. We've had some fantastic names win that race so let's see what's next for Lydia."
There were also some great British performances in the women's race at The Championship.
Not least from the Tim Don-coached Emma Pallant-Browne, who ran through the field in a Samorin thriller, her 1:17 taking her all the way up to second.
"When you think of the names that weren't there, it just shows the incredible strength in depth that there were four British women in the top 10 there," says Don.
Bar 'has been raised'
And the theme of a lot of the weekend's races were rapid run times – Jason West and Matt Hanson both clocked 1:09 half marathons as they claimed first and second respectively at IRONMAN 70.3 Chattanooga, while Clement Mignon closed out victory at IRONMAN 70.3 Pays d'Aix-en-Provence with a 1:10.
"If you want to win, you've gotta run 1:10 for the men and sub 1:20 for the women," says Ian. "The bar has been raised."
And Tim agrees: "It's the new norm. And the same over the marathon distance where 2:40 is the new 2:48. "Everyone used to say that 2:48 was the benchmark – 4min/km pace throughout – not anymore."
Watch the embedded video for more – and head over to Halo ID for the full version.