Dame Flora Duffy, the current Olympic, Commonwealth and World Champion, has been a dominant force in women's short course triathlon for the best part of a decade.
Speaking to us recently after being named female athlete of the year at the Global Triathlon Awards, she's set to defend her Olympic title in Paris in 18 months time.
Ahead of the start of the 2023 season, Duffy shared how her career has changed over the years and what keeps her motivated after spending so much time at the peak of her powers.
Sights set on Paris
At 35 years of age, Duffy has close to a decade of experience over some of her nearest rivals, such as American superstar Taylor Knibb.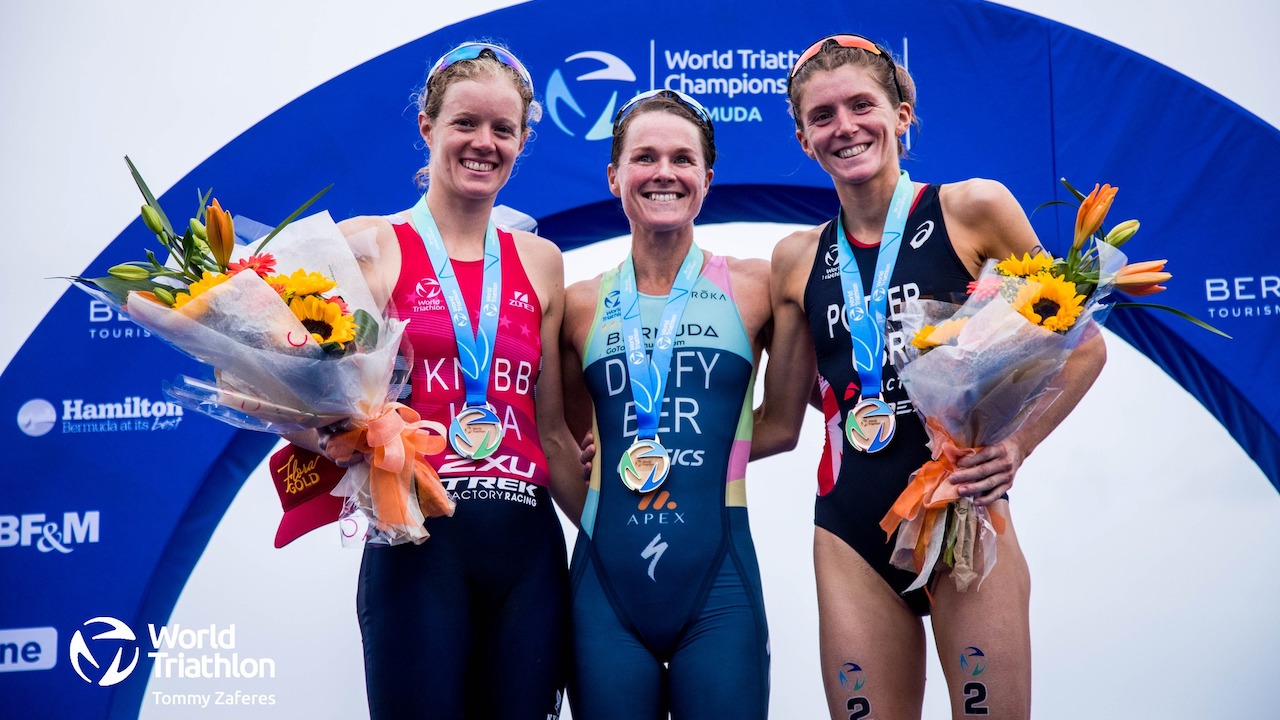 However, the Bermudian revealed that although she has accomplished everything she set out to do in short course triathlon over the past ten years, there is still one more win she has her sights set on.
She explained: "For me, it's ultimately the Olympics that keeps me motivated. I would love to go back to Paris and try to repeat and have friends and family there to celebrate, ideally not under pandemic protocols."
Alongside her Olympic ambitions, Duffy shared that she did enjoy the middle / long distance races she competed in during the 2022 season, which included a fifth place finish at the IRONMAN 70.3 World Championships, and is keen for more.
"I would like to have a little more success in the long course scene. I tried last year and really enjoyed it because it challenged me, it was hard, but I am really intrigued to see how well I can do and it pushed me to chase that further."
With such great abilities across the board, seeing the Bermudian on some more IRONMAN 70.3 and PTO Tour start lines is definitely something fans will be eagerly anticipating after her title defence in Paris.
Attention to detail
Paris 2024 would be Duffy's fifth Olympic Games, following appearances in Beijing, London, Rio and most recently Tokyo, and she explained that a lot has changed since her debut at the Games:
"As the years have gone by, it's funny because I can look back to races and feel like I just turned up and hoped for the best. However now, in terms of preparation and attention to detail, it is so much more important, and my level of support and sponsorship and the team I have around me is completely different."
As well as changing her approach to getting ready for races, Duffy added that the increase in level of support and the backing of a team around her has made a huge difference over the past few years.
"I used to go to these races alone, but now I can go with my coach or my husband and feel I have people there to support me at these races, which is really massive."
Whilst Duffy admits that the changes outside of triathlon, in sponsorship and support, have been fundamental to her success, the simplicity of the sport remains the same:
"In some ways though, it feels like things haven't changed. It is still swim, bike and run, but I've gone through the ranks and the years and I am now one of the oldest instead of one of the youngest".