Great Britain's Georgia Taylor-Brown is the defending Super League Triathlon Champion. She took that title last year in Malibu, a race in which she finished second to Flora Duffy.
After Sunday's Enduro event at Super League Triathlon Munich, GTB sits at the top of the Championship Series standings and with a return to Malibu coming up on Saturday, already has an SLT win on her C.V. That's something she didn't manage in 2021.
In truth, it was never in doubt, with the Olympic and Commonwealth Games silver (individual) and gold (mixed team relay) medallist totally dominating the race at Munich's impressive Olympiapark.
All-in from the start
While the back-to-back-to-back nature of the Enduro format is headlined as 'Master of Endurance', Georgia used a specific tactic from the get go, which you have to say proved a wise decision in the tricky conditions in Germany.
"I think I knew before the race, from experience last year in Jersey, that I just had to treat it like one race and go all-in for the first stage. Then gaps would form hopefully and that makes it a bit easier. With Super League racing it's nice to have a bit more time to go through transitions properly, go through them well and not make mistakes.
"I was very slow on my transitions, but I didn't try and be fast through them because I wanted them to be right… and also my feet were freezing! I struggled to get my feet in my shoes."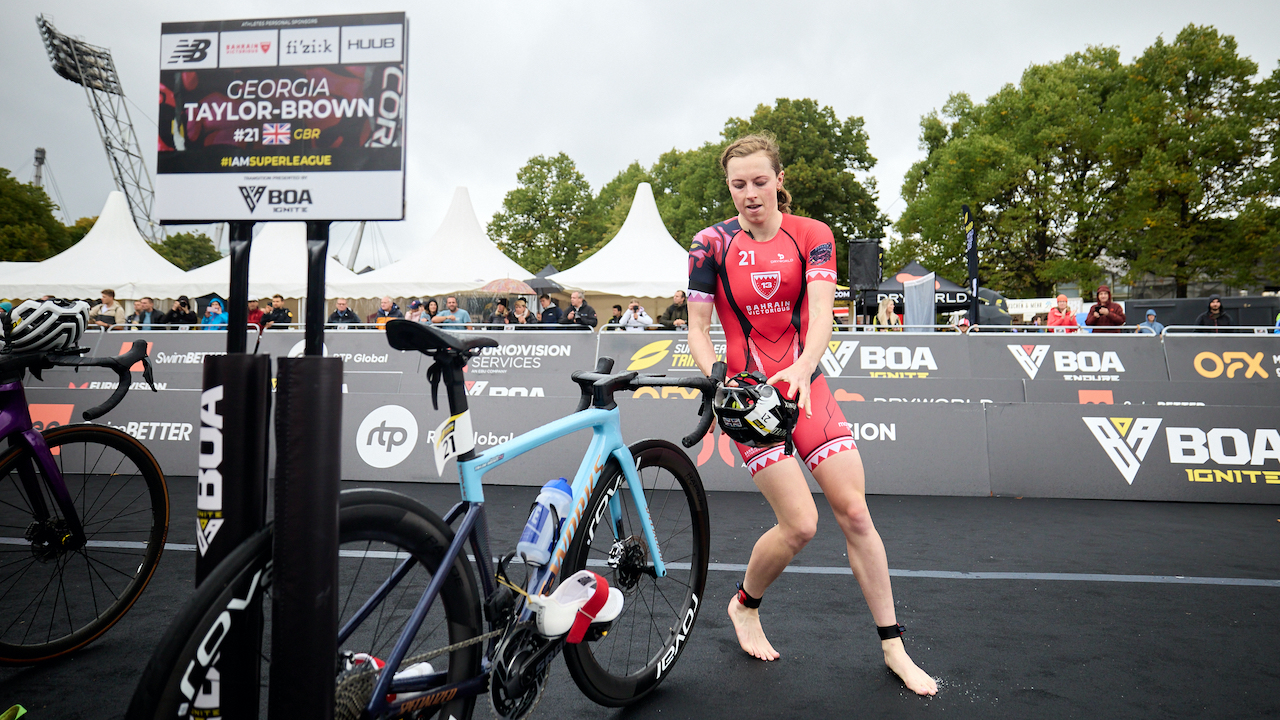 About those conditions…
"It's quite cold in the water, a bit of a shock, but you kind of forget about it when you are racing to be honest. The biggest thing, as I said, was my feet. I have really bad circulation anyway, and my feet just get so cold. That was the only issue, and why I had to take my time through transitions and make sure that my feet were properly in my trainers."
Preparation pays off
While others struggled on the wet tarmac – notably Cassandre Beaugrand – Georgia looked in control throughout, and as she explained to me post race, she was:
"I felt quite comfortable. We went through the course yesterday and we went through it in the wet. I knew exactly what it was going to feel like and I knew the lines that I wanted to take, and how fast or slow I wanted to take the corners.
"I just treated it like it was wet (all day) anyway, even though some of the course did dry out. I was very cautious, and I had enough time to play with to be careful."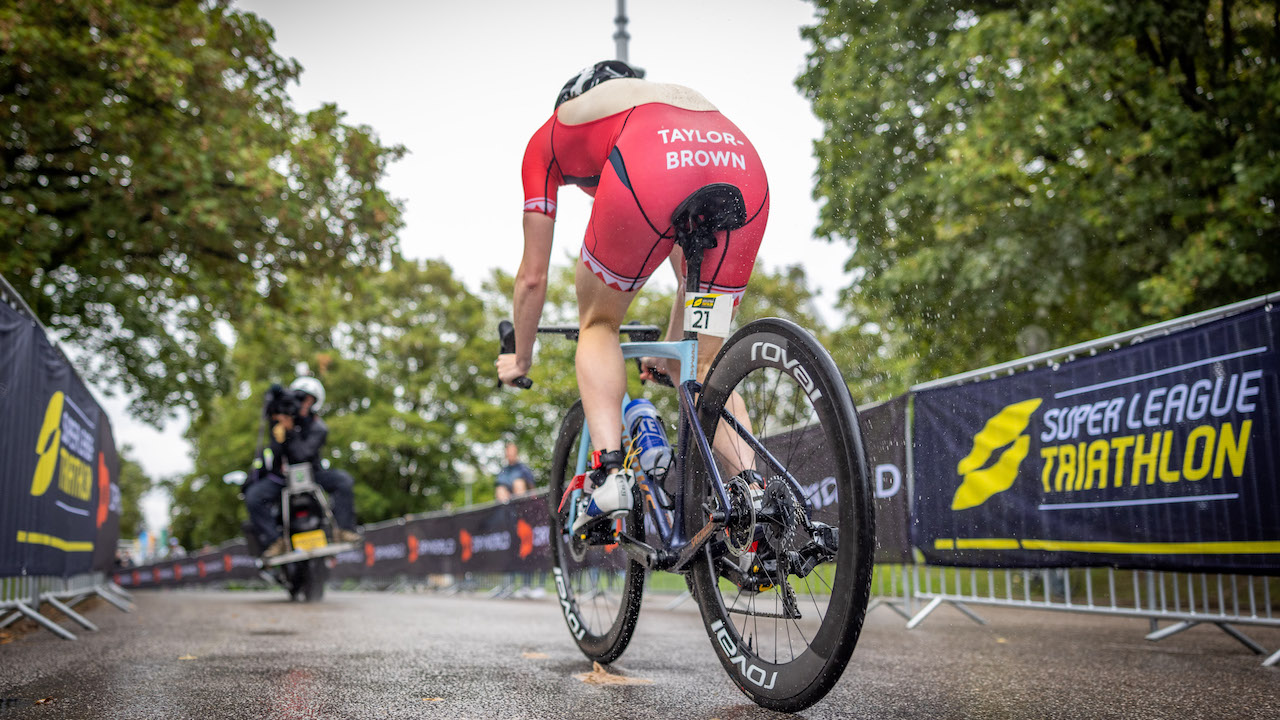 Paying respects
Against the backdrop of the passing of Queen Elizabeth II three days earlier, Georgia made her own touching tribute on the finish line in Germany, explaining:
"I didn't really think about it at all [Ed. in terms of it being planned], and then when I was on the run on the final leg there I just thought, I feel like I should and would like to do something for the Queen and show my respect.
"I know it's a difficult time and we are lucky to actually be here racing today, because the whole country is mourning right now. I just wanted to pay respect to the Queen, we wore black armbands, and we had our moment's silence before the race. I saw someone with a Great Britain flag and so I took that. I thought I'd curtsy; I've never met the Queen, but hopefully she'd be proud of my curtsy there!"
Taylor-Brown was also thrilled to see her long-time friend and rival, Sophie Coldwell, join her on the podium in second place after an exciting finish with London silver medallist, Taylor Spivey. She admitted she couldn't really be a neutral watching that one!
"In the very first race, on the bike she wasn't far behind, so I was kind of like, 'Come on Soph, catch me up and we can work together'.
"It's difficult on that final run. I love Taylor Spivey… but I was like I'm sorry, please don't hate me, it's just Sophie is like my little buddy since I was 15. She's my girl so I wanted her to be on the podium with me."