Hot on the heels of IRONMAN 70.3 Nice, it was back-to-back weekends of middle-distance racing in France this past weekend with IRONMAN 70.3 Aix-en-Provence.
Home win for Horseau
Making his Pro debut, Great Britain's Andrew Horsfall-Turner (winner and course-record holder at the Outlaw Triathlon this year) led the way in the swim, with just Christophe de Keyser (BEL) for company. They were a full 90 seconds clear of their chasers.
90km on the bike later and it was all change at the front, where an all-French trio – Arthur Horseau, Pacome Thibault-Lopez and Erwan Jacobi had ridden into a lead of more than two minutes over de Keyser, with the Brit a further minute back – and with a penalty to serve in T2.
While Horseau held strong on the run to win, 1:11 half-marathon splits from both de Keyser and Maurice Clavel (GER) allowed them to move through the field and complete the podium.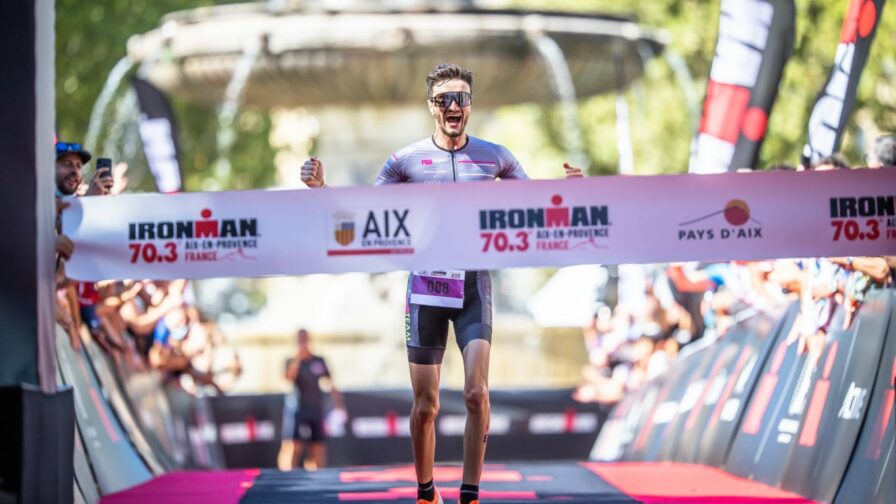 Horsfall-Turner would finish 11th, but with plenty of lessons learned – lessons he has kindly shared with us, and which you'll be able to read very soon in a separate feature article.
Simmonds success
While the 2019 IRONMAN 70.3 World Championship bronze medallist wasn't in St. George this past weekend, Imogen Simmonds was able to race and display her quality once again with a clear win in France. Having been second twice (St. Poelten and 70.3 Dubai) and third (IRONMAN Finland) already this year, it was a welcome return to the top step of the podium.
The swim was led out by Great Britain's Fenella Langridge, with Simmonds just seconds behind. This race in 2018 was the site of Fenella's first Pro podium (though a year later she crashed out), so which way would it go this time?
Third recently at Challenge Roth, this would be one of those "I had absolutely nothing" days, and she would eventually finish fifth. Heading into a training block now though, she can put that one behind her and move on after strong performances in her first two full-distance starts this season. You never quite know when those iron-distance efforts are going to catch up with you!
Kim Morrison was having a much better day though, and reduced a two-minute swim deficit to just 29 seconds as she started the run in second place with only Simmonds ahead. The Swiss athlete was never troubled and would finish with a winning margin of over four-and-a-half minutes, while Chloe Lane (AUS) and Lena Berlinger (GER) would overtake Morrison to complete the podium.
Morrison though was very happy with her performance (and fourth place), having not had the day she hoped for at Challenge Roth.
IRONMAN 70.3 Aix-en-Provence Results 2021
1.9km / 90km / 21.1km
PRO MEN
Arthur Horseau (FRA) – 3:55:06
Christophe de Keyser (BEL) – 3:56:19
Maurice Clavel (GER) – 3:58:58
Erwan Jacobi (FRA) – 4:00:48
Vincent Terrier (FRA) – 4:01:26
11. Andrew Horsfall-Turner (GBR) – 4:08:06
PRO WOMEN
Imogen Simmonds (SUI) – 4:22:55
Chloe Lane (AUS) – 4:27:32
Lena Berlinger (GER) – 4:27:36
Kim Morrison (GBR) – 4:31:32
Fenella Langridge (GBR) – 4:35:09
NB: Header image photo credit Activ' Images – http://activ-images.fr/