All three women on the podium at IRONMAN 70.3 Chattanooga on Sunday had plenty to smile about and despite it being one of the strongest fields of the season, there was a dominant winner in Paula Findlay.
Second in the race last year, she always looked like going one better after powering clear on the bike and maintaining her advantage on the run.
She crossed the line more than five minutes ahead of Danielle Lewis, who just pipped Jeanni Metzler for third.
'You never know what to expect'
And in her post-race interview, Findlay said: "I never take it for granted winning a race. It's really, really hard these days with the level of women's racing, and so I'm super happy.
"It's one of my favourite races. That's why I came back. It wasn't perfect timing with everything, all the travel I've done, but I made it a priority and I had a lot of fun out there," she said in reference to the fact that over the last three weeks she's taken in the PTO European Open in Ibiza where she was fifth as well as winning St. Anthony's Triathlon in Florida.
In terms of tactics, it was a question of not letting up all day: "The bike course is really rolling and pretty fun. You can kind of hold power through the whole thing. And that was my goal today, not to coast the downhills, just to kind of stay on it the whole time and get a big gap as possible so that I didn't have to run so hard. So that's kind of how it turned out.
"It's a really strong field, and I haven't raced many of these women yet this year, so you really never know what to expect. And I knew I'd be kind of pushed all day, and there's a lot of strong runners out there, but I respect all of them. I think they've all beaten me at some point, so it is a really competitive field. Chattanooga always attracts a good field."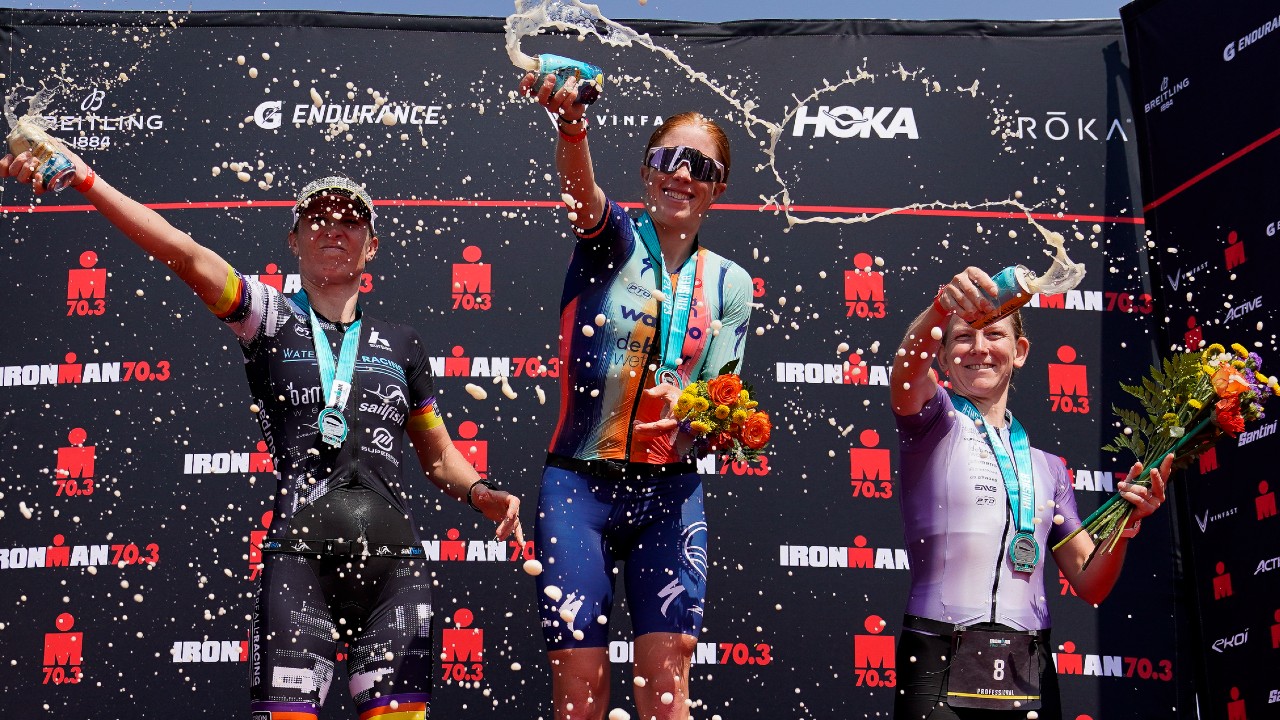 New ground for Lewis
That was echoed by Lewis, who was racing for the fourth time since the start of April and continued her upward progress with the runner-up spot after a sixth, a fifth and a third – only bagging the silver medal in the last mile when she ran past Metzler.
Lewis said: "It was a very hard day. This was the first race of my career where I really felt like I was in the race. I didn't know I was biking as fast as I was until I saw the massive group up ahead of me and I was like, okay, I just got to go right now and make a move. And so I did that.
"And so that set me up for a good position on the run. But it was a very hard run. I'm running against women that have incredible resumes, are very fast and very strong. I have so much respect for them and had to really fight and stay in the mix. I'm very proud of myself."
Good to be back in the ring
While disappointed to miss out on second, Metzler was very much looking at the bigger picture aspect when we caught up with her afterwards. She won IRONMAN 70.3 St George a fortnight ago on her comeback after a difficult 18 months and is delighted to be back and enjoying her racing again.
She told us: "It was a great day out there today. I was kind of on the fence going into this race. I didn't know how I would pull up after St George, but I'm really glad that I raced.
"It was a really strong, competitive, woman's field, and every time I get the chance to race the best in the world, it really gets the most out of me. And I was really able to push myself and it was a great opportunity to see truly where my fitness is and how I stack up against the best.
Obviously, it was tough to get passed right at the end but I'm super grateful to be healthy and racing again and to get on the podium in this field.
"It's just good to go back and see what I can do better going forward as I build my fitness back. I haven't raced very consistently the past year, so it's just really good to put myself back in the ring and I'm just looking forward to improving on some things that I did today – it was fun to battle it out with some really strong women."