Canada's Paula Findlay produced a masterclass of a display to power to a dominant victory at IRONMAN 70.3 Chattanooga.
The world #4 went into the race on the back of a fifth place against a stellar field at the PTO European Open a fortnight ago.
But the runner up at last year's IRONMAN 70.3 World Championship was in a class of her own here, taking the lead early on the bike and opening up a lead of over four minutes by T2, which she would extend on the run as she crossed the finish line in 4:09:44.
That was just over five minutes ahead of Danielle Lewis (USA) and recent IRONMAN 70.3 St George winner Jeanni Metzler (RSA) who has returned to the sport in superb style after a difficult 18 months.
Swim – US pair set the pace
American duo Grace Alexander and Hannah Sakaluk were first out of the water, with an advantage of over half a minute and upwards on the rest.
At this point Findlay, True and Metzler were all locked together, 45 seconds back but it wouldn't take long for things to change heading out of T1.
Bike – Findlay surges clear
Findlay caused a shock when landing the Canadian National Time Trial title last year and she underlined that prowess on the bike again here.
She'd bridged the gap to Alexander within the first 20km and then proceeded to ride clear of everyone. She was 2:42 to the good at the 44km check point, over four minutes at at 73km – with Moench now out on her own in second.
And that was how it remained going into T2, with the race surely in Findlay's safekeeping.
Run – Cruise control
Any thoughts Findlay might be conservative on the run were quickly dispelled – she'd stretched the advantage to over five minutes by halfway and kept the gap constant despite the best efforts of Metzler.
She was able to 'coast' to a 1:21:10 half marathon for an outstanding win.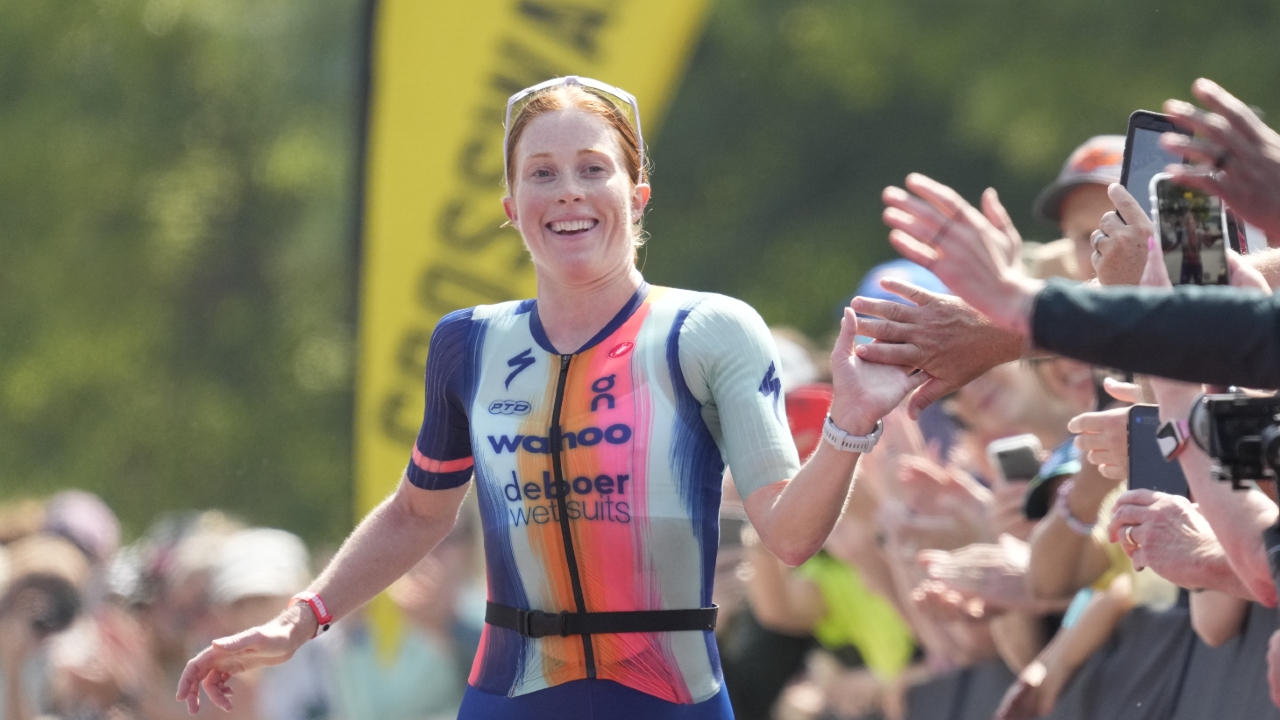 Meanwhile in behind Lewis was able to collar Metzler in the final mile to snatch second place.
It was close behind them too between American trio Sarah True, Skye Moench and defending champ Jackie Hering.
IRONMAN 70.3 Chattanooga Results 2023
Sunday 21 May 2023 – 1.9km / 90km / 21.1km
Chattanooga, Tennessee (Pro Women only race)
1. Paula Findlay (CAN) – 4:09:44
2. Danielle Lewis (USA) – 4:15:02
3. Jeanni Metzler (RSA) – 4:15:37
4. Sarah True (USA) – 4:16:01
5. Skye Moench (USA) – 4:16:08
6. Jackie Hering (USA) – 4:16:59
7. Rach McBride (CAN) – 4:21:25
8. Meredith Kessler (USA) – 4:22:39
9. Annamarie Strehlow 4:24:22
10. Rebecca Anderbury (GBR) – 4:24:44