Andi Boecherer and Michelle Vesterby claimed victories as IRONMAN Lanzarote 2021 took centre stage in the triathlon world on Saturday.
The event normally slots into the annual calendar in May, but had to wait until early July thanks to the global pandemic. That meant a hiatus of more than two years since the last race here in 2019.
It was well worth the wait though as a strong field (helped by the travel restrictions around Sunday's IRONMAN UK) assembled on the start line early on Saturday.
PRO Men – Boecherer's run to victory
The 38-year-old Boecherer has excellent pedigree over full distance with a Kona fifth in 2016 to his name, and he emphasised it again by surging to a confident victory with a decisive marathon move.
He came home in an overall time of 8:34:11, almost eight minutes clear of fellow German raider Boris Stein (8:42:03), with South Africa's Matt Trautman claiming the final podium spot a further minute back (8:43:00).
Boecherer (51:37) exited the water in 12th place – more than a minute off the pace which was set by Aussie star Nick Kastelein (50:15). He had moved up to second after a 4:50:26 bike split, but still had more than two minutes to make up on the leader – Denmark's Kristian Høgenhaug. Stein and Trautman were next into T2.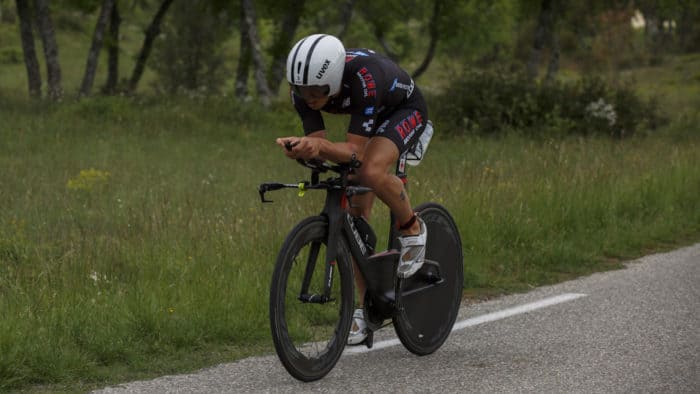 The run saw Boecherer (2:46:34) make his telling move as he swiftly cut the deficit before passing Høgenhaug less than 10km in.
Andi was never threatened from that moment on as he built a commanding advantage to come home well clear of his rivals. Stein and Trautman would both pass Høgenhaug to claim podium spots, leaving the Dane in fourth.
PRO Women – Vesterby holds off Siddall
The 37-year-old Dane Vesterby, winner here way back in 2012, ended the nine-year wait for another success by holding off the late charge of Great Britain's Laura Siddall.
Vesterby recorded the fastest swim split, exiting the water in 59:45, just two seconds ahead of France's Manon Genet.
By the time the pair got off their bikes and headed into T2 though, Michelle was almost eight minutes behind Genet after an excellent 5:27:34 bike split from the French woman. Siddall meanwhile was 15 minutes off the pace, and more than seven behind Vesterby.
Genet stretched her lead to more than nine minutes in the early stages of the marathon, but then began to fall away badly as she approached the 20km mark and would fail to complete the course. Vesterby took over at the front shortly after and the only question now was whether Siddall would be able to catch her.
Laura, who had produced an encouraging fourth recently at Challenge St Polten to come back from almost two years of injury woes, improved again as she put in a big effort to cut the gap to Vesterby, but it was just too much to overcome.
It was the Dane who held on to take first place in a time of 9:55:04 – some 47 seconds clear of Siddall (9:55:51).
Siddall's marathon time of 3:07:32 was good enough for second place while the final spot on the podium was claimed by France's Justine Mathieux (9:57:16). Another British athlete took fourth in the shape of Simone Mitchell (10:12:42).
IRONMAN Lanzarote 2021 results
Saturday July 3, 2021
PRO Men
Andi Boecherer (Germany) 8:34:11
Boris Stein (Germany) 8:42:03
Matt Trautman (South Africa) 8:43:00
Kristian Høgenhaug (Denmark) 8:45:55
Evert Scheltinga (Netherlands) 8:49:39
PRO WOMEN
Michelle Vesterby (Denmark) 9:55:04
Laura Siddall (Great Britain) 9:55:51
Justine Mathieux (France) 9:57:16
Simone Mitchell (Great Britain) 10:12:42
Maria Gosteva (Russia) 10:28:38