Kate Waugh has been a part of the Great Britain team for the best part of 10 years already, despite only turning 24 earlier this year.
A regular medal winner at championship events through all the time – more on that below – Waugh achieved the most notable success of her career so far, when a clear victory in Abu Dhabi in November 2022 saw her become the World Triathlon U23 Champion.
Kate was racing this past weekend at the Arena Games Triathlon Finals in London, and while we were there we spoke to her about that U23 success, her career to date, the challenges of Paris 2024 qualification and so much more.
Championship performer
A few months on, we had to start with that winning day at Yas Marina. Success is never guaranteed, but in this case, it was absolutely the target. The only target.
"It was my main goal for the year. I'd have been disappointed with anything other than gold because it was something I'd written down as my biggest goal of the year. It was an amazing feeling to execute that and become a World Champion. It was something I'd dreamed of for a long time, so it was really special.
"It was a super early start, I don't think I slept at all – I remember being awake at 3:40 a.m. and then getting up at ten past four! It was pretty mild when we raced, maybe starting to heat up towards the end of the run, but it wasn't too bad, especially relative to what I was expecting."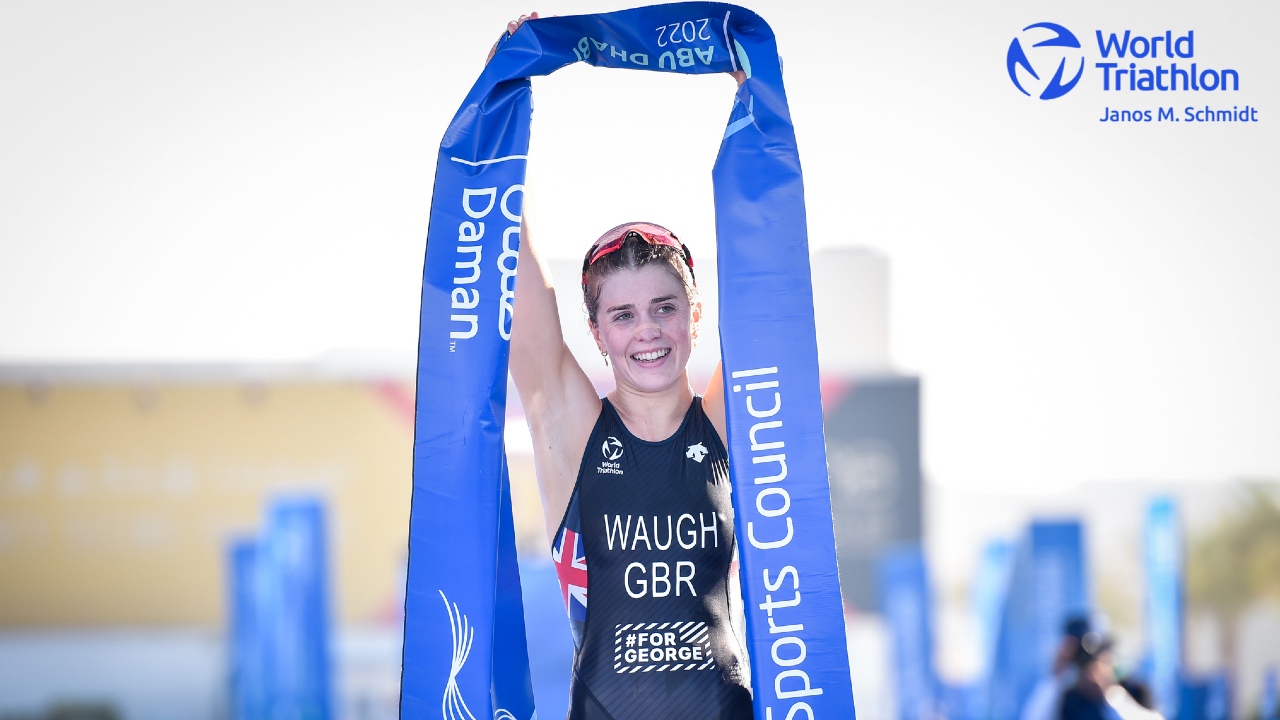 Around seven years ago now, I interviewed Kate shortly after she won the silver medal at the World Junior Duathlon Championships in Aviles, Spain. The last decade has seen her consistently feature on many podiums at European and World Championship events, across multiple formats, through the Youth, Junior and U23 ranks.
It's always a positive sign when an athlete can seemingly produce their best at the biggest events, and clearly they provide additional focus and motivation for Waugh.
"I think I've always seen myself as the kind of athlete that can always perform in those one day races. I don't know if it's just because I give myself a kick up the bum in training in the lead up, but I always feel like when I have those goals of the big races, I just really kind of know when to knuckle down in my training. I'm really happy with some of the titles and the medals that I have, and hope to continue on that trend."
Kate's World and European Championship medal collection:
2022 World U23 Championship – Gold
2019 World U23/Junior Mixed Team Relay Championship – Silver
2018 World Junior Championship – Bronze
2017 World Junior Championship – Silver
2017 European Junior Championship – Gold
2016 World U23/Junior Mixed Team Relay Championship – Silver
2016 World Junior Duathlon Championship – Silver
2016 European Junior Mixed Team Relay Championship – Gold
2015 European Youth Relay Championship – Silver
2014 European Youth Relay Championship – Gold
Moving, motivation and adapting to change
It's not just through the development ranks that Waugh has found success, with multiple World Triathlon Cup podiums (including Bergen last year), leading to a first season of WTCS racing throughout 2022. Those events included 12th place finishes in both Hamburg and Cagliari. Sitting 25th in the World Triathlon Rankings at the time of writing, what's on her schedule for the year ahead?
"I think I'm going to try to throw myself into the World Series this year and just get as much experience as I can. I'm no longer an Under-23, mixing with the big girls, so if I need to collect some points at the end of the year I'll probably plan to do some World Cups.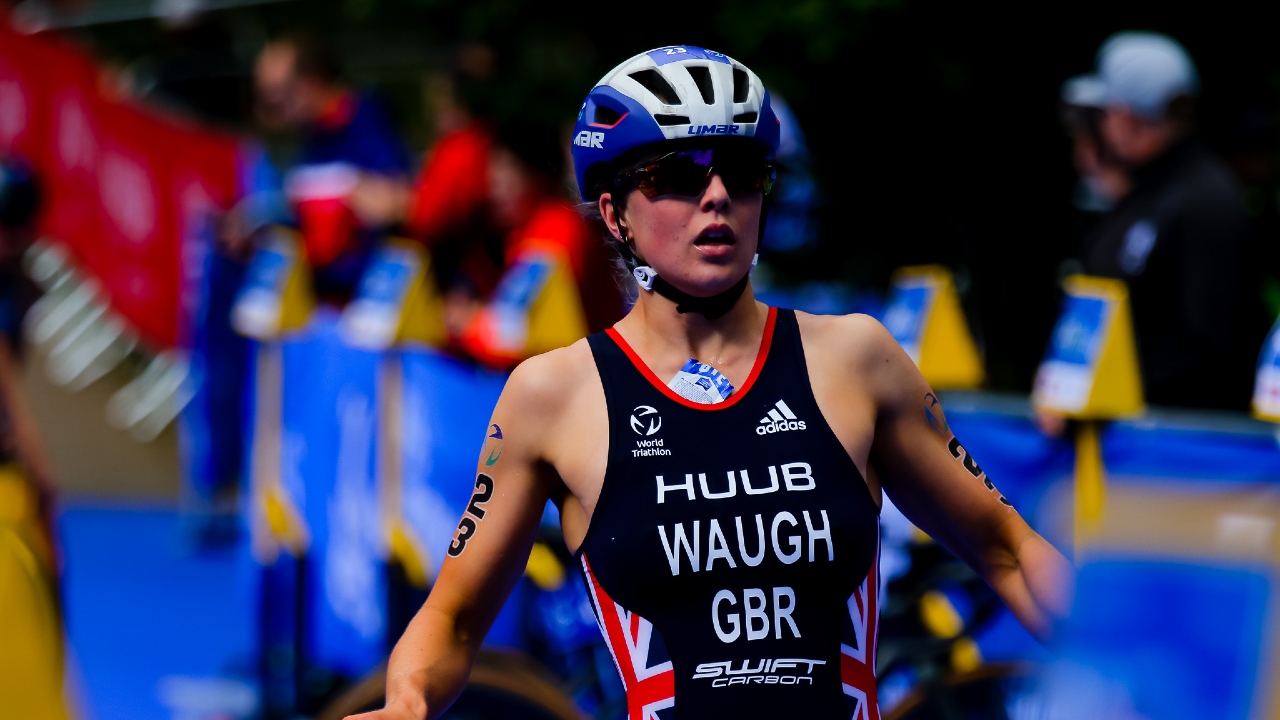 "I've just moved training groups, training under Paulo Sousa now in an international squad, so that's been a big move. I'd be lying if I said it hadn't been a struggle to get used to living abroad and training with a new group. I think off the back of U23 Worlds I just struggled for motivation a bit – I threw everything into that – so I'm just trying to take my time with this year, and know that it's going to be a long year as well, and just hope that I can perform in those races that I'm targeting.
"I'm based in Monte Gordo at the moment [Ed. in Portugal], and will be there until mid-May, and then will be training in Font Romeu in the summer in the lead-in to some of the big races like the test event. The likes of Taylor Spivey, Miriam Casillas, Claire Michel, Yuko Takahashi are all in the group, so it's a really nice squad, a really nice group of girls and a few lads too who are racing here today, so the vibes are good.
"It's just been a big change – I'm enjoying it, so just trying to get into the flow of it. I'm a bit of a home bird, so it's been a big change."
In praise of Super League
Having raced the full Super League Triathlon Championship Series as part of Team Sharks in 2022, does a return to the fast-moving SLT format feature in her plans for what will be another busy year?
"Definitely. I absolutely loved racing the Championship Series last year and I finished 10th, so it's definitely given me more motivation to maybe get into top-five range this year. I'm really excited to be doing that again this year in a few months time.
"I'm a strong believer that Super League racing you can't compare it to training. It's super fast, super hard, and if you make a mistake you really pay for it. I think it really primes and dials you for WTCS racing and I think a lot of us who race the Super League series, we race back-to-back weekends with WTCS and seem to perform pretty well, so I think that's a testament to how Super League racing can prime you and fast-track you as an athlete."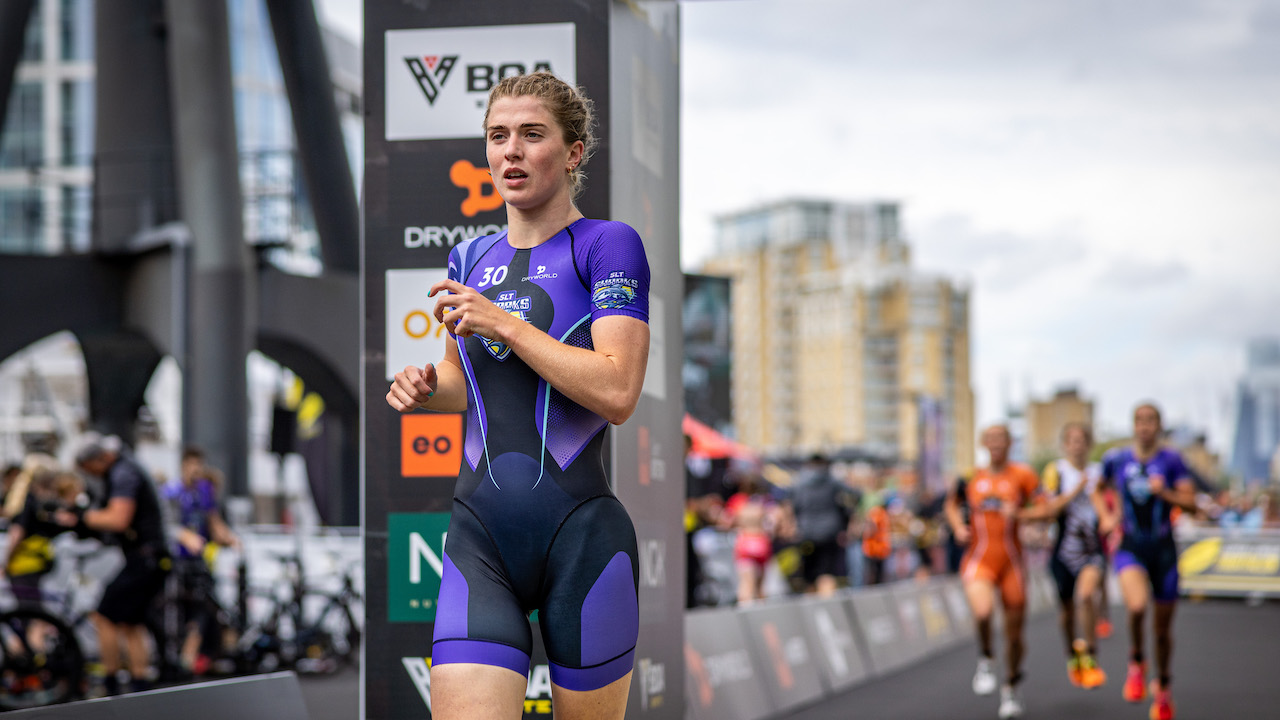 Hamburg memories, Olympic goals
While Waugh ended the season as U23 World Champion, it was far from the only highlight of the 2022 season. In Hamburg, Waugh brought home to the gold medal a youthful Great Britain Mixed Relay squad to WTCS success, in what was a thrilling and memorable race.
"I think all of us were genuinely blown away that we managed to win. We all said we are a young team and that a top-five would have been a great show for us. I think we were all a bit shocked to be honest that we managed to win.
"Being the final leg, it was such and honour and to cross the line in first place and show that all the hard work that all four of us had done. That was super special, I'll never forget that day."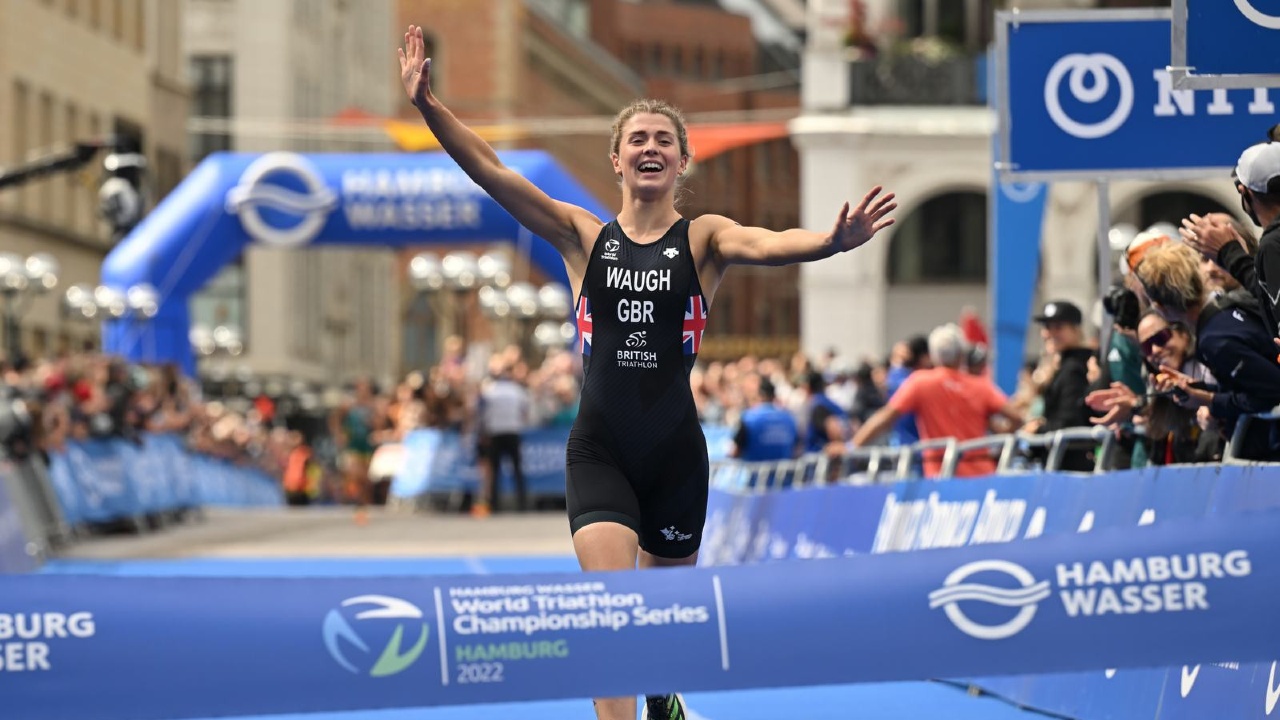 With the likes of Georgia Taylor-Brown, Beth Potter, Sophie Coldwell, and Jess Learmonth just four of the likely contenders for Great Britain's Paris 2024 squad, Waugh is well aware of the challenges ahead if Olympic selection is a goal. She's up for the challenge though.
"I'd be lying if I said I'd be quite happy just watching an Olympics go by and not being there. Like every Olympics that comes, I want to be as close as I can to getting myself on the team. I definitely haven't written myself off, and for that I'm working hard to make that the main focus of my year.
"If it happens it happens, and that would be amazing. I have other things planned if it doesn't go to plan, that I can fall back on something else as well. I have to understand that I'm a young athlete and at the moment GB, especially in the women's side, is pretty packed.
"It's going to bloody hard to make that team!"
I think we can all agree with that.