With a World Triathlon Championship gold, silver and bronze to her name, Olympic silver and bronze medals and also a Super League Triathlon Championship Series winner, Katie Zaferes is one of the most consistently successful triathletes in women's short-course triathlon.
After giving birth to her son, Kimble, in July 2022, Zaferes returned to competitive action after 18 months away from racing at WTCS Abu Dhabi in March 2023.
This past weekend, Katie finished eighth at SLT London, in her first Super League event since Malibu in 2021. Shortly after that intense 50-minutes of Enduro effort, I spoke to Zaferes about her day, her return to the sport, balancing family with triathlon and the route to Paris 2024.
Fine-tuning required
We started with her effort in West India Quay. Watching on from next to the transition area, from my perspective a relatively slow start seemed to have her on the back foot from the first five minutes of action, with the legendary Zaferes strength having to be called upon for the next quarter of an hour, to work her way back up through the field. She agreed that was a fair assessment of her race.
"Yeah, that's exactly what I did… but in Super League that doesn't really work if you are too far back, and I was! I knew that having been out of Super League for two years, it's definitely one where you really need to be firing from the start, and in general I always take a little bit to get warmed up.
This is exactly what I need to get better in both Super League and in World Triathlon racing.
"In Super League when you make mistakes, it's really hard to get back after those. You really need to have a seamless race – and I didn't have a seamless race today – but I hope that I get better as I get more fine-tuned and work more towards it. The good part was hanging in there, making up some ground, ticking off a few people and I really wanted to catch Jess [Ed. Fullagar] at the finish – she was just ahead of me – and get some more points for the Warriors, but I was just a little bit short of her."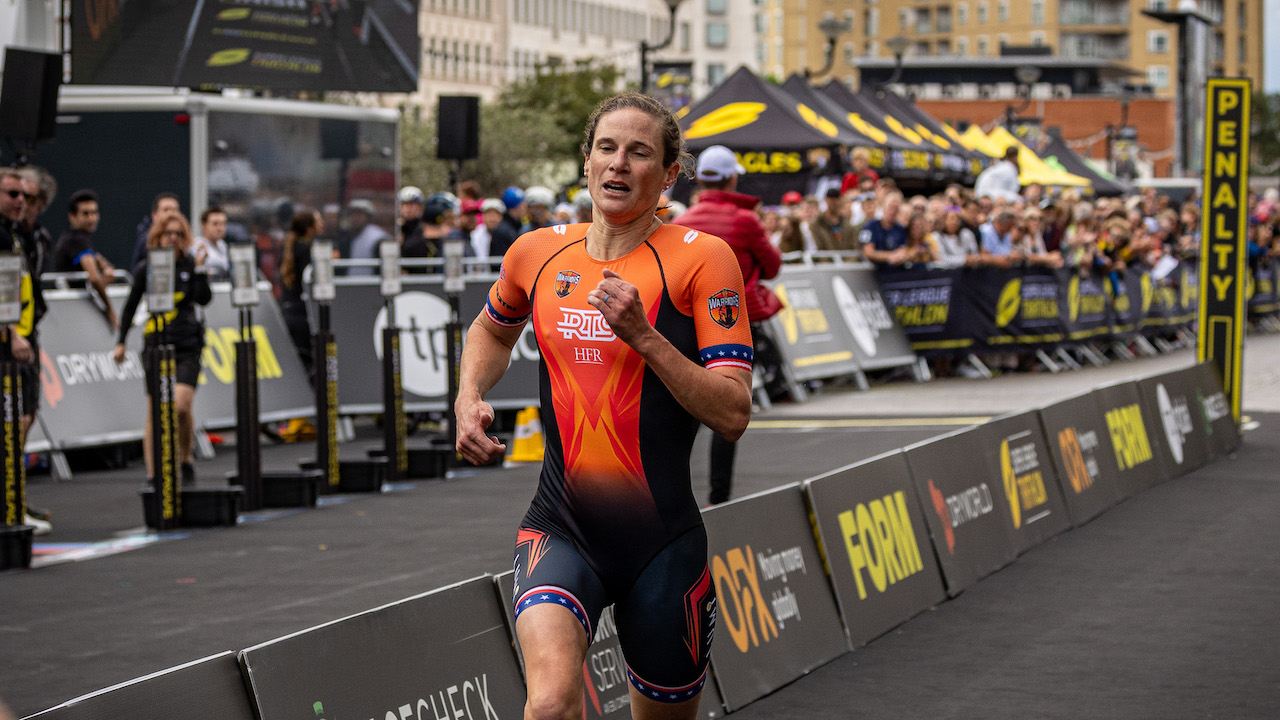 Heading in the right direction
Zaferes took the most difficult return possible, with her return to racing action seeing her jump back into WTCS competition in March, in Abu Dhabi. 37th at Yas Marina left her with a "mix of pride and acceptance". While the road since then hasn't always been smooth, the direction of travel in results terms is clearly heading in the right direction.
"For sure, I think sometimes it is difficult to come back and jump into the same place where I left off – and that's not the reality of this. A lot has changed for us with having Kimble. The training is probably the easiest part, but being out of racing for a year and trying to get back into that mode, trying to figure out racing a bit, and also the processes are a little bit different because, yeah, we have Kimble, and so recovery is harder and just a little bit more logistically challenging.
"I wasn't sure if I was going to come back after starting a family, but I think one of the biggest things that I am confident in is that coming back was the right decision for me. Firstly, I think that I can come back to where I am. I just need to train more – the first part of the season we were racing a bit non-stop – and right before the Paris Test Event I got in a pretty good training block, and now I'll get in a really good one before Pontevedra. Coming back to Super League racing where you can mistakes, is really good to get better."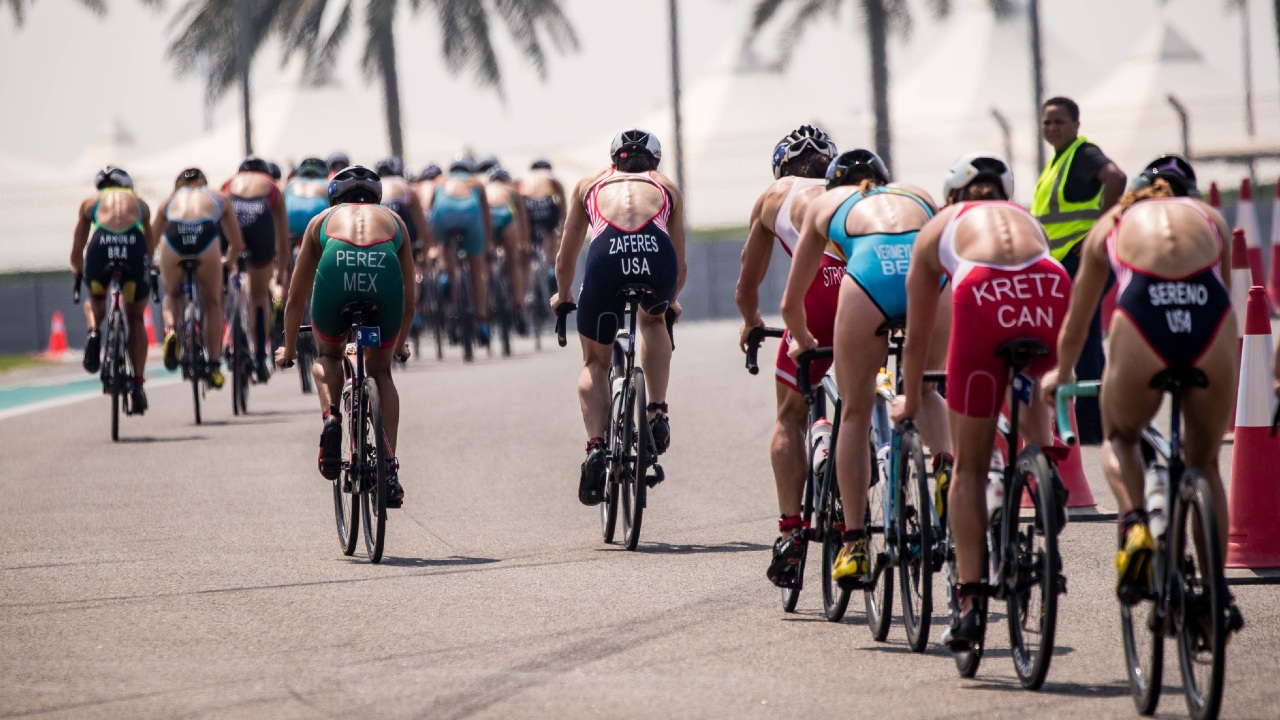 "I don't feel done"
I asked Katie about that decision to return. Of course, while that can always be the plan, priorities change rapidly when a family expands. Was there a point when she was sure she wanted to return to racing – and since doing so, has any moment provided the catalyst that she can reach her heights once again?
"I don't know if there was a specific point. I just knew that I didn't want to not do it.
"I realised that I wasn't done with triathlon and the only reason I was stopping was because I didn't know if I could balance being the Mom I wanted to be, and the athlete I wanted to be. But I also realised I wanted to try before I decided if I couldn't do it.
"We kind of found a way that works for our family, and we are constantly finessing it. We definitely haven't nailed it and are still figuring it out. But having Kimble be a part of this community that really means so much to me, has been one of the best parts. There's nothing that makes me happier than seeing him on the track as I'm doing a workout, or even Tommy running with him in the jogging stroller, just having him be a part of such a big aspect of my life.
"To your second question, and when did I actually feel that I could do it; well there's still days where I'm thinking like today, 'wow, I'm pretty far off!' – but I think Montreal was a good step. I was fifth there, and just constantly seeing glimpses of it in races.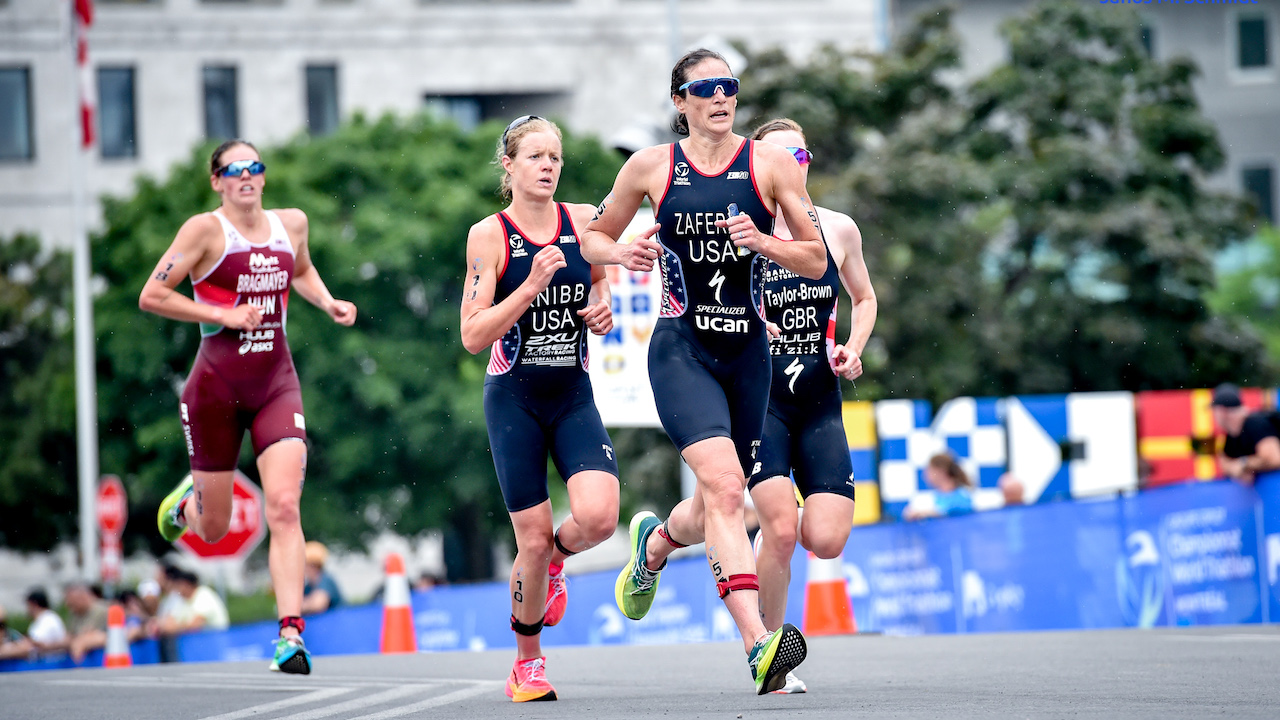 "I don't think I've nailed a race to what I would say I'm happy with, but I'm seeing more and more pieces within the race that definitely makes me feel like, ok, with more time and more opportunities to figure out our life now, I can get back to where I was before.
I'm not exhausted of triathlon, I don't feel done.
Paris aim
This big goal of course for all of the top athletes in short-course racing currently is Paris 2024. With Team USA having one of the strongest squads in depth, just as was the case for Tokyo, qualification is a difficult task. Taylor Knibb has already secured her start from her Paris Test Event performance. Pontevedra, and the WTCS Championship Finals is the next opportunity. The bar is a high one, however.
"Auto-qualification this year is a podium, first American on the podium and only one spot allocated as a possibility to go. Realistically, that is going to be pretty tough for me to do right now. I was selfishly a bit relieved when only one spot went in Paris, because there was a potential that all three spots go this year.
"But like you said, it's getting better each race and with another month of training you never know. If I can just fire on all cylinders and execute the race to the best of my abilities, then a podium could happen."
What about the Olympic course – how did the course work out, relative to expectations, and how might that impact next year's racing?
"I love the Paris course in the sense that it is amazing that we are in such a beautiful location, with so many monumental things there.
"The course itself; the swim is challenging with that current – it breaks up on the way back.
"The bike course and run course I think, it's really smooth, not so technical and pretty flat, so it sort of equalises everyone. Almost everybody on the course is going to be good at that course, and that makes it harder, because everyone is at their best. If you are in the front and can get off the front from the beginning then you have a chance to get away, but if you are not then it can be easier to close on.
"When we first went out on the run, I was thinking, do people not know we have four laps to run, because they went so fast! I think the run is more tough than it looks, as I think if there's a lot of people on the bike together, it's really going to take something out of your legs with everyone running fast off of it.
"I mean the dynamics for Paris 2024 can change, for sure, and after this race I think people are going to do what they can to break it apart, so it might be different."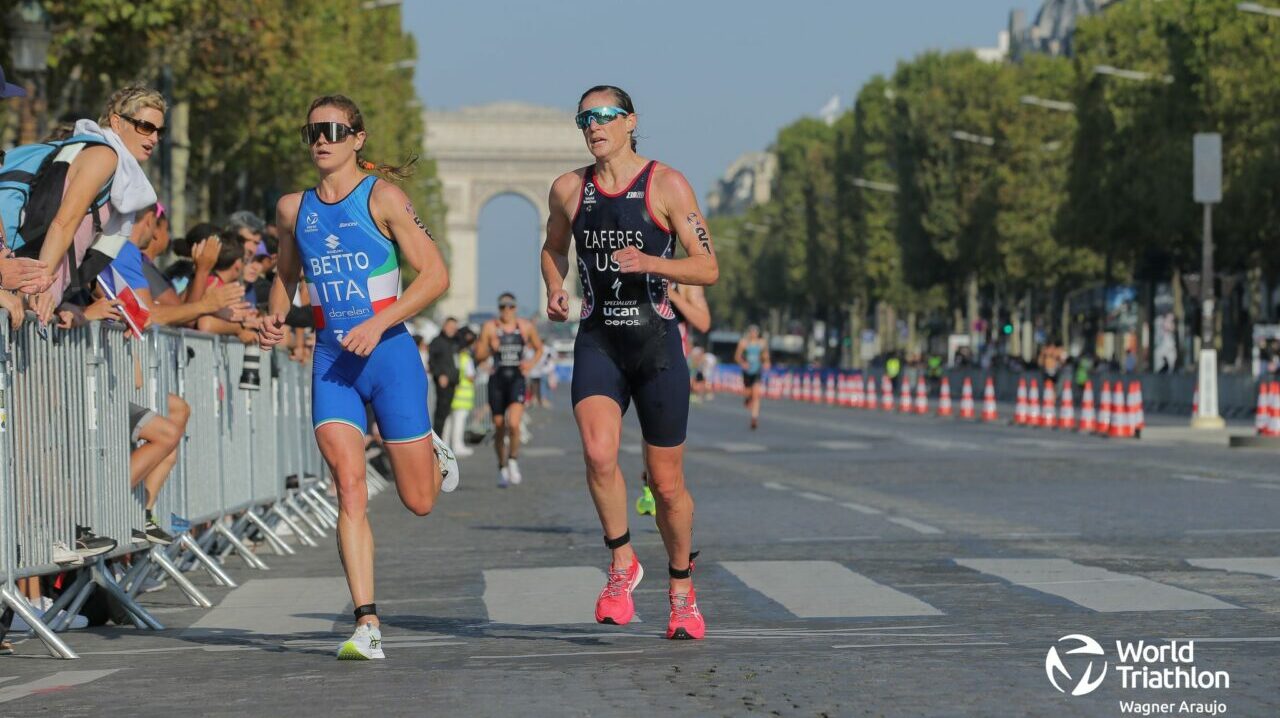 A different race next year?
As Katie outlined, the bike leg this year did become relatively neutralised. Taylor Knibb didn't have the swim that we feel she's capable of, while relative to Tokyo 2020 for example, the front of the race was missing the breakaway strengths of Flora Duffy, Georgia Taylor-Brown and Jess Learmonth. Did she feel that was a big factor in how the race played out?
"Yeah, I think the people who are coming out in the front in the swim are going to have to really push that first part of that bike to get away, because if some of the stronger cyclists are not having such good swims then they are chasing you down. I think the number of strong cyclists now coming out maybe a little bit back in the water, are coming with full motivation to get to the front. I mean, that was me in the Paris Test Event – and Taylor Knibb, and Kirsten Kasper and Julie Derron.
"It's more incentive for the front pack to get everything in line.
My goal is to be one of those up front and pushing, to make sure that we don't get caught.
"We've seen it work in the past and so it is not unattainable, so hopefully if Flora comes back – and Jess is having her baby in a month, so I hope she comes back too! She's crushing it, I'm watching her pregnancy and thinking, you're an animal Jess!
"I think it's really cool to see the like of myself, Alice [Ed. Betto], Jess, Vicky just all doing pregnancy and a comeback the way we want to, and not all following the same pathway."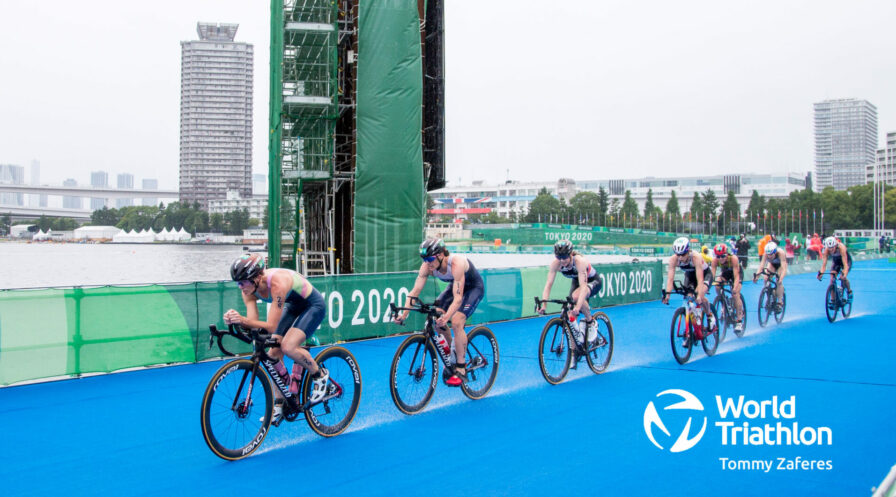 Pontevedra next
While the Super League Championship Series is going back-to-back, with racing in Toulouse this Sunday, Zaferes will be missing out on 'The Pink City' to prepare for the Championship Finals in three weeks time.
"I'm going to miss Toulouse to get ready for Pontevedra and then I'll do Malibu right after that for Super League, and then NEOM is kind of up in the air. I would like to do another one in the series, but depending on what happens in Pontevedra I'm in a precarious points situation for World Triathlon and having a spot on the World Triathlon Championship Series for USA, so I might have to skip NEOM and race some World Cups to try and gather up some more points."
And finally, we got to see Katie dip her toe in the middle-distance waters courtesy of her wild card pick for the the 2021 Collins Cup. Does a return to that format feature in her plans… or is all focus on Paris?!
"Hopefully the route to Paris. I mean middle-distance is really appealing to me, but no matter what happens with Paris, ideally Tommy and I would like to have another addition to our family, and so hands-full with two kids, I don't know if that's for me!
"So, to be determined, but a few years ago I'd have never said I'd be here right now with a child, so who knows!"