Less that a year out now from the 2024 Olympic Games, it is also race week in the French capital as the Paris Test Event takes centre stage.
Elite athletes will have their first opportunity to race over the course they will face next year, with this week's action taking place against the backdrop of many an iconic Parisienne landmark.
The Elite Women kick off proceedings on Thursday (17th August) at 0800 local time (0700 UK, 0200 Eastern Standard Time) and in this feature we look at who will take the podium spots, and what the big factors will be in deciding this race.
Here's my take on that…
Paris Test Event Status
While not technically part of the World Triathlon Championship Series, the event will act almost exactly as if it was the seventh of eight 2023 WTCS events. After this weekend, there's just the Pontevedra Championship Finals remaining in late September.
Athletes will score points exactly in line with WTCS events, and as an Olympic-distance race, that also means that a win will gain the full (1000) points, and not reduced level for Sprint races (750) or the Eliminator format of Hamburg (875), which saw points awarded at 75% and 87.5% proportions, respectively.
As a reminder, the WTCS Series – which determines the World Champion – operates on a 'best four plus the Grand Final' basis, and as only the third 1.5k/40k/10k format of the top-tier season, every athlete racing can also improve their ranking status. Thus, this week's races are not just about Olympic selection and preparation talk, as highlighted by our recent conversation with Hayden Wilde, for example.
There is one notable difference relative to a regular WTCS event, in that the total prize purse ($60,000, split equally between Elite Men and Women), is below the $200,000 total level of a regular WTCS event.
Olympic selection focus
This is the Olympic Test Event after all, and so the combination of previewing the course (and no doubt plenty of data collection with it), alongside the potential to secure Olympic selection will absolutely be front and centre.
That's not a one-size-fits-all situation though, as while many of the National Federations feature results at the Test Event as a key part of their selection policies, they are not universal across the board.
If we take British Triathlon for example; in the absence of the injured Georgia Taylor-Brown, by the letter of the selection policy at least, neither Beth Potter or Sophie Coldwell can guarantee Paris 2024 selection on Thursday, even with a victory. But their prospects would be massively helped!
For other nations such as France, Australia, Canada, Germany, New Zealand, automatic selection can be achieved this week – the exact terms of which being specific to each federation, as to whether that's podium / top-5 / top-8 etc.
Elite Women racing at the Paris Test Event
With very few exceptions, this is pretty much 'everyone' (check out the full start list here). No GTB of course, who is on the way back after that calf injury, but if we take the top 25 in the WTCS Rankings as a proxy for depth of field, then the only other athletes not on the start list are Switzerland's Cathia Schär, and Germany's Annika Koch. The German has impressed lately, adding a World Triathlon Cup win in South Korea, to her WTCS podium in Sunderland, so would have been a great addition. But, such is the depth in the German squad, who as of today have six athletes inside the top 30 of the Olympic qualification rankings.
When you then add in the return of reigning Olympic, World and Commonwealth champion, Flora Duffy into the mix with her first start of the year, there can be few complaints in terms of the quality to look forward to.
The Leading Contenders
Wearing #1 this week is Great Britain's Potter, the series leader in the WTCS rankings. She has earned her first WTCS wins this year in Abu Dhabi and Montreal, to which she has added second in Hamburg and sixth in Cagliari in her four individual starts.
The Rio 2016 Olympian has consistently impressed me for several seasons now, as she has continued to hone her swim and bike skills, to add to her Elite run background and become a well-rounded triathlete. Montreal was perhaps the best example yet of that, as even when the opening discipline didn't go to plan, she remained calm and worked herself back into contention. A great sign of maturity, and an athlete that doesn't just have one ace to play.
If there are any questions to answer for the Scot – and she's been doing a fine job of ticking those off – it is around her prospects over the Olympic distance. The majority of her best results – outside of her third in Bermuda last year – have been in Sprint format, with that longer swim, and sticking with the leaders, perhaps being the key to her race. How many seconds back, if at all, will she be heading out of T1, versus the likes of the typically consistent swim speedsters like Duffy, Taylor Spivey, Vittoria Lopes, Cassandre Beaugrand and Emma Lombardi?
With dominant back-to-back victories in Hamburg and Sunderland, the now Loughborough-based French star Beaugrand will for many be the odds-on favourite for success this weekend and next year at the big one. None other than Chris McCormack has called her "hands down the best female triathlete on the planet" when at her best – and while I do love a Macca quote, I really do think we need to pump the brakes a little on that one.
Potentially correct? Absolutely, but sport is ultimately about results, and at the Olympic-distance at least, she's not done enough to be throwing such hyperbole in her direction. Relative to her many Sprint-distance successes, a best WTCS over the longer format of fourth in Cagliari, along with a fading fifth at the Munich European Championships last year, means that we need to see that box be ticked with frequency, before best on the planet accolades are awarded. Could this be her time to shine?
Talking of 'shine'… let's just throw one little thought into the mix. The bike course in Paris comprises of cobbles for almost exactly one quarter of the circuit. Should there be rain (and at the time of writing, there's a small chance of that on Thursday), that's not going to play into the hands of Beaugrand, with memories of Munich less than 12 months old. That said, I'm sure plenty of rides in the Leicestershire rain will have helped in that regard since then!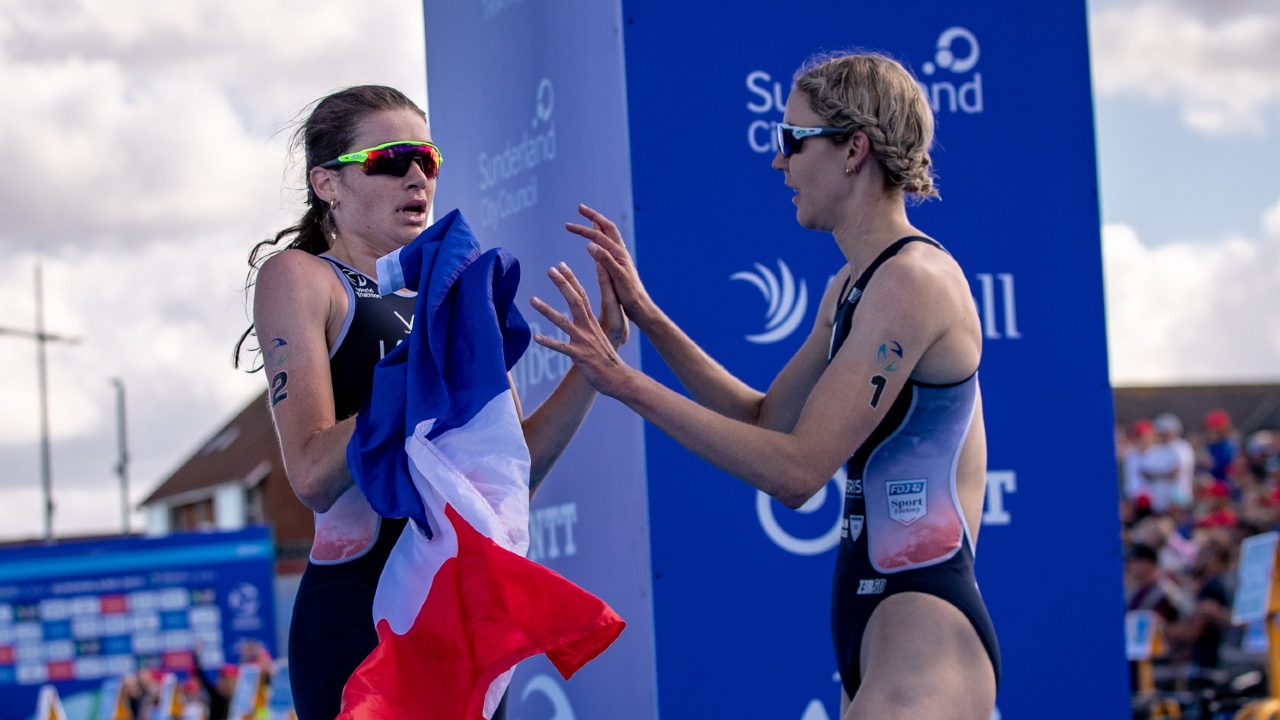 If Beaugrand is trying to find her groove over the longer format, her young team mate Emma Lombardi, will be very happy to be moving towards a two-hour race, which is absolutely her preference. Second in Cagliari to Georgia Taylor-Brown in both 2022 and 2023, the 2021 U23 World Champion has made the transition to the Elite ranks look seamless.
Consistently strong across all disciplines, she will absolutely want to be part of any early breakaways, and in the mix to be running for the podium at T2. With another year to go until the big one, the timings of Paris 2024 could be falling perfectly for her.
Also seemingly back towards her consistent best is the third of the French trio who will surely all be back racing at the Olympic Games – Leonie Periault. Second this year in Montreal and fourth in Sunderland, she has won on the challenging World Cup roads of Karlovy Vary, so the cobbles of the City of Light are unlikely to phase her much.
What about reigning Olympic champion Flora Duffy?! An all-time great in the sport, the four-time World Triathlon champion has a C.V. that is unmatched by any of her competition on Thursday – but what shape will she be in? Olympic selection criteria for Duffy is not a consideration, as there's absolutely no way in which she won't be selected for Bermuda, so the questions really revolve around what competitive form you can be in, with a mid-August season debut.
Her big goal of course is trying to defend her Olympic gold in France next year, and so this will provide the sort of valuable reconnaissance to what she'll hope will be less interrupted preparations in 2024. That said, underestimate her at your peril, as Dame Flora knows what it takes to be the absolute best and has plenty of experience over the years from recovering incredibly well from setbacks.
Could Taylor Knibb be the catalyst that blows this race apart? The winner recently of the PTO US Open over the 100km, non-drafting format, has had her own recovery from injury concerns this year, but recent results suggest she is well on the way back to top form.
At peak form, Taylor is the best rider in the short-course peloton – recently signing with a Pro cycling team – and has dual Paris 2024 hopes of being there in two sports. On paper, the bike course is 'mostly flat', but I think that could perhaps be slightly deceiving.
When we spoke to British Triathlon's Head of Paratriathlon, Tom Hodgkinson, he described the roads as having "probably not one flat piece of tarmac on the road with slight gradients everywhere plus the cobbled sections." That all suggests to me that the surface could be quite heavy, and while there won't be climbs of any nature to split people up by vertical metres, 26% of the roads being cobbled will surely play into the hands of the strong(est) riders.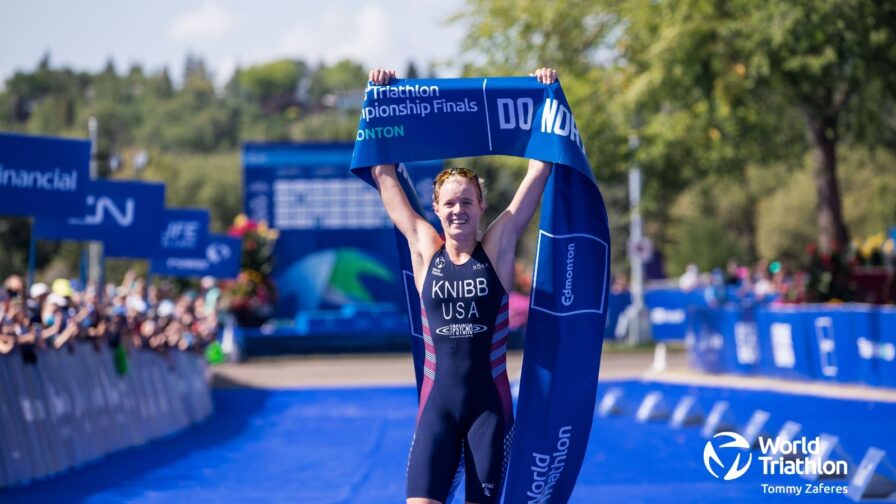 Knibb was off the swim pace of Lauren Brandon in Milwaukee, but has shown many times – Edmonton 2021 being the perfect example – that she's capable of leading in the water too. If that happens, she's not afraid to go hard on the bike from the first pedal revolution. Taylor in a select front pack from the get-go on the bike, could spell major concern for anyone who doesn't make it. She's certainly got that X Factor.
Great Britain's Sophie Coldwell has been conspicuously absent from (individual) WTCS action for almost two months now (13th in Montreal), but with a year that opened up with second in Abu Dhabi and winning in Yokohama, she has shown progress year-on-year, and will have been prepping specifically for this. She's learned what works for her, and fully commits to the tactics that give her the best chances of success.
'Consistency' has absolutely been the watchword of Taylor Spivey for many years now. In the last five seasons, in individual World Triathlon races, she has finished at least top-10 in all but one race. Fourth in Yokohama, third in Cagliari this year over the Olympic-distance too, she delivers time after time, be it 15 minutes of Super League or two hours of WTCS.
Spivey's US team-mate, who was selected for the final slot for Tokyo, Katie Zaferes, is an athlete with incredible experience on her side. She's been progressing well and showing her form is getting back towards where she'll need it to be, firstly for selection in the strong Team USA, but also if she wants to challenge for Olympic Games podium honours again. She was fifth in Montreal, but the longer distance here gives more opportunity for her typically strong swim leg to make any breakaway stick.
There are more names I could reference, but it's time for the crystal ball.
Who's going to win?
I wish I knew, but given that my scope for this article included the word 'predictions', I've got to put forward my take. Even if it may come back to haunt me by lunchtime on Thursday.
In doing so, I'm going to consider these points
The lack of Georgia Taylor-Brown reduces the expected firepower on the bike from a swim breakaway
It seems unreasonable to think that Flora Duffy can be in 95%+ form, which could also takes something from that front pack too.
Given all of that – and if she can swim like she did in Montreal and Yokohama, then I can see Taylor Knibb using her bike strength early. Maybe she can get away solo (think Edmonton 2021), or with a very select group, but I can just see that a tough road surface plays into her hands. She will absolutely want, and probably need, to get away from the run prowess of Potter and Beaugrand before T2, but a very strong opening discipline would give her 40km of opportunity to build on that.
While we focus so much on Knibb's cycling skills, only Ashleigh Gentle and Tamara Jewett ran faster than her in Milwaukee. Make no mistake, she can run well too.
We saw in Cagliari – on what was probably an easier course – that a small breakaway can get away and stay away to the finish of the run too. Lombardi was part of that escape, and I'm going to go with her hanging tough to stay with Knibb in Paris, perhaps alongside Coldwell and Duffy… but likely not too many more. And I wouldn't be surprised if Knibb's pressure at the front sees that group fragment over the approaching one hour of riding.
I'm going to plump for Emma Lombardi to hold strong for the silver, inspired by the home support and her natural enjoyment of these two-hour races.
For bronze, I think it's potentially a case of Potter / Beaugrand chasing, with perhaps Coldwell / Spivey / Duffy trying to hold positions as the 'runners' close in from behind. And with that, here's my top-six forecast for Paris on Thursday morning:
1. Taylor Knibb (USA)
2. Emma Lombardi (FRA)
3. Beth Potter (GBR)
4. Cassandre Beaugrand (FRA)
5. Sophie Coldwell (GBR)
6. Flora Duffy (BER)
Enjoy the race!